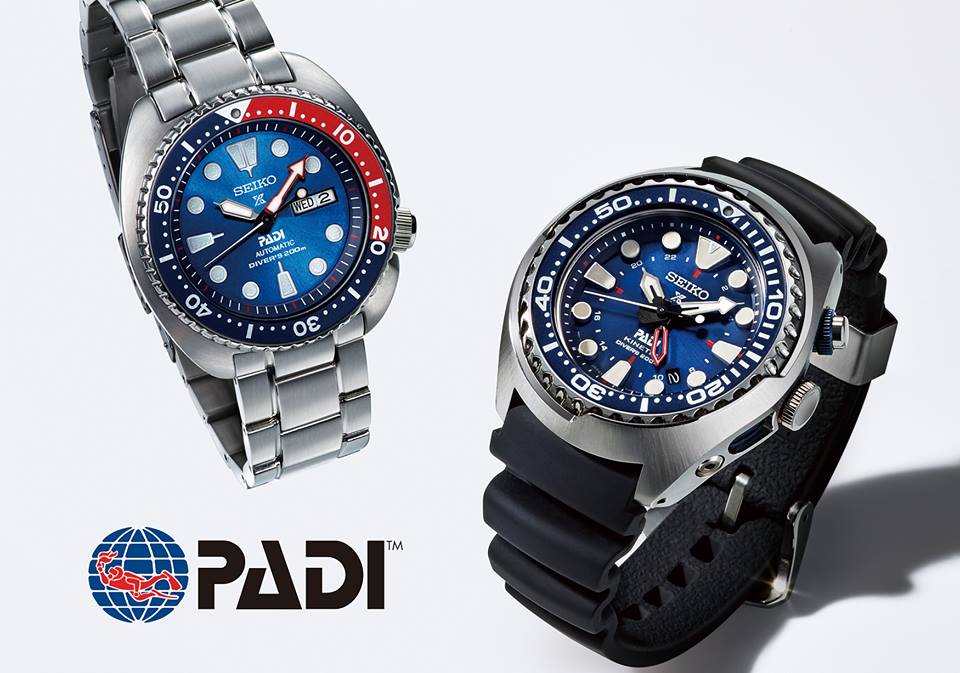 There's something special about diver's watches. They're functional, durable, good-looking and immensely popular, not just with divers, but with anyone looking for a tough, handsome, watch. In an increasingly digital world, quality analog dive watches have stood the test of time. For divers everywhere, they remain valued and well-loved accessories; essential symbols of their passion for diving.
Seiko is synonymous with diver's watches. Since the launch of their first diver's watch in 1965, this Japanese manufacturer has been a tireless divers watch innovator with a reputation and track record right up there with the biggest names in horology. Seiko innovations include the world's first titanium diver's watch, the first diver's watch with a ceramic outer case and the world's first nitrox multi-level diving computer watch. Many of their models have become valued favorites with watch collectors.
Seiko and PADI share a passion for the safety and enjoyment of divers and the marine environment through the support of Project AWARE™. Now, PADI and Seiko have partnered to release two PADI Special Edition diver's watches this autumn.
The Seiko Prospex PADI Special Edition Kinetic GMT Diver's SUN065 uses Seiko's Kinetic technology. The Seiko unique movement uses a rotor, powered only by body movement, to charge the battery. This watch features a modern version of the legendary two-layer case first seen in 1975 and affectionately nicknamed for it's superficial resemblance to a can of "Tuna." The build quality is excellent with clear dial printing, a smooth bezel and a solid crown.
The Seiko Prospex PADI Special Edition Automatic Diver's SRPA21 pays homage to a true classic: the 1970's Seiko 150m mechanical diver's watch. Its unique case and dial design led divers to nickname this model the "Turtle." The watch features Seiko's trademark easy-to-read, wide, clear hands. It's a clean and simple diver's watch, destined to become a trusted friend.
Both special edition models gracefully feature PADI's characteristic red and blue color on the dials and the bezels, and the PADI logo on the dials.
Already, those digital airwaves are buzzing about these new analog watches; don't miss the opportunity to own a piece of watch making and dive training history.
For more information about these watches, please visit the Seiko Store Finder to contact a dealer.