Scuba divers love the ocean and of course we want to protect it, but at this point, we need to do more than protect it – we need to help it heal. Here are some great ideas about activities and projects that you can get involved in to start making every dive count towards a cleaner and healthier blue planet.
Volunteer with a Marine Conservation Organisation
Ask at your local PADI dive shop if they are involved in, or know of, any coral reef projects in your area that need volunteers. If you are thinking about a diving holiday and a project you can commit to "full time" for a few weeks or longer then have a look online. There are several NGO's that host volunteer projects all over the world with a focus on coral reefs, marine life and community work to educate people about over fishing, ocean pollution and reef degradation. Not sure where to start? Take a look at where you can vacation for a cause here.
Educate Yourself So You Can Educate Others!
Taking the PADI Project AWARE Specialist Course is a great way of learning more about coral reefs and other marine environments. Or If you are interested in specific marine life then consider one of the PADI distinctive specialty programs such as the AWARE- Coral Reef Conservation course or the AWARE – Shark Conservation Diver distinctive specialty. Ask at your local dive shop to see what specialties they have on offer. If you are a PADI Professional why not get qualified as an Instructor for one of these programs?
Report Marine Debris to Project AWARE
Think about the number of times you have picked up trash during a dive and disposed of it responsibly on land. Every time you do this remember to take 5 minutes to report your marine debris data to Project Aware. This helps Project Aware build a global picture of marine debris.  Check out the Blog: 6 Tips for safely removing marine debris for more information about how to collect debris underwater.
Choose Your Dive Center Wisely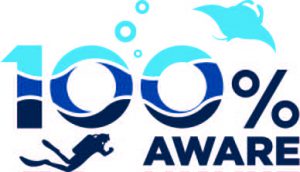 It's not easy to know which dive centers are more active than others when it comes to environmental and conservation efforts but here are a few considerations. Select a PADI Green Star awarded dive center, this award shows that they are making efforts to decrease their effect on the environment. Look for dive centers that offer "eco" programs such as Dives against Debris, coral monitoring, marine life conservation evenings etc. These dive centers work hard to look after their environments and need your support. Don't be afraid to ask either, a conservation friendly dive shop will love to tell you about their efforts and projects. If you are taking a PADI program ask if they are 100% AWARE – this means that the dive center has committed to ocean protection through the 100% AWARE partnership – it also means that you will be issued with a Project AWARE certification card!
Organise a Beach Clean Up
If you have non-diving friends then organising a local beach clean-up is a great way to get them involved too. This is a valuable way of spreading the word about ocean environments in need. It's also an event that kids can join to start learning about our oceans and marine life early on – some of them might even be the next generation of divers.
Role Model Good Practices (& encourage others to do the same)
One of the best ways to promote environmentally aware diving practices is to demonstrate them on every dive. Sometimes people forget or don't realise what they can do to help but if they see you picking up trash then it might inspire them to do the same! If you notice other divers picking up marine debris ask them if they know about the Project AWARE initiative "Dive against Debris" and share your knowledge.
Be an Ocean Ambassador and Spread the Word
The more people who are aware of the issues that our oceans are facing the better. People will only help if they know that there is a need for help so keep your friends and families posted on your activities and achievements – social media is a great way to reach out to many people so share your pictures, events and accomplishments to spread the word.
Start at Home and Start Now
Use the PADI Dive Shop Locator to find out what is happening at your local dive store and start healing our ocean planet one dive at a time!