Falling in love is a wonderful and mysterious thing. Sometimes it happens all at once, and sometimes love takes time. So it goes with scuba diving…

Scuba diving can be love at first breath, or something you learn to love. If you're a diving addict, but your partner or spouse isn't crazy about the idea, here are four ways to get them onboard…or overboard as the case may be.

Relate Scuba Diving to Something They Already Like
My first dive buddy loved scuba because it allowed him to breathe underwater. He felt like he had a superpower and didn't care if we were diving in an exotic locale, or a lake with one fish in it.

Me? I love traveling to places most people have never heard of and getting to know the locals – topside and underwater. Scuba diving appeals to different people for different reasons. Think about what your significant other or family member already likes to do, and in what ways diving might appeal to them.

Watching a nature program such as The Living Sea can help an animal lover learn to love scuba diving. The ocean is home to some of the most fascinating creatures on earth, and diving lets you see them in their natural habitat.
Yogis will appreciate the connection of breath to movement when diving. In fact, scuba diving and yoga are very complementary activities.
For those who value family time, ask your local PADI dive shop about a Discover Scuba / Bubblemaker experience. Or book a family vacation with Kids Sea Camp.
History buffs will find a lot to love about diving. For example: in Guam there's a dive site where you can dive a WWI and a WWII wreck right next to each other! All around the world there are shipwrecks, airplanes and even underwater cities waiting to be explored.
World travelers who aren't divers miss out on 2/3rds of our ocean planet. Enough said!  But for those who need more convincing, point them to the adventures of PADI Ambassadivers Alex in Wanderland, or Chris Stevens from Backpacker Banter.

Got a fitness freak in your life? Scuba diving was featured in Men's Health, Shape and Women's Health as a great alternative workout.
Help Them Understand Who Divers Are
Let's be frank, not every local dive spot looks like The Maldives and not every diver looks like Ryan Reynolds. But on the whole, divers are fun, welcoming people who come in all shapes and sizes. Meeting interesting people is half the fun of diving.  

Invite your non-diving loved one to hang out with divers you know. Make it a casual situation and let diving come up naturally in conversation.

Also, speaking of Ryan Reynolds – he really is a diver. So is Matthew McConaughey, Jessica Alba, Jason Statham, Queen Margaery (Natalie Dormer) and numerous other celebrities. So, should you happen to bump into one of them, you'll have something in common.
Agree to an Activity Exchange
Is there an activity your partner loves but you're not particularly interested in? Fair is fair. If they're willing to try scuba diving, you need to get on that mountain bike, take the cooking class, wake up for crack-of-dawn kettlebells, etc. Or, plan a trip somewhere that combines activities you both enjoy. Agree to spend at least one day enjoying (as much as possible) the other person's chosen activity.
Consider a Discover Scuba Experience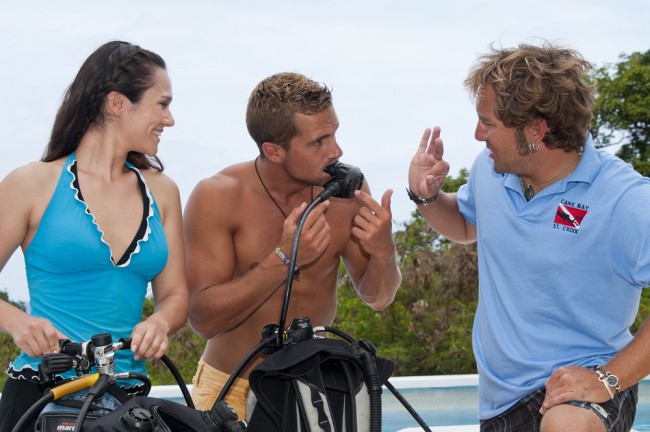 At the beginning of this article we talked about how some people fall in love quickly, and for others it takes time. Your friend or loved one may not be ready for the full PADI Open Water Diver course.

A Discover Scuba experience is perfect for people who just want a little taste of diving. Ask your local PADI dive shop about their "DSD" schedule and invite your friend or significant other to sign up.

Make it a no-pressure situation. It may be better if you're not in the water with them – ask, and respect their answer. The last thing you want is for your friend or partner to be anxious while diving. The body's reaction to stress makes it harder to equalize, not to mention: diving is supposed to be fun!

If your non-diving friend or spouse tries scuba and doesn't like it: give them a big hug, thank them for trying it, and let the matter go. No matter what, finish off the day with an activity you both enjoy such as going out to a nice dinner. By keeping the overall scuba experience as positive as possible, s/he will be more likely to try it again in the future.

Need a little more help? Check out these 6 Reasons to Become a Diver in 2017.