Written by PADI AmbassaDiver, Justin Carmack
My entire life right now revolves around traveling the world in search of the best dive locations. In fact, I am actively trying to experience and film all of the top 100 scuba diving locations in the world, one at a time, and as difficult as it is to get to them all, I've somehow become a sort of authority on where to dive, what to see, unique places and so on. My readers ask me on a daily basis things like, where do I go to see whale sharks, where do I go for ship wrecks, and so on. When it comes to the Philippines, there is a very good reason I am based here now, and that is because it is basically the go-to for not only world-class diving, but many different types as well.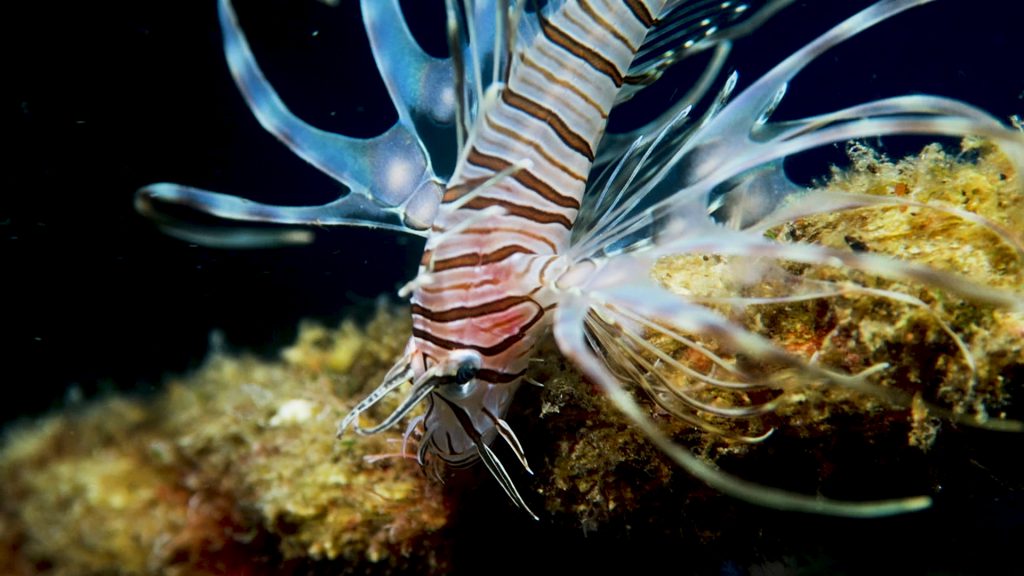 Here is a list of just some of the great things you can expect in the Philippines, and what areas you would need to go to dive them.
1. Wreck diving lots of WW2 wrecks in Coron Bay
There are dozens of world class wrecks around Coron, and it is definitely worth a visit. Each of these wrecks are WW2 Japanese battle ships that were sunk by American aircraft during the war. You can also see a few of those planes that were either shot down or ran out of fuel during their attack. Each of these massive wrecks are completely covered in corals and macro critters (I've never seen so many nudibranchs in one spot). One of my favorite highlights was an upturned oil tanker thats so big you can swim through the massive oil tanks, with pocks of oil still stuck to the ceiling. Theres really only one way to get to Coron besides long haul private boats, and thats a really short (and cheap) flight from Manila. I did take a 12+ hour boat from El Nido once, but it was a nightmare. Be sure to check out Barracuda Lake, for a very unique dive.
2. The Macro wonders of Anilao
I would go as far to name Anilao as the nudibranch capital of the world. Diving the various locations around Anilao, I had never seen so many different types of nudis as I did there. I also ran into loads of tiny shrimp, ornate ghost pipe fish, frogfish and much much more. This is the best location closest to Manila, and an underwater photographer's dream. I wrote a comprehensive guide to all of the dive locations in the Philippines, and Anilao was definitely a highlight. To get to Anilao, most resort will arrange a car for you from Manila, for the 2ish hour drive.
3. Rare critter muck diving in Dauin
Anytime I feel like hunting for rare and weird species, some of which you can only see in a few countries in the world, I head over to Dauin for some of the best muck diving in the world. No where else have I ran into so many different types of frogfish, as well as wonderpus, blue ring octopus, flamboyant cuttle fish, bob tail squid and tons more stuff you've never seen. These are not the most pretty dives, reef wise, but if you are like me and just love finding exotic species, I don't know of another location in the Philippines where you can see more. To get to Dauin from Manila, it is only a 45 minute flight from Manila, or a even shorter flight from Cebu City. If you are already on the island of Cebu somewhere, you can also head down to Santander, and take the 20 minute ferry to Dumaguete. From both the ferry terminal and the airport, its about an hour by trike to most Dauin dive resorts.
4. Thresher sharks in Malapascua
Malapascua is a very beautiful little island off the north end of Cebu, and an amazing dive location. The highlight though, is the crazy looking thresher sharks at a cleaning station. The dive shops all but guarantee the sharks each morning, and I saw 3 both time I went. If you've never seen the torpedo shaped shark with their crazy long tail, you are in for a treat. They are definitely one of the coolest looking sharks I have ever seen, and its definitely worth the trip. To get to Malapascua you have to fly to Cebu, and either take a bus or a taxi or car the 3-4 hours to the north, then a 30 – 60 minute boat to the island.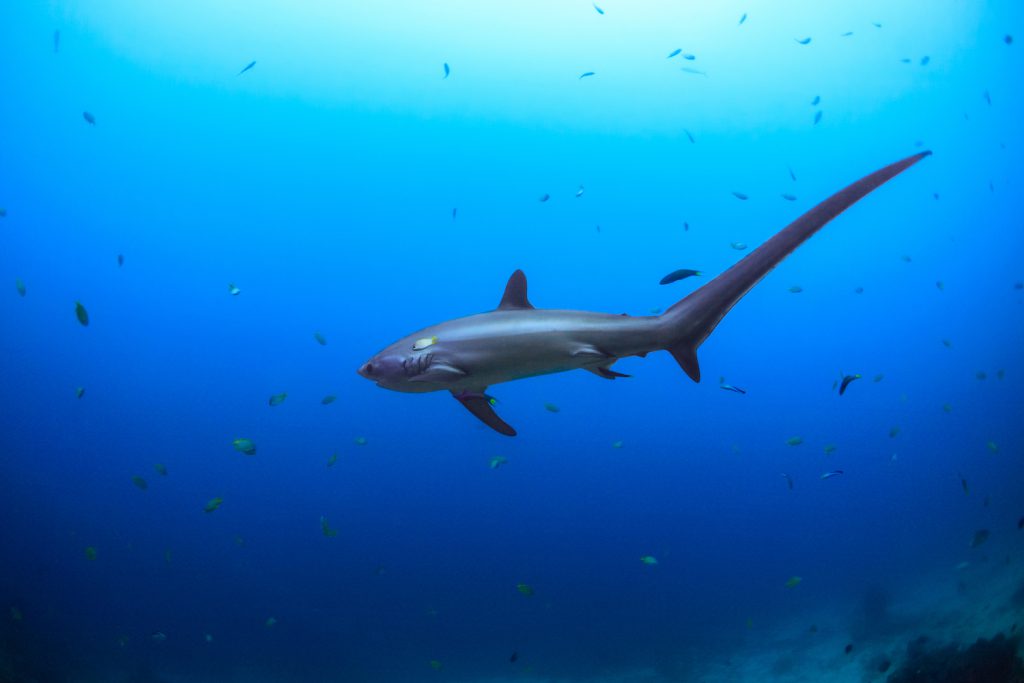 5. Whale sharks of Donsol
According to some sources, the whale shark schools around Donsol are the biggest in the world, and all but a guarantee in peak season (though this is for snorkeling only). The sites around Donsol are known for being able to see mantas and hammerheads, and other big pelagics. To get to Donsol, jut drive south from Manila, and its located in Luzon.
6. A world class live aboard to the insane Tubbataha
Tubbataha Reefs Natural Park is a world heritage site and marine and bird sanctuary, consisting of atoms and untouched reef out in the Sulu Sea. Only accessible by a long haul live aboard, Tubbataha is considered one of the greatest and most pristine dive locations on earth. There are lots of great reefs, as well as tons of big pelagic, huge schools of barracuda and much more. This is an underwater photographers dream, and for many, the pinnacle of most diver's experiences. If you have to choose one location in Philippines, or even in the whole world, head here.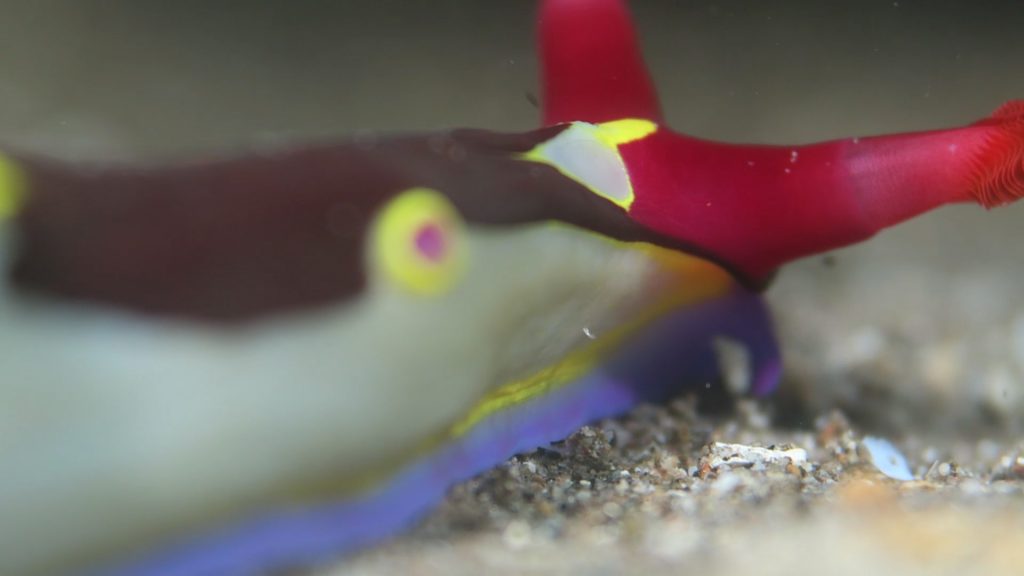 Philippines is one of my favorite countries for all around amazing diving, and I tell people all the time they need to experience it. It is my job to find the best dive locations around the world, and its so easy to sing the praises of Philippines. You can never leave disappointed.
Visit the Dive Shop Locator to find a PADI Dive Shop in the Philippines.