If I ask you what diving into history makes you think about, a legitimate answer would be wreck diving. However, Italy, home of the ancient Roman Empire, can show you a new dimension about what it is like to go diving back in time with the Underwater Archaeological Park of Baia near Naples in Southern Italy. From Pozzuoli, 20 minutes east of Naples by train, scuba diving centres can take you to discover its submerged treasures. Scuba diving in Naples Bay is also the perfect excuse to explore this fabulous region of Italy, from Procida Island to Sorrento, full of historical treasures to explore and delicious specialties to taste (Did you know that Naples is the birthplace of the pizza?).
Due to the eruption of the Vesuvius Volcano, Pompeii was buried in ashes, and Herculaneum swallowed by mud. However, it is a different seismic phenomenon that brought Baia underwater: bradyseism. Unlike earthquakes which move mostly horizontally, bradyseism makes the ground move upward or downward. This is how this ancient resort popular among the rich and famous of the Roman Empire plunged below the surface of the sea. According to recent surveys, the bradyseism phenomenon would now be reversed so the ruins could be on land again one day!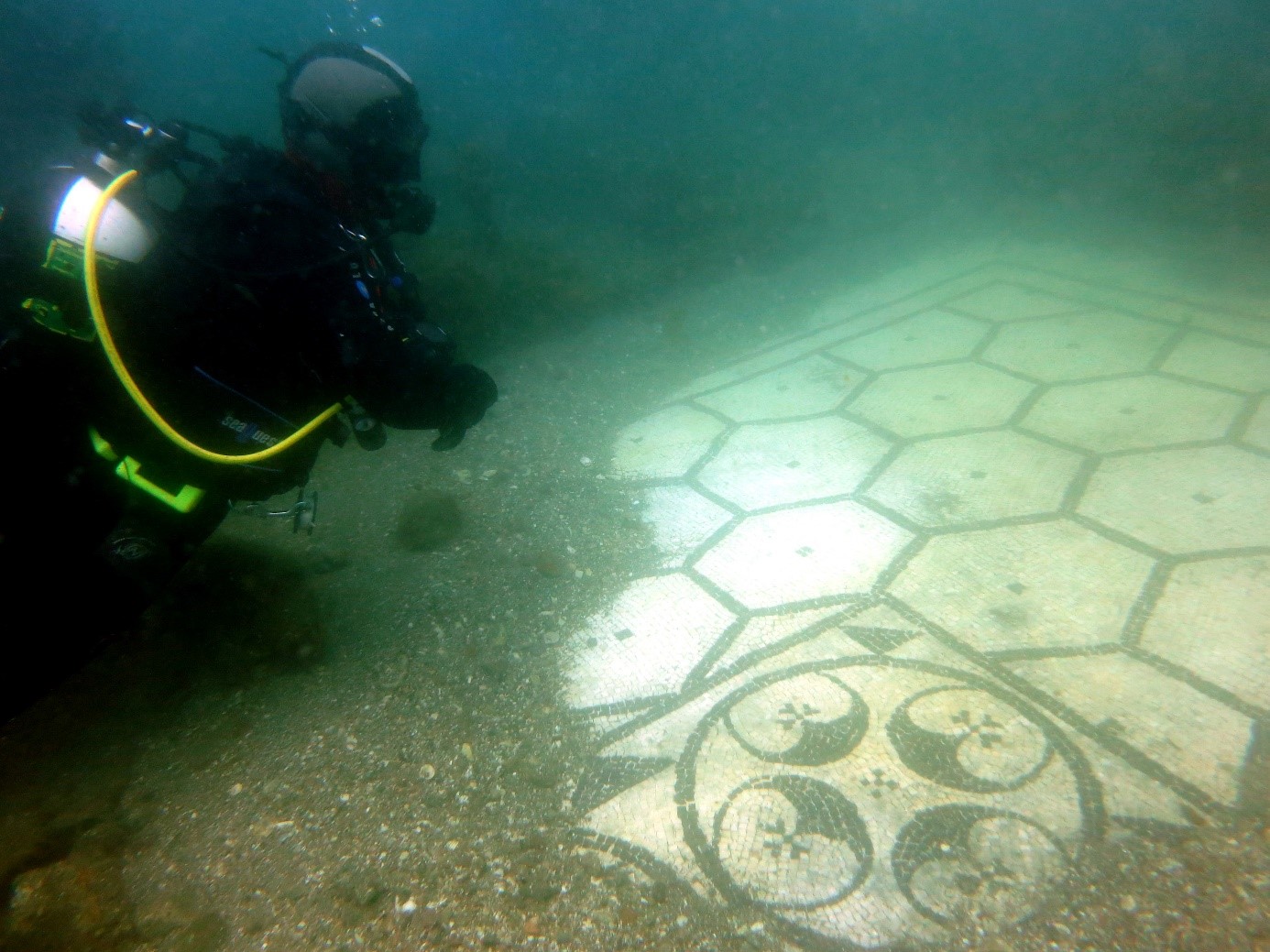 The underwater archaeological park of Baia counts 5 main scuba diving sites: "Portus Julius", "Secca delle fumose", "Ninfeo di Claudio", "Villa dei Pisoni" and "Villa a Protiro". However, make sure you can scuba dive in priority at "Ninfeo di Claudio" and "Villa a Protiro":
"Ninfeo di Claudio": you can admire a paved road of almost 200 m, steam baths foundations and the beautiful statues of the nymphaeum where the Emperor Claudius used to relax. Please, note the statues are copies as the original ones are protected in the archaeological museum of the Castle of Baia, just above the dive site.
"Villa a Protiro": For most local divers it is the highlight of the underwater archaeological park of Baia. This ancient Roman villa had a courtyard with a large black and white geometrical mosaic floor. The original mosaic is still there, in perfect condition. Before you can see it, your divemaster will spend some time to gently push away the black sand to reveal it. Around this stunning ancient piece, you will be able to follow the foundations and discover marble floors and remains of potteries.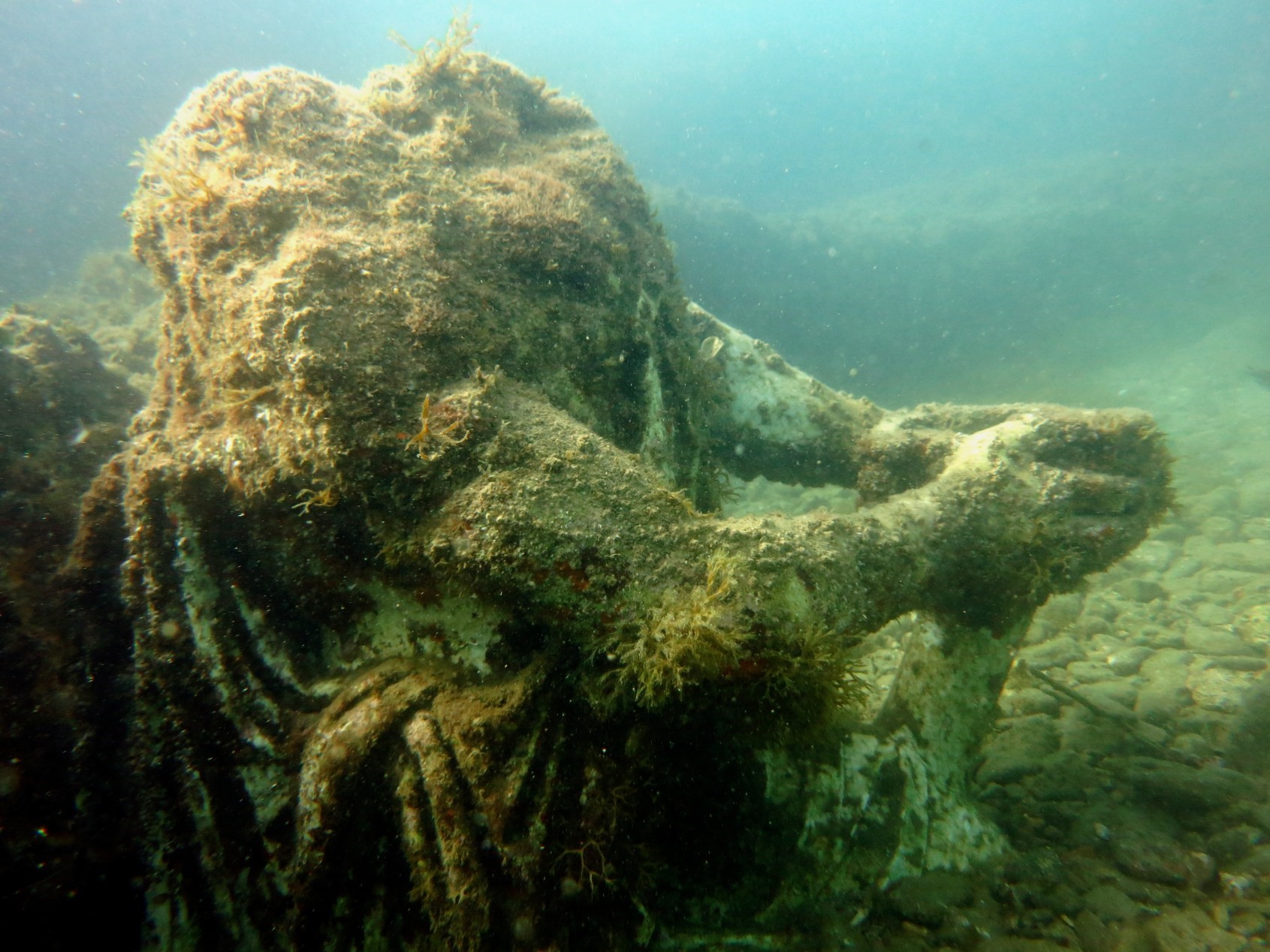 Another site worth checking is "Secca delle fumose". It is less for the archaeological value that is site is interesting, but more to witness volcanic activity while being underwater. This dive site is a kind of natural jacuzzi: sulfuric gas bubbles escape continuously through the sand!
---
Author Bio
Florine is a PADI AmbassaDiver,  PADI Divemaster and a Dive Travel blogger at World Adventure Divers. She dives in tropical to extreme cold waters, selecting her destinations when both adventure diving and cultural discoveries are part of the journey, and showing you how to do it without breaking the bank.