The breathtaking landscapes of New Zealand have graced movie theatre screens for decades and have held viewers around the world captivated, but how much do you know about diving in New Zealand? Did you know that between the diving around the North Island and that offered around the South Island it would take a lifetime of dives to see it all? Try everything from incredible offshore diving at the Poor Knights Islands and exploring fiords, wrecks and sub-tropical reefs through to navigating kelp forests and swimming with dense schools of fish. It's all possible in New Zealand!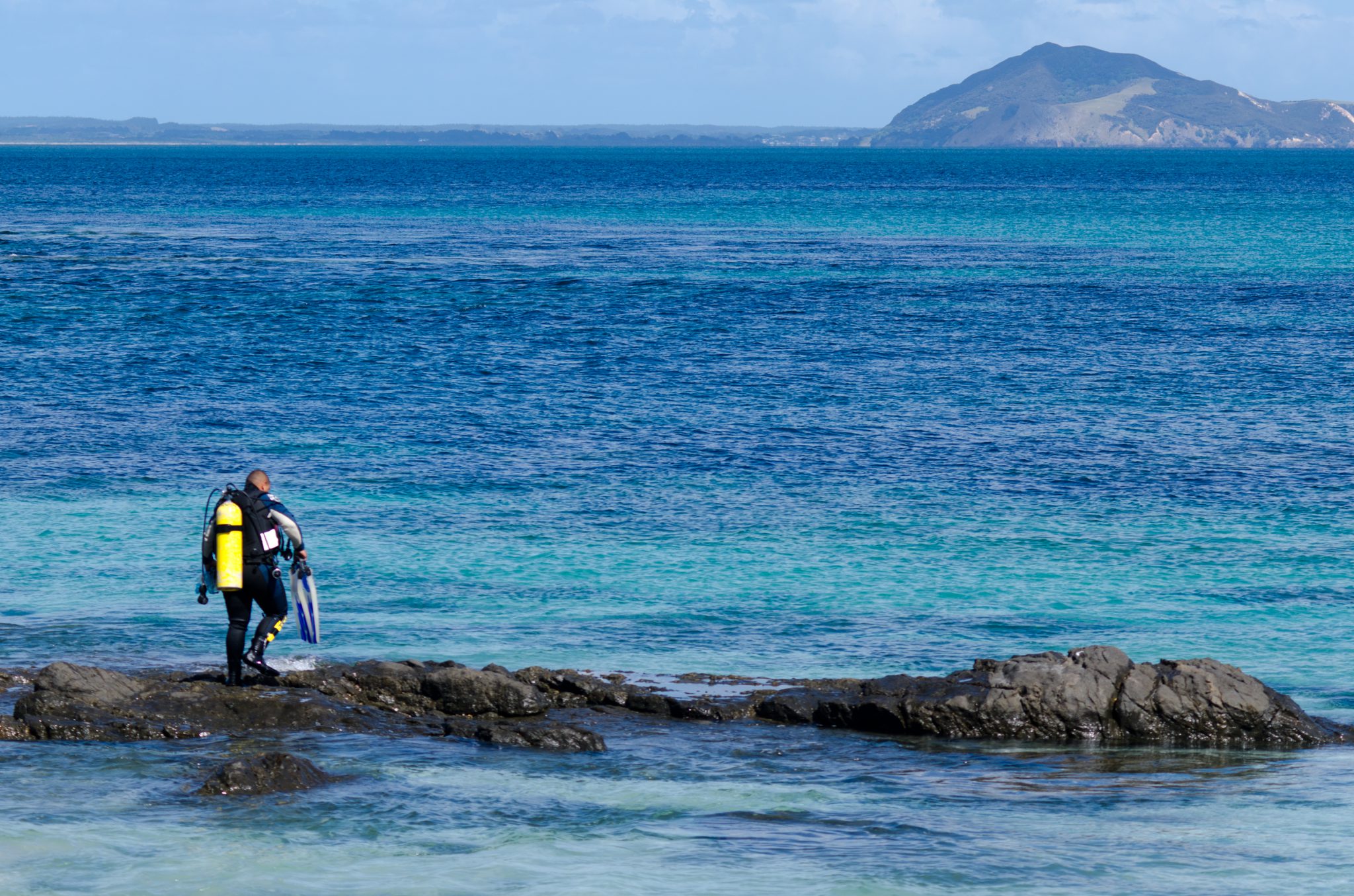 The islands off the shore of the North Island attract tropical fish, whereas the fiords found in the South Island provide the perfect environment for black corals. Dive deep into the waters of the famous Milford Sound, explore a choice of wreck dives, discover the Bay of Plenty and even swim with sea mammals in Kaikoura. Here are our top recommended dive sites for anyone visiting New Zealand.
The Poor Knights Islands
As a protected marine reserve, this is arguably New Zealand's most famous diving area. The diverse underwater topography includes drop offs, walls, caves, swim-throughs, arches, tunnels and a wide variety of reef fish and marine creatures. The dive sites here are bursting with blue maomao, snapper, kingfish, morays and brilliantly colored nudibranchs. Larger tropical species are also spotted here and during the warmer periods, turtles, whales and even manta rays can be frequent visitors. There is a large resident (and visiting) population of sting rays which attract orcas who come to feed on them – a phenomenal sight. For this reason alone, the Poor Knights must be on your bucket list of dive sites to visit!
Bay of Islands
This marine rich region is also known as the Bay of Plenty – for good reasons! Wreck divers are drawn to the area to dive the HMNZS Canterbury or the Rainbow Warrior (Greenpeace's flagship vessel, bombed by the French Secret Service). Both of these iconic New Zealand wrecks are now encrusted in stunning colourful jewel anemones and have become part of the living reef. The wrecks are also home to an abundance of fish life and macro critters. This area is rich in New Zealand history and a must see for all visitors.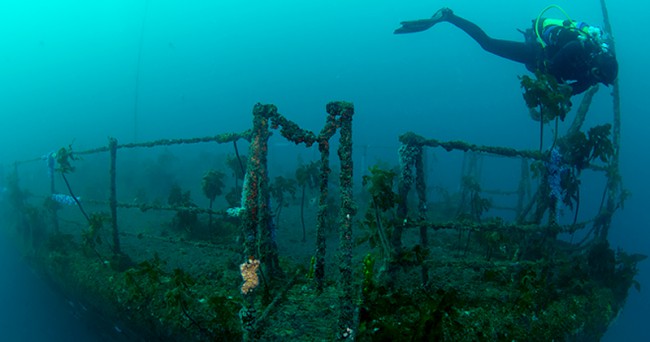 Kaikoura, South Island
The South Island town of Kaikoura is renowned for attracting sperm whales, dusky dolphins, New Zealand fur seals and albatross. Although a highlight here is to go swimming with the sea mammals, no trip is complete until you've explored the stunning kelp forests and limestone reefs here too.
The Coromandel Peninsula  
Dotted with islands, this coastline provides many healthy dive sites. Hiding inside the kelp and crevasses you will find trevally and blue maomao. The Mercury Islands should not be missed. Here you can swim amongst schools of fish, sharks and look out for spot octopus in the marine reserve surrounding Mercury Islands' waters. In the summer months large kingfish school with giant boar fish, john dory and tarakihi. A great variety of other marine animals inhabit these waters and some of the regular sightings include; moray eels, stingrays, wrasse, demoiselles, porcupine fish, snapper and many other vibrant species.
Long Island, Marlborough Sound
This New Zealand marine reserve was famously named by Captain Cook and is literally teaming with life. Look out for the giant crayfish which can be found in the crevices and underneath boulders, as well as blue cod, leather jackets and wrasse. Long Island is a great diving location which can be enjoyed by all levels of divers.
Stewart Island
This well-known New Zealand diving location is a major hit with macro underwater photographers who are frequently impressed by the kelp forests and the critters that inhabit them. Other highlights here include seals, sea lions, seahorses, blue cod and nudibranch. Examine everything carefully at this dive site – you never know what you might find.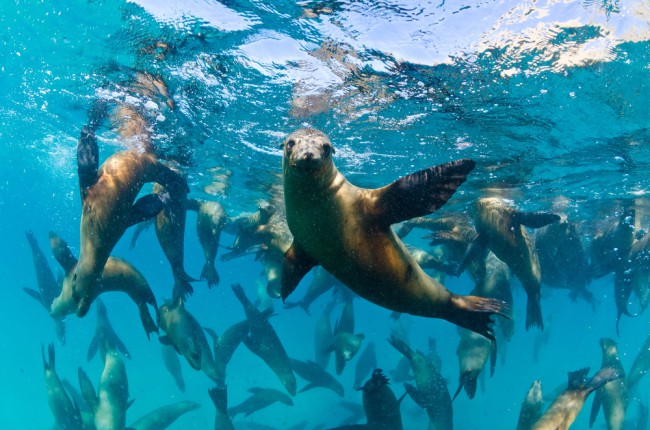 Mikhail Lermontov, Marlborough Sound
Sunk in 1986 under mysterious circumstances, this Russian cruise liner is the largest wreck in Australasia and she now rests, fully intact, on her starboard side. Diving on the Mikhail Lermontov in Port Gore is a fantastic experience, with many areas accessible without requiring penetration. For those with diving certifications which allow penetration diving, the Mikhail Lermontov provides a plethora of decks and corridors to explore.
Milford Sound
This is a stunning area of Fiord land both on the surface and underwater. Milford Sound is renowned for its crevasses full of crayfish, extreme drop offs and enormous boulders. Milford Sound and Doubtful Sound are known to have black and red coral giving you the opportunity to see wildlife that would usually be found much deeper in the ocean. The giant black coral trees break up the inner fiord rock walls to create a dream location for divers. Look out to the deep water where pods of dolphins and playful fur seals are often spotted. Brightly coloured, spiny sea-dragons stand out underwater and are a highlight for underwater photographers along with schools of demoiselles, leather jackets and the Jason Mirabilis nudibranch.
The South Coast, Wellington
This favourite shore dive for many divers, is home to a wide range of crustaceans and cephalopods. Rocky reefs and copious marine growth makes the area an attractive breeding ground for a large variety of other marine species too. Prepare for the unexpected as the South Coast is often full of surprises!
Goat Island, Auckland
This is New Zealand's oldest marine reserve and it showcases a wide variety of environments including rocky shores, deep reefs, canyons, massive boulders, underwater cliffs and sandy bottoms. Marine life sightings here are as varied as the topographies and include snappers, blue cod, crayfish and a range of different shellfish species, seaweed forests, sea squirts and anemones.
Aramoana, Dunedin
Within this region kelp forests lie along with several scuttled wrecks. Whilst the wrecks are a draw card for some, it is the varied marine life here which has put the region on the diving map. Macro aficionados will be kept entertained while looking for seahorses, nudibranchs, eels, crayfish and event carpet sharks. Those who prefer "big fish" will not be disappointed as the region attracts seven gill sharks, curious cod, green-bone, blue moki, wrasse and perhaps the most special of visitors – the New Zealand hooker sea lion. The area is also a voluntary marine reserve to ensure it remains at its best for divers. Despite the chilly southern South Island waters, this region rarely disappoints.
Does New Zealand appeal to your sense of adventure both underwater and on land? No matter which region of this captivating country you choose to visit there are stunning diving opportunities just waiting to be seized. Locate a PADI Dive Shop and get planning!