The coastline of New South Wales could keep a diver occupied for lifetime. As temperate waters meet tropical, the unique mix and biodiversity of this region is sure to impress even the most well-travelled of divers. With a huge choice of dive sites to explore you'll find everything from wrecks to reefs and from shark nurseries through to seal breeding grounds.
It's impossible to list every impressive dive site which sits along this staggering coastline so here are just a few of our favourites…
Julian Rocks Marine Reserve – Byron Bay
Maximum depth: Up to 25 metres (82 feet)
Visibility: Ranges from 5 – 30 metres (16 – 98 feet) / Average 10 – 15 metres (32 – 49 feet)
Julian Rocks, traditionally known as Nguthungulli, was formed by a volcanic eruption over 20 million years ago off Cape Byron. These barren granite rocks are now part of the Cape Byron Marine Park and host a number of dive sites. The underwater terrain at Julian Rocks includes caves, walls, pinnacles, trenches, and an incredible array of rock structures.
The mix of warm tropical and cool temperate waters creates a unique underwater biodiversity. Julian Rocks supports over 1,000 marine species including over 500 species of fish, both tropical and temperate, the rare leopard shark, and a myriad of invertebrate life including a huge array of corals. Look out for exquisite long fronds black coral in the deeper sections around the rocks.
Recommended PADI courses: Peak Performance Buoyancy, Advanced Open Water Diver, Fish Identification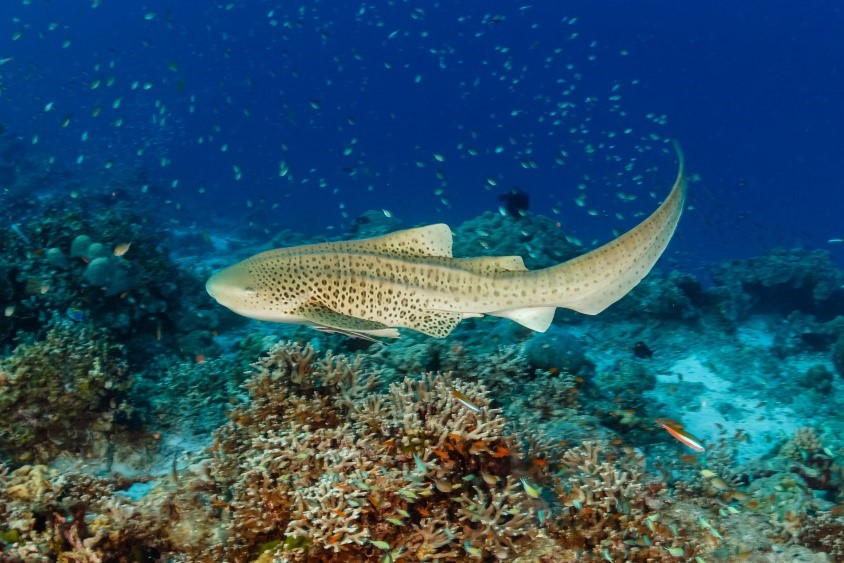 Coff's Harbour & Solitary Islands Marine Park
Maximum depth: 40 metres (131 feet)
Visibility: Can reach up to 40 meters (131 feet) but seasonal
The Solitary Islands Marine Park runs for 90 km/0.62 miles north starting at Coff's Harbour. Coff's Harbour is centrally located between Sydney and Brisbane on the NSW north coast. This diverse region is where the tropical waters of the north meet with the temperate waters from the south, resulting in a unique mix of marine species including more than 550 species of fish, 90 coral species and 600 molluscs.
Coff's Harbour offers year round diving and is the entry point to the Solitary Islands. From July to October, humpback whale watching trips are a major highlight.
North Solitary Island is where you'll find more tropical species and diverse corals due to warmer waters. Anemone Bay is the world's densest aggregation (or "carpet") of anemones and their anemone fish.
Tropical and temperate waters mix around South Solitary Island. This is where you'll find anemones and corals co-existing with kelp and cooler water species. South Solitary is renowned for 'big fish' sightings, including aggregations of grey nurse sharks, schooling pelagics and giant cuttlefish. The biggest drawcard of North West Solitary is the chance to dive or snorkel with manta rays. For diverse diving and corals, check out Split Solitary and South West Solitary Island.
Recommended PADI Courses: Advanced Open Water Diver, Fish Identification, Peak Performance Buoyancy, AWARE Shark Conservation Diver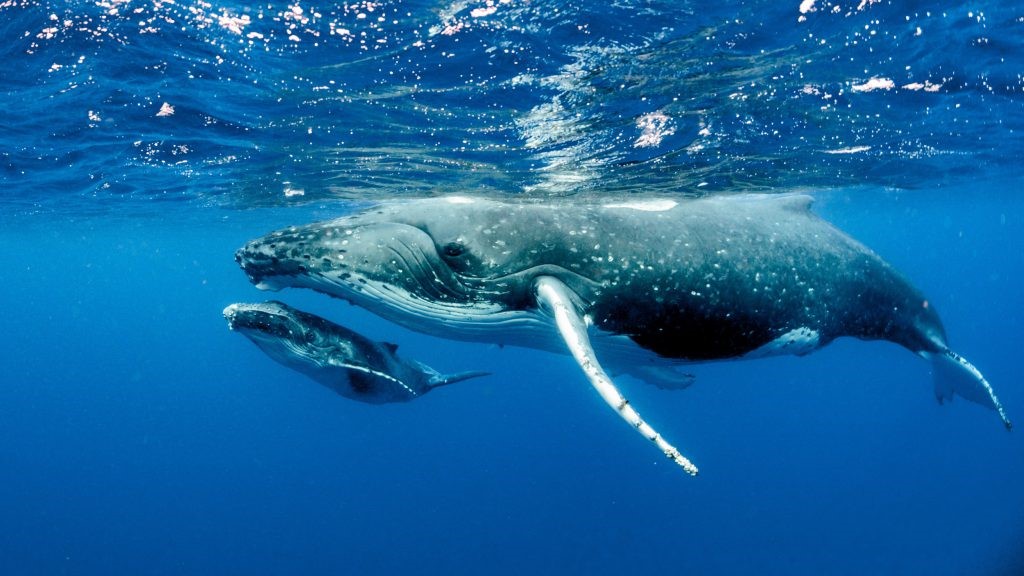 Fish Rock Cave – South West Rocks
Maximum depth: 30 metres+ (98 feet+)
Visibility: 15 – 30 metres (49 -98 feet)
Fish Rock Cave is a 125 metre/410 foot long tunnel or swim through which penetrates Fish Rock. There is both a shallow and a deep entrance to the cave. The shallow entrance at 12 metres/39 feet is decorated by beautiful gorgonian fans which make stunning underwater photography subjects in the shallows. The deep entrance at 24 metres/79 feet is famous for its resident grey nurse sharks which are often seen in numbers here.
The swim through from the shallow entrance to the deep entrance (or vice versa) includes two air chambers where divers can breach the surface. The walls of the swim through are carpeted in soft corals and the cave is usually teeming with fish as well as rays, sharks, lobsters and turtles.
Surrounding Fish Rock (outside of the cave) the prevailing currents provide a supply of nutrient rich water and the colourful sponge coral gardens are home to a myriad of critters.
Recommended PADI courses: Peak Performance Buoyancy Diver, Fish Identification, AWARE Shark Conservation Diver
Bare Island – Sydney
Maximum depth: 15 metres (49 feet)
Visibility: Up to 20 meters (65 feet)
Bare Island is arguably Sydney's most popular dive site. Located at the end of Anzac Parade, the island can be dived on all sides according to experience level. The Eastern side generally has better visibility and its shallower depths make it ideal for beginners. More experienced divers can attempt to circumnavigate the island or dive the south-western side which offers deeper waters to explore.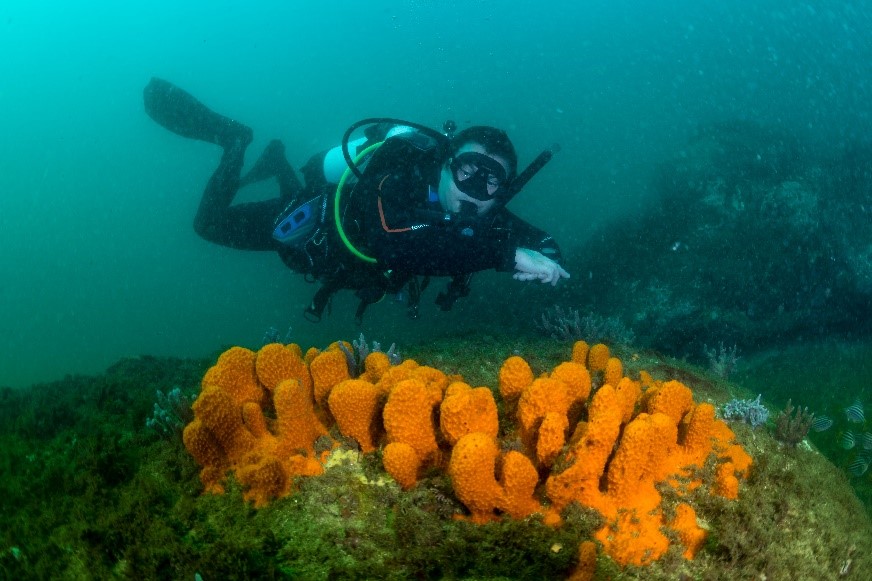 This shore entry site offers a mix of rocky reef, bommies, a wall, and generally rugged topography. Bare Island is home to diverse marine life, the rubble and sand patches are ideal for critter hunting and look out for Port Jackson sharks during the winter months. Night diving here is an exciting experience not to be missed!
This site is recommended for all levels of divers, including beginners and those taking entry level courses.
Recommended PADI courses: Open Water Diver, Peak Performance Buoyancy, Advanced Open Water Diver, Underwater Navigator, Night Diver
Jervis Bay
Maximum Depth: 60 metres + (196.85 feet)
Visibility: 15 – 20 meters (49 – 65 feet)
This large harbour is bordered by towering stone cliffs that sink deep into the ocean. There is a seemingly endless rugged and rocky coastline to explore.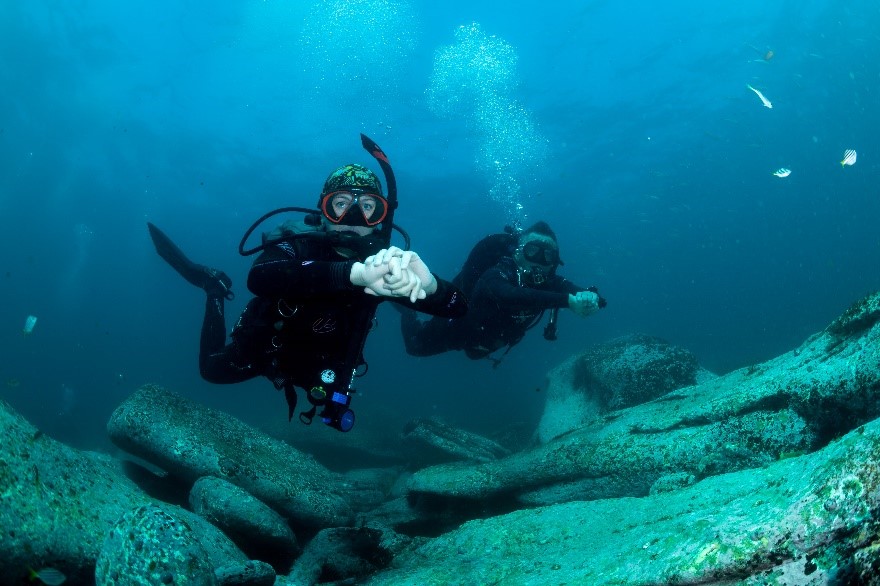 Jervis Bay is well known for its resident seal colony and diverse range of (numerous) dive sites. From colourful soft coral walls through to multiple caves and swim throughs, wrecks, shark nurseries and exquisite macro life there is something here for every diver from beginner through to advanced and Technical Divers.
Recommended PADI courses: Open Water Diver, Deep Diver, Advanced Open Water Diver
Batemans Bay inc. Tollgate Islands, Black Rock and Burrewurra Point
Maximum depth: 40 metres (131 feet)
Visibility: Ranges from 5 – 30 metres (16 – 98 feet) / Average 10 – 15 metres (32 – 49 feet)
Batemans Bay offers beautiful dives for all levels, from stunning shore dives to boat dives up to 30 metres/98 feet. The Bay is located approximately 3.5 hours south of Sydney. There are three main areas for boat dives in the Batemans Bay Marine Park:
The Tollgate Islands offer several dives. Occy Point has an array of bommies to explore and an abundance of marine life, from nudibranch to cuttlefish and look out for an occasional grey nurse shark. On the other side of the island is Dragon Rock which is a great place for spotting grey nurse sharks seasonally congregating.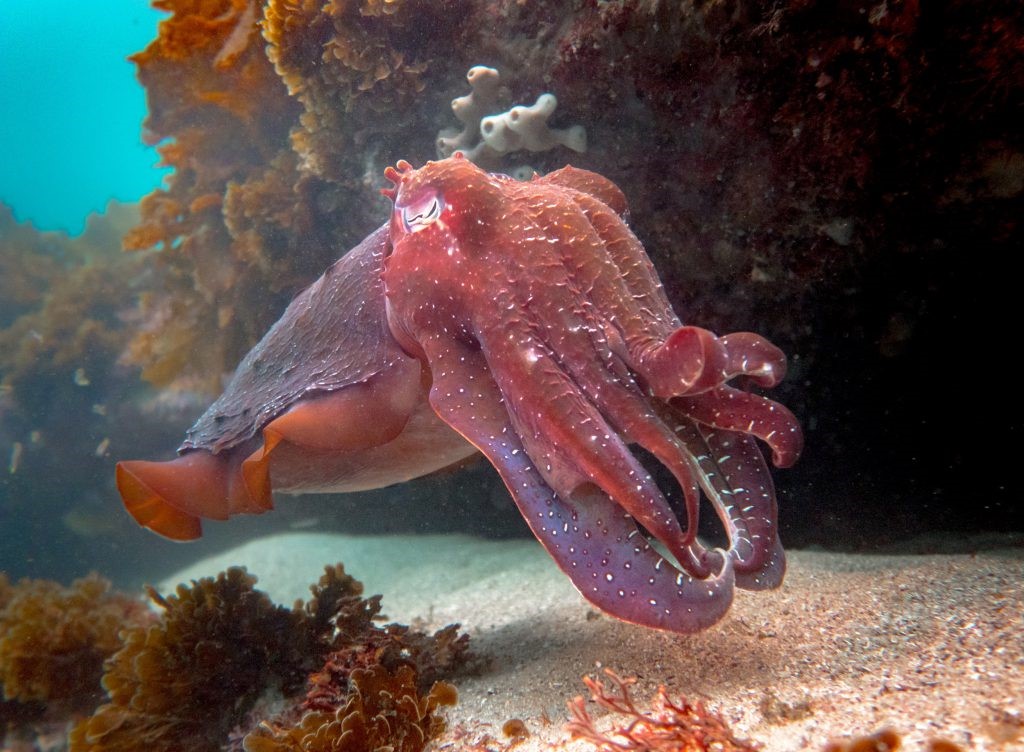 Black Rock one of the most diverse dive sites in the Marine Park. A cave, tunnel and an archway make for exciting diving. Dives at Black Rock are around 18 meters/60 feet.
Burrewurra Point has beautiful long walls which make stunning dives for more experienced divers. Wide angle photography opportunities abound and if you're lucky, you may even get a whale in your shot.
Recommended PADI Courses: Fish Identification, Deep Diver, Open Water Diver, Advanced Open Water Diver
Narooma & Montague Island
Maximum depth: 30 metres (98 feet)
Visibility: Up to 30 metres (98 feet) but seasonal. Average 10 – 15 meters (32 -49 feet)
Montague Island is located 5 km/3.1 miles off the Narooma coast. During the winter months hundreds of fur seals are the major draw as well as dolphin pods and humpback whale sightings. Montague Island in the warmer months (water temperatures up to 26°C/78.8°F), boasts tropical fish which are drawn to the coral reefs. Gorgonian sea fans make for wonderful wide angle photography along with grey nurse sharks and occasional rays. Whichever season you dive Montague, the rugged yet colourful topography will impress.
Recommended PADI Courses: Peak Performance Buoyancy, Project AWARE Specialist, Fish Identification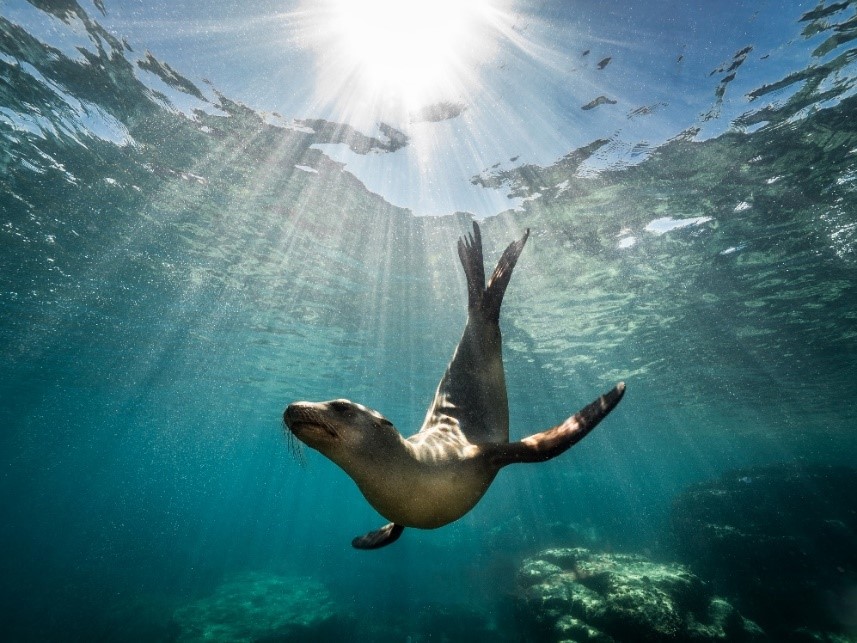 If you've been inspired to visit New South Wales for your next diving adventure, locate a local PADI dive shop today.