'All images provided by Underwater Photographer and PADI Divemaster, Jordan Robins'
Famous for having the 'whitest sand in the world' and sparkling blue waters, Jervis Bay  is a paradise waiting to be explored. Located just 3 hours from Sydney, Jervis Bay is the ideal destination for those looking for a quick escape from the city chaos.
The Jervis Bay Marine Park spans over 100 km/62 miles of coastline providing visitors and locals alike with an abundance of marine habitat's teeming with life. Try your hand at spotting bottle-nose dolphins playing in the bay, weedy sea-dragons camouflaged against the sea tangle and little penguins scattered on the shore. The natural formation of the coastline creates a large bay giving near perfect conditions for boat and shore diving year round.
To help you get ready for the trip, we've rounded up our top five dive experiences in Jervis Bay and why we think you'll love taking the plunge.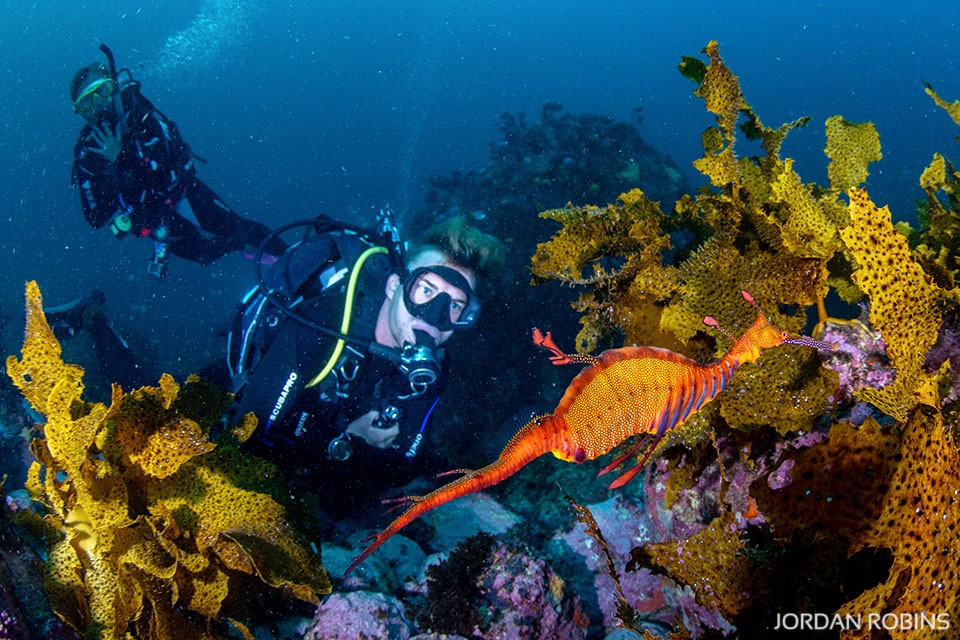 The Docks
The site gets its name from the two rock formations that extend out from the coastline, giving the impression of a dock when looked at from above. Underwater, you can expect to encounter a mix of kelp beds and boulders combined with swim through's and small caverns.
Beneath the surface at The Docks, you will encounter marine life such as bleeker's devil fish, eastern blue gropers, weedy sea dragons and the elusive red indian fish. On the larger side you can expect to spot bull rays, wobbegong's or maybe even the occasional grey nurse shark.
Depth: ranges from around 6 – 20 metres/20 – 65 feet.
If you want to maximize your experience diving this site, the PADI Peak Performance Buoyancy Specialty course will come in handy. Having this specialty will help you control your position in the water so you don't bump your head on those swim through's or damage any precious marine life!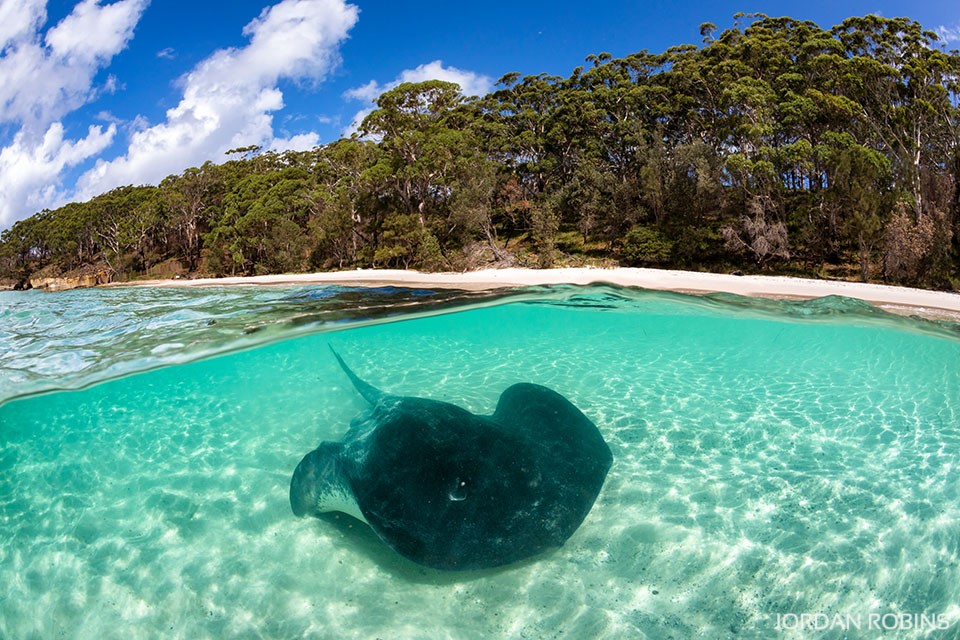 SS Wandra Wreck
If you are after a taste of wreck diving then this excellent site should be on the top of your list to explore. The SS Wandra is an extremely small wreck created from a wooden coastal cargo ship that sunk in 1915. While this 26 metre/85 feet long wreck does not cover a very large area, it is of great quality and shouldn't be missed. An array of marine life now call the wreck home including the colourful Blue Dragon nudibranch.
Depth: Around 28 metres/90 feet.
To access the SS Wandra Wreck, you will first need to complete the PADI Advanced Open Water Diver course. Doing this will allow you to head down to 28 metres/90 feet to properly explore this miniature wreck.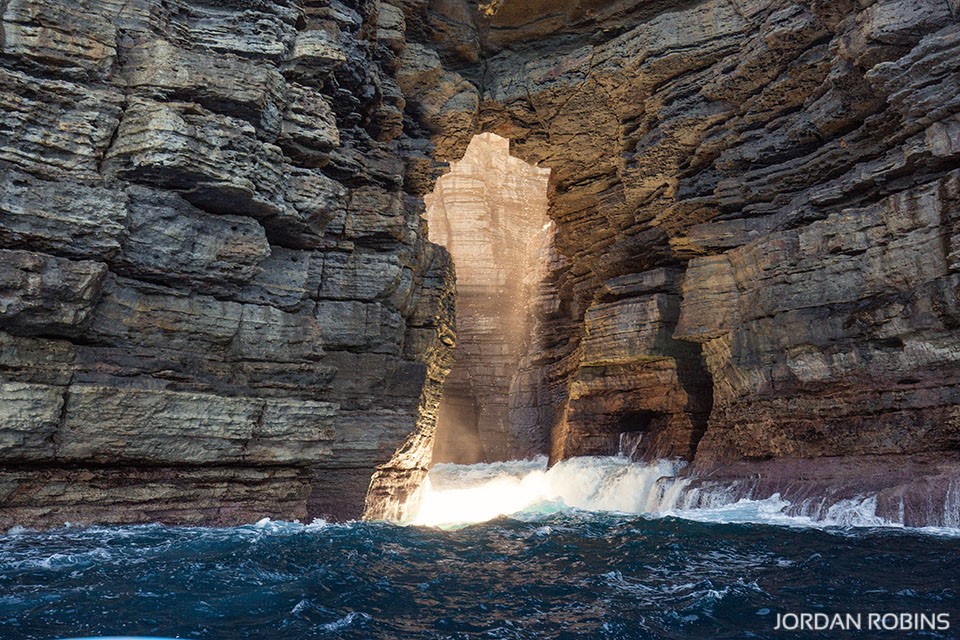 The Arch
This remarkable dive site is located approximately 1km/ 0.6 miles off Point Perpendicular (the north headland) of Jervis Bay. The main feature of this site is, as the name indicates, an incredible underwater Arch whose flat top sits at 24 metres/80 feet underwater. The sides of the arch reach down, creating a magnificent swim-through, until they touch the boulder covered ocean floor.
On this dive you can expect to find marine critters big and small. The underside of The Arch is covered in jewel anemones that provide a home for a vast number of Eastern Blue Devils. Upon reaching the bottom of the arch, you will be greeted by Grey Nurse Sharks, Wobbegong's and a kaleidoscope of fish life.
Depth: 24 metres – 35 metres/80 feet -114 feet.
The PADI Deep Diver Specialty course will assist you as you descend to the bottom of the arch. The deep specialty will increase your confidence to explore deeper dive sites, safely.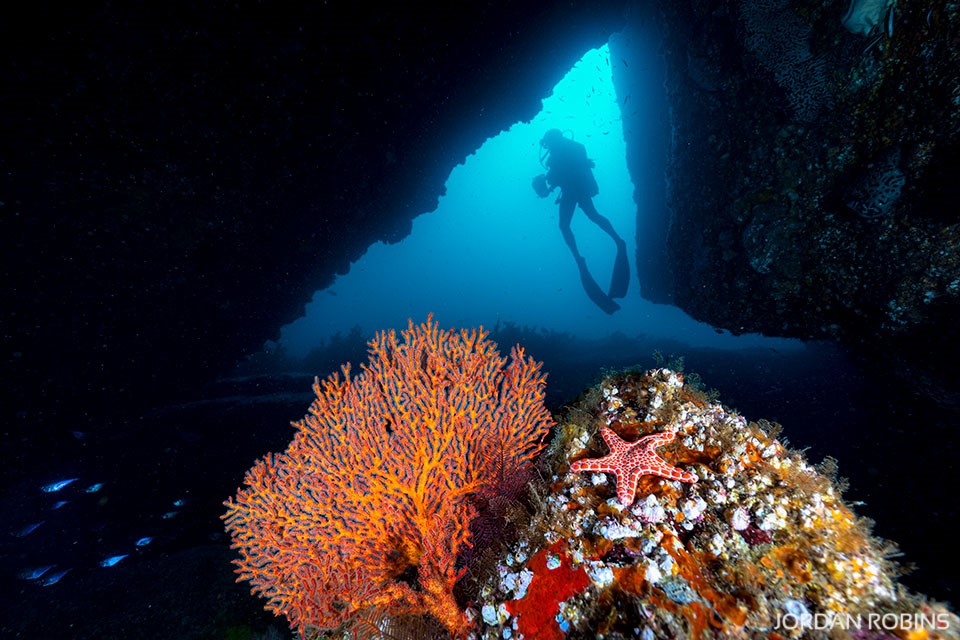 Point Perpendicular
This dive site gets its name from the 100 metre/328 foot cliff that it sits below and is actually made up of a few different sites. Once underwater, there are a number of boulders sitting in the shallows that create caves and exciting swim through's.
Diving Point Perpendicular will treat you with an abundance of sea sponges, and colourful gorgonians. Marine critters seen on this dive include Black Reef Leatherjackets, Port Jackson Sharks and an abundance of fish that call these smooth boulders home.
Depth: 6 – 35 metres/20 – 115 feet.
With the abundance of animals seen on this dive, the PADI Underwater Naturalist Specialty course will assist you in taking everything in. You'll be able to identify all you see and pass your marine knowledge onto your friends.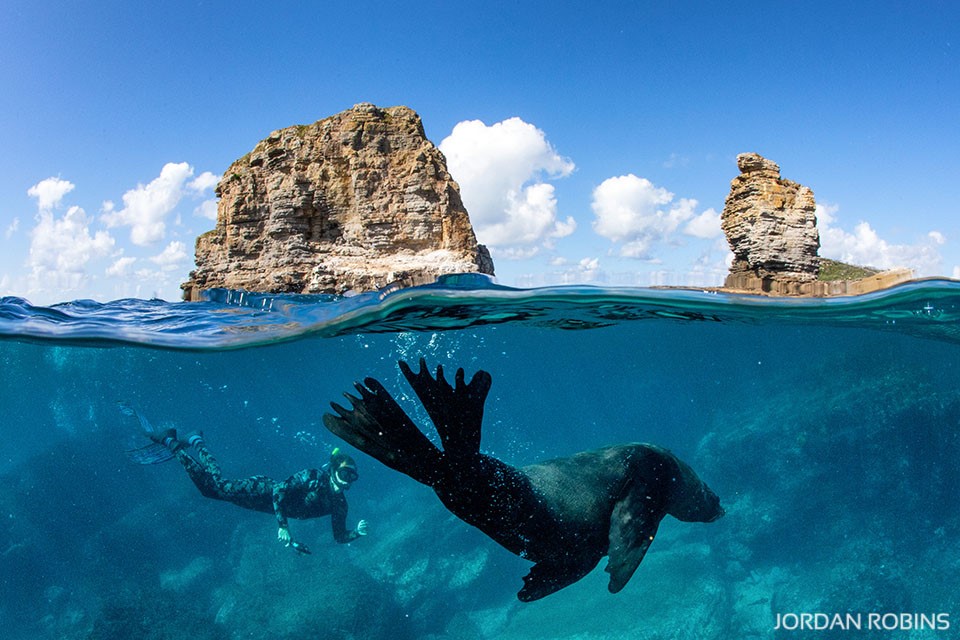 Diving with Australian Fur Seals
While not found at a specific dive site, seasonal diving with Australian Fur Seals is too good of an experience for us to not mention! These playful creatures are extremely inquisitive and enjoy mimicking divers as they explore Jervis Bay's surrounding dive sites. Encounters with these cute creatures can be experienced in the colder months from April to November and are another reason that Jervis Bay has gained a reputation as a top dive destination in Australia.
Are you ready to explore the underwater world of Jervis Bay in New South Wales? Locate a PADI dive shop and start your adventure today!