Guest article written and all photos provided by Molly Basterfield.
Picturesque palms emerge from pristine white sand, and turtles lap up the waves around the shore. After 21 days at sea, we had stumbled upon this abandoned speck of paradise- Kalanggaman Island in the Philippines. For the first time in weeks, I enjoyed the feeling of the sand between my toes, the touch of something other than water, and I wondered to myself; how on earth did I end up stranded at sea, clinging to this tiny sliver of land for survival.
Due to the coronavirus pandemic my plans for this year's dive season, like many people's all over the world, were thrown out the window. I was headed for an exciting season as a dive instructor working in conjunction with the WWF Philippines, to take guest divers on scientific research dives in Tubbataha and Cagayancillo. We were headed for three months of lush diving with hammerheads, tiger sharks, mantas and rays, evening dinners with scientists, research diving, and conducting onshore sustainability projects with locals within the area. Basically, I was going to be living the dream!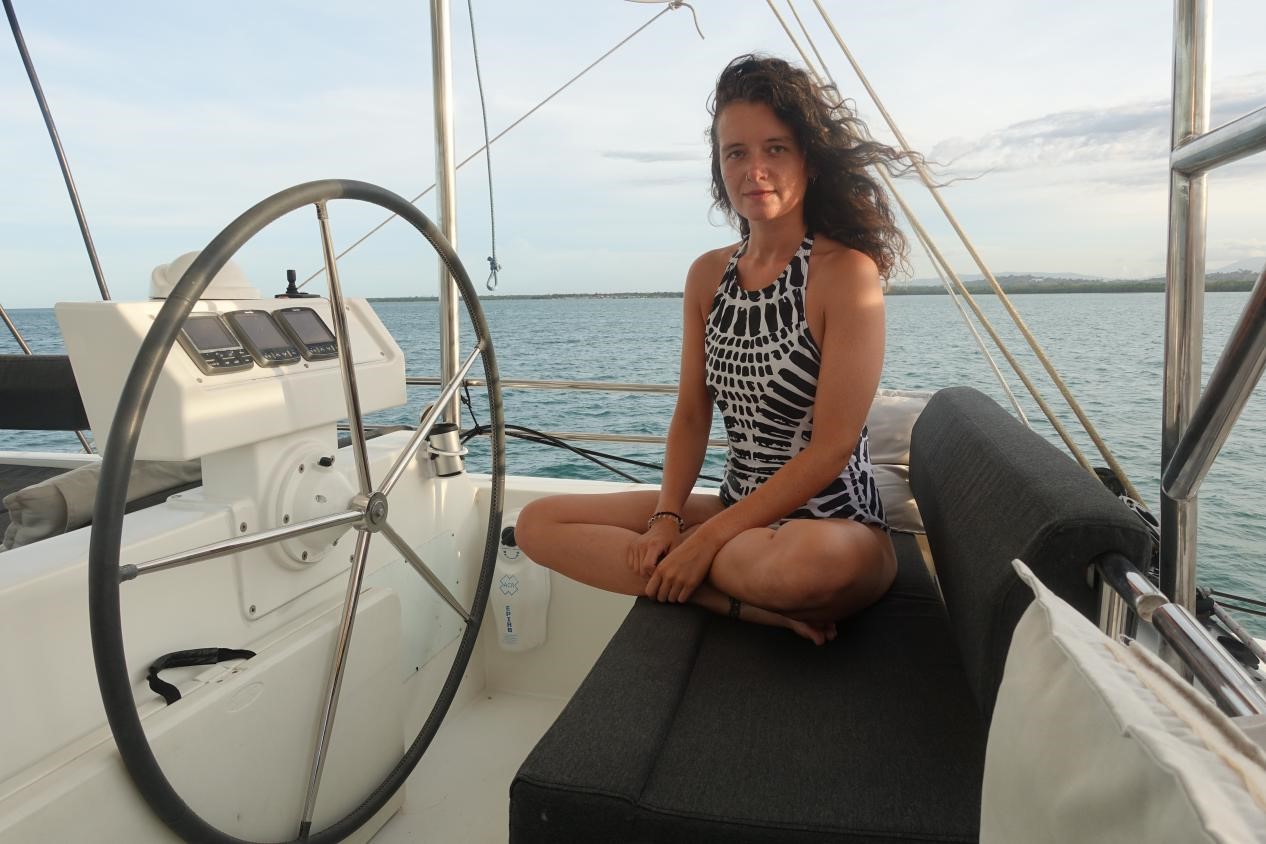 After Covid-19 began to wreak havoc in the Philippines, we began to realise this was not going to happen. On March 17th, only hours before the area came into lock down, myself and three other crew members departed from Subic Bay on catamaran 'Primetime'. It turned out that these would be the only three people I would see for the next two months whilst stranded at sea.
We headed towards Boracay– a small island, to seek a safe haven to shelter in. Along with the rest of the world, we had no idea what the future held. Compared to much of the world, in the current situation, we were highly fortunate. We had a space to isolate in, a water maker to produce water on tap, food and fuel to last 30 days, internet on occasion, and even a bar on board. With a mixture of apprehension and excitement, alongside a lust for adventure, we sailed out into the blue depths… into the unknown.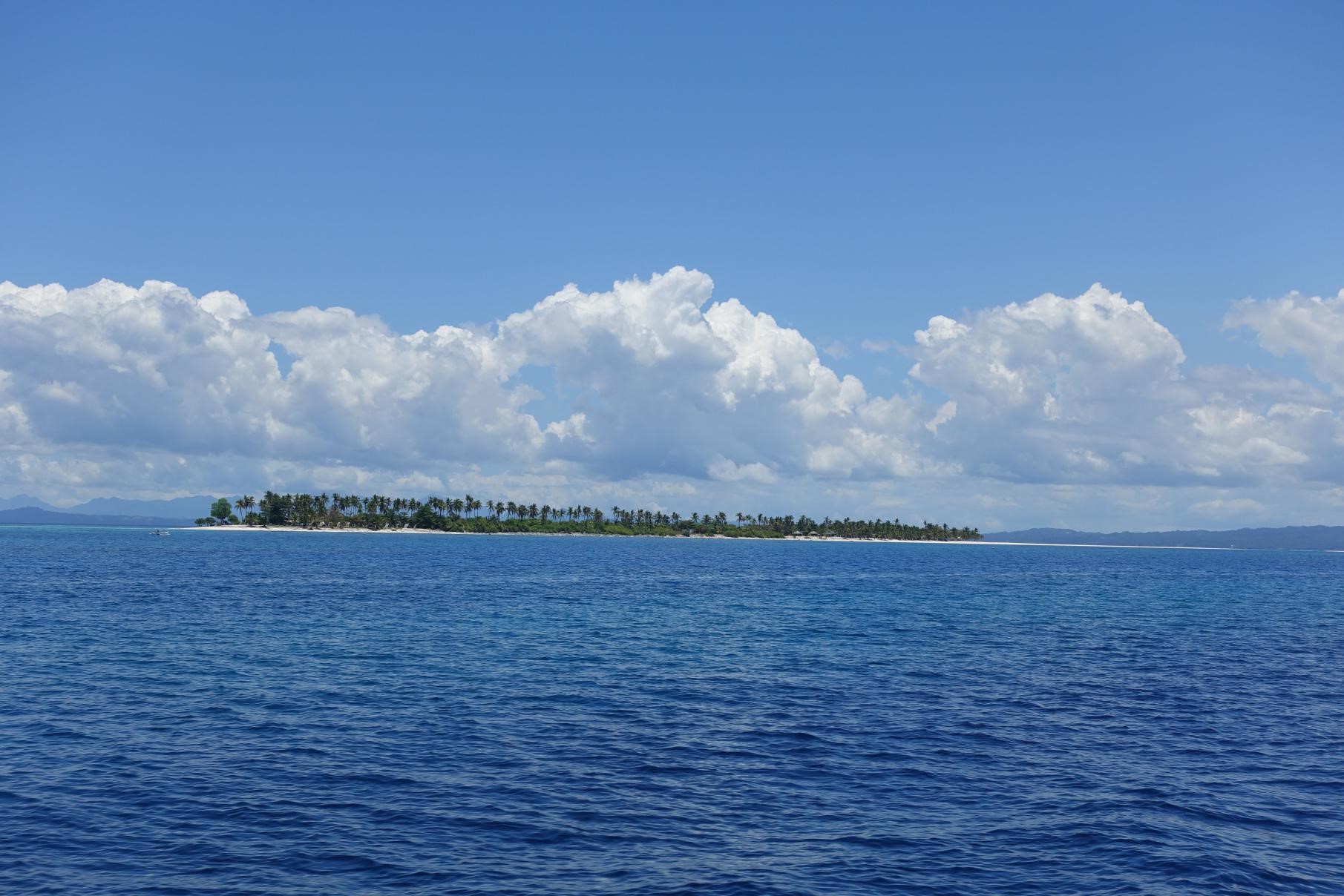 After a choppy 72 hour sail across the Sulu Sea, we reached Boracay…but just a few hours after dropping our anchor we were moved on by coastguards. From that point on this was what our future held. Time and time again we were turned away from different islands and multiplicities. In the end, we resorted to looking for isolated islands, slithers of land hardly bigger than rocks, where it was shallow enough for us to anchor.
Kalanggaman island, one of these slivers of land that we clung to for survival, turned out to be a paradise begging to be explored. The water was crystal clear, picturesque palms were emerging from a pristine white sand bar and turtles frequently surfaced around the boat. Each evening brought a spectacular sunset in different shades of lilac and peach and, other than the occasional fisherman passing by, there was no one here to bother us. We enjoyed a week of Kalanggaman sunsets, and I did what any ocean-loving, diving fanatic, PADI Pro would do; I dived right in! In hope of discovering an underwater paradise surrounding this postcard-perfect virgin island. I wasn't disappointed!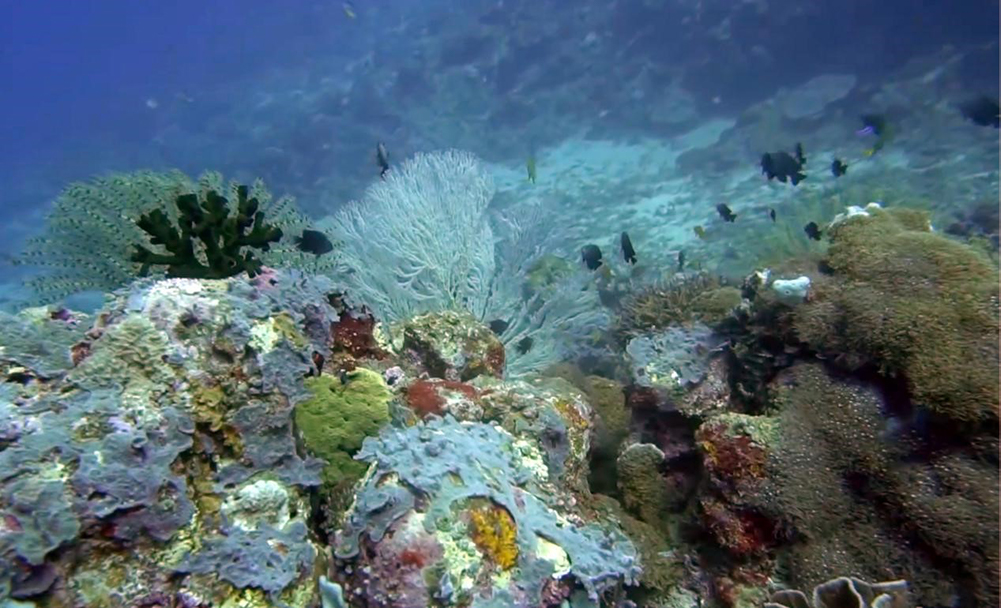 Surrounding the entire island, at around 10m/32ft depth, I found an abundance of gorgeous soft and hard corals surrounded by a plethora of marine life. Emporerfish, triggerfish, batfish, snappers, parrotfish, lionfish, pufferfish, and needlefish swarmed among the pretty coral gardens in pristine waters offering over 40m/131ft of visibility.
Venturing a little deeper, there was a sandy bottom; the perfect hideout for rays! As I finned across the ocean floor blue spotted ribbon tail rays, eagle rays and marbled stingrays would fly out from their hiding places in the sandy bed beneath me, swarming in every direction. Sea snakes undulated through the silky depths and groups of barracuda hovered above me.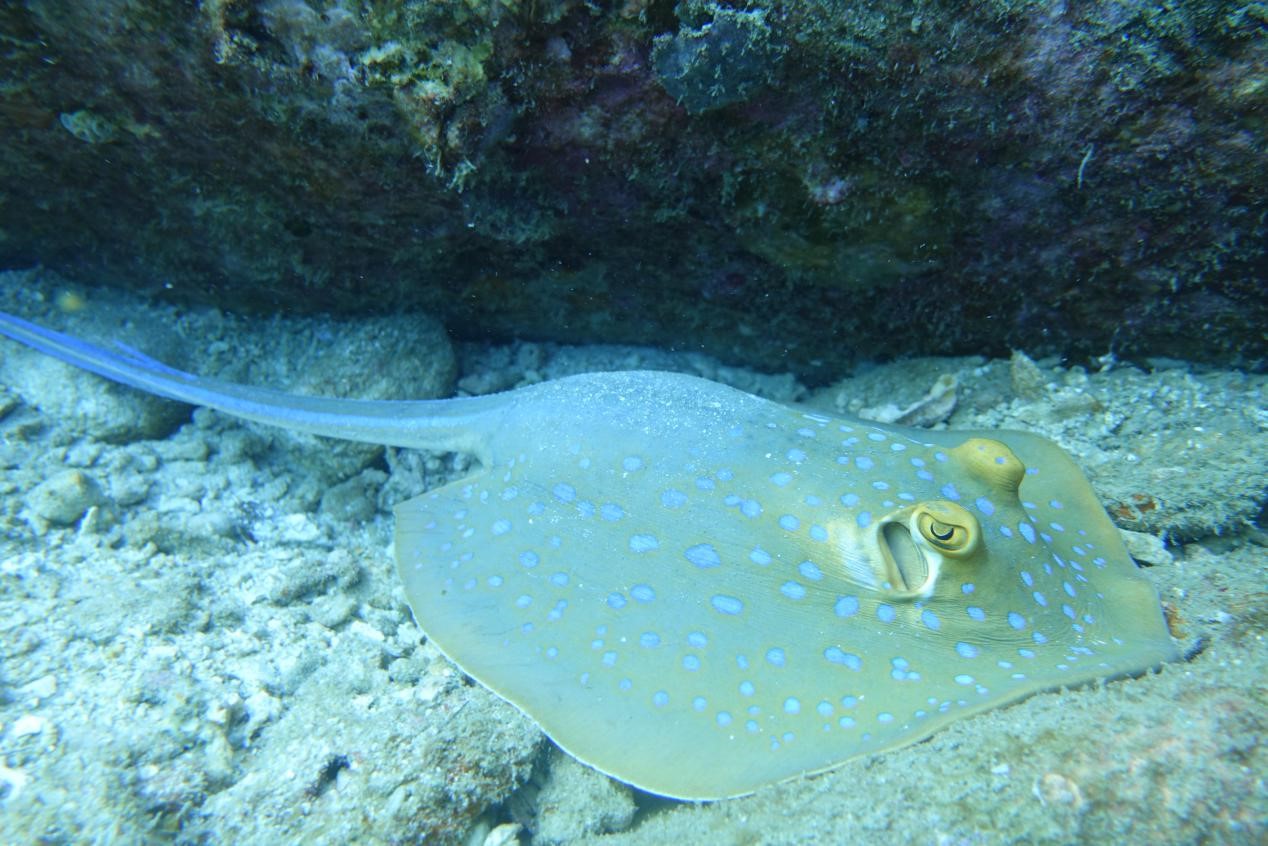 By the end of the week, I had perfected my perfect dive route. Having a Diver Propulsion Vehicle (DPV) on board, I would descend in the shallows at 10m/32ft, head south-east through the coral beds, across the sandy bottom, and then approach the edge of the wall at around 25m/82ft of depth. Nothing beats the feeling you get when you're peering over a wall edging into the deep mysterious blue… the ocean floor 1,000's of metres/3,280 feet below, not knowing what awaits you!
I peered over the edge, following large pelagics; tuna, giant groupers and the occasional shark, down into the ocean depths. Kalanggaman wall falls thousands of metres/feet to the ocean floor beneath. Glimpses of light from the surface hit shallower ridges, lighting up a never-ending descent down into the abyss. Along the side of the wall are beautiful marine plants in hues of red, purple, white and green, spectacular sea fans, whips and table corals alongside shoals of batfish and moorish idols. Now and then a curious turtle would drift alongside me before descending deeper.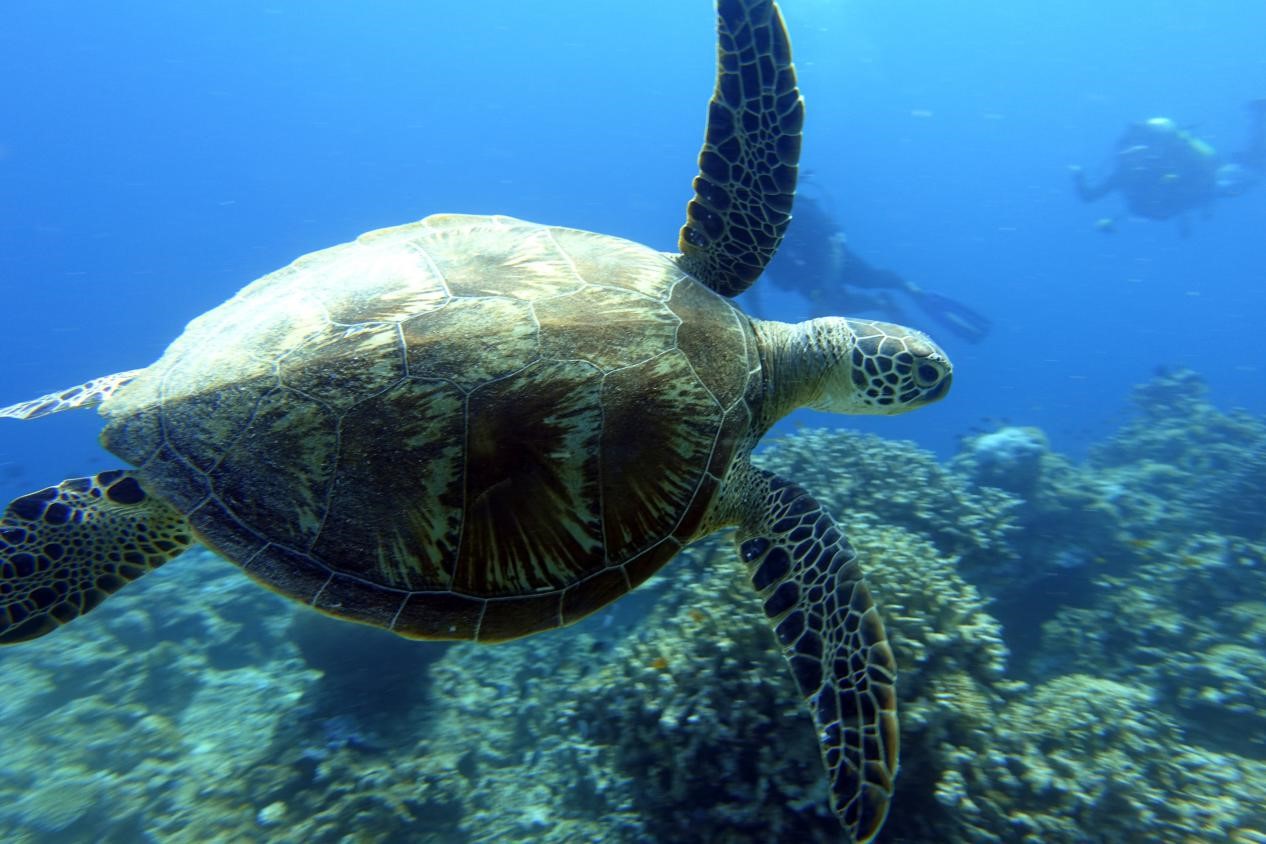 Diving early in the afternoon allowed for the perfect drift dive along the wall. The current carried me around to the shallower eastern edge of the island so I could hang out with the turtles in the grassy shallows once I became low on bottom time. These beautiful creatures seem to be in abundance here in Leyte. It's amazing to see such healthy, happy turtles around us every day and a blessing to have their company whilst stranded at sea!
We remained next to this gorgeous speck of land to catch the super moon on April 8th, and threw a 'full moon party' to raise the spirits of everyone on board. We traded up bikinis and rash guards for dresses and shirts for the first time in 24 days and sat on the flight deck with a glass of wine to witness the glorious red moon rise from the horizon over the deep blue, glimmering, vast ocean that surrounded us.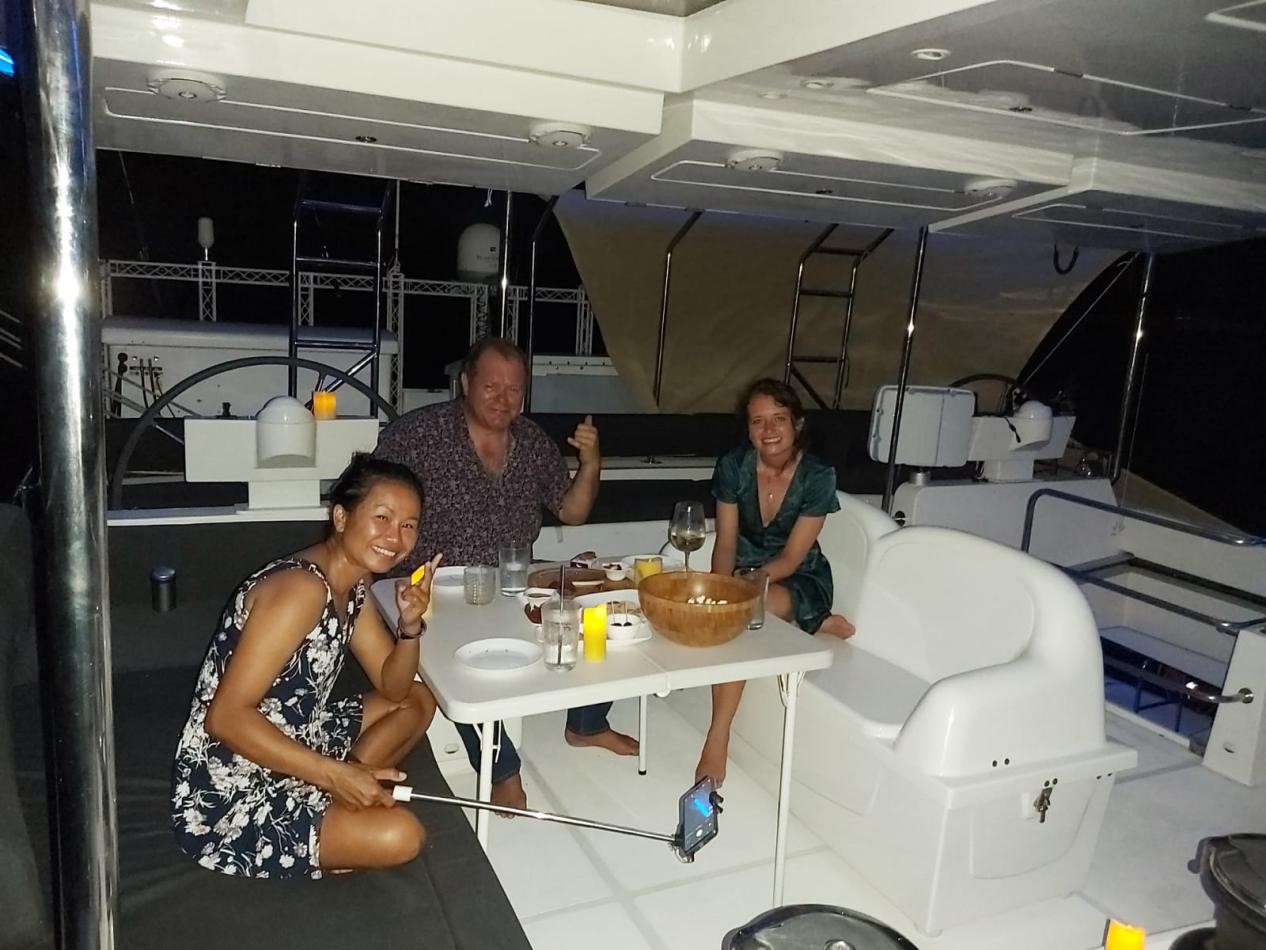 The following evening whilst walking across the deck at night, I spotted by chance something moving around in the shimmering darkness below. There were hundreds of curious worm type creatures, glowing in reds and greens, having a frenzied party under the full moon.
I was looking at the full moon spawning of the Palolo worm! A phenomenon that takes place only once a year! In preparation for spawning, the Palolo worm grows 'tail' segments that contain sperm and eggs. This tail features an eye spot that can detect light, and when the lunar timing is right the tails break off and undulate in a swarm towards the surface to mate. Those that are not taken for consumption (they are a delicacy among locals and apparently taste like caviar), burst into a sperm-egg milk and fertilize to create larvae, which then drift off to settle on the ocean bed.
I'd heard of these mysterious creatures and their relationship with the rhythms of the moon. To witness this rare phenomenon happening right in front of me under the open star-speckled sky, whilst floating amidst the deep depths of the ocean, filled me with awe and wonder. Allowing me to grasp for a brief moment that fleeting and profound sense of connection to the sky, the ocean and the universe surrounding me. That same feeling that often appears when you're floating around, 20m/65ft below the surface, observing the in-comprehensible beauty of the world you are part of!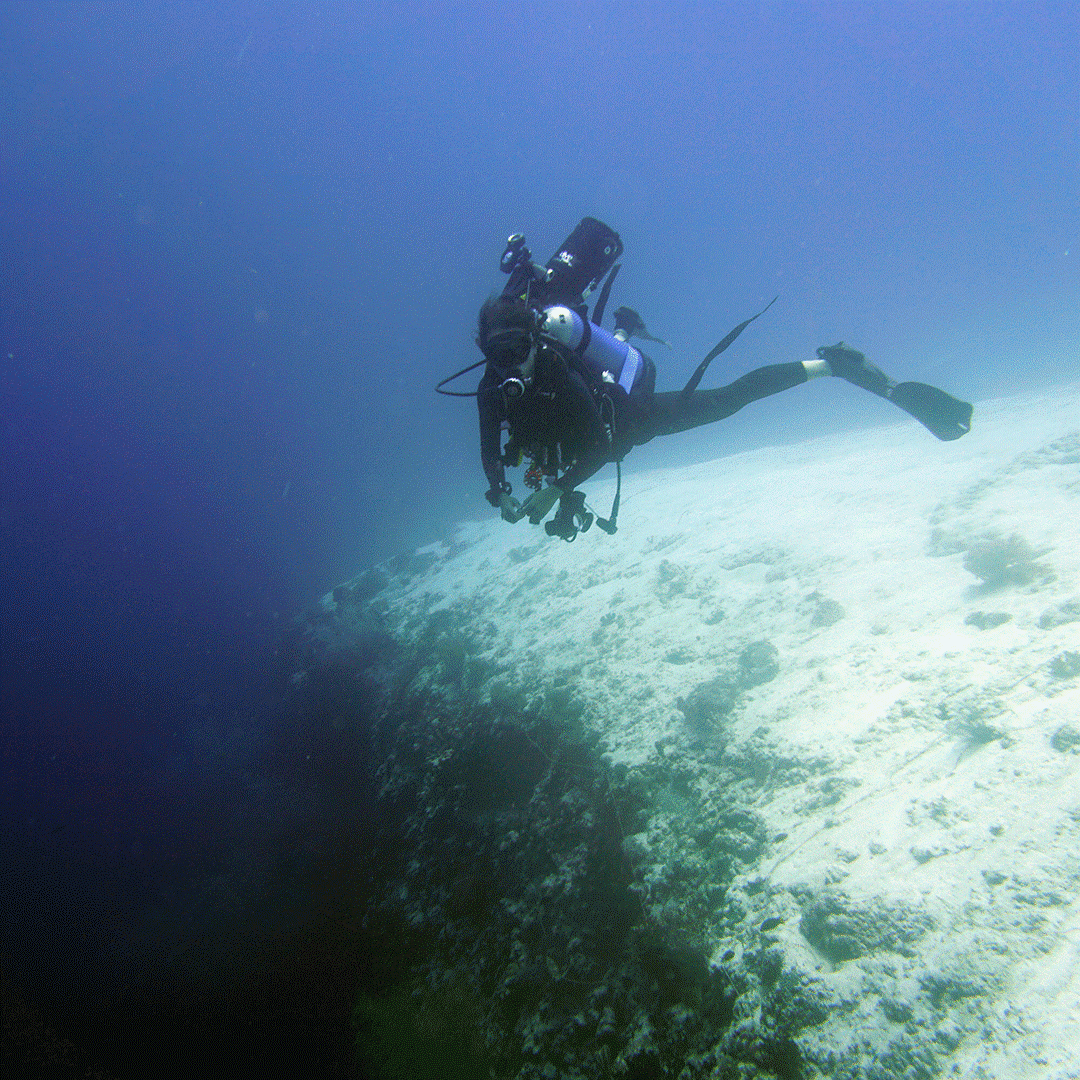 Over two weeks have passed since that evening, and today is our 50th day at sea. We have sailed over 1,300 nautical miles around the Philippines and are now anchored just outside of Puerto Princessa, our fate out of our hands.
It looks as though I won't get to dive in the world-renowned Tubbataha Reef this year, but getting to experience the almost-unexplored underwater paradise of South Leyte, with no other divers in sight, was a once in a lifetime experience. Glimpsing extraordinary phenomenon such as the Palolo mating spawn, pods of dolphins alongside our boat and spotting Elon Musk's satellite chain glisten across the night sky whilst sailing, filled me with a sense of awe when I needed it the most. Seeming to catch me just at the right time, whilst I was feeling lost and hopeless and reminding me to thank my lucky stars for my natural blue surroundings which rejuvenate my mind and fill me with calm and tranquillity each day.
Perhaps I will get the chance to come back and experience Tubbataha in the future when the world eventually gets back to normal. Or, even better, a new kind of 'normal' brimming with compassion and consideration for the planet and the ocean. Perhaps Tubbataha will be thriving with even greater energy and abundance of life when that time comes around.. (fingers crossed!)
Find out more about diving in the Philippines and stay up-to-date with Molly's journey by following her on Instagram or checking out her website.