Full-time PADI® Instructors and Divemasters get to spend every day underwater helping people explore the underwater world. But what happens when divers stop coming? 
For some PADI Pros, lockdown was an opportunity to invest in the health of the ocean and their local community. Here are a few inspiring stories of PADI Pros who:

Helped kids experience the magic of scuba diving virtually

Created online educational programmes about marine conservation

Used wool to raise money for

Project AWARE® 

Started an artificial reef in Sri Lanka
Nourished frontline works and isolated families in Cebu
Conservation Education – The Red Sea, Egypt
PADI Master Instructor Ahmed Fouad hosted weekly webinars on behalf of NGO Red Sea Project. The online programmes helped divers stay connected to each other and the underwater world. 
View this post on Instagram
Red Sea Project encourages travellers to "be more than just a visitor." Areas of focus include:
Mangrove habitat conservation

How to practise safe and enjoyable diving while respecting marine life

Dugong protection, awareness and best practices

Whey the Red Sea ecosystem is so unique
View their schedule of upcoming webinars on their events page. Follow Red Sea Project on Facebook to learn when new events are scheduled.
ShareABread – Cebu, Philippines
PADI Master Instructor Rikka, (known as Kae) is the Finance Officer and General Manager of Dive Funatics in Cebu, Philippines. When the pandemic hit, Kae cooked up a way to support her community and frontline workers.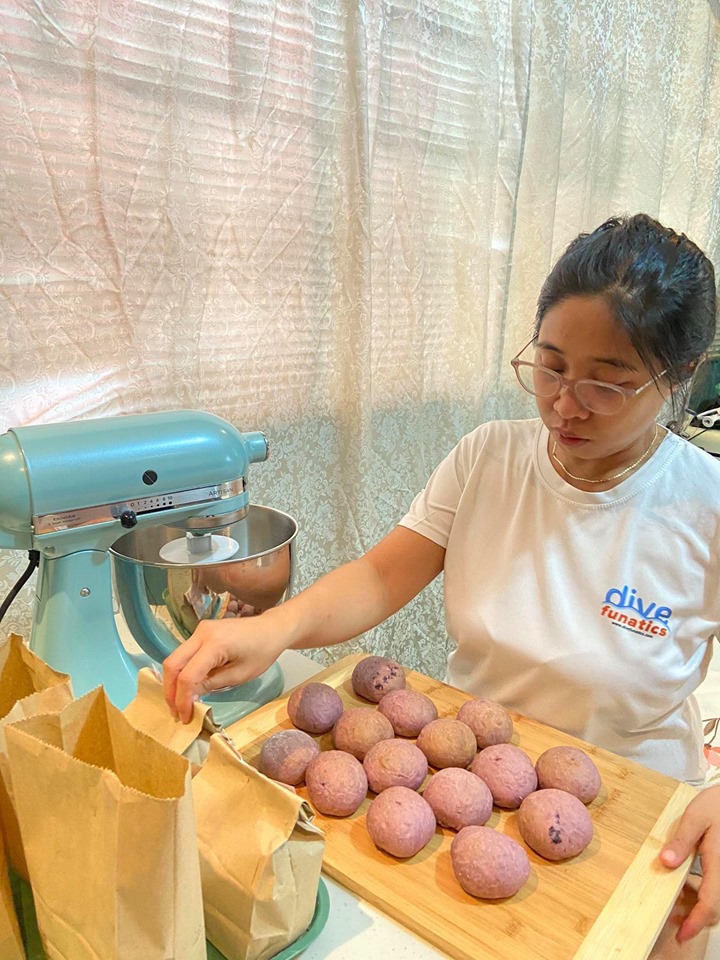 Instead of getting up early to manage the dive shop, Kae spent her mornings baking pandesal, a soft breakfast bread filled with cheese or jam. ShareABread launched on 8 May. 
As you may have guessed from the business name, ShareABread follows the buy-one-donate-one model popularised by companies like Tom's Shoes and Bombas. For every bag of pandesal purchased online, ShareABread donates a bag to frontline workers or isolated communities. To learn more, or support Kae's efforts, visit shareabread.com. 
Magical Moments at Jr. Wheelchair Sports Camp – California, USA
Each year, Cottage Rehabilitation Hospital in Santa Barbara, California, USA, runs a wheelchair sports camp for kids ages 6-19. Typically, the week-long camp includes a day for kids to try snorkeling and/or scuba diving in addition to other activities such as tennis, hand cycling, kayaking, racquetball and a ropes course. Unfortunately, an in-person event wasn't possible this year.
PADI Instructor and OTR/L (Occupational Therapist Registered/Licensed) Denise Dowd was determined to bring the magic and wonder of the underwater world to this year's virtual Junior Wheelchair Sports Camp. She contacted PADI and was soon connected with Grady Scanlon, Exhibit Dive Coordinator at The Aquarium of the Pacific.
"Grady did a virtual tour of their tropical tank and gave a shoutout to the kids. They loved it!" said Denise. "PADI also donated care packages. Each participant received some cool Bubblemaker prizes including a towel, toy and sticker."  
"There's a core group of scuba instructors who help out every year, some drive 2-3 hours one-way to participate," said Denise. "Everyone was disappointed we couldn't do a pool activity, but thanks to the assistance from PADI, the aquarium and other contributors, we created a memorable experience for the kids!"
Stellar Sea Creatures – Lincolnshire, UK
On 7 June, Stellar Divers invited its social media followers to adopt a one-of-a-kind knitted octopus for £10 each, with all proceeds supporting Project AWARE. So far, the dive shop has raised more than £230 ($302 US).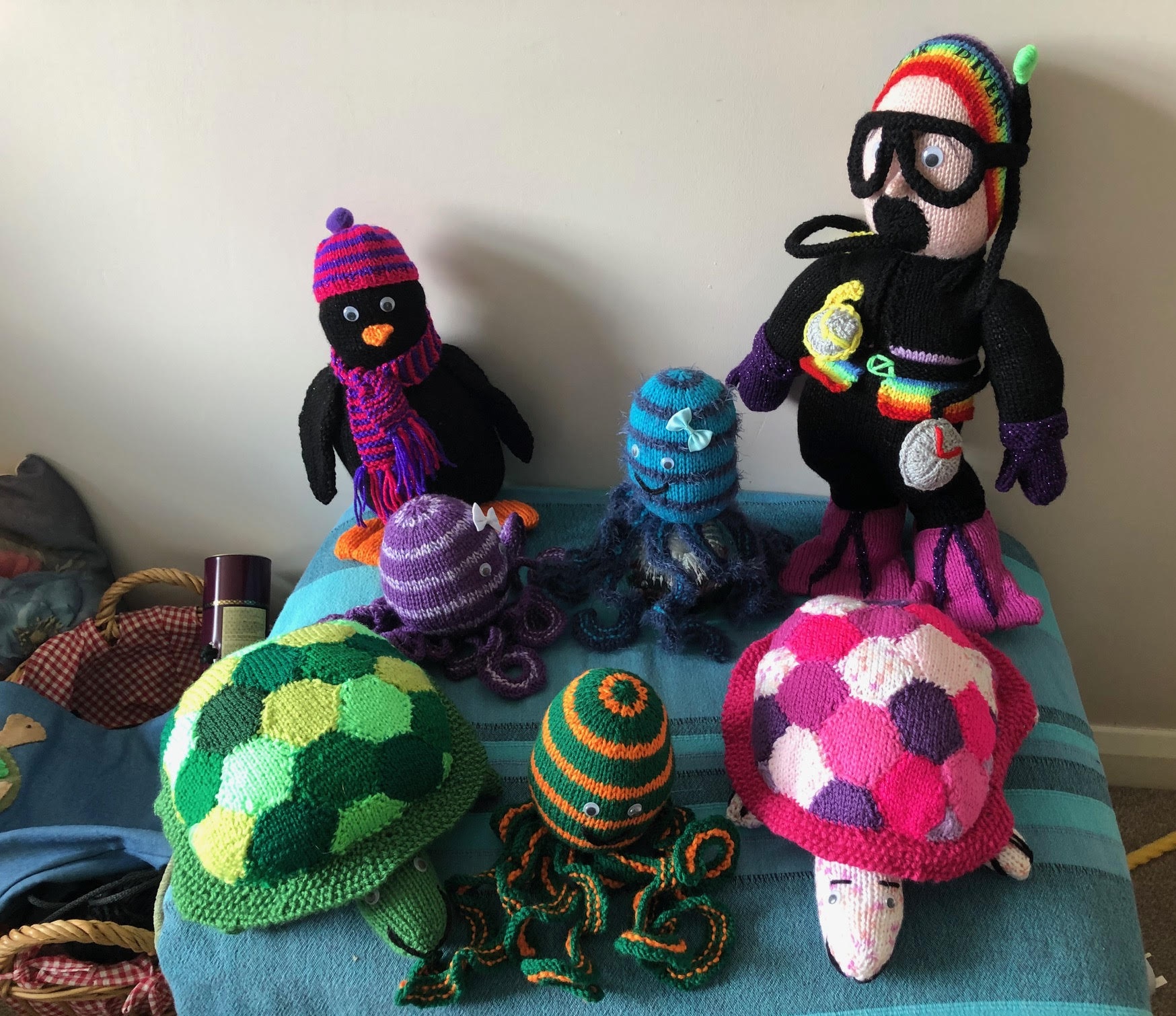 "We feel so proud to help Project AWARE with their vital mission," said PADI Course Director Simon (Hotch) Hotchkin. 
The brilliant knitter is none other than Hotch's mum. Since the original offering, she's branched out into turtles and divers as well.
"Mum will still knit any that are needed," said Hotch. So if you're keen on a cuddly sea creature for you or a friend simply, comment on this Instagram post or this blog article from stellardivers.co.uk. Simon's mum has her knitting needles at the ready. 
Rebuilding Bar Reef – Sri Lanka
Bar Reef is the largest coral reef in Sri Lanka. Unfortunately, Bar Reef experienced a massive die-off in recent years due to human impact and a 2016 El Niño event. In 2019, The Daily News reported: only 6 percent of the reef was still alive.
In response to this catastrophe, PADI Instructor Sam Fernando started an artificial reef. Working in conjunction with conservation teams, Sam continued to build and monitor the reef during lockdown.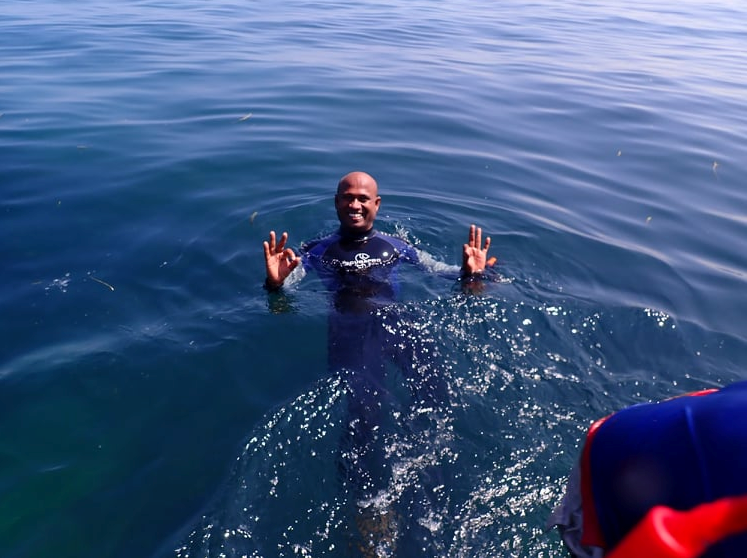 Caring for Bar Reef is something of a family tradition. Sam and his father, who disappeared during the civil war, started monitoring Bar Reef in the early part of the millennium. Today, Sam and his son devote countless hours to help this critical ecosystem survive.
Find out how you can support your favorite local PADI dive shop during these unprecedented times.