Now is the time for divers to come together to save the ocean and support the communities who rely on it. On 25 July, the 300 meter-long bulk carrier ship, MV Wakashio, ran aground while transiting past the Indian Ocean island nation of Mauritius near Pointe d'Esny and Blue Bay Marine Park. This designated marine life sanctuary is home to world-renowned coral reefs, including a 1,000 year old brain coral, and a remarkable diversity of tropical marine species.
Nearly two weeks later, after getting bashed on the reef by strong winds and waves, the ship began leaking oil from cracks in its hull. Then on 16 August, the MV Wakashio split in two. While much of the oil had been safely pumped out of the ship via a large tanker, the MV Wakashio has leaked approximately 1,000 tons of oil into the surrounding waters, spreading over nearby reefs and lagoons, as well as washing up on the island's sandy beaches and mangrove coastlines.
On the back of the global coronavirus pandemic, the oil spill is a second major blow for this small island nation that relies heavily on tourism. Mauritius and its 1.3 million residents greatly depend on a healthy environment, above and below the surface. As they now watch years of conservation work being undone, it is that much more awe-inspiring to see the community come together to do what they can with the resources they have.
Since the vessel first started leaking oil, the people of Mauritius have shown incredible dedication and unity by coming together to try and mitigate the oil spill's impacts. Local volunteers – including divers, fishermen, environmentalists, and non-profit organizations – are driving much of the relief effort and clean-up operations. Containment booms and absorbers are being made from all available materials that can either float or soak up oil – including plastic jugs, straw, palm fronds, fabric and even human hair.
"There has been a very quick response from our dive community in the south east of Mauritius, and many other supporters from multiple dive centers which are currently involved in the cleanup of the lagoon and shore," says Mukesh Buldewa, PADI® Course Director and Chief Executive Officer of Blue World Explorer Adventures. "It has been a very strenuous battle, day and night, with everyone from the local people who were ready to help in whatever way they could to contain this oil spill and prevent more damages to cause to our ecosystem. Really a great human chain of solidarity."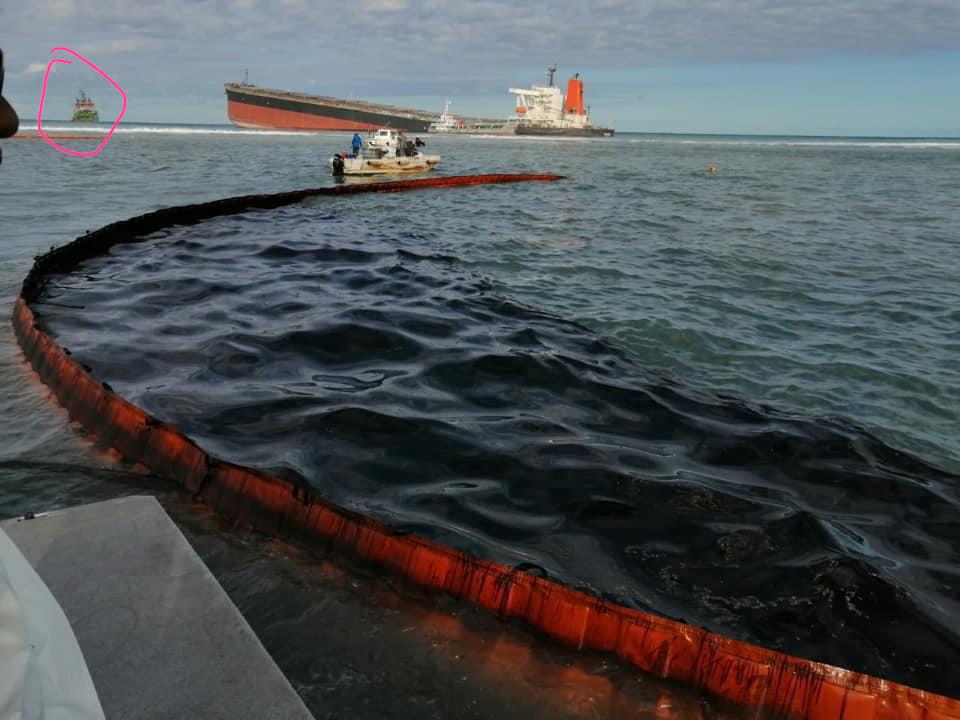 Prime Minister Pravind Jugnauth declared a state of unprecedented environmental emergency in Mauritius, and has made requests for urgent international support to help stop the ecological and economic damage that is overwhelming the small island nation.
Mitsui O.S.K. Lines (the ship's operator) attempted to place containment booms around the vessel but have not had success due to rough seas. Greenpeace Africa and Greenpeace Japan have sent an open letter to Mitsui O.S.K. Lines and the Nagashiki Shipping Company with demands for further action to reduce the consequences of this disaster. The government of France sent a military aircraft and a naval vessel with pollution control equipment from nearby Réunion Island. The Japanese Ministry of Foreign Affairs sent a six-person disaster relief team to assist the French efforts. The Mauritius coast guard and police units are assisting with on-going efforts.
"Supporting ocean catastrophes is something which PADI Instructors dedicate their careers to," says Tony Andrews PADI Course Director at Crystal Divers Mauritius and founder of Go Eco Phuket. "So it's incredible to witness a community of divers, fishermen, families and children devote their time to secure the future of their livelihood."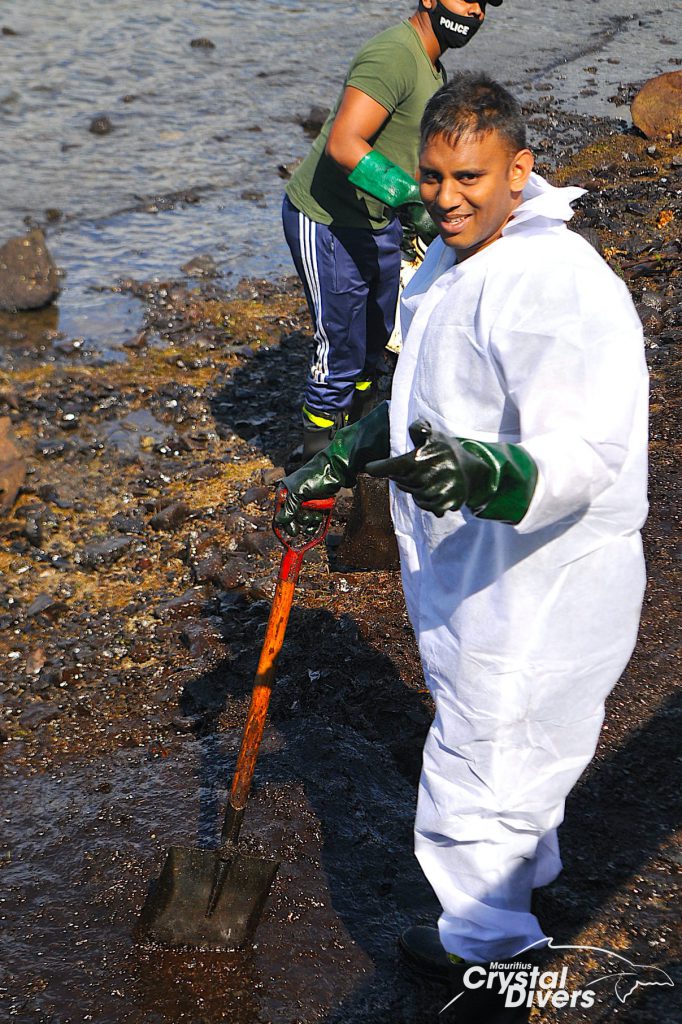 The Mauritius community's inspiring efforts would hugely benefit from additional support. As a global network of divers and ocean-lovers, our PADI community knows first-hand the importance of healthy marine ecosystems. With this environmental tragedy unfolding on the coral reefs, tropical marine life and mangroves of Mauritius, now is the time for divers to come together to help save the ocean. Here are some ways to support the community and reefs of Mauritius:
Use Your Voice
As a torchbearer in your community, you have the power to shine a spotlight on the oil spill in Mauritius. By sharing with friends and family, or posting on social media, we can all put this emergency (and the passionate people working to mitigate the impacts) at the forefront of the international environmental and conservation agendas.
Connect with PADI Dive Shops in Mauritius
Connect with local PADI dive shops and resorts in Mauritius that are working tirelessly to reduce the impacts of the oil spill. These dive industry heroes will be dealing with the impacts of this environmental disaster in the long-term, and welcome any and all support from the dive community at large.
Donate to Local Relief Efforts
There are a number of non-profit organizations and local PADI dive shops currently accepting donations to fund on-going relief efforts. These funds will help Mauritian residents mitigate impacts from the oil spill now as well as into the future as the environmental impacts linger. Donations can be directed here: