There is a hurried frenzy on deck as the first divers hit the water. A fitful swell makes things all the more difficult as we motor up the reef to drop the next pair. I look to Kitty and we make our final checks: mask; fins; weights… tape measure; quadrants; slates and pencils; cameras. We're up, and like two sets of jangling keys we launch into the waves. It's taken a few days but we're starting to get used to the extra gear. After all, it's the reason we're here.
The Bay Islands rest on the Southern tip of the Meso-American reef. The waters here are set apart from the rest of the Caribbean in terms of the range of life they support. It's the sort of thing that really gets a group of biology students going and an ideal location to set into motion the aqueous aspects of a science career. We have come to Utila Island, just off the Honduran coast, to develop a toolkit of techniques necessary for scientific research in the deep blue. At the end of an arduous day on the water I decided to find out what had taken my peers this stage, and how SCUBA had been a part of their story.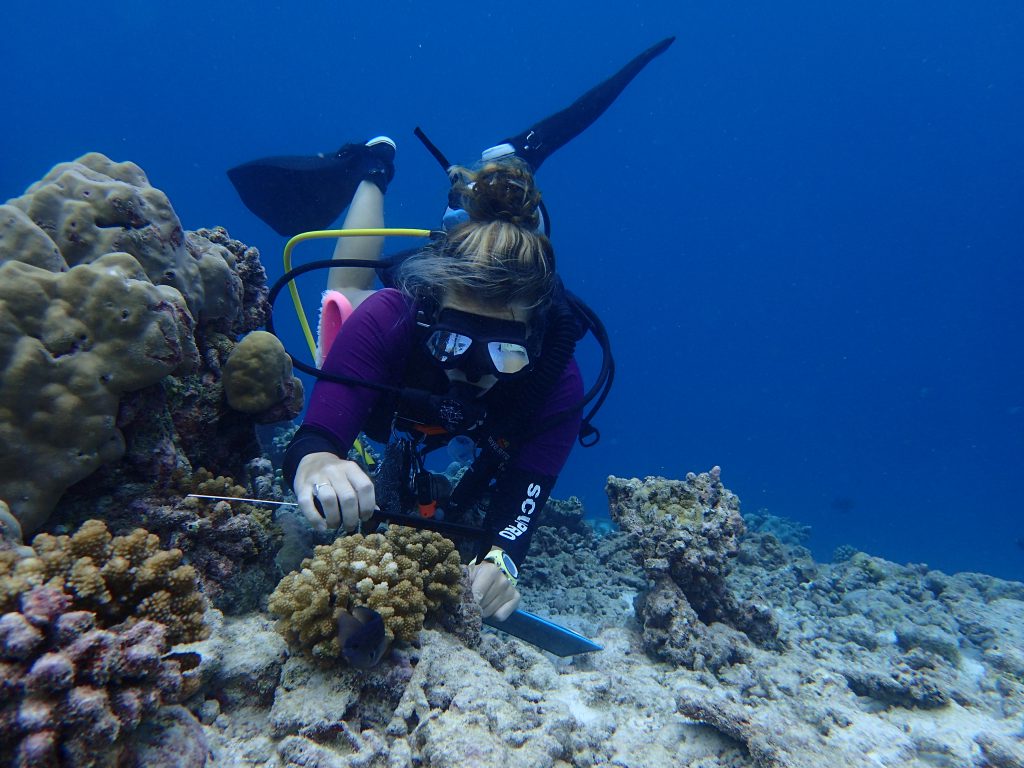 "My grandparents started a dive centre fifty years ago, so it was going to happen", begins Leah, a masters student from Malta. Starting with her Bubblemaker aged eight, she is now a PADI Instructor. Towards the end of high school, she put her skills to use in an underwater clean-up with a group of friends. "It was a time that I noticed that this sort of thing was needed". After working at an aquarium and a fish farm, Leah returned to her family dive centre to find that she "had gained so much knowledge about what was going on.. just from interacting with marine life". It was enough to encourage her to take up an undergraduate course in marine biology. Coming back to work at her grandparents dive shop every summer, she found that each time she had something new to pass on to customers as she gained in her understanding of the undersea world. She points out that as she's gone through her education, more of her peers have taken up diving and been able to put it use in their studies.
By midday, the dive gear is hanging to dry and been traded in for laptops and notebooks. Discussions fire around the room on which statistical analysis to use while students bash out numbers into spreadsheets and others debate what species of parrotfish is lurking in a photograph. "A lot of the time I'm sitting in a lab. For my thesis I'm staring at bacteria under a microscope. It's not all fun but it's also important", adds Leah.
Megan took up diving after six months of working with turtles near the Ningaloo reef, Western Australia. "I kept learning little bits  about the reef as I went along, asking more and more questions, and that pushed it [diving] into the forefront of what I wanted to do". The expense of diving was a restraint on her ambition, something that she got around by taking an off-season course in a quarry in Wales. "It wasn't very glamorous", she adds, noting that getting qualified was something she had put off and wished she had done sooner.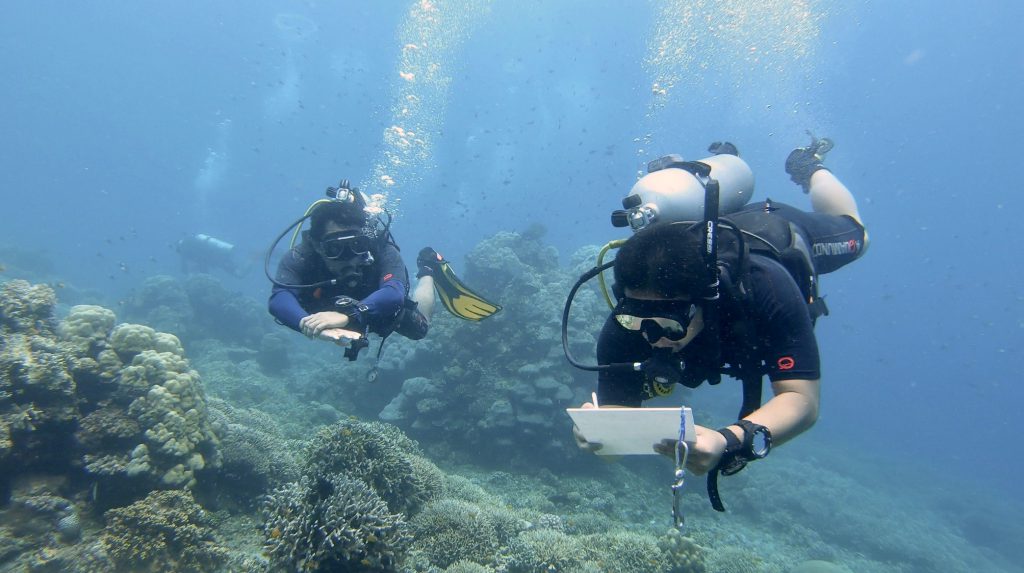 There is no doubt that diving is a useful skill to have if you're going down this route of study. Dr Dan Exton is head of research at Operation Wallacea, an organisation that provides fieldwork opportunities for students. He says "In order to properly prepare the next generation of tropical marine scientists and conservationists, it's critical that they have the opportunity to immerse themselves in these incredible ecosystems". Diving is also something that isn't accessible to everyone at the early stages of their career. While it is specific to universities, this is something that is recognised, with one admissions officer saying that they are primarily looking for people who can demonstrate a passion for their subject. If diving is "something an applicant was interested in and they used that to further their learning and passion, then they could make it relevant", he added.
A curiosity for marine life is something that accompanies many divers' passion for the sport. "The ideas of diving and marine biology came around at the same time, and they kind of influenced each other with the possibilities that one could provide for the other", begins Kitty, a second year undergraduate student. Finishing school, Kitty spent her savings on a journey to Australia, where she went from PADI Open Water Diver to Divemaster. "When I got there and did my first dive, I was absolutely terrified", she says. But after qualifying, Kitty was ready to put her new skills to use as a research assistant. She spent the next few months collecting corals in a shopping basket and growing them in tanks to forecast the effects of ocean warming and acidification. Getting some experience of real-world scientific research can give some perspective on what you are working towards, explains Kitty, especially when you're putting long hours in at a desk at university. "Becoming a PADI Divemaster gives you great confidence and responsibility… and transferrable skills that I've been able to put to use throughout my studies".
Several of the students have ambitions for PhDs on topics from marine mammal behaviour to sea grass and climate change. Previous students on the course have gone on to be marine biology lecturers, researchers, documentary producers and dive guides. It may be hard work but there is great fulfillment in experiencing an environment that you have poured so much into learning about, putting yourself in a position to work for its protection. Dr Exton finishes by saying that "although the wonders of technology have made virtual learning much more immersive, there really is no substitute for getting your hands dirty through practical learning to complement the theory".
The PADI Speciality AWARE courses, as well as Underwater Naturalist and Fish Identification might be good places to start if you want to boost your skills. There is also a whole range of organisations offering fieldwork and volunteering projects for divers. Some of these can be very expensive but there are often funding and scholarship opportunities if you do some digging. Getting in personal contact with someone who's work interests you can also be good way of seeking opportunities for experience.
---
Guest Blogger: Alex McMaster