Taking the PADI Instructor Development Course (IDC) and the subsequent Instructor Examination (IE) was a significant and transformative step in my diving career. From my earliest dives, I had a deep connection with the water, which made me realize that I wanted to become a PADI Dive Instructor and inspire others to forge their own bond with the underwater world. Over time, my passion for diving grew stronger, and I even started organizing trial dives in Finland in collaboration with local dive schools.
In early 2022, I realized my dream of establishing my own diving school with a dream team. And then came the IDC. I was prepared and eagerly awaited its commencement. Luckily, I had an exceptional Course Director with whom I had insightful discussions about diving and the PADI system during our journey to dive sites. My understanding of the PADI world expanded, and my motivation soared. I knew I was in the right place.
However, the fact that my native language is Russian, discussions were conducted in Finnish while I prepared for the exam in English, made me hesitate to enroll. I thought there might be difficulties with understanding complex theory questions. Nonetheless, the IDC instructor assured me that the PADI examiner would create a comfortable environment, ensuring we felt at ease to demonstrate our existing knowledge and skills.
---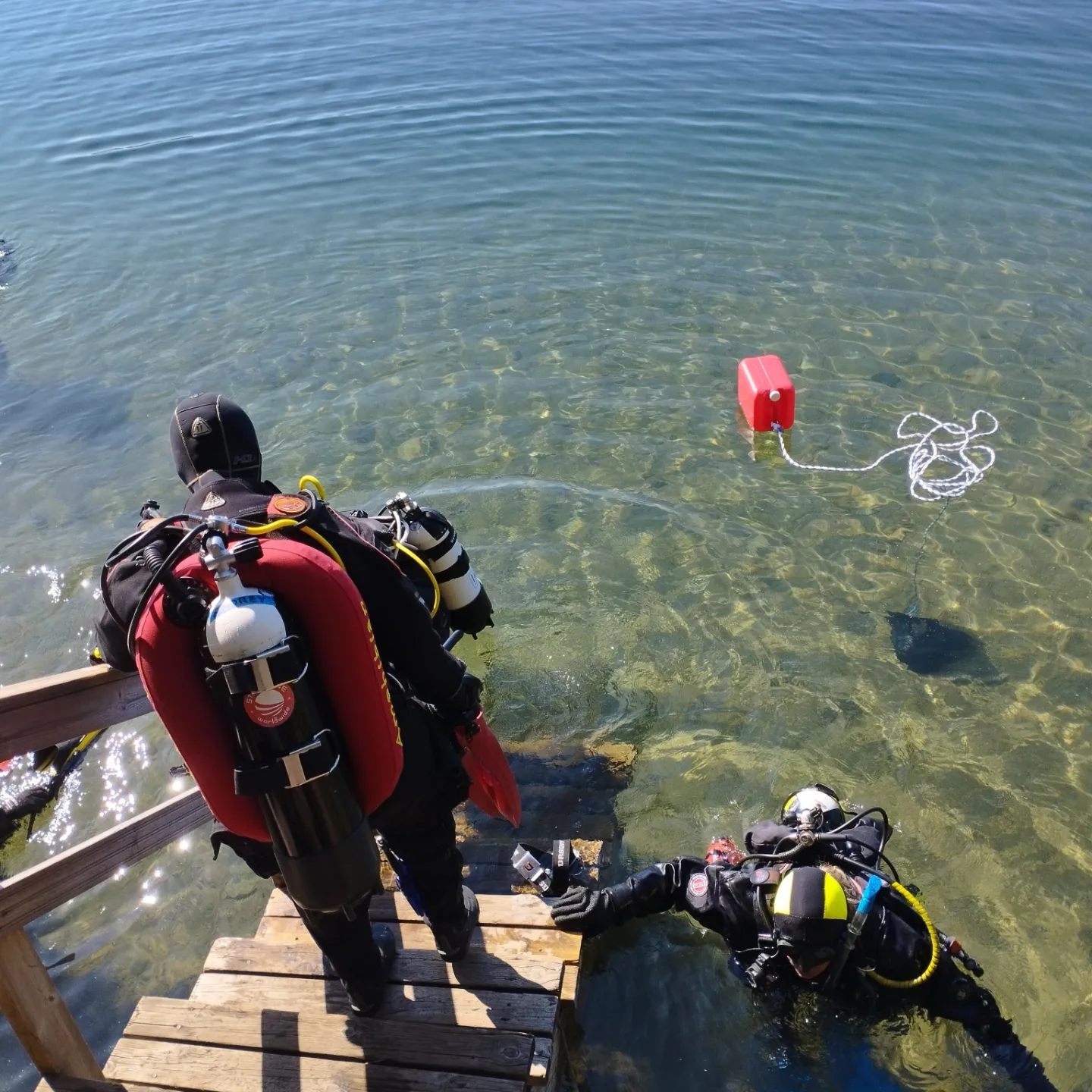 Preparation for the IE
I understood the importance of this moment and eagerly anticipated the realization of my dream. I engaged in intensive preparation, thoroughly studying the theory. When we were informed about the arrival of the examiner two weeks before the IE in Helsinki, Finland, my life entered a phase of heightened intensity. Sleep was brief, and the exam occupied my thoughts to ensure nothing was forgotten.
In addition, I discovered a fantastic recommendation: I started running 7 kilometers (4.5 miles) every day. Running brought balance, cleared my mind, and restored tranquility. It became a personal recharge for me.
After running, I revisited the materials with renewed vigor, repeatedly watching instructional videos showcasing IDC skills demonstrations and IE questions. I needed to learn the terminology in all the languages, and with each repetition, it became much more clear and more familiar.
---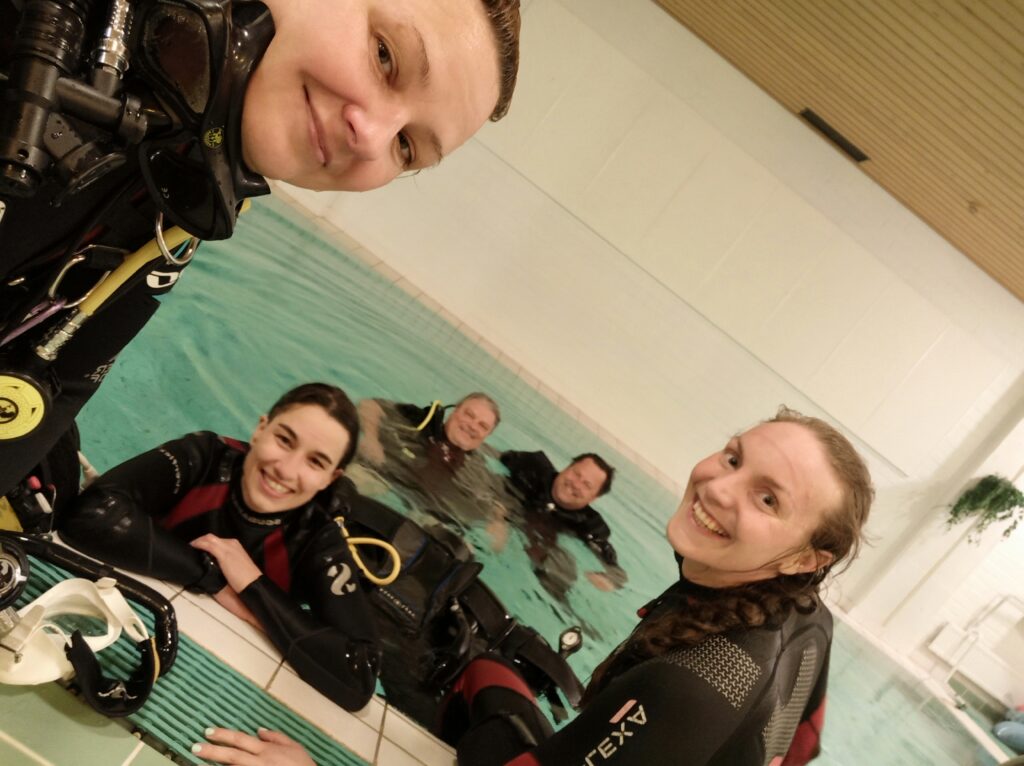 The IE Experience
When the day of the IE finally arrived, it marked the most anxious, stressful, and yet, the most anticipated day of my diving life. It turned out that there were only three of us and all were women. We quickly formed a bond. This camaraderie played a crucial role as the team spirit and support became our anchor during the two-day examination. We were greeted by a friendly PADI examiner who immediately put us at ease and set a positive tone during the orientation.
The theory section of the IE consisted of five topics, each with 12 questions, and 50 questions on standards. The passing score was 75%. If one of the topics fell below 75% (beside Standards), it was possible to retake that section. The questions were not difficult for those who were genuinely prepared.
None of us were overconfident; we were all just well-prepared. Consequently, all three of us passed the theory without the need for doing anything again. We then made theory presentations to the class, covering our assigned topics (I was assigned PADI AWARE) with the PADI standards. I am grateful to my Course Director for providing practical insights into the teaching structure in PADI, which allowed me to seamlessly integrate the available methods while weaving in my own diving experiences. Once again, all three of us passed. I rejoiced not only for myself but also for my fellow candidates.
On the same day, we presented our skill demonstrations and conducted briefings in the pool. We also completed an additional skill circuit comprised of five skills, which we had been informed of in the morning. Once again, we all heard the coveted "Pass."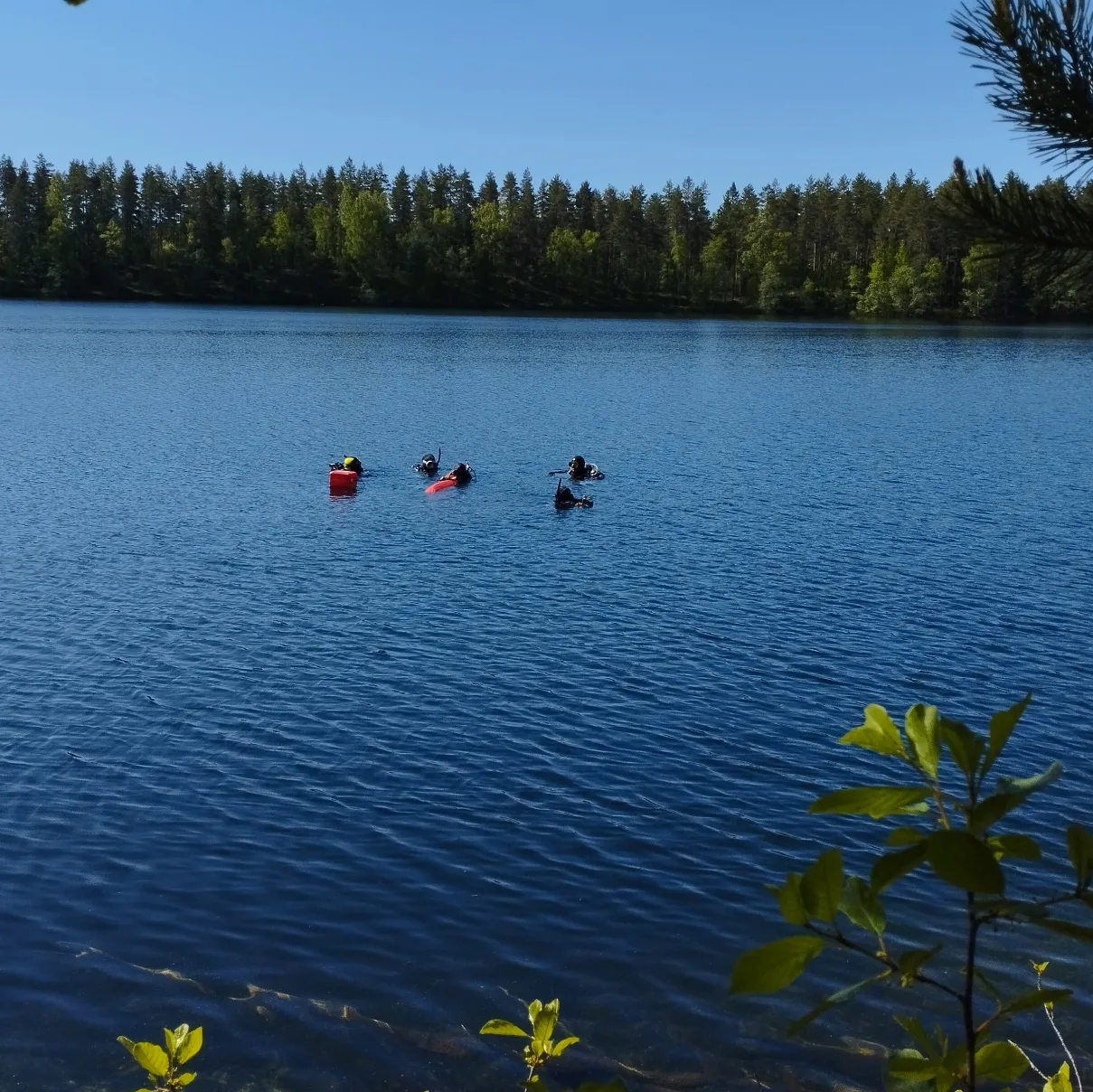 With the completion of the first day, the tension began to ease, and we could feel the weight lifting off our shoulders. The following day greeted us with beautiful sunny weather and excellent visibility—a perfect setting for the open water evaluations. We conducted briefings and performed two skills demonstration each. I was assigned the skills of neutral buoyancy and underwater navigation, and for other ladies, they demonstrated lift bag use, mask clearing, deploying an SMB on surface and a five-point descent. The specific skills for the evaluation were announced the day before, allowing us to focus on preparing and rehearsing.
As the final part of the evaluation, we were tasked with completing a rescue scenario at the surface. We provided assistance while maintaining calm and composure. It was a challenging exercise, but we were well-prepared. All three of us successfully completed the rescue scenario.
When we heard the words "Pass!" echoing through the air, we couldn't contain our joy and relief. We hugged each other, celebrating our achievements and the bond we had formed throughout the journey. It was a moment of triumph and validation for all the hard work we had put in.
---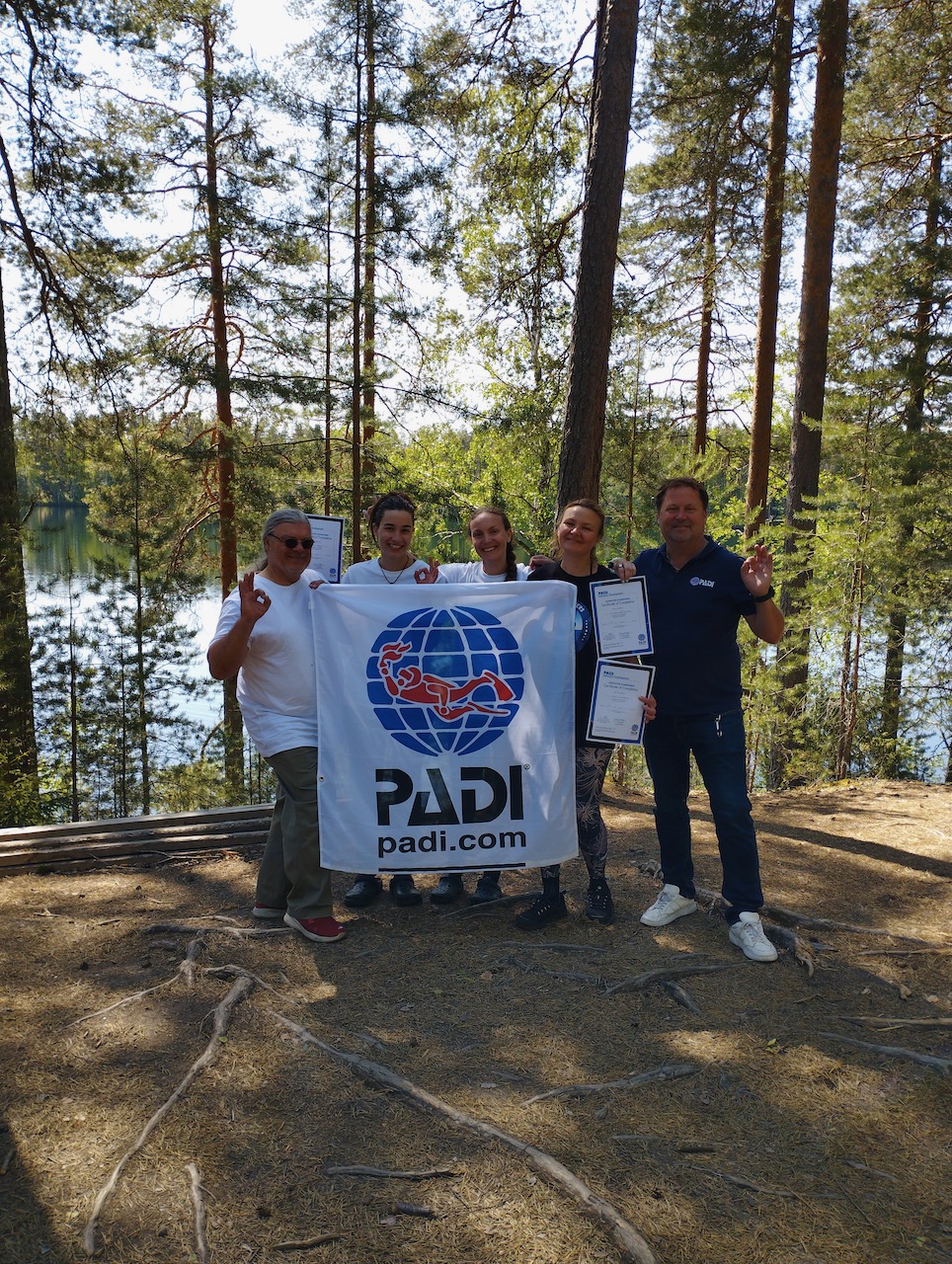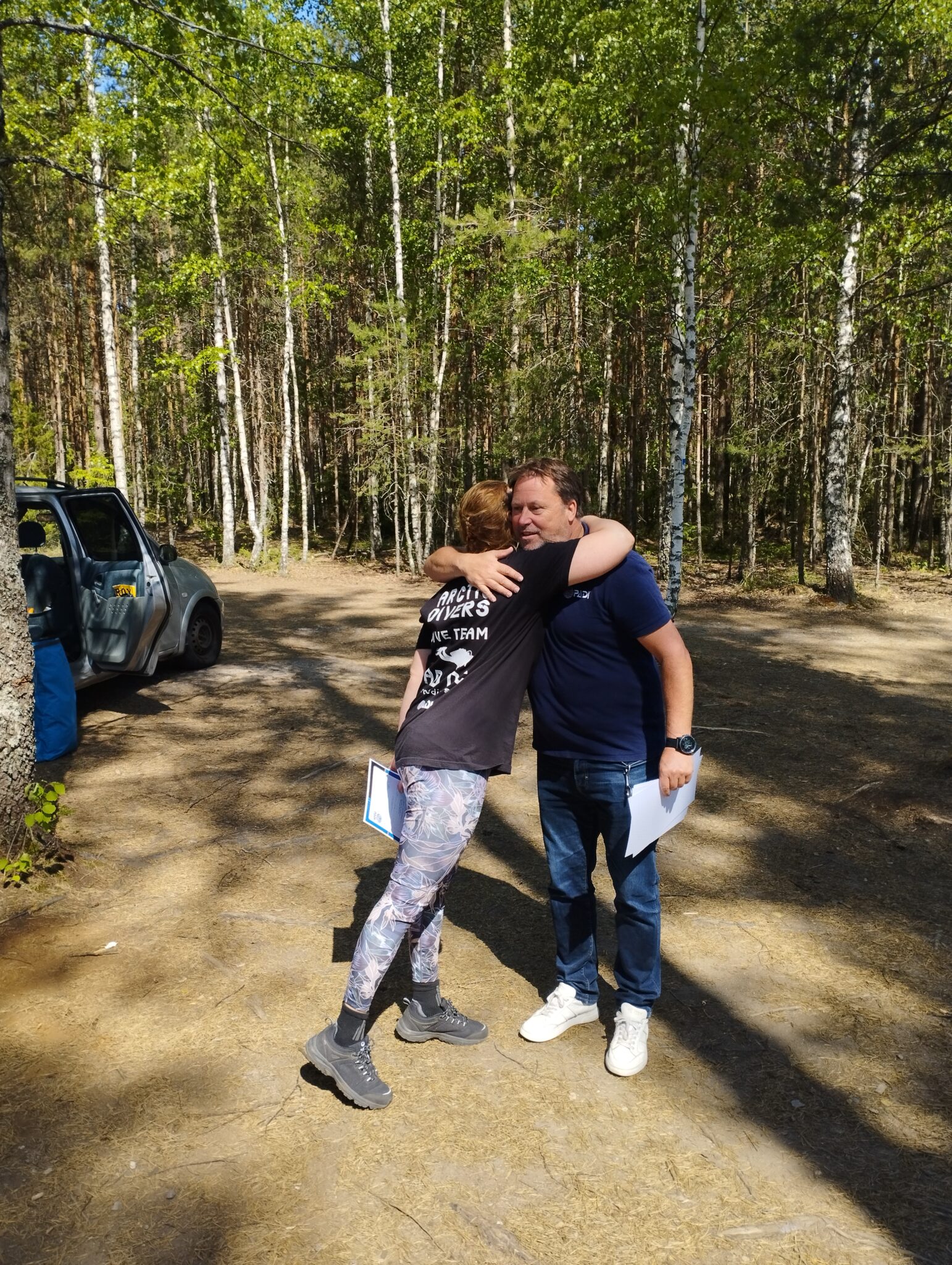 I want to express my immense gratitude to my team at our 5-Star PADI Arctic Divers Dive Center for providing me with invaluable support. I am also grateful to my family for their unwavering belief in me and my abilities. A special thanks goes to my course director, Petri Wode Stenberg, for the exceptional training and commitment to my development as an instructor. I want to thank our PADI Examiner Kjell for his professionalism and for creating an atmosphere that allowed us to perform at our best. Thanks also to other candidates, ladies Elisa and Sandra, and their course director JP Vuorio – you made this IE even more memorable.
I am happy that my IE completion coincided with the birthday of the legendary Jacques Cousteau, on 11th of June, 2023. It was a true gift. Thank you, Jacques, for everything!
---
Becoming a PADI Instructor through the IDC and IE was an incredible journey filled with challenges, growth, and unforgettable experiences. It has opened up a world of opportunities for me to inspire and share my passion for diving with others. I am proud to be part of the PADI community and excited to embark on this new chapter of my diving career. The journey continues, and I can't wait to see where it takes me next.
---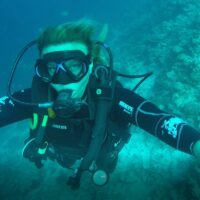 This article was written by Elena Gushchina lol2o, a Water Contactee, Reiki-master, energy guide, artist, writer, PADI Assistant Instructor and co-founder & co-owner of PADI 5-Star Arctic Divers Dive Center in Helsinki, Finland. You can view Elena's water paintings here, or check out her books and designs at Life! Art! Design! Diving!.