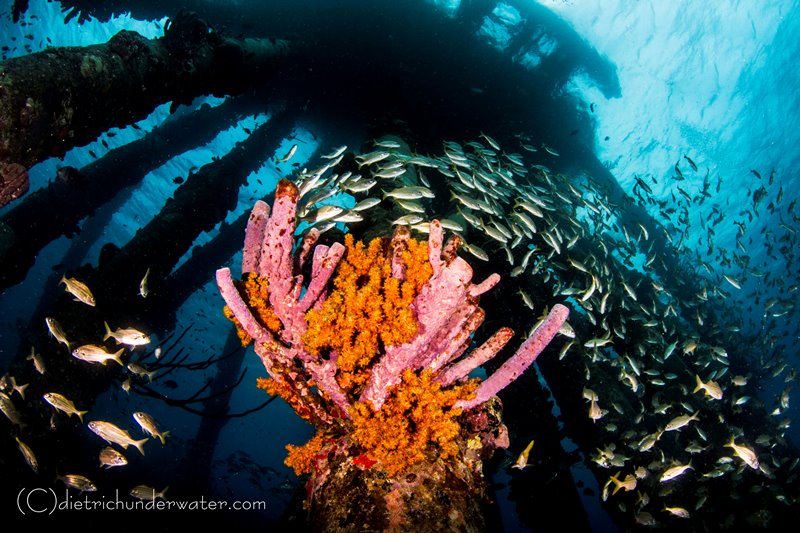 Some girls' trips involve settling into a beach chair and relaxing with a colorful cocktail with the sun beaming down. But if you and your girlfriends crave something a little more exciting, active and adventurous, we recommend planning your next getaway to include scuba diving. Diving's buddy system and camaraderie will make for a fun and fulfilling bonding experience with your girlfriends.
Now comes the fun part — choosing where and how you'll spend your long-awaited getaway. Here are 8 dive destinations to choose from that are sure to offer a girlfriends trip of a lifetime.
Three Sisters, Bermuda


Diving: The tops of the reefs here reach within 10 feet of the surface. Schools of snapper lurk under the reef ledges, while lobster and octopus make use of the many crevices. Soft corals sway in the gentle surge and divers delight in the myriad reef dwellers as they enjoy the usually excellent visibility.
Other Activities: Relax and tan on the pink sandy shores of Horseshoe Beach or West Whale Bay Beach, which are famous for their picturesque landscapes and clear blue waters—perfect for a girlfriends' beach day. You can also spend the day shopping and site seeing in downtown St. George or explore the island on an eco-adventure tour.

Salt Pier, Bonaire


Diving: This site's easy shore entry and accessibility makes it a popular destination for both new divers and underwater photographers. Underwater, the pier's pillars transform into majestic living works of art encrusted with colorful sponges and corals. The big attraction is the sheer volume of fish that take refuge in the shadows created by the pier overhead. Take time to explore the nearby reef and you may be rewarded with an eel, juvenile drumfish or even a seahorse sighting.
Other Activities: Hang out on the local Cadushy Distillery's patio, filled with local birds and lizards. Here you can see how these local spirits are made while sampling their many different flavors. Or, spend some time on a white sand beach sipping sangria, enjoying sumptuous cuisine while lounging in cushy beanbag chairs at Kite City. It's the perfect place to relax, dine and enjoy the company of your girls.

Grand Turk, Turks and Caicos


Diving: Grand Turk was featured in the book "Fifty Places to Dive Before You Die" and enjoys a warm climate year-round. The famous Grand Turk "wall" is located only 1/4-1/2 mile offshore on the leeward side of the island and boasts over 40 dive sites within the Columbus National Marine Park. The reef and the wall in the marine park are healthy with coral, fish, rays, and turtles being just some of the regular sightings. You might even see humpback whales as they pass through during their migration to breeding grounds from January through March. While whales are only rarely sighted underwater, their songs can often be heard by divers during their migration.
Other Activities: Spend the day at OceanScapes Spa—decompress with a massage or full Spa Package or check out the more than 170 bird species in one of the world's best places for bird watching.

Anse Chastanet, St. Lucia

Diving: Located in the marine park, this shallow reef is popular for both diving and snorkeling. With more than 150 different fish species on the reef, this site is a favorite for photographers.
Other Activities: Hike the Tet Paul Nature Trail for some of the best views of the island. You can also visit the Diamond Botanical Gardens for a glimpse of St. Lucia's breathtaking nature and zipline through the famous Tree Top Adventure Park. Or, climb aboard the resort's double decker motor catamaran for a jazzy champagne sunset cruise and groove to the sound of one of St. Lucia's foremost saxophone players.

Isle of Guadalupe Mexico

Diving: For the ultimate thrill, venture into the waters surrounding the volcanic Isle of Guadalupe, home to a large population of great white sharks. Here, you can experience cage diving shark encounters for a truly "up close and personal" experience with these massive aquatic predators.
Other Activities: Begin your daring trip in San Diego, where you can board a boat for a five night, six-day boat voyage! Relax in the sun, or take the opportunity to dive multiples times a day alongside dive professionals.

Molokini Crater, Maui 

Diving: This location features volcanic atoll off the south coast of Maui, which makes for great snorkeling and diving. You might even spot humpback whales here in the spring and listen to their soothing serenade while you dive.
Other Activities: Take a hike through Pipiwai Trail—Maui's all-bamboo forest, visit Ocean Vodka Organic Farm and Distillery or just relax and hang out on the white sandy beaches in Ka'anapali.

Stuart Cove, Bahamas


Diving: Explore the walls, reefs, and wrecks surrounding New Providence Island. From advanced deep and night dives, big animal encounters with sharks and wild dolphins, wall and wreck diving, there's an underwater adventure suited to any individual need here. You can even relive the adventure of 007 by diving the Vulcan Bomber, wreck purpose-sunk for the movie Thunderball, and the Tears of Allah another wreck that was used in the movie Never Say Never Again.
Other Activities: For a shopper's paradise, check out the Port Lucaya Market on the Grand Bahama Island, offering premier shops, dining and entertainment.

Utila, Bay Islands, Honduras


Diving: Utila is the smallest of Honduras' Bay Islands, but offers some of the largest underwater animal encounters in the Caribbean. With warm water, pristine reefs, and plenty of tropical fish, Utila is a great dive destination for divers of all levels. As a bonus, the island is often frequented by whale sharks – one of the ocean's gentle giants. While sightings are more frequent in early spring and late summer, it's not uncommon to spot whale sharks year-round, which is why Utila claims to be "the whale shark capital of the Caribbean."
Other Activities: Get your Zen on with a yoga or Pilates class at Yoga Utila, horseback ride the island with Red Ridge Stables or paddleboard the coast with Paddle Utila.
Not certified? Not to worry. You can incorporate certification into your trip at your chosen destination or complete your PADI Open Water Diver course at a local dive center before you go.
Hopefully, you found some travel inspiration for a girlfriends' getaway. Let us know if there are other destinations missing from the list in the comments.