Scuba diving for women is an increasingly popular sport, however, there are still disparities between genders in this adventure activity. A significantly higher number of men get certified annually compared to women. Read on for the top six reasons why women should take up the sport and how scuba diving for women is now more accessible than ever before!
---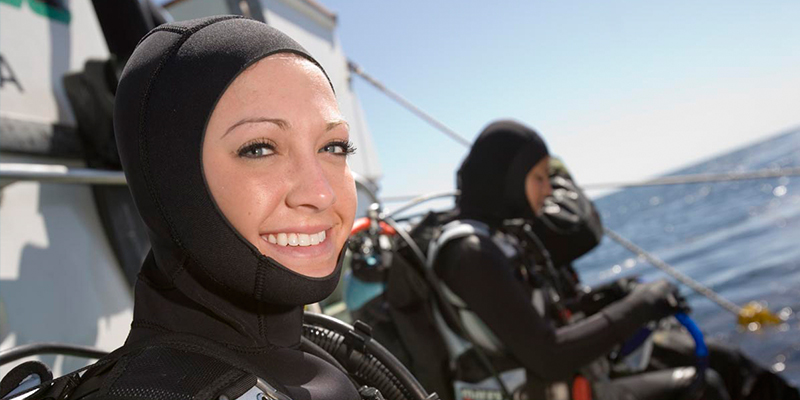 1. Get Fit and Have Fun
You do not need to be a marathon runner to be fit enough to dive. Nor do you need to be incredibly strong to carry around the equipment. Anyone with a reasonable level of fitness can dive. Furthermore, this hobby is also a great way to maintain your physical fitness, and it's much lower impact than other fitness activities, such as running.
---
2. Improve Your Mental Health
There is a wealth of evidence to support that scuba diving for women is a great way to improve mental health. With so many women balancing careers or school with family time and other responsibilities, scuba diving is a great way to get in some me-time. Scuba diving has been found to have similar benefits to meditation, and it's a great way to get present and #LiveUnfiltered.
---
3. Dive into a Whole New Social Sphere
Diving is a social sport, and you'll be among both men and women with common interests who share your passion for the ocean. You'll meet people from around the world when you're on diving holidays and make friends and travel buddies. Most countries also have diving clubs that meet for social evenings, plan trips together or simply exchange tips and information.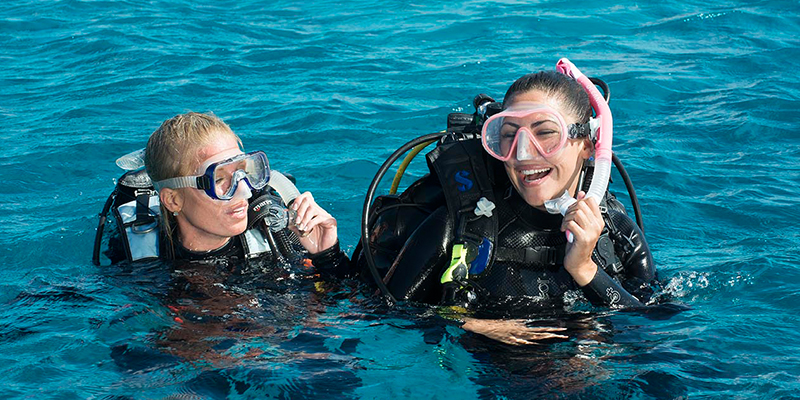 ---
4. Take a Look at a Whole New World
Do you enjoy David Attenborough documentaries? Do you love learning and watching interesting animal behaviors? Underwater, you can witness it for yourself. Whilst diving, you are spoilt with a variety of marine creatures in their natural habitat. Watching animal interactions and behaviors is not only interesting, it's also an opportunity to learn about our world on every dive.
---
5. Make a Difference to Marine Conservation
As ocean lovers, scuba diving is a great way to support marine conservation and raise awareness about the biggest issues facing our oceans. Become active in your community and on social media about your dives, the beauty of the underwater world, and the issues our blue planet is facing.
---
6. Boost Your Confidence
Many non-divers are nervous before learning to dive or have concerns. That's why the PADI Open Water Course introduces you to scuba diving step-by-step. Your first dive will be in a swimming pool or confined water (similar conditions to a swimming pool) and your PADI Instructor will be with you every step of the way. You will start by learning basic skills to keep you safe and comfortable. You'll also learn scuba diving theory so you understand what is going on around you. Only when you have completed these components, at your own pace, will you go into open water. It's a very gradual transition that will only be made when you and your instructor are confident in your abilities.
Mastering your skills underwater will give you a HUGE confidence boost too!
---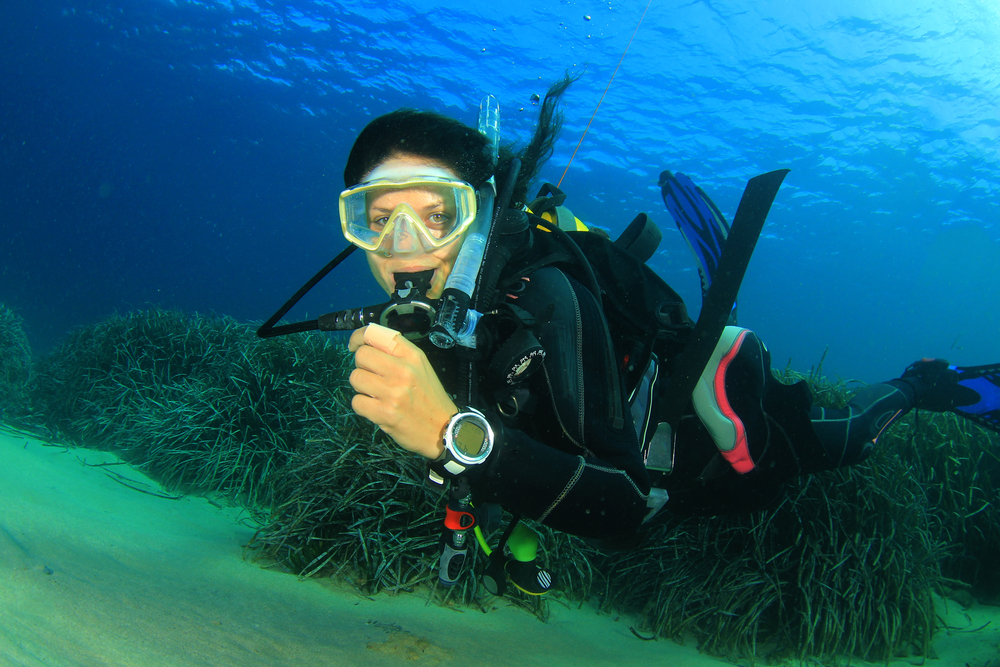 Scuba Diving for Women is More Accessible Than Ever Before
There really aren't any reasons not to give scuba diving a try. We'll answer some of the most common questions and concerns for women looking to get into scuba diving below.
I don't have anyone to dive with…
Scuba diving is a great and social activity – even if you don't have a partner to join you. Your chosen PADI Dive Center will team you up with another student diver or work with you one-on-one. Once you are certified and start joining dive trips, you'll also be buddied up with another solo diver or your dive guide.
How do I get started?
That's easy. Simply follow these steps;
Ask your friends, colleagues and family if anyone would like to join you.
Use the PADI Dive Shop Locator to find your nearest PADI Dive Center and contact them to book your program or course. You can choose between a one day diving experience (PADI Discover Scuba Diving) or, if you want to get certified, sign up for the PADI Open Water Course.
If I got scuba certified years ago, can I do it again?
Absolutely, and you will be surprised how easily what you learned previously comes back to you. Sign up for the PADI Reactivate Program – this is a short course to refresh your knowledge and skills so you are ready for your next dive. If you want to advance your skills and try new types of diving, then sign up for the PADI Advanced Open Water.
---
PADI Women's Dive Day
There is no better time to get started or get back into diving for women than on PADI Women's Dive Day. Join thousands of female divers around the world and dive into a new YOU! Search for an event near you here.