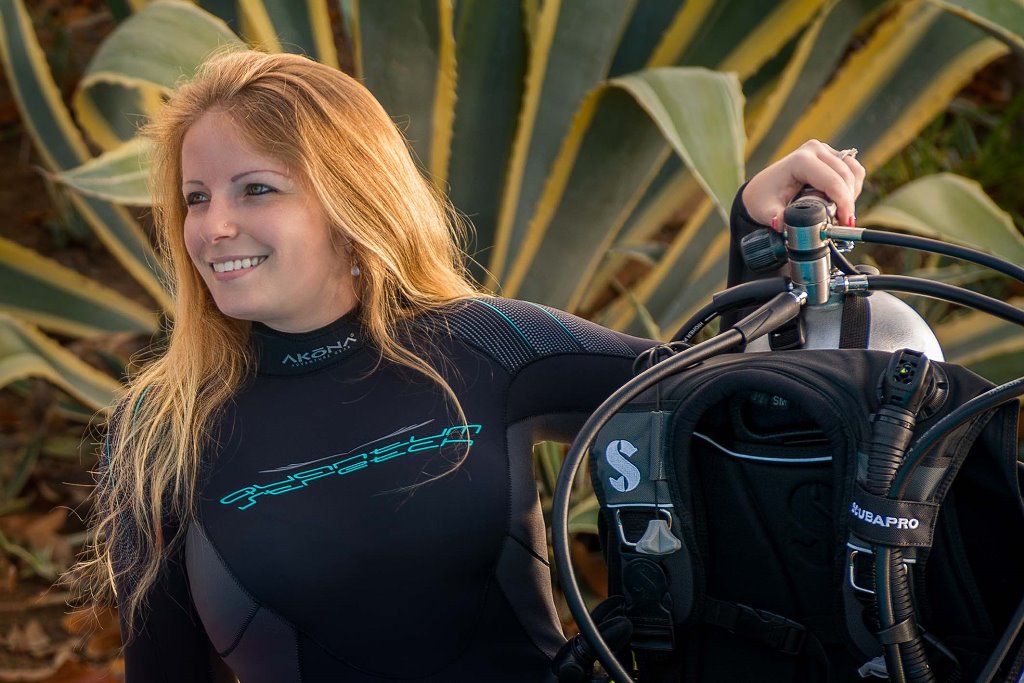 When it comes to male and female attire, there are different cuts and designs for everything from jeans to shirts to jackets. So what about scuba gear?
The good news for scuba divers is that manufacturers seem to be celebrating those differences, with dive equipment built for the shapes and sizes that make us who we are, and women's scuba gear almost as varied as men's counterparts. And while some gear doesn't necessarily need a woman's look or feel – fins, computers, masks and snorkels – and some regular-cut BCDs or wetsuits might fit your body style better, there's enough gear out there to fit all the shapes and sizes we come in. What's more, manufacturers are getting the hint that not everything needs to be pink. Here's some of the best women's gear available (and some that's "unisex"), from BCDs that fit our bodies like a glove to wraps that keep longer hair from becoming tangled.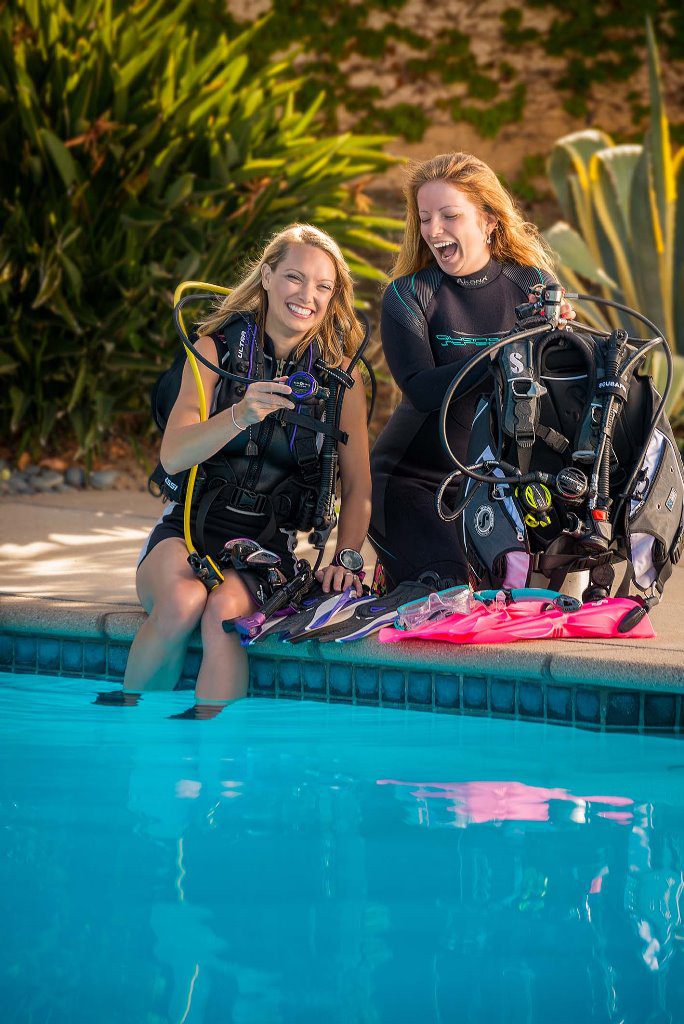 Akona 3mm Quantum Stretch wetsuit
Akona wetsuits have been popular for years with divers of both sexes, as much for the suits' four-way super-stretch neoprene as the textured shoulders and reinforced kneepads – resulting in a warm, stylish, comfortable and form-fitting suit you'll want to wear everywhere. akona.com
Aqualung Legend LX Twilight + ABS octopus
Paired with its lightweight, pneumatically balanced second stage (just 200g) that features a smaller ComfoBite mouthpiece and Master Breathing System to effectively adjust performance, the overbalanced first stage Legend LX Twilight provides powerful breathing at depth. The Legend LX Twilight doesn't just look good, with purple accents on its second stage and a streamlined first stage, it makes breathing so easy you'll feel like a queen. aqualung.com
Aqua Lung Shot FX fins (Twilight)
Part of Aqua Lung's women's collection, the Shot FX fins feature foot pockets sized for a woman's foot, a mid-foot pivot designed to eliminate foot and toe fatigue, and a "power transmission zone" for more efficient kicking. Just as important, the Shot FX comes standard with spring straps, so you won't pull a muscle just putting them on. aqualung.com
Aqualung Ellie boots
The zipperless design of Aqualung's Ellie boots reduces heat loss, while the ergonomic design accommodates a woman's lower calf and foot while also fitting perfectly into the Shot FX fins. aqualung.com
Atomic Aquatics T3 regulator + B2 octopus
With a combined weight less than 1.7 lbs./0.8 kg and a deluxe padded travel bag, Atomic Aquatics's T3 first and second stage regulator is the ideal travel companion. This multiple award-winner features first-stage components machined from titanium, and a high-flow second stage with a unique comfort swivel-design that ensures you'll be breathing smoothly and comfortably on every dive. atomicaquatics.com
Cressi Giotto computer
OK, so computers aren't gender-specific. But the Cressi Giotto, a powerful mixed gas computer has features he'll envy, including a new algorithm co-developed by Cressi, an oversized screen, user-replaceable batteries, 60-dive logbook and backlit display. The sweet-looking pink accents – there are also versions in red, blue, black, and silver – make it undoubtedly hers. cressi.com
Cressi Ultralight Lady BCD
Weighing in at less than 4.5 lbs./2 kg (size M), the new Ultralight Lady is so light you might forget you're even wearing it. Anatomical shoulder straps, a chest strap that's ideally placed and a comfortable cummerbund allow this back-cell jacket to hug the body, while a generous-sized hideaway pocket and flat-lock weight system round out a BCD that is as functional as it is stylish. cressi.com
ScubaDoRag Tube Socks
Suuz Martines isn't low on flash. The founder/owner of ScubaDoRag originally created the "DoRag" – as stylish as ever more than 10 years later with dozens of colorful patterns – for women to keep wet hair out of their faces, pony tails tucked neatly away in a pouch behind. Soon came other accessories like hair bands and indispensable tube socks, which help getting into and out of a wet wetsuit easier – all of which are offered, of course, in that inimitable colorful style. scubadorag.com
Scubapro Bella BCD with Air2
Designed exclusively for women, the front-adjustable, form-fitting Bella's innovative wraparound air bladder makes it extremely well balanced, with lift focused under the arms and around the waist. With an impressive list of features – quick-release rotating shoulder buckles, four D-rings and a 31.5 lb./14.2 kg. lift (size M) – the Bella is sure to make the men green with envy. scubapro.com
Scubapro 2mm Hybrid
For ladies who like to wear less neoprene in warm waters, the 2mm Hybrid features comfortable X-Foam neoprene and smooth-skin panels in an eye-catching design. scubapro.com
Scubapro Seawing Nova fins
The winner of numerous tester's awards, Scubapro's lightweight, open-heel Seawing Nova (also available in full-foot) combines the power and maneuverability of a blade fin with the comfort and efficiency of a split. If the electric pink color isn't for you, they're also available in white, blue, black, yellow, and purple. scubapro.com
Scubapro Synergy Twin mask with Spectra snorkel
The low-volume, dual lens Synergy Twin – available in 10 colors! – features two types of supple silicone designed to comfortably hug the face, and pairs wonderfully with the large-bore Spectra Dry, with a dry top that closes underwater so you don't need to purge when you resurface. scubapro.com
Sherwood Vida mask with Tiga snorkel
The Vida's low-profile design and two teardrop-shaped lenses create remarkable vision and comfort on smaller faces, while the Tiga Dry snorkel features an oversize purge for easy clearing and a new quick-disconnect snorkel keeper – all of which make this pairing a winner in form and function. sherwoodscuba.com
For more information about choosing the right scuba gear, visit padi.com.