Some superheroes wear capes, others wear mermaid tails.
This World Mermaid Day is the perfect time to take that leap and make your mermaiding dreams come true. Or, maybe, just add a little more sparkle into your life. After all, who doesn't want to become a mermaid?
Last year, PADI set a Guinness Book of World Records in China for pulling off the largest underwater mermaid show, with over 100 PADI Mermaids dazzling underwater at the Atlantis Sanya resort. Since then, mermaiding in China has exploded in popularity, with nearly 100 PADI Mermaid Centers throughout the country. 
Now, PADI is ready to teach the world how to mermaid. They have rounded up the top PADI Mermaid Instructors around the world (including the most popular mermaid on TikTok and Miss Mermaid UK) to form their official PADI Mermaid Team. With PADI Mermaids in every corner of the globe, the organization is officially ready to be the way the world learns to mermaid.
For PADI Mermaids + Merman, it's about more than learning to swim with a tail and sharing beautiful, evocative imagery with the world. Of course the magical imagery captures our hearts and minds, making us fall in love with the ocean all over again. But PADI Mermaids + Merman are driven to do more. They are truly one with the ocean and stand up for what they love. Their causes range from coral bleaching to teaching younger generations to care for our blue planet, serving as shining examples of what mermaids are to PADI: voices for an ocean and all of its creatures – who can't speak for themselves.
---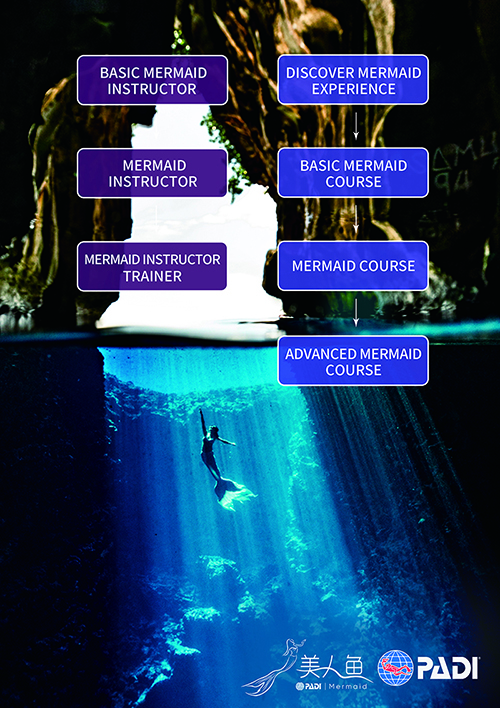 How to Become a PADI Mermaid
There are seven different levels of PADI Mermaiding. From an introductory Discover Mermaid Experience to becoming a professional Mermaid Instructor Trainer, you can live out your mermaid dreams as a weekend warrior or for a full-time career. Learn more here about how to become a PADI Mermaid. 
---
Featured image photo credit: @themermaidelle