PADI has partnered with The Ocean Foundation to offer the PADI Community a means of engaging with seagrass, mangrove and salt marsh conservation and restoration, in an effort to reduce our carbon footprint and support the foundations of life in the ocean.
At PADI Travel, we know all about exploring – you're just one click away from the world's largest selection of dive packages across the entire world, including Antarctica! Yet when it comes to saving the ocean, we realize that we – along with the rest of the travel industry – still have some way to go. As a result, we've put our heads together and here's our thoughts on taking action…
At first glance, international dive travel can seem like a tricky one to reconcile with a desire to save the ocean.
Whether it's coral bleaching, climate change or the threat to marine biodiversity posed by widespread destruction of coastal habitats, no one can deny the fundamental challenges facing the ocean. What's more, there's no getting away from the man-made nature of these challenges, and the role that travel and hospitality have played in getting to where we are now. It's enough to make you question whether a trip to your favourite dive destination is even worth it.
Spoiler: It really is! Dive tourism – when handled correctly – can be a powerful tool for coastal communities and conservation.
Take Misool Resort for example – a remote getaway in Raja Ampat built entirely from materials found in the local forest. By working with the local community to set up the resort and provide alternative employment, they've been able to establish the Misool Foundation and marine protected reserve. This way, biodiversity and coastal communities are able to thrive simultaneously in a way that ensures long term protection for the reef and it's inhabitants.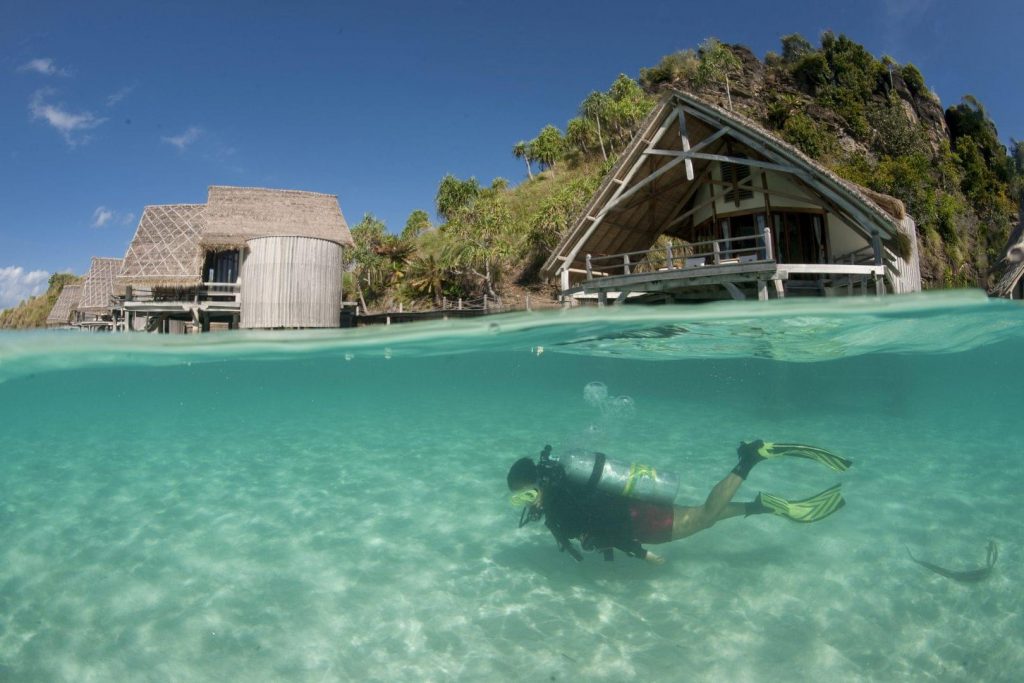 The advantages of sustainable dive tourism outweigh the value of simply cutting down on carbon emissions by never flying. Without divers to support conservation measures at home and abroad, communities are often forced to turn to unsustainable fishing practices to provide for their family. And that, is no good for communities or the ocean.
Without a doubt, coastal communities and ocean health are inextricably liked. As divers, we are in a position to fulfill our diving dreams and support a healthier future for people and planet.
That just leaves us with one tricky sticking point – the carbon emissions associated with air travel. Absolutely, we must reduce our carbon footprint to ensure a healthy future. However, unless you've got all the time in the world to travel by land or sea, let's be honest, you're going to be boarding a plane sooner or later.
That's where The Ocean Foundation comes in. When you travel with PADI Travel, you can mitigate and reduce the carbon footprint of your dive adventure by adding per ton carbon offset contributions to your booking.
Just look out for the 'Offset Your Adventure' tab at the checkout stage – the same place you're already used to selecting transfers, pre-booking rental gear and reserving optional extras.
Seagrass and mangroves? Why not just plant a tree?
Well for starters, because seagrass and mangroves are really powerful.
Seagrass and mangrove habitats are up to 35x more effective than Amazonian rainforests in their carbon uptake and storage abilities. So impressive, that they are responsible for 11% of the organic carbon buried in the ocean, despite occupying only a tiny amount of the seafloor.
Secondly, because they are the foundation of life in our ocean.
A single acre of seagrass can support as many as 50 million small invertebrates and 40,000 fish, including sharks, turtles and manatees. As divers, this is super-important to us. Learn more about seagrass, and the important role it plays in maintaining healthy oceans here.
The scary part? Seagrasses and mangroves around the world are being lost at a rate of about two football fields every hour.
As a global community of Torchbearers, this is our call to action. If not now, then when? And if not us, who?
OK, tell me more about The Ocean Foundation and the SeaGrass Grow Project.
Who better to introduce you to The Ocean Foundation, than their own President Mark J. Spalding? Check out this video for a quick and inspirational intro.
The Ocean Foundation is the world's only community foundation committed to reversing the trend of destruction of ocean environments.
The SeaGrass Grow Project works together with communities to actively restore abundance and enhance the productivity of coastal ecosystems. So, what this actually means in practice is conserving and restoring seagrass and mangroves, which often includes planting and working with locals to ensure long-term protection.
Currently, the primary focus is on Jobos Bay National Estuarine Research Reserve, a 1,140 hectare site in Puerto Rico devastated by Hurricane Maria in 2017. To learn more, click here.
For every $20 donated, one ton of carbon is sequestered from the atmosphere.
To give you a rough idea, a single person flying from London to Sharm for a week in a budget resort will be about 0.7 tons. A couple jetting off to the Caribbean from New York for a luxury week's stay comes in at just over 1 ton. A bucket-list two week adventure for two in Raja Ampat comes in at just over 3 tons, if flying from mainland Europe.
After booking, we'll hook you up with The Ocean Foundation directly, giving you the option of estimating the exact carbon footprint of your vacation via their Carbon Footprint Calculator. From there, you'll be able to make further donations directly, should your heart desire.
How much you choose to donate is up to you – in partnering with The Ocean Foundation, we've made one more step towards our goal to provide you with the tools and knowledge you need to make informed, sustainable choices.
Just remember, there is still hope and there is still time to turn this around. Become a PADI Torchbearer for the ocean today and join the growing community at www.padi.com/onebillion