2016 marks an exciting year for PADI® — our 50th Anniversary!
Back in 1966, two passionate divers created the Professional Association of Diving Instructors, hoping to revolutionize the diving industry. Fifty years later, it's clear that PADI has become a worldwide leader in dive training. As we reflect on our history, we are grateful for the continued support of the diving community all these years. It is that incredible support that drives our commitment to diving excellence.
So how did we get here? As part of our 50th Anniversary celebration, we're taking a walk through PADI's history decade-by-decade. Let's begin where it all started, the 1960s:
1966: Beginnings
In 1966, John Cronin had driven three hours on bad roads to give a presentation at an instructor certification course, only to find out the class had been cancelled. Angry at the lack of professionalism in the diving industry, he picked up a bottle of Johnnie Walker and called his friend Ralph Erickson. Together they decided to found a new diving organization to improve business and education standards in diving. The Professional Association of Diving Instructors – PADI – was born.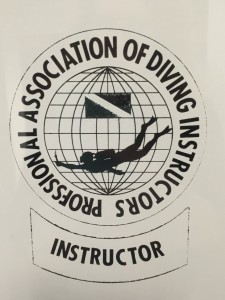 1966: The PADI Logo
Erickson designed the first PADI logo after Cronin expressed his desire for a "classy" image, similar to that of National Geographic. He later stated that the process of creating this logo helped him see beyond their two-man operation and envision a bigger future for PADI. Drawing inspiration from a photo in Cousteau's Silent World, Erickson sketched the diver-with-torch motif. Weary after hours of arranging the stick-on letters for the logo, Erickson accidentally left out the "e" in "professional." The error remained for two years until a PADI member pointed out the mistake. Some of the misspelled originals are still on display at PADI's California office.

1967: A New Approach to Diver Training
Expanded diver education had always been one of Erickson's dreams for the scuba industry. Well before it became the industry norm it is today, Erickson believed that a focus on continuing education would allow divers to "gain full enjoyment in this watery world." By the end of the 1960s, he had designed courses ranging from Skin Diver all the way to Master Instructor.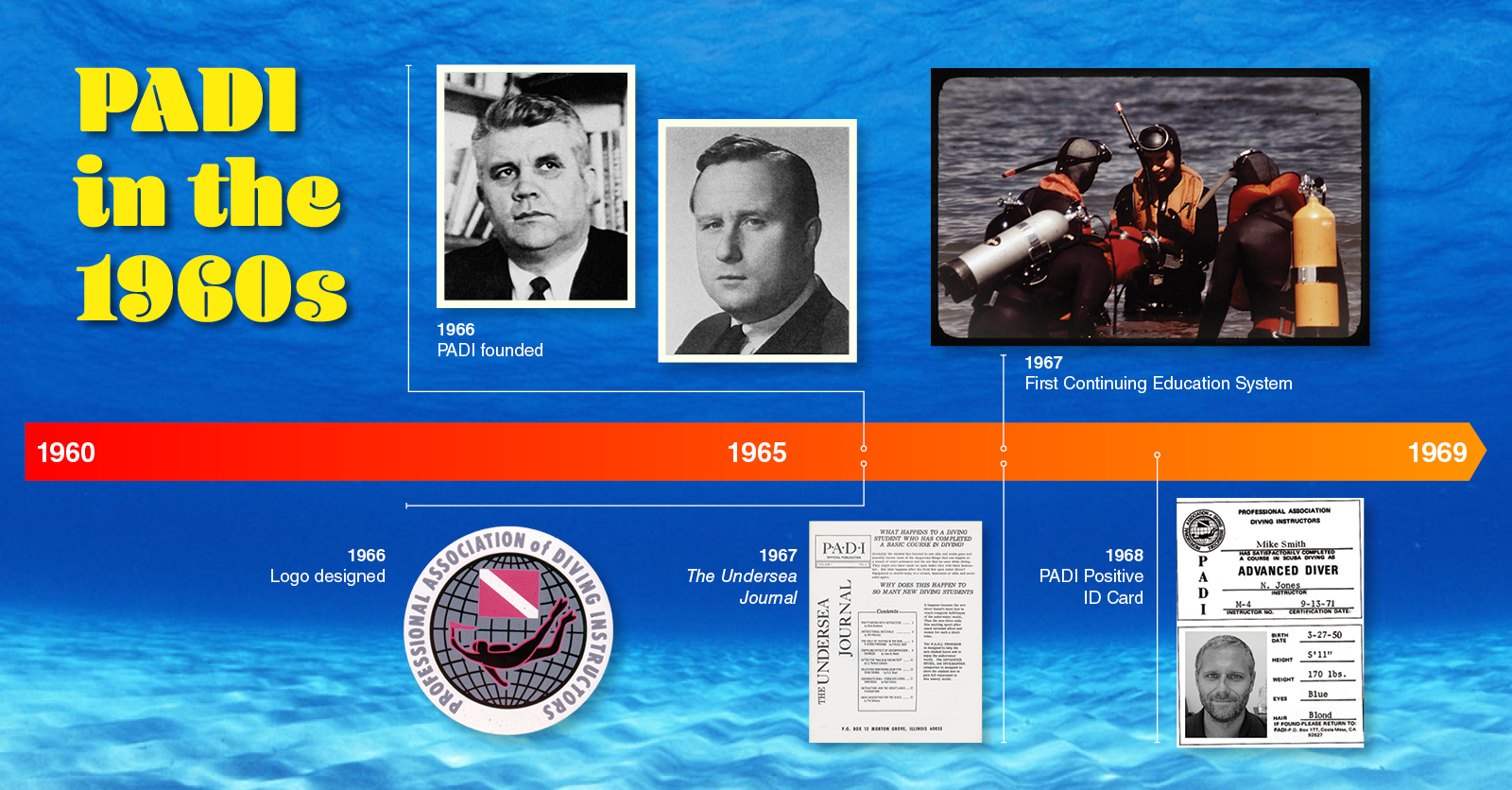 1967: The Undersea Journal
In 1967 The Undersea Journal was created, producing the industry's first trade magazine for scuba instructors. Many of the early issues were written mostly or entirely by Ralph Erickson. The first issue was completely penned by him, with his articles featuring various pen names. Within a few issues PADI Instructors and other industry players soon joined in with submitted content.
1968: Photo ID
PADI's Positive Identification Card was diving's first card to include diver photos alongside their certification information – an idea John Cronin got at a trade show from Paul Tzimoulis, future editor and publisher of Skin Diver Magazine. The Positive Identification Card simplified cylinder fills and gear rentals by eliminating the need for secondary identification.
In just a few years of existence, PADI had ignited the spark that would change the diving world. These crucial early years laid the foundation that would enable the PADI family to earn the trust of millions of divers worldwide, and set the stage for the organization's explosive growth.
Follow along with us this year, as we'll be sharing our story through the decades. Continuing with next month's installment – the 1970s.