Article written by David Espinosa
Being finished with your PADI® Open Water Diver course means two things: more opportunities for learning, which leads to more opportunities for buying scuba equipment. If you're gear heads like us, PADI offers a number of advanced courses and specialties that'll have you exploring more and exercising your right to spend on scuba gear that will make your dives safer and more enjoyable.

Enriched Air Diver
PADI's most popular specialty course, Enriched Air Diver teaches you about enriched air nitrox, and how it gives you more no decompression time, allowing you to dive longer (gas supply permitting, of course). It's also one PADI course you likely already have the gear for; well, almost.
As part of the course you choose either an enriched air table – muchlike the Recreational Dive Planner (RDP) you learned to dive with in your PADI Open Water Diver course – or a computer simulator; if you prefer diving with a computer and already own one, chances are pretty good that it can be set for enriched air mixes up to 50 percent. That's because most dive computer manufacturers have made nitrox compatibility standard for all but the most basic computers.
Take for example Cressi's watch-style Leonardo, which has all the goodies you look for in a dive computer – 60-dive logbook, user-changeable battery, ascent rate alarm – and can be easily adjusted from 21 percent nitrox to 50 percent with the push of a single button. Best of all, it retails for under $200 US.
Night Diver

Whether it's a reef, a mini wall or a wreck, you'll need some serious wattage to see and be seen as you light the way on the night dives you make as part of the PADI Night Diver Specialty course. It's not just one light you'll need either.

Princeton Tec has you covered with backup lights, like its tiny 90-lumen Amp 1L that runs on two AAA batteries for 72 hours of burn time and is depth rated to 100 metres/330 feet; and the Meridian Strobe, a bright personal locator light that features both white emergency strobe and red locator beacon settings, and which uses just three AAA batteries (you won't have to change out often, with a 100-hour burn time).
Of course you'll need a primary, and there are two standouts to choose from: the 550-lumen Sector 5 and the slim, rugged Genesis, small enough to fit in your pocket but with a 650-lumen LED and a recessed on/off button that can easily be pushed with or without gloves on.
Cavern Diver
It may not be as fashionable as a dive computer or titanium regulator, but the simple reel is perhaps the most important piece of equipment for PADI's Cavern Diver Specialty course, as it allows you to deploy and retrieve the guideline on a cavern dive.

Specifically designed for overhead environments, the Dive Rite Slide Lock Safety 140' Reel requires just one hand and the flick of a thumb to lock/unlock; and 140 feet of braided #24 line is just the right amount for the specialty course, with 40 metres/130 feet the maximum penetration distance.
Just as important on a cavern dive is a bright, reliable underwater light – the Dive Rite LX20 Handheld is a powerful primary with an output of 20,000 Lux, four-hour burn time at high power, a quick-release soft hand mount and all weighing in at just eight ounces negative in the water.

Dry Suit Diver
When fall turns to winter and the waters of your local dive sites get cold, you don't need to pack away your dive gear until the spring. The PADI Dry Suit Diver Specialty course teaches you (among other skills) how to choose the proper dry suit and undergarments, safety procedures for using a dry suit and how to master buoyancy while diving dry.
Of course you'll need a dry suit to get wet in, and there are few better than the front-entry DUI FLX Extreme, made of a durable trilaminate fabric that is soft to the touch. Standard suspenders inside and optional TurboBoots and Zipseals outside make the FLX Extreme even more comfortable, and no surprise why it's DUI's most popular suit.
Full Face Mask Diver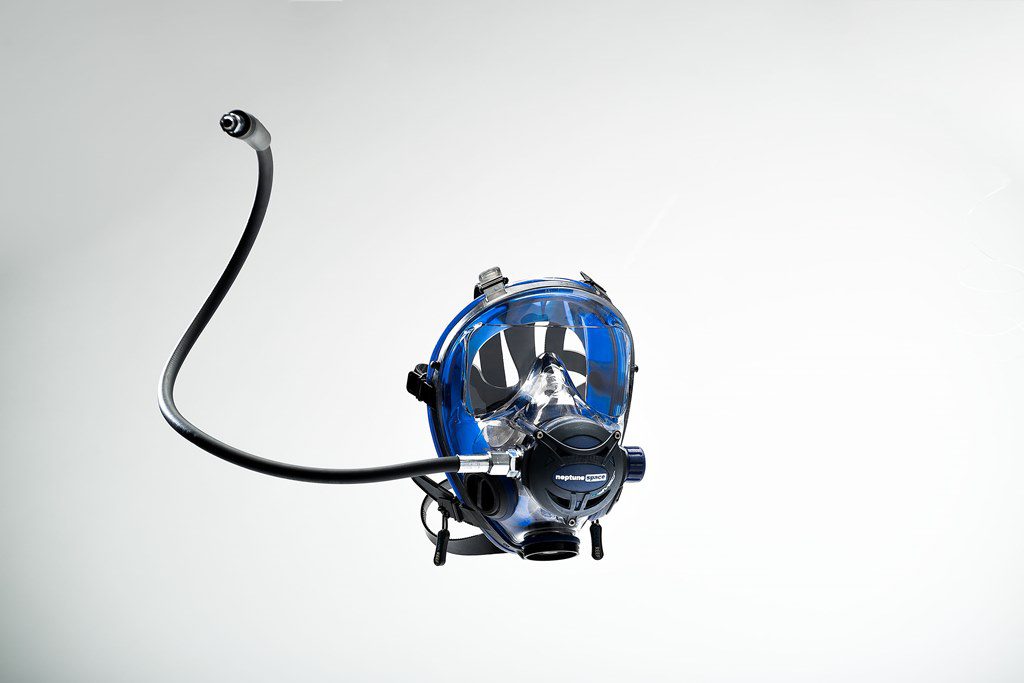 Long the realm of commercial divers, public-safety divers, on-screen TV personalities and movie bad boys, full face mask diving is gaining popularity with recreational divers. PADI's newest specialty course, Full Face Mask Diver builds upon that popularity because recreational divers are starting to see the benefits of full face masks: increased protection from the elements (like extremely cold-water dives) and the ability to attach communications devices, which is great for training dives and divers who just like the dulcet tones of their buddies.
The Ocean Reef Neptune Space G mask features an integrated balanced 2nd stage regulator, and its silicone skirt achieves a comfortable fit and ideal seal with the face in tandem with the six-strap harness system. With a wide field-of-view, two sizes and four color options, the Neptune Space G is a popular choice for recreational divers looking for fun in full face mask diving.
For more information about different types of scuba equipment, visit padi.com.