Cold water diving isn't for everyone…which is one of the best things about cold water diving! In cold water environments, you can encounter bucket list animals, great visibility, and far fewer divers. Here are a few of our favorite cold water dive destinations for those who want to experience spectacular diving and fewer crowds in 2021.
Argentina – Península Valdés
Along the shores of UNESCO World Heritage Site Península Valdés, you can find penguins, southern right whales and orcas. In fact, the orca population is somewhat famous for their unique method of hunting sea lion pups (they practically beach themselves). Learn more about scuba diving in Argentina.
South Australia
The diving in South Australia proves cold water can have just as many interesting creatures as warm water. Just off the shores of Adelaide you'll find cuttlefish, colorful nudibranchs, Wobbegong sharks and leafy sea dragons (a bucket-list critter found exclusively in southern Australia). While crowds flock to the Great Barrier Reef in the north, cold water divers can enjoy intimate encounters with cuttlefish, seals and sea lions.
British Columbia, Canada
Southwestern Canada is home to shipwrecks, sheltered coves, and even a mermaid. Stay in cosmopolitan Vancouver, picturesque Victoria, or escape to the wilds of the Sunshine Coast. BC offers great diving for scuba divers of any experience level. Ask a local PADI Dive Center about where to find an iconic Great Pacific Octopus or dive with friendly sea lions.
New Zealand
It's hard to say which parts of New Zealand are the most amazing: the sub-tropical North Island, dramatic Milford Sound, picturesque Dunedin, or the exquisite diving near the Poor Knights Islands. Topside and underwater, the land of the long white cloud is simply stunning. Search for sea dragons, swim through massive schools of trevally, and (if you're lucky) encounter an orca.
South Africa
Bring an appetite for adventure when you visit South Africa. This country offers cage diving with great white sharks, the world-famous sardine run, and, oh yeah, the chance to dive in two different oceans. Learn more about the diverse scuba diving options in South Africa.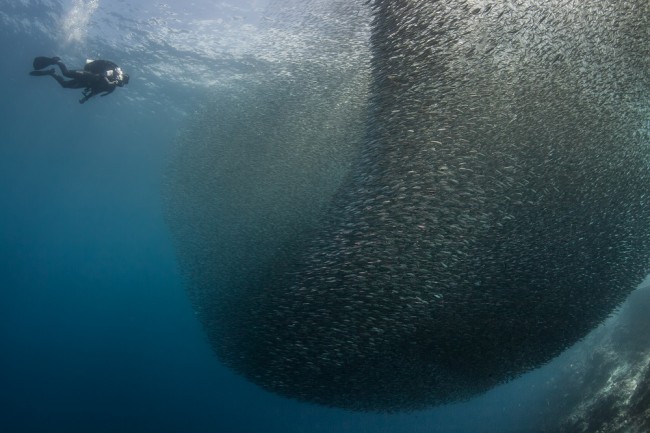 United Kingdom
The waters surrounding the United Kingdom have something to offer divers of all interests and experience levels. Scapa Flow is considered one of the best wreck diving destinations on earth, and temperate Pembrokeshire is home to jellyfish, sunfish, dolphins and the occasional shark.
If sharks are your (every)thing, head straight to Cornwall for the chance to dive with basking sharks. The world's second-largest shark is lesser known, but equally impressive.
The Arctic
Much has been written about the incredible diving in the Antarctic, but the Arctic is spectacular in its own right, and it's slightly easier to visit. Brave the "ice cream headache" upon entering the water, and you'll be rewarded with astonishing underwater ice formations and 40 m/130 ft+ visibility in addition to humpbacks, belugas, fin whales and dolphins. Some visitors may be lucky enough to encounter a bowhead whale or orca.
Many of the destinations above can be explored while wearing a 7-8mm or double-layer wetsuit. Some divers, however, may enjoy greater warmth and comfort in a dry suit. Visit a PADI® Dive Center or check out availability for courses in your area on PADI Adventures to complete the PADI Dry Suit Diver Specialty course prior to travel.
Further Reading:
Cold Water Diving for Warm Water Divers
Dry Suit Buyer's Guide
Cold Water Destinations Divers Adore