As a PADI Instructor that lived in the Florida Keys for several years, I have had the privilege of exploring and sharing with others the depths and shallows of many dive sites throughout the more than 100-mile (160km) expanse of the third largest barrier reef system in the world.
Scuba diving in the Keys offers enough diversity to keep divers coming back for years. From their first Florida Keys diving adventure, to out-planting small staghorn corals in order to help restore coral reefs, to identifying hundreds of species of marine life, to some of the world's foremost wrecks – Florida Keys diving offers something for everyone.
To narrow down the options, I've shared some top dive sites to consider when visiting the beautiful Florida Keys.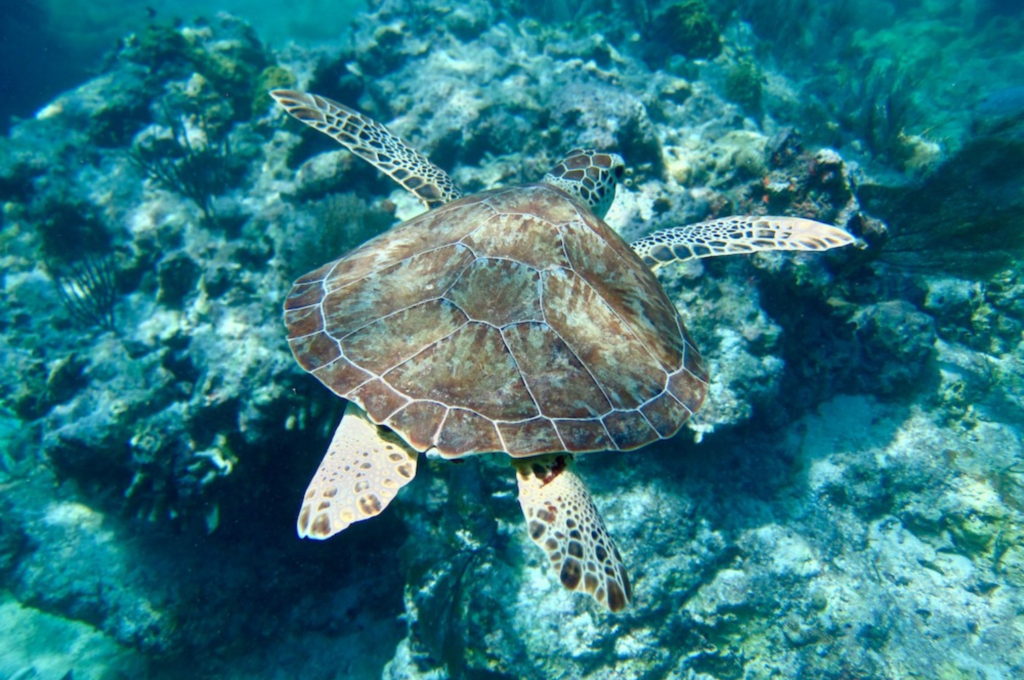 1. Molasses Reef
Molasses Reef is both the heart and crown jewel in Key Largo diving, boasting more than 30 individual sites. With its easy access, many moorings, and characteristic clear teal waters, it is ideal for snorkelers and divers alike. Many large marine creatures frequent this area such as sea turtles, reef sharks and fevers of spotted eagle rays. This beautiful reef sits in a specially protected area of the Florida Keys National Marine Sanctuary. So take all the pictures you like, but leave only bubbles!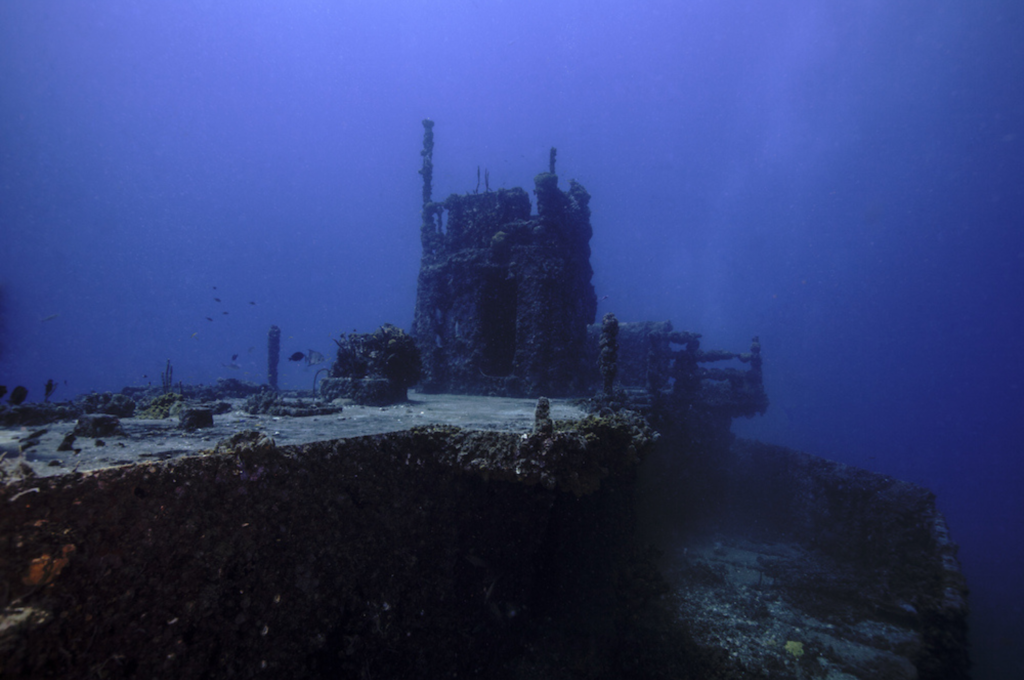 2. USCGC Duane
1 mile (1.6km) south of Molasses Reef and part of the Shipwreck Trail is 327ft-long (100m) US Coast Guard Cutter Duane. It's an unmissable site for advanced divers planning a Florida Keys diving trip. Sunk deliberately in 1987 alongside the USCGC Bibb to become one of the most-visited Key Largo dive sites, the USCGC Duane sits upright in around 120ft (40m) of water. Located in open water, strong currents are inevitable but bring in scores of marine life and excellent visibility. Take in the views of large schools of snapper around the bow or barracuda hovering at the crow's nest. And keep an eye on the blue, where bull sharks often cruise by.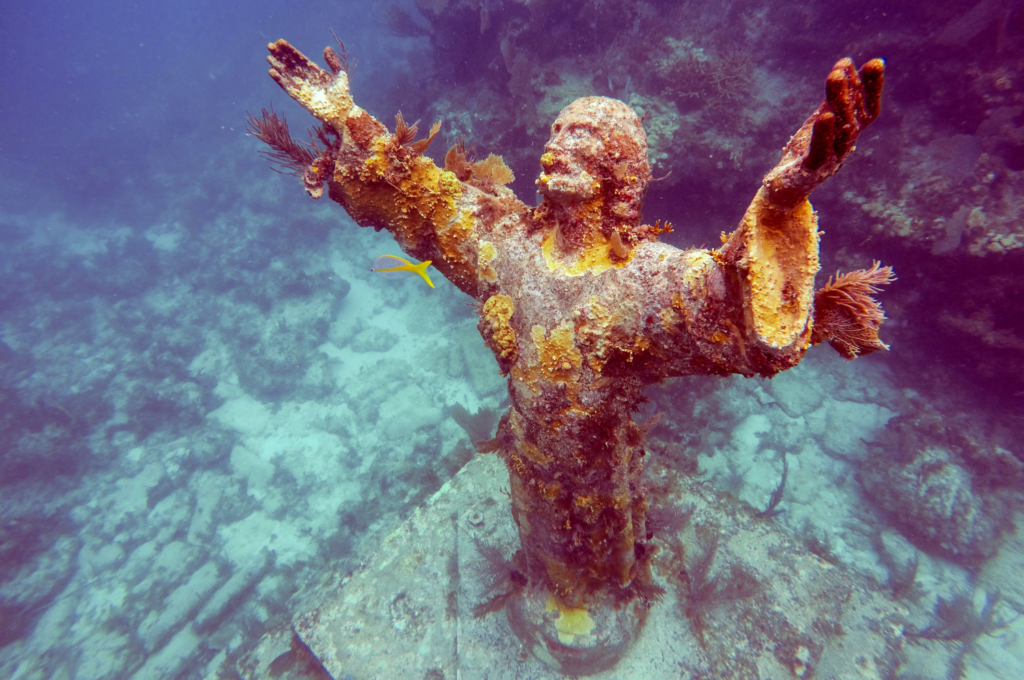 3. Christ of the Abyss
If you're scuba diving in the Keys, you'll probably visit Christ of the Abyss. No dive site in the Upper Keys is more recognized or requested than this one. Standing at nearly 10ft (3m) tall, cast in bronze, this statue welcomes all – snorkelers and divers alike, sitting at a comfortable 25ft (22m) in depth or so. Donated to the John Pennekamp Coral Reef State Park by scuba diving legend Egidi Cressi, this site is a must for anyone's first visit to the Florida Keys.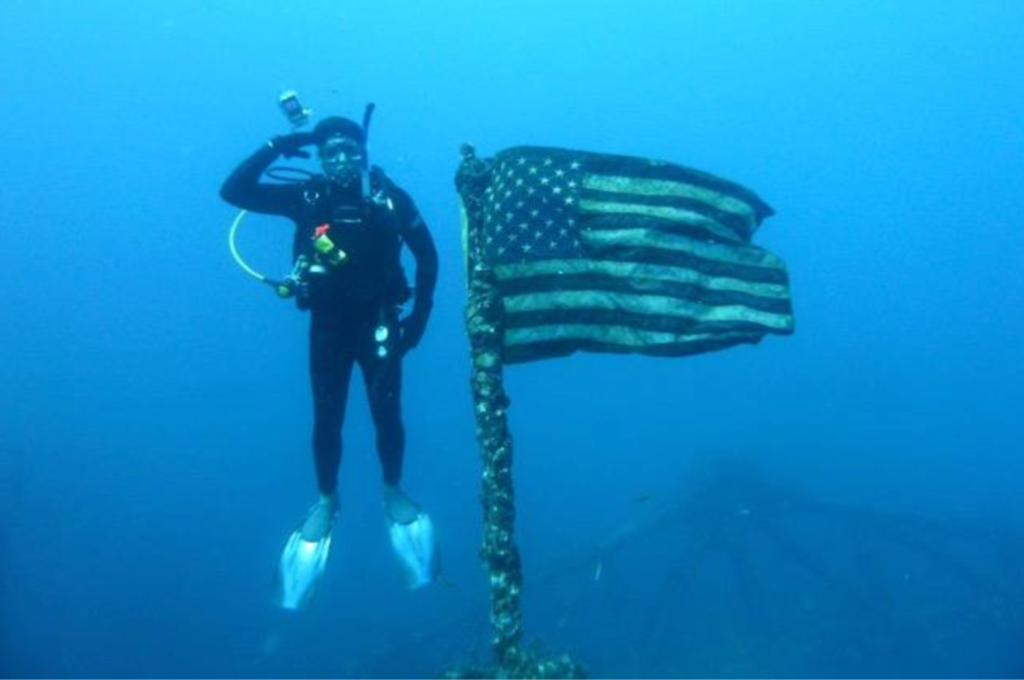 4. USS Spiegel Grove Wreck (LSD-32)
A Florida Keys diving trip wouldn't be complete without stopping by the USS Spiegel Grove wreck. This impressive ship sits 6 miles (9.6km) off the shore of Key Largo. Measuring a whopping length of more than 500ft (152m), many experienced divers say it is nearly impossible to truly experience this dive site in one dive, or even two. Once in active duty, this decommissioned landing ship dock Navy vessel offers extraordinary immersive diving opportunities for advanced divers. Beginning at a comfortable minimum depth of 60ft (18m), divers can explore various light to light passageways to depths of 100ft (30m) or more. It is important to note not all areas of this wreck are safely accessible, even with advanced certifications. That said, there is more than enough impressive area to explore safely.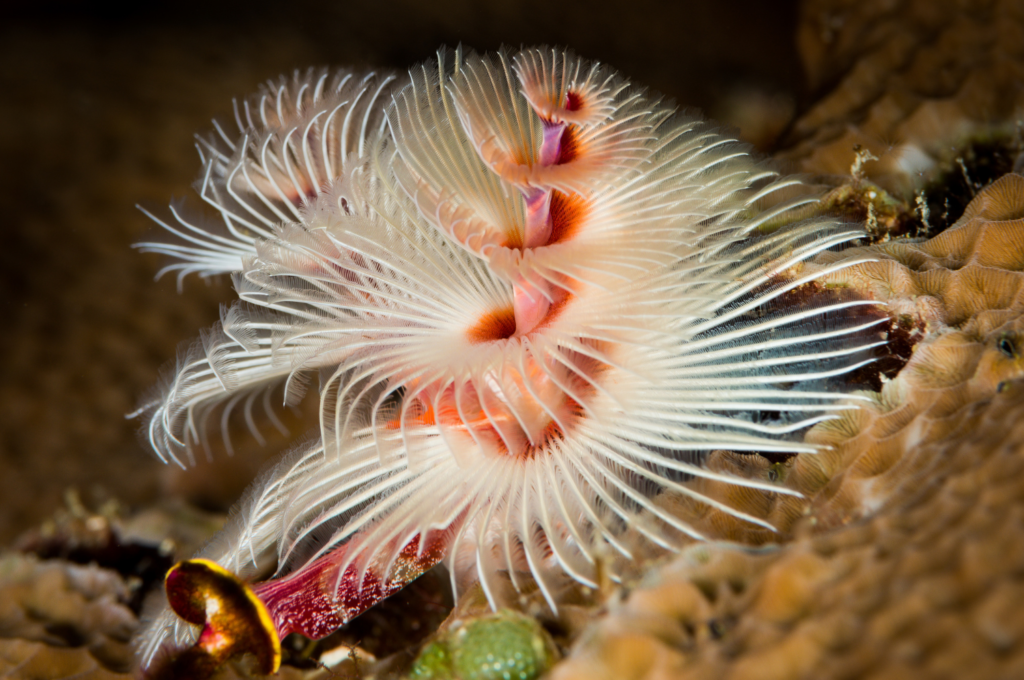 5. French Reef
Located 7 miles (11km) southeast of Key Largo, French Reef is part of the Key Largo Existing Management Area. It's known for impressive limestone topography: tunnels, swim-throughs, ledges, walls, arches, caves and trenches are just some of the features that divers can explore. It's also home to countless species such as parrotfish, damselfish, groupers and morays. Look for Hourglass Cave (split into two sections by an hourglass-shaped formation) and Christmas Tree Cave (so-called for the surrounding star corals and Christmas tree worms). For more advanced divers, the deeper waters at French Deep promise bigger pelagic species like eagle rays and sharks.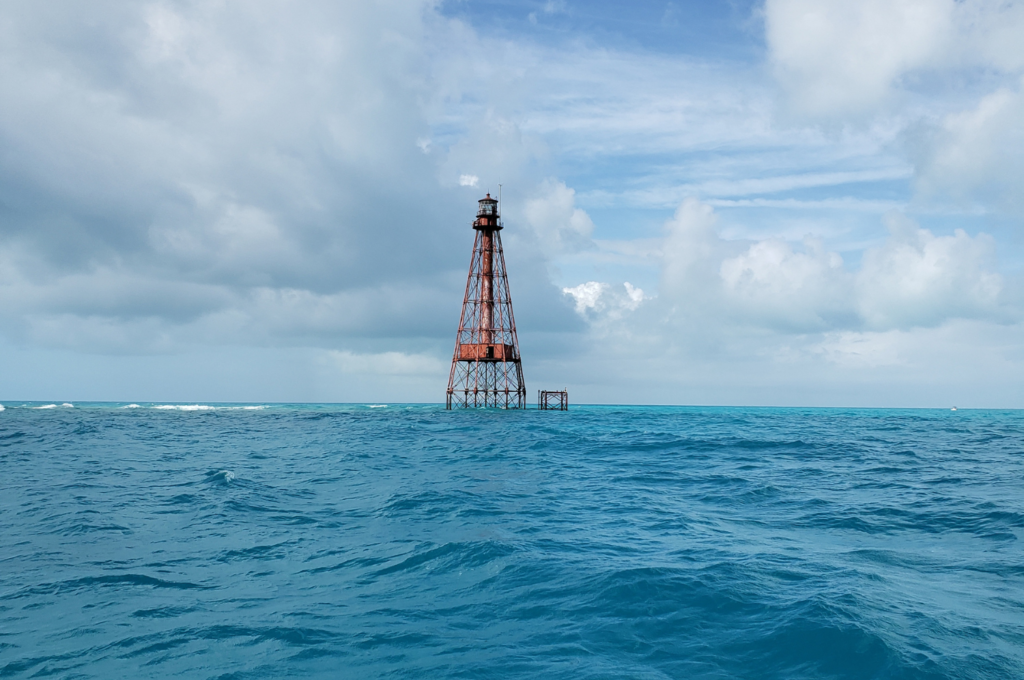 6. Sombrero Reef
This Middle Keys reef is marked by the iconic 140ft (43m) Sombrero Key Light. Built before the Civil War, it remained in use until only a few years ago. With depths from 5-35ft (2-11m), the spur-and-groove Sombrero Reef is one of the area's favorite snorkel and scuba spots. Beneath the surface, you'll find mesmerizing coral formations thriving with a diverse array of marine creatures, such as colorful fish, majestic sea turtles, and elegant rays. Its crystal-clear waters and abundant biodiversity make it a paradise for underwater photographers and nature enthusiasts, offering a truly unforgettable diving experience.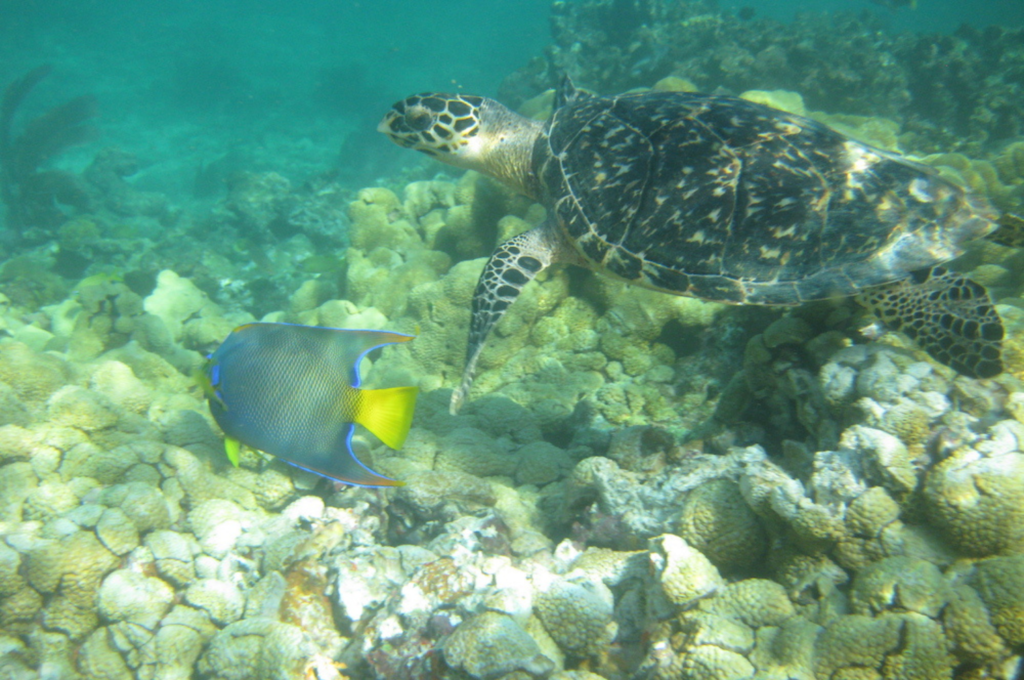 7. Looe Key (Lower Keys)
Located just 5 miles (8km) off the shore of Big Pine Key is the spur-and-groove reef formation of Looe Key. This reef is also part of the Florida Keys National Marine Sanctuary. Much like Molasses Reef, there are varying shallow depths, rich marine life, and mooring buoys for vessels to tie up to, in order to avoid damaging the fragile marine life.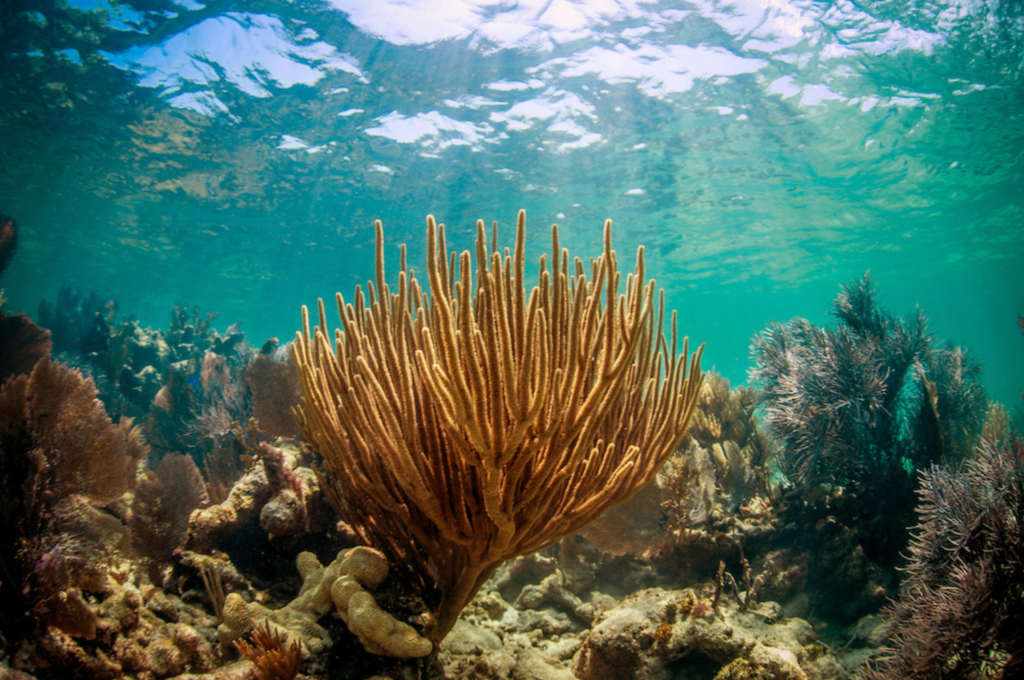 8. Coffins Reef
There is nothing scary about this spooky-sounding reef off the coast of Marathon. It is a popular and shallow site for snorkeling and scuba diving in the Keys. Six different reefs can be found in the area, each with distinctive coral diversity. The excellent light that comes with shallow water diving, and the common clear visibility, makes this the perfect spot for underwater photographers of all levels.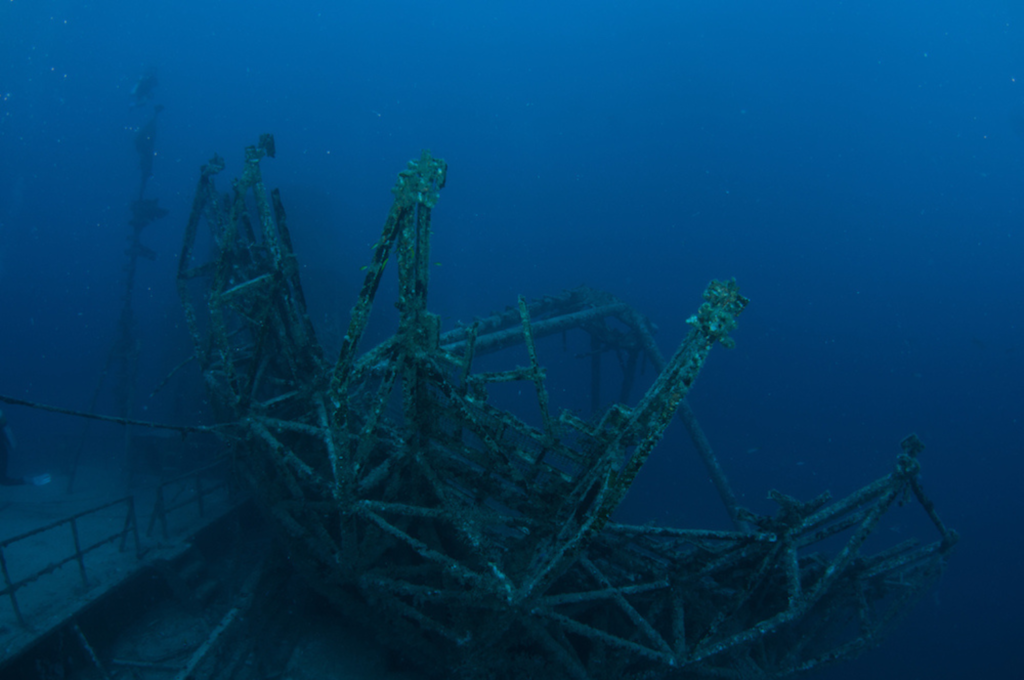 9. USNS General Hoyt S. Vandenberg Wreck
This wreck is one of the greatest attractions and most famed dive sites of Key West. The Ex-Military Missile Tracking Ship was only sunk in 2009, but signs of marine life and coral structures have quickly made their home in its nooks and crannies. This ship is a massive 524ft (160m), with the honor of being the second largest vessel in the world ever purposely sunk to become an artificial reef. Sitting at depths of 70-100ft (21-30m), this advanced dive is a must for those planning Key West diving and looking to complete their Florida Keys Wreck Trek.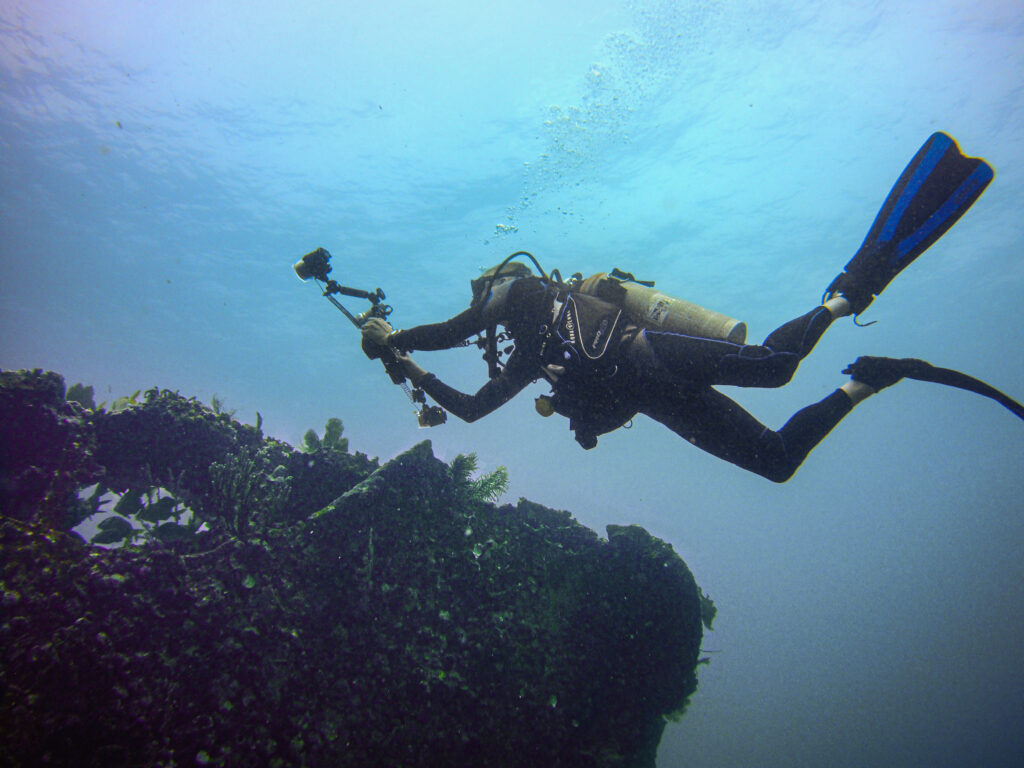 10. The Wreck of the Benwood
Unlike the Duane, Spiegel Grove, and Vandenberg, The Benwood is not an intentionally sunk artificial reef – it is a true wreck. In 1942 the 360-foot freighter was running lights out when it struck another blacked-out ship. Following salvaging (and explosions rumored to have been aerial target practice from the US Army), the bow and hull structure mostly remained, leaving nooks and crannies for fish, eels, turtles, and even Goliath Groupers. Located in shallow water near French reef, this dive is a great experience for Open Water and experienced divers alike.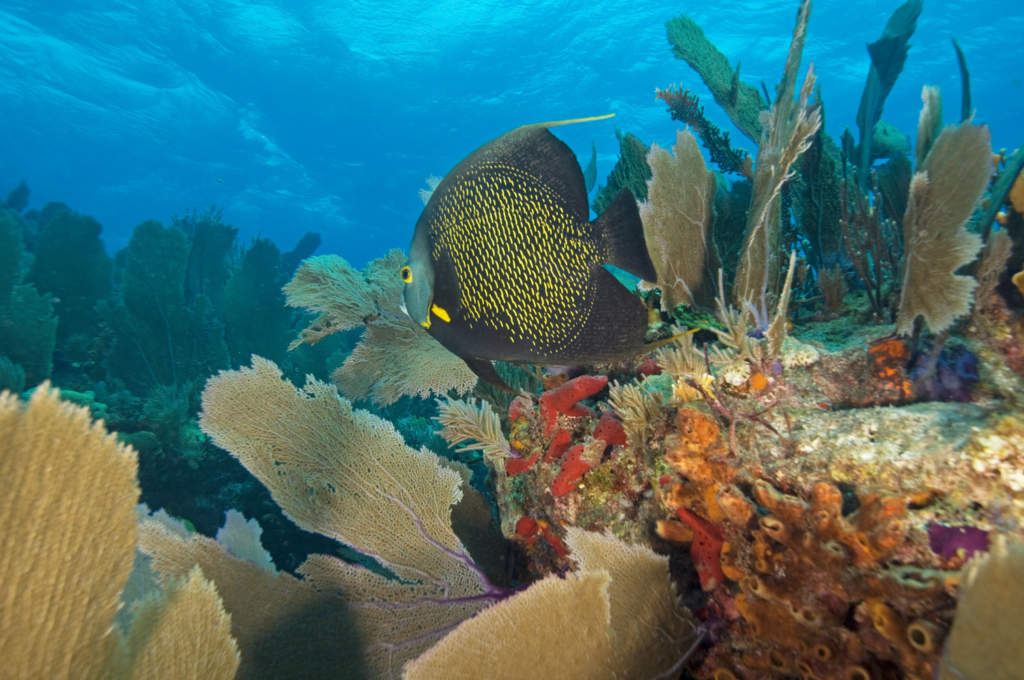 11. Pickles Reef
Pickles Reef stands out as one of the premier dive sites in the Florida Keys due to its vibrant underwater world and thriving marine ecosystem. Divers are drawn to this site for its kaleidoscope of colorful reef fish, including parrotfish and angelfish. There's also an opportunity to encounter larger charismatic species like nurse sharks and graceful sea turtles. The reef itself showcases a magnificent display of hard and soft corals, creating a visually captivating underwater landscape. This healthy coral ecosystem not only provides a breathtaking backdrop for divers but also plays a crucial role in supporting the overall biodiversity of the region. With its rich marine life and pristine coral formations, Pickles Reef consistently delivers a memorable and awe-inspiring diving experience in the Florida Keys.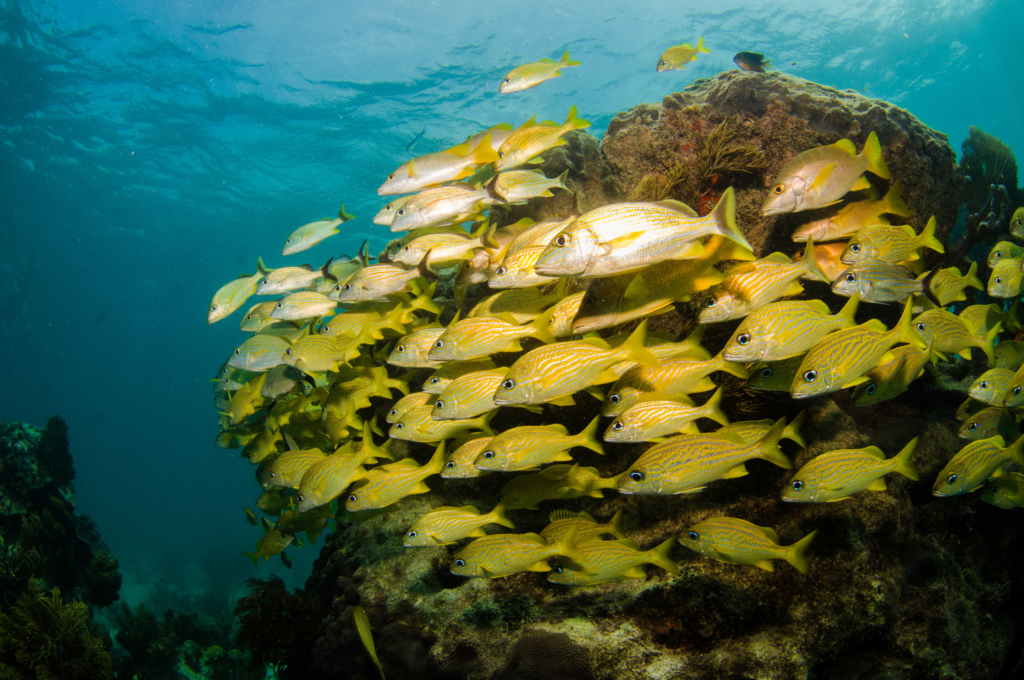 12. Western Dry Rocks
Western Dry Rocks earns its reputation as a top dive site in the Florida Keys thanks to its stunning underwater vistas and exceptional marine biodiversity. Located near Key West, this site is celebrated for its vibrant coral formations. These coral formations serve as a haven for countless species of fish and other marine creatures. Divers flock to Western Dry Rocks to witness the mesmerizing spectacle of schools of grunts and snappers that swirl among the corals. Additionally, the clear, azure waters surrounding the site provide excellent visibility, ensuring that divers can fully appreciate the vivid colors and intricate details of the coral gardens.
---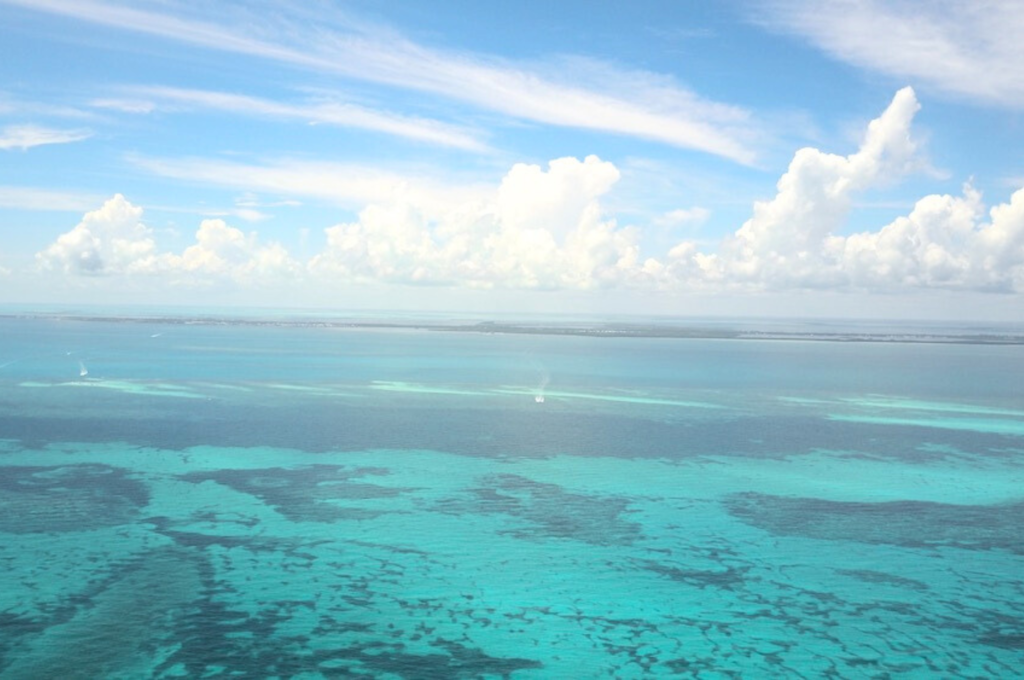 Florida Keys Diving: When to Visit
There isn't really a single best time of year for scuba diving in the Keys since the tropical climate allows year-round diving. Winters (Nov-Feb) are drier but cooler (around 60-70°F/15-20°C). Summer months are warmer (around 80°F/27°C) but be aware hurricane season peaks in Aug/Sep. But no matter when you go, there's always something to see while diving.
Can't wait to explore the incredible wrecks and reefs of the USA's Sunshine State? Start planning your Florida Keys diving trip today with the PADI Dive Shop Locator.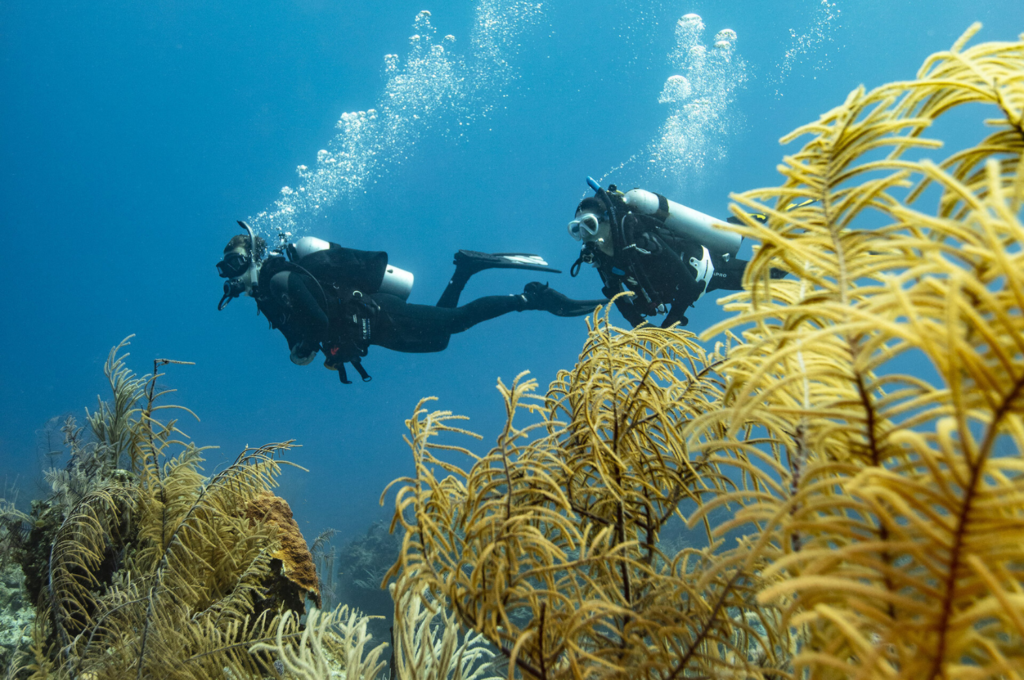 Live Unfiltered in The Florida Keys
When it comes to discovering the underwater world and embracing a life less ordinary, there's no place quite like the Florida Keys. Learning to scuba dive in this tropical paradise offers a plethora of benefits that go beyond the breathtaking views of colorful coral reefs, shipwrecks and exotic marine life. As you embark on your scuba diving journey in the Florida Keys, you'll quickly realize that it's not just about exploring the depths; it's about learning to Live Unfiltered.
So, why wait? Dive into the Florida Keys and experience the transformative power of scuba diving. Unplug from the chaos of everyday life, embrace a world free of filters, and connect with the ocean in its purest form. Join us in the Florida Keys and let your underwater adventures begin.