Are you a new diver looking to spice up your logbook, or a seasoned aficionado who's found themselves in an aquatic version of Groundhog Day? Read on for ideas on how to broaden your scuba horizons over the next twelve months.
See a coral reef glow at night
For a level up on regular night diving, try Fluorescence (or glow) diving. The use of specialist UV torches illuminates the reef's psychedelic side, with corals and critters displaying bright yellows, pinks, blues and greens for an unforgettable experience. See it for yourself in places such as the Red Sea, Cambodia, the Maldives, Indonesia and Grenada.
Go further afield with a liveaboard trip
Imagine a week (or more) living at sea, visiting remote sites that smaller boats simply can't reach. You'll dive from dawn until dusk; a schedule punctuated only by eating, sleeping, and sharing tales with your fellow divers. It's called liveaboard diving, and should be on every diver's bucket list. Find an incredible liveaboard trip today with PADI Travel.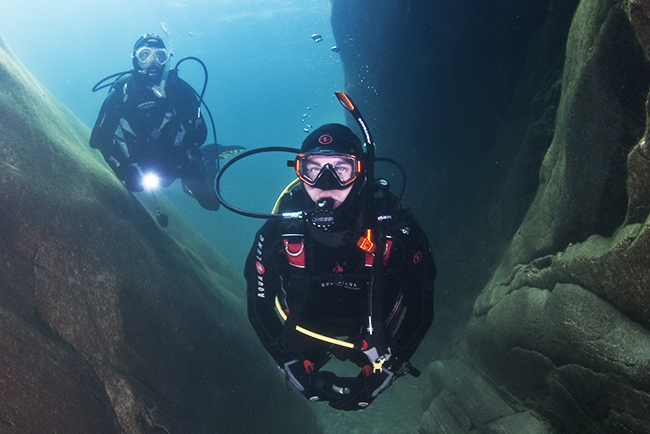 Climb every mountain (or just dive a few)
Inland sites — such as rivers, lakes, and quarries — can rival the most impressive sea dives. Along with diverse communities of freshwater species, altitude diving (300m/1,000ft above sea level) offers the added bonus of breathtaking mountain views, like Yellowstone Park or the Swiss Alps.
Hitch a ride on a DPV
If you live for the next thrill, you need to try a DPV (Diver Propulsion Vehicle). These underwater scooters are fast, fun, and a practical way to cover large distances underwater — whether you're exploring a large wreck, or swimming out to a dive site from the shoreline.
Encounter the big stuff
Ever been buzzed by dolphins in the Red Sea, spotted a whale shark at Ningaloo Reef, or played with seals in California? If you've not yet encountered the ocean's larger inhabitants, then make 2018 the year to meet and greet. For an extra adrenaline rush, plan your trip to South Africa where, if you're lucky, you might witness the infamous Sardine Run.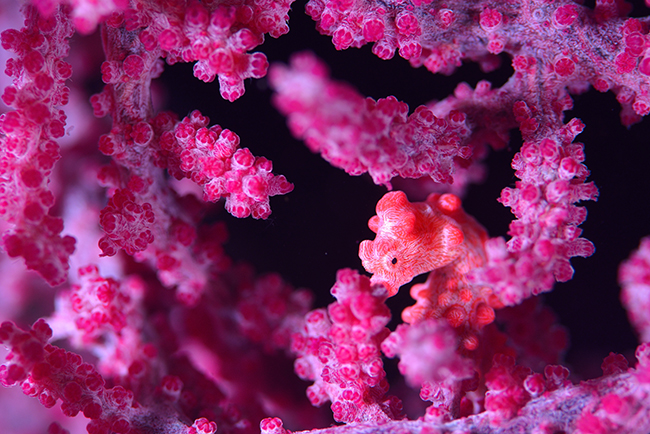 Appreciate the smaller stuff
Sometimes, size does matter — and many divers specifically seek out the tiniest creatures, like pygmy seahorses, nudibranchs and frogfish. Muck diving is especially popular with macro photographers — if you're keen, try hotspots like Indonesia, the Philippines and the Caribbean.
Turn down the temperature
Dive below the ice and you'll fin-step into a world like no other; a world where crystal-clear visibility meets underwater hot springs and drifting icebergs. Freezing temperatures can be offset with the right equipment, and divers who take up the challenge may be rewarded with wolf eels, giant Pacific octopus, leopard seals, beluga whales, sea angels and many other cold water creatures.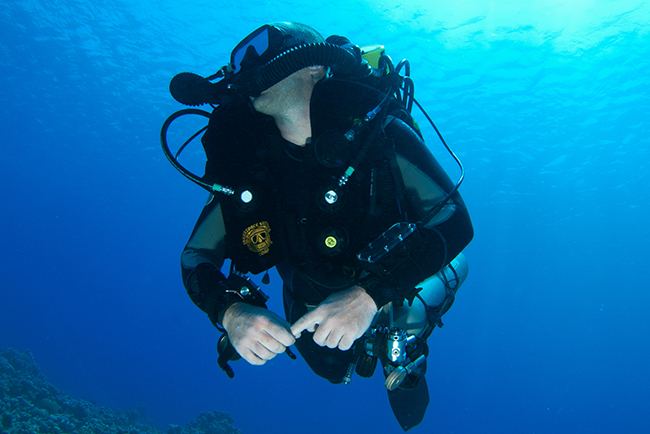 Go diving without the bubbles
When diving on a rebreather your exhaled gas is recycled, meaning you could get significantly more time underwater. There are also no bubbles, so you'll be less likely to scare marine life and more likely to take prize-winning photos. Try it out recreationally and see the benefits for yourself — and who knows, you might open the door to a new interest in technical diving.
Revisit the dives on your doorstep
While many of us aspire to a photo album full of exotic places, it can be just as rewarding to explore closer to home. This year, try to discover a new side to your local dive sites; try searching for a critter that's endemic to the area, or return to a familiar spot for a night dive instead.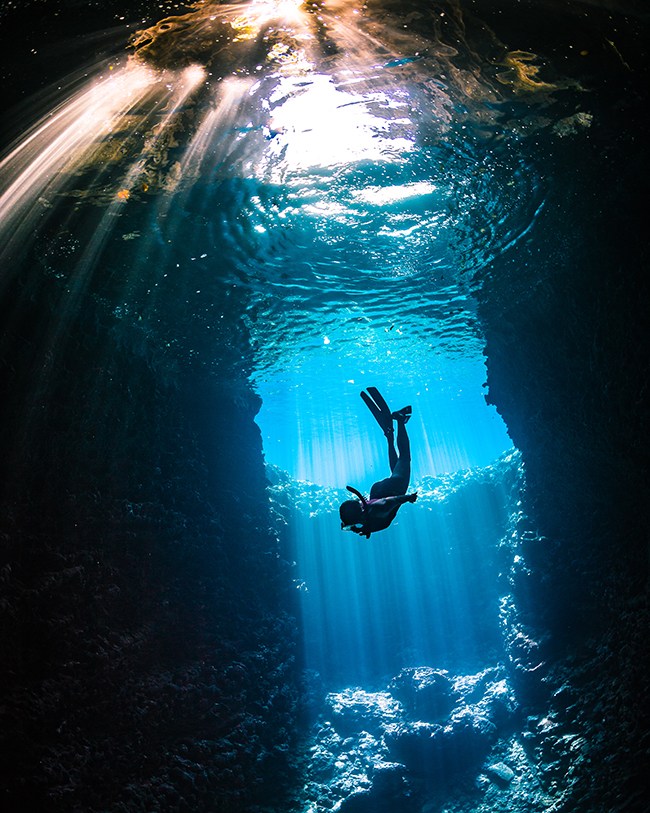 Go deeper underground
Caverns are a photographer's dream, where ethereal rays of natural light dance between dramatic formations of stalactites and stalagmites. Unlike cave diving, cavern diving keeps an exit in sight, so it's safer and more accessible for recreational divers. While Mexico's Cenotes are perhaps the most famous, check out other contenders including Hawaii, Russia and the Mediterranean.
Learn how to freedive
For a change of sport, swap the aqualung for your own lungs, and dive below the waves using a single breath. Freedivers love this discipline for its peace, freedom and the synergy between mind and body. Plus, put on a monofin and it'll be the closest you'll ever get to being a mermaid/man.
Give something back to the ocean
To preserve the ocean's beauty and enjoy these dives for generations to come, we must play our part as ambassadors of the underwater world. From reducing plastic use to collecting litter on your next dive, pledge to make a difference in 2018.
Why not take the challenge to see how many of the above you can tick off this year. We'll be looking back at your successes in twelve month's time, so share your stories and photos with us on the PADI Facebook Page or Instagram for a chance to be featured.
Don't forget: contact your local PADI Dive Shop for advice on the courses, equipment and dive trips that will help you stay safe and get the most out of these experiences.