Look no further than the Caribbean for beautiful beaches, island adventures, and incredible diving. Caribbean islands offer diverse cultures, delicious food, and dive sites right off the coast. So, it is no wonder this region's crystal clear waters are a hot spot for scuba divers that love shore diving.
The Caribbean offers calm, warm waters with marine parks, artificial reefs, shark diving, and diverse coral ecosystems. While many divers choose liveaboards or boat dives to explore Caribbean waters, there are many opportunities for divers who prefer the freedom to enter from the shoreline. Divers can explore sites from the shores of Curacao, Bonaire, the Bahamas, Grand Cayman, Aruba, Saint Lucia, and more. Excitingly, finding the entrances to these sites may take you to areas of the islands you would otherwise never explore.
Whichever destination you choose, read on to learn about top shore dive opportunities in six Caribbean nations.
---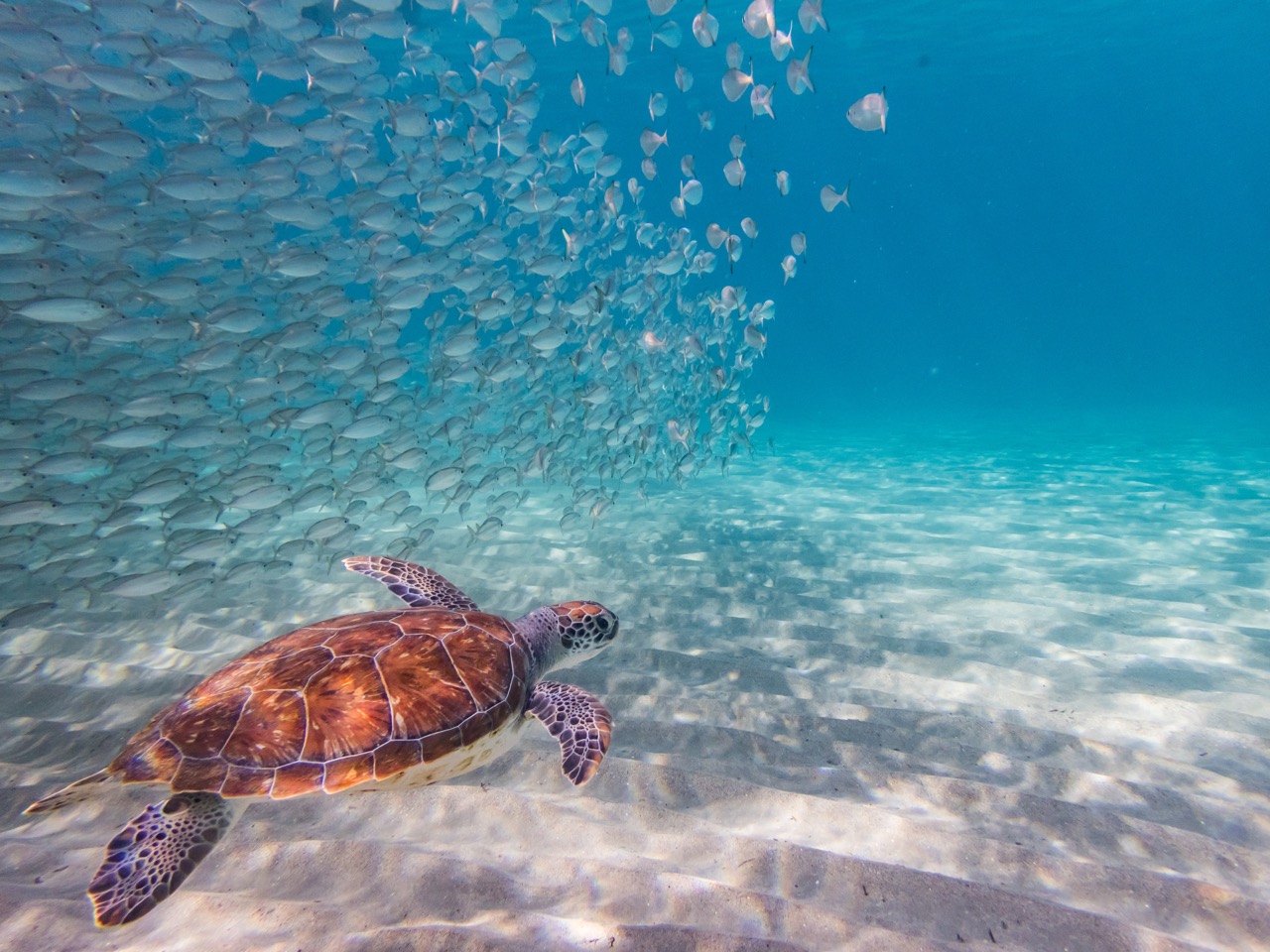 Shore Diving in Curaçao
Curaçao is called a 'shore diving haven'. Out of the seventy popular dive sites around the island, over half of them are shore dives.
Road signs along the island direct divers to dive sites off the coast. However, although renting tanks and hopping into the water is easy, the markers are not always perfectly situated. So, it is recommended to partner with local dive guides for a Discover Local Diving experience before you begin your adventure. Importantly, receiving dive instruction from local professionals in any new location is a best practice.
The blue waters of Curaçao host mushroom-like hard corals, a sunken tugboat, a barge carrying cars and trucks, healthy coral reefs, macro marine life, and so much more.
---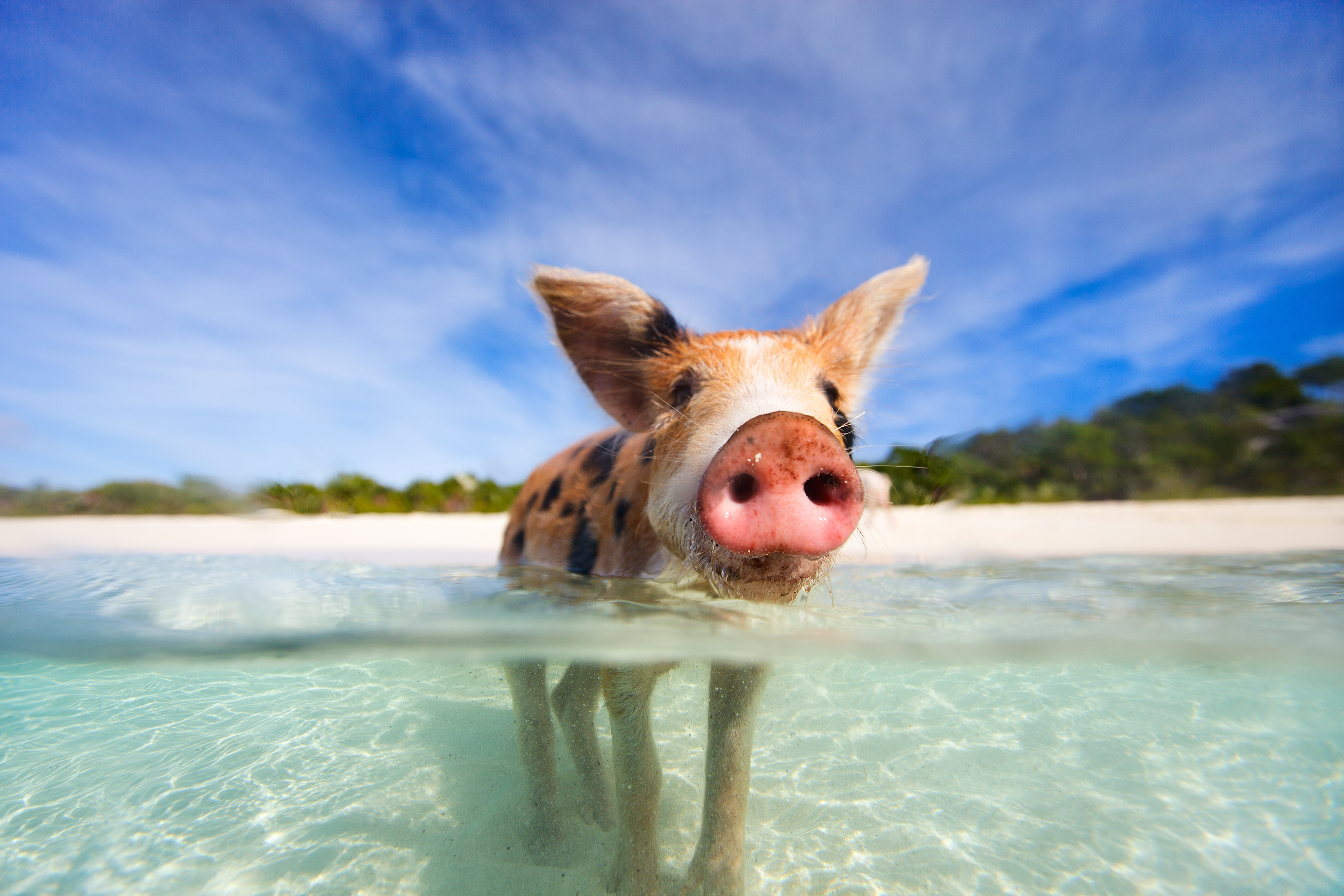 Shore Diving in The Bahamas
While white sand and blue water may suggest abundant shore diving in the Bahamas, opportunities are more limited than on other islands, like Curaçao and Bonaire. However, the land-accessible dives in the Bahamas certainly provide unique diving experiences.
Shore diving in Nassau, Bahamas (New Providence) offers a unique opportunity that focuses on art and conservation. The BREEF Coral Reef Sculpture Garden and Coral Nursery is the world's largest underwater sculpture and living art gallery off Clifton Bluff. Additionally, juvenile endangered staghorn corals are planted amongst the sculptures to encourage reef and ecosystem rehabilitation. 
After diving in Nassau, Bahamas, you can take a ferry to the nearby Abaco Islands. There you will find the most shore dives out of all the islands of the Bahamas. Fringing coral reefs and an abundance of tropical fish surround the Abaco Islands cays. 
---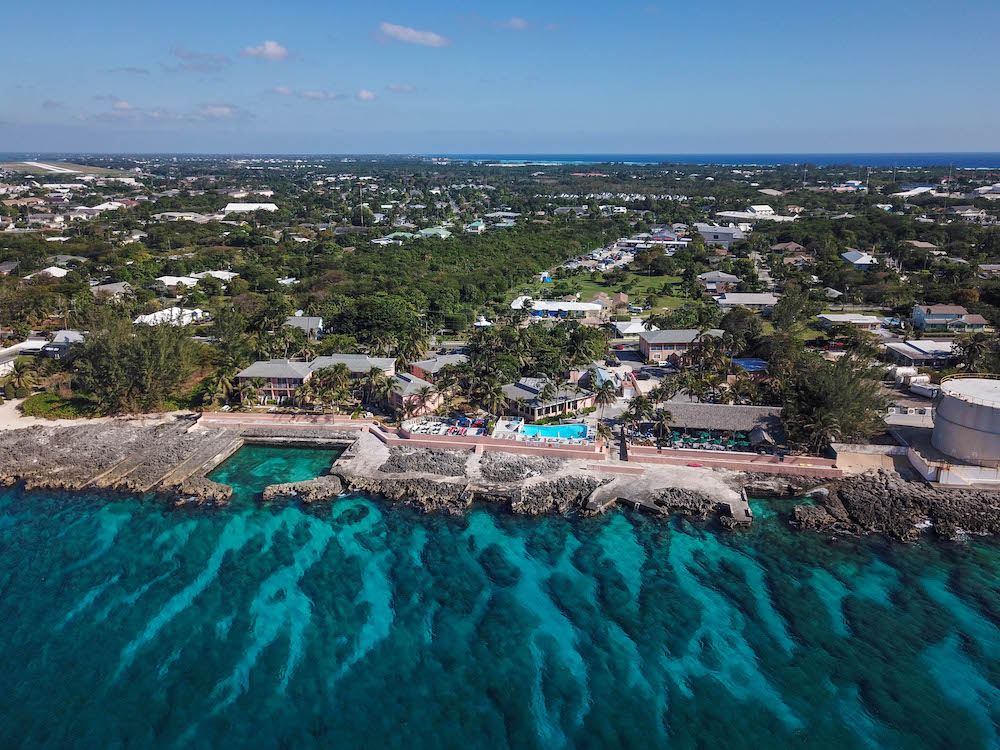 Shore Diving in Grand Cayman
There are more than 364 identified dive sites in the Cayman Islands. The good news – divers can reach many of the wrecks, reefs, and wall dives from shore!
Accordingly, some Grand Cayman dive operators and resorts offer unlimited shore diving packages. Steps or ladders are built directly into the rocky shore to facilitate access to dive sites. You can often find dive shops steps from reefs. Some shops also have adjacent restaurants where you can relax after a day of diving.
Many Grand Cayman shore dive sites offer a mix of shipwrecks, coral reefs, caves and tunnels. You will even find life in the sandy areas, look for nudibranchs and flounders!
---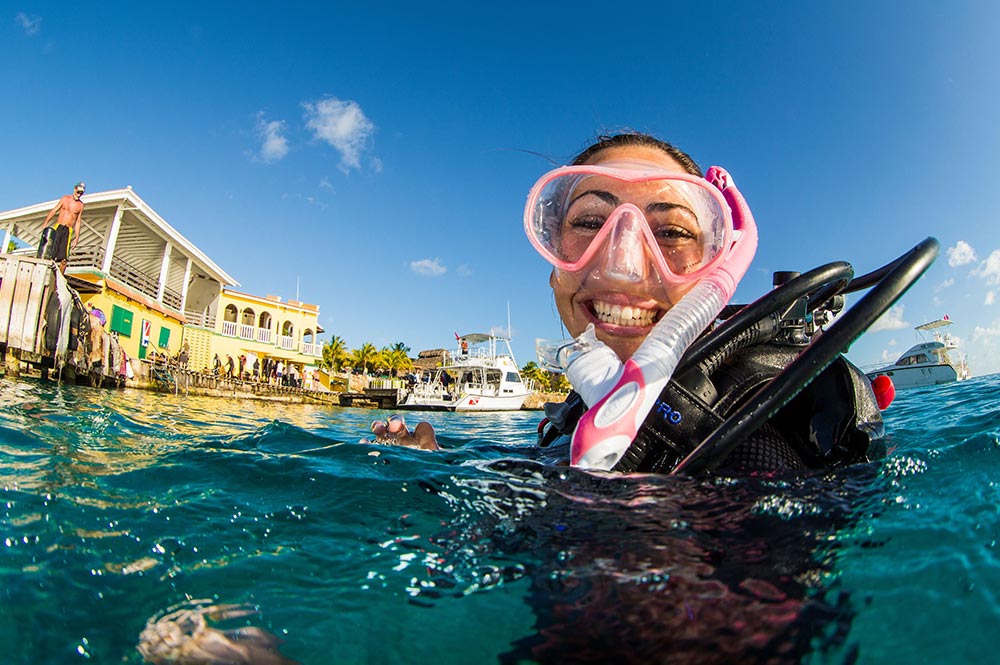 Shore Diving in Bonaire
There is no article about shore diving in the Caribbean without mentioning Bonaire. It is known as the 'shore diving capital of the world'. Indeed, a national marine park borders the entire shore of this inviting island. Yellow rocks mark 60 shore dives, showing travelers where they can park and (most of the time) easily enter the water. 
Divers of every level will find Bonaire a shore diving haven. There are calm waters, minimal currents, and abundant marine life a mere 100 feet (30m) from the shore. Accordingly, familiarize yourself with Marine Park regulations to ensure that these exceptional diving opportunities are available for others.
---
Shore Diving in Aruba
Although best known for the incredible wreck diving that's on offer, Aruba has some stunning shore dives (which also include accessible wrecks). Take a step off the beach and enter Aruba's crystal clear waters to explore bountiful seagrass beds and coral reefs that are teeming with life.
Aruba has something to offer for all levels of divers. There are calm and protected bays for beginners as well as deeper wrecks and drifts for more experienced divers. Marine life highlights here include the chance to see hammerhead sharks, hawksbill turtles, and loggerhead turtles.
The high season for diving in Aruba is between April and November which coincides with Aruba's driest months.
---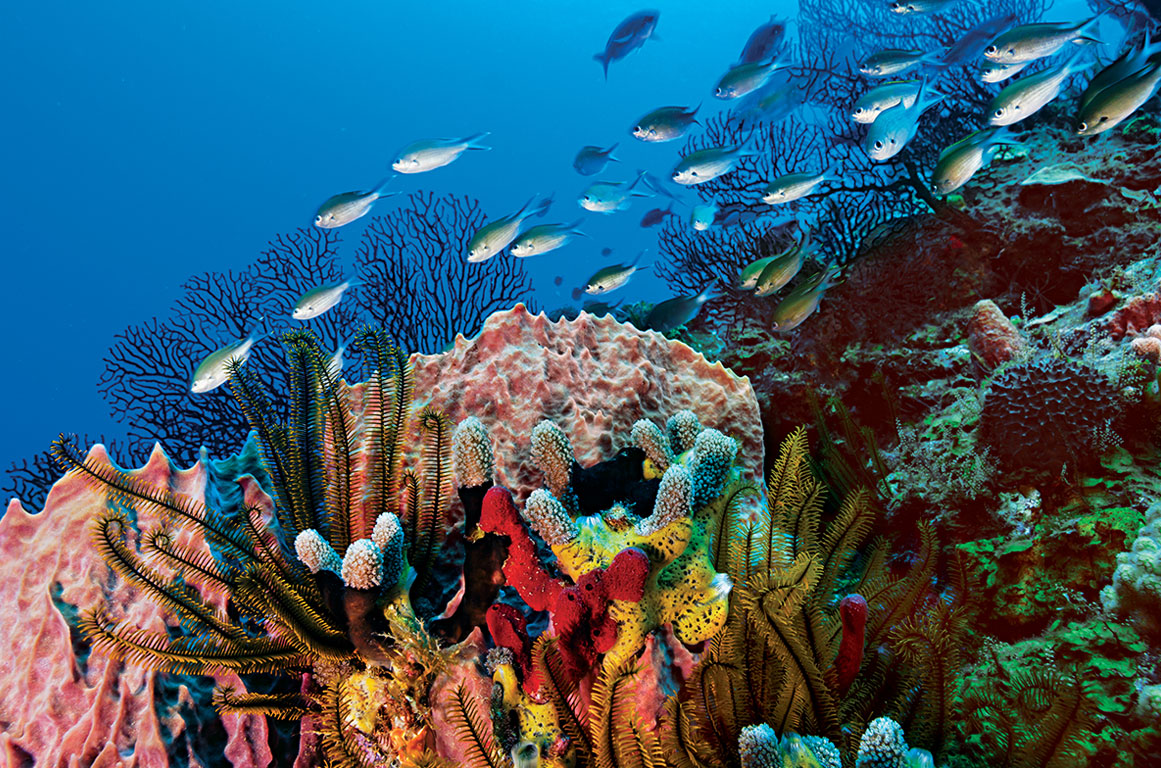 Shore Diving in Saint Lucia
The beautiful lush green island of Saint Lucia boasts incredible scenery and topography both on land and beneath the surface. Saint Lucia's kaleidoscopic coral reefs include staggering walls, drop offs and adrenaline pumping drift diving opportunities for more experienced divers.
As well as the chance to see schooling fish and larger pelagics, Saint Lucia's dive sites are a treasure trove of critters. The dive site known as 'Anse Chastanet' is just a step off the beach. There, divers can expect to see an array of macro marine life, including seahorses, frogfish and lionfish. Look out for moray eels among the corals.
---
Best Practices for Shore Diving
Shore diving offers freedom and accessibility. However, it is essential to note that this type of diving still comes with safety precautions.
All the usual diving rules apply when shore diving. Always dive with a buddy. Additionally, advise someone on land when you expect to be back and where you are going. Make sure you get an orientation to the area from a local dive professional before entering the water on your own.
---
Wherever you choose to explore the Caribbean from shore, enjoy, stay safe, and protect the marine life you see. For more information on shore diving, read the blog posts below: