The Bahamas is famous for its world-class shark diving — and rightly so. Nearly guaranteed encounters with any one of a number of shark species makes a trip here one you're not likely to forget any time soon. Throw in turquoise waters, crystal-clear visibility, blue holes, wrecks and a surprising amount of diversity that stretches well beyond sharks, and it's easy to see why divers love hopping aboard any of the best liveaboards in the Bahamas.
From whitetips and blacktips to bulls and tigers, the Bahamas is definitely worthy of being on the list of the best shark diving in the world. It's also one of the top destinations to dive with hammerhead sharks as well as tiger sharks. But beyond being a shark-y paradise, this 700-island-and-cay destination offers fascinating wrecks, blue holes and spectacular caves. And, it's home to the third largest barrier reef in the world.
While it's definitely possible to dive the Bahamas from land-based operations, liveaboards make everything easier. These sea-faring vessels will help you to fit more into your diving vacation while visiting more remote regions.
With reliably good visibility and water temperatures that remain between 75 and 86°F (24 and 30°C), the Bahamas can definitely be classed as a top year-round diving destination. However, there are some seasons worth being aware of. From October to June, the risk of hurricanes is lower. And, November to May is peak shark time. This is when the Bahama's is at its hottest and driest — and perhaps most importantly, its busiest.
Because choosing the best liveaboard in the Bahamas can feel overwhelming, we've put together a selection of outstanding options to help. Each vessel offers thoughtful itineraries, guest-comes-first service and a remarkable level of professionalism, both in and out of the water. In short, we're confident a trip on any of these vessels is one you'll remember forever.
---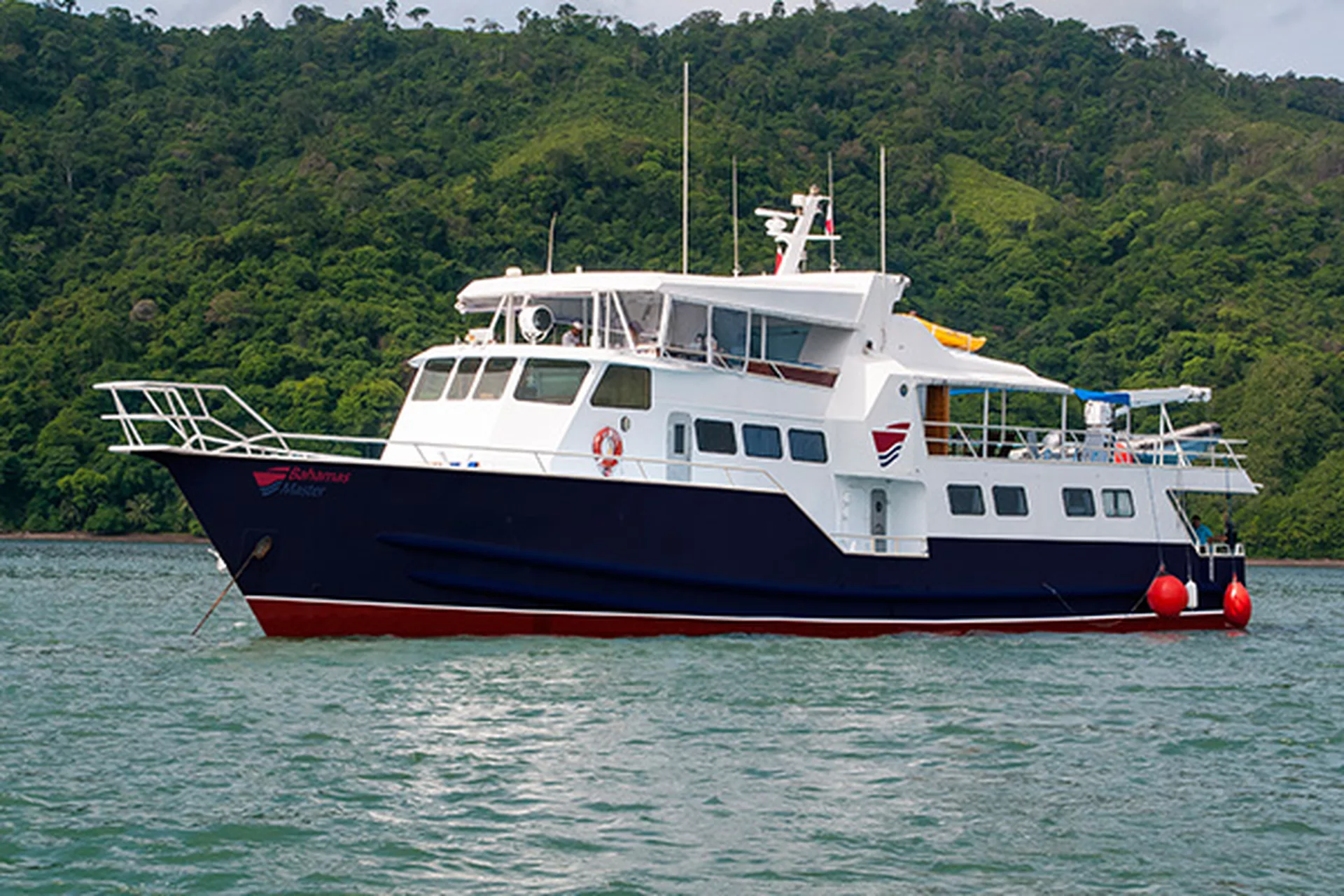 Best Deluxe Liveaboard: Bahamas Master
The Bahamas Master provides guests with an outstanding level of comfort as they take in the crystal-clear waters and wide array of marine life on offer in the Bahamas. This 35-meter (115-foot) vessel has been designed with diver comfort and convenience in mind, so life onboard is always relaxing. In addition, the itineraries of this liveaboard are designed to maximize everything the Bahamas has to offer, with the ship's longer itineraries even paying a visit to Big Major Cay in Exuma where visitors have the opportunity to swim with pigs.
Communal facilities include a dining room and an indoor lounge with entertainment facilities. The upper level is home to a covered bar/sun deck. This area is ideal for enjoying post-dive beverages, chilling out or even doing some nighttime stargazing. Below deck, eight two-person cabins accommodate a maximum of 16 guests. The three types of cabins include deluxe with a double bed and an en-suite, premier with two twins and an en-suite and standard with two twins and a shared bathroom.
The Bahamas Master offers itineraries that run from five to 14 nights. This means there are trips suited to all types of budgets and diving styles. At dive times, the vessel's spacious dive deck keeps things comfortable. It includes designated set-up areas, a camera area and dedicated rinse tanks.
---
Best Mid-Range Liveaboard: Bahamas Aggressor
The Bahamas Aggressor is a great option for divers wanting to balance luxury and affordability. This 100-foot (30m) ship is capable of transporting guests in style between some of the Bahamas' top marine parks. Add in the exciting marine life below the surface, and you're guaranteed a great time onboard.
Guests can choose from a number of different itineraries. Options range from six to 10 nights and can include any number of popular destinations, such as Exuma Cays, Southwest Eleuthera and Tiger Beach. Some days allow for up to five dives. This ensures guests can make the most of their time underwater during a stay on the Bahamas Aggressor.
Five deluxe cabins and a quad cabin provide room for up to 14 guests. Each stateroom is also air-conditioned and has US outlets and USB ports. During downtime, a roomy salon and dining area, a photo center, a sun deck and a wet bar ensure there are plenty of things to do and space to relax in. And if that's not enough, hop into the open-air jacuzzi.
---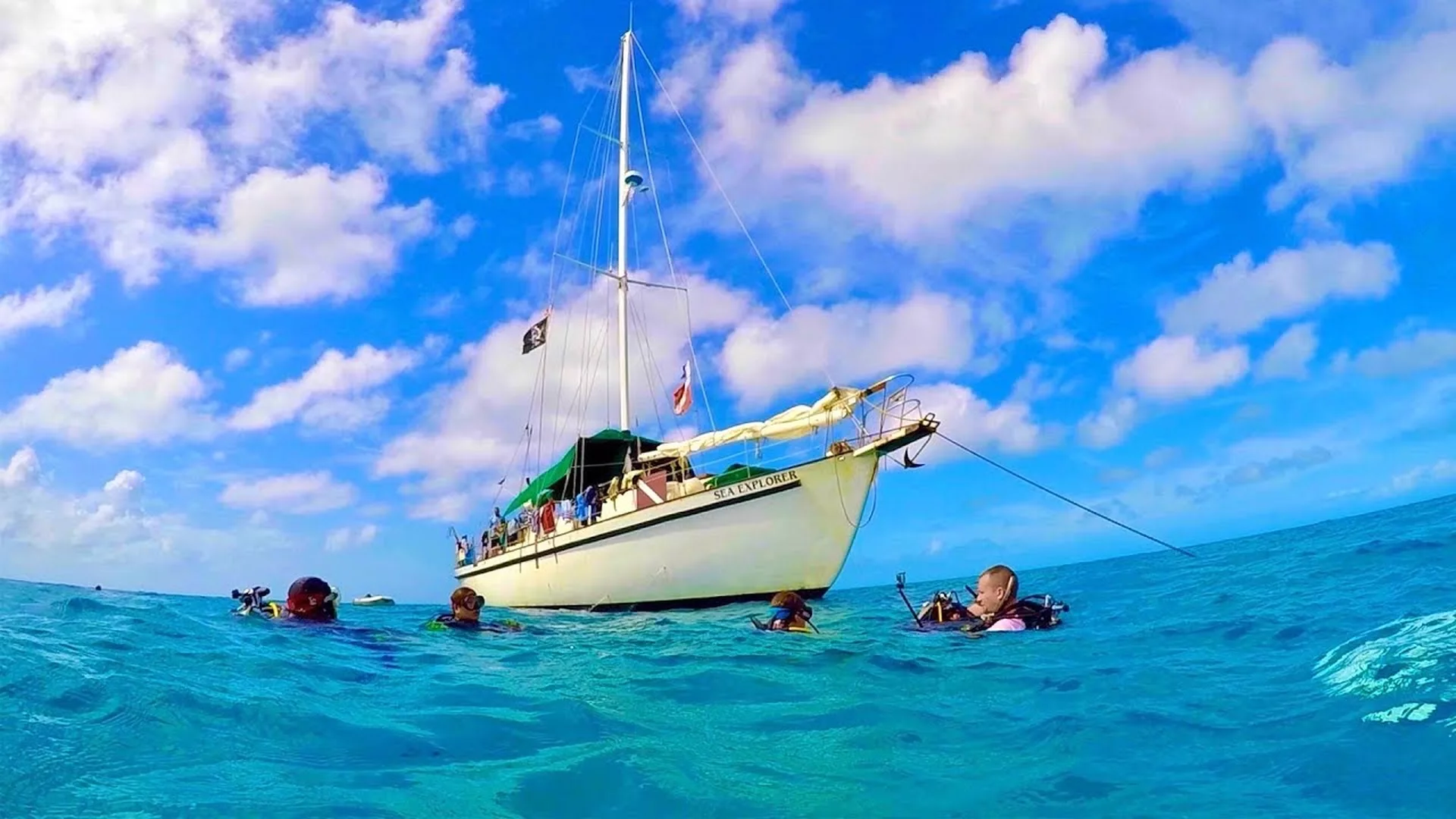 Best Budget Liveaboard: Blackbeard – Sea Explorer
The Blackbeard – Sea Explorer is one of the most affordable liveaboards sailing the Bahamian waters. And while luxury isn't necessarily the name of the game, outstanding service, fun-filled downtime and a unique sense of camaraderie definitely are. Whether you're a single traveler, a couple or a group, this well-rated vessel offers unbeatable value. You'll also get to explore some of the best diving in the Bahamas with a group of like-minded individuals.
The 66-foot (20m) long Sea Explorer has dormitory-style accommodation which houses up to 22 guests across 18 bunks. There are three bathrooms and each bunk features a curtain for greater individual privacy. During downtime, the upper deck has plenty of space for lounging, with shaded areas for anyone wanting to escape the sun. Inside, an air-conditioned lounge, which includes a TV for watching movies, is where nightly entertainment and all the buffet-style meals are served. Typical American fare is usually served, such as pork loin, meatballs and baked chicken.
The Sea Explorer offers a single 6D/7N itinerary. It explores the central Bahamas and gives guests the chance to dive up to 19 times. During stops in Nassau, Exumas and Southwest Eleuthera, divers can experience blue holes, caverns and colorful reefs. Each dive can be filled with an array of marine life, including eels, eagle rays and numerous shark species.
Ultimately, if you're looking for a budget-friendly liveaboard in the Bahamas, the Blackbeard – Sea Explorer is the way to go.
---
The liveaboards included in this round-up were hand-picked by our PADI Travel scuba diving experts, but several more boats are available. Click below to see the complete list of liveaboards in the Bahamas.
---