"The dive site I adopted (ADS 126) is a site that holds special meaning to me. It was the first place I ever opened my eyes underwater with a mask and snorkel and fell in love with the underwater world."
We caught up with US-born Taekwondo practitioner and Adopt A Dive Site champion William Henderson based in Gyeongsang-bukdo, Korea.
He recounts his diver origin story, how he first came about Adopt A Dive Site, the impact it's had on his life and the unusual skill he brings to the table;
"Some people are awesome at research. Others may excel at public speaking on the issue of marine conservation. Still others may be able to weave images and video together to produce inspiring videos. I however have none of those talents. Where I excel is just putting on a wetsuit, getting my mind right and just getting the mission done. Regardless of how bad the visibility may be, I get dirty and dive and remove debris. No matter how much I hate diving dry suit, I do it in winter because that is what I have to do to get work done. That is what I am best at…just getting it done."
Who are you, where are you based, how did you get into scuba diving?
My name is William Henderson. I came to S. Korea from my hometown in Raleigh North Carolina USA in 2004 to pursue a passion for Taekwondo. From 2004 until now I have remained in the same area of the country. I am based in Daegu, South Korea and my ADS 126 site is about an hour drive east just outside the city of Pohang.

I began scuba diving as an evolution from snorkeling. I had tried snorkeling for the first time in 2012 and instantly fell in love with the underwater world. It didn't take long for me to desire to experience that world more than I could with a snorkel, and so I began scuba training in 2015. At the same time I had finally earned my residency visa here and my world opened up in so many new and exciting ways.
What area of marine conservation are you most passionate about?
I am most passionate about actually getting into the water and getting work done. Where I excel is just putting on a wetsuit, getting my mind right and just getting the mission done. That is what I am best at…just getting it done. I have to admit however I would love the chance to be part of a research expedition someday. In that regard, I am most passionate about debris removal, and especially plastic. I think we all can agree that plastic is literally a poison to our oceans and planet.
Why is saving the ocean important to you?
The reasons for this are several fold. On a very personal level, my work with Project AWARE and ADS 126 gives me a sense of satisfaction that I am doing something that is beyond my own personal sphere, and has a chance to have a greater impact on the planet and other people. I think we all want to know that we are doing something meaningful in our lives whether that be a career, personal relationships, raising children, starting a business, inventing a device or producing impactful music, etc. As I have gotten older (now 43 years old) and having never been married and no children, I often wonder what I will leave behind in this world when I am gone. No matter what happens there will always exist records of the debris I removed, the documentary I produced about it and marine debris, and the people both young and old here in Korea and abroad that have heard of my work and been inspired or touched. In short, the work I do given my limited ability to help save the ocean has rewarded me with a legacy that will exist long after I am gone. For this, I am so thankful to Project AWARE.

On a larger level, our oceans are changing so quickly that younger generations may not be able to enjoy them the same way. We owe it to them and future generations to work hard to do as much as we can to reverse the damage we and past generations did.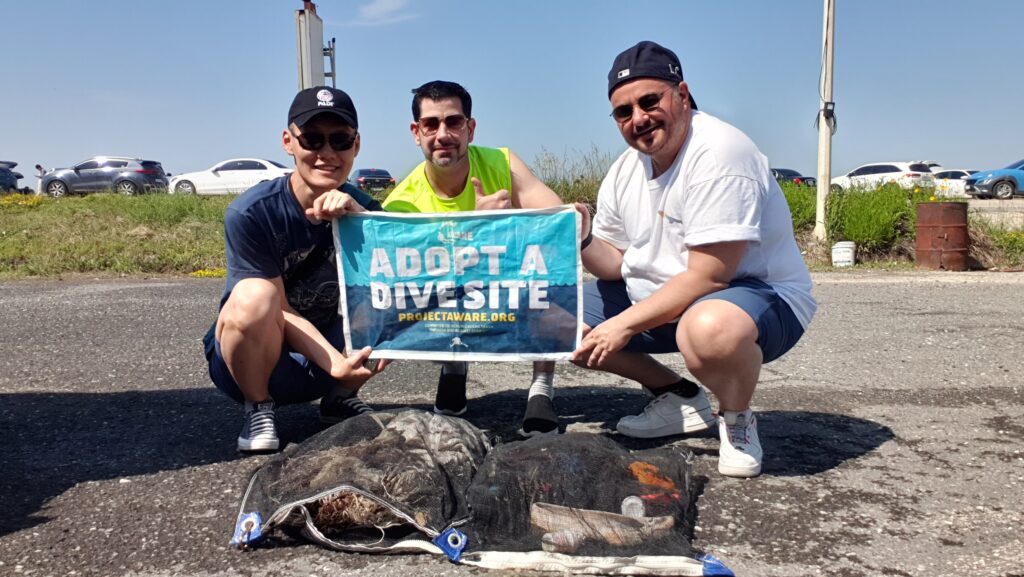 Please share the story of how you came to be involved with Adopt A Dive Site? How long have you been a custodian for your dive site now?
I became involved with Project AWARE and the Adopt A Divesite program in 2016. After I completed my OW course and was beginning my AOW course I was looking for specialties that I could do (and continue on with) that would not involve a good deal of money. For example shipwreck diving required an overnight trip with an instructor. Underwater photography requires equipment etc.

However the Project AWARE specialty was simple, easy and most importantly something I could continue to do after finishing my AOW. It was a specialty that not only lends itself to other specialties like Peak Performance Buoyancy, Fish ID, and others, but also has applications out of the water in regards to sorting debris and recording the data. After a few dives and recording the data on the Dive Against Debris website, I came across the Adopt A Divesite program. The program allowed me to focus my attention to one dedicated site making my debris removal activities easier yet at the same time more meaningful as I would be charting and tracking info from the same location.

I am moving into my 6th year now at ADS126. 2020 in particular was a huge year in terms of debris removed due to COVID 19 giving many opportunities to dive more regularly than otherwise. A typical year I may average 1,200-1,500 pieces of debris removed. In 2020 I removed over 3,000!
You are an incredible success story, showing that individuals just as much as dive shops can make a difference. What has your experience of ADS been? What have you learnt and how has your dive site changed over the years?
First, I am a much better diver that I was when I adopted the site. That first year and perhaps two, I learned from many mistakes. For example my ADS site is rather shallow. It is a rocky reef just off the northern end of a beach. Depths are no more than 6 meters, but average is 3-4 meters. In that first year or two I would just show up at the location and dive despite surf conditions. What I learned was that medium surf + rather shallow depth+ rocky reef with boulders + surge = seasickness from motion, and more importantly potential danger. Since those days I only dive there if wave heights are less than 0.5 meters.

Another quick lesson. Your dive knife is useless when cutting ropes that are typical of abandoned fishing nets. I dive with a long blade serrated edge bread knife from the dollar store. THAT will get through those 10cm thick cloth ropes far better than any dive knife on the market. Any company that thinks differently, I am happy to receive and test a sample!

Mainly I have just gotten better at what I do. In 2020 I began using makeshift lift bags to remove heavy masses of nets and ropes. Regular lift bags are rather expensive, and not ideal for shallow depth due to their design. I bought cloth bags (again, from the dollar store) and lined the inside with trash bags. I find these to be cheap, easy to carry yet super effective. Video of me using one most recently to remove 35kg of net and rope is here:
Although you are primarily responsible, have you received any support locally? Would you like to? What sort of support from local divers/non-divers would be most beneficial to you?
When I began my Dive Against Debris work in 2016, I used to make YouTube videos about it. I would speak in Korean language, and talk about the work I was doing along with some footage of trash/marine life I had encountered underwater. I thought that if Korean people saw a foreigner speaking their language and doing this work, it would get attention go viral. However, the quality of my videos was bad. I am totally unskilled with video editing. I was shooting them with the front facing camera of my Galaxy S2 with no tripod, and not rehearsing or even gathering my thoughts before I began recording speaking in Korean, leaving my videos with many mistakes.

It wasn't until 2019 when I invested in making a full on documentary about my Dive Against Debris activities that things began to happen. Actually the most influential factor, more than the documentary itself, was making an Instagram account for the documentary and posting about my activities. Since then people are beginning to know about my work more.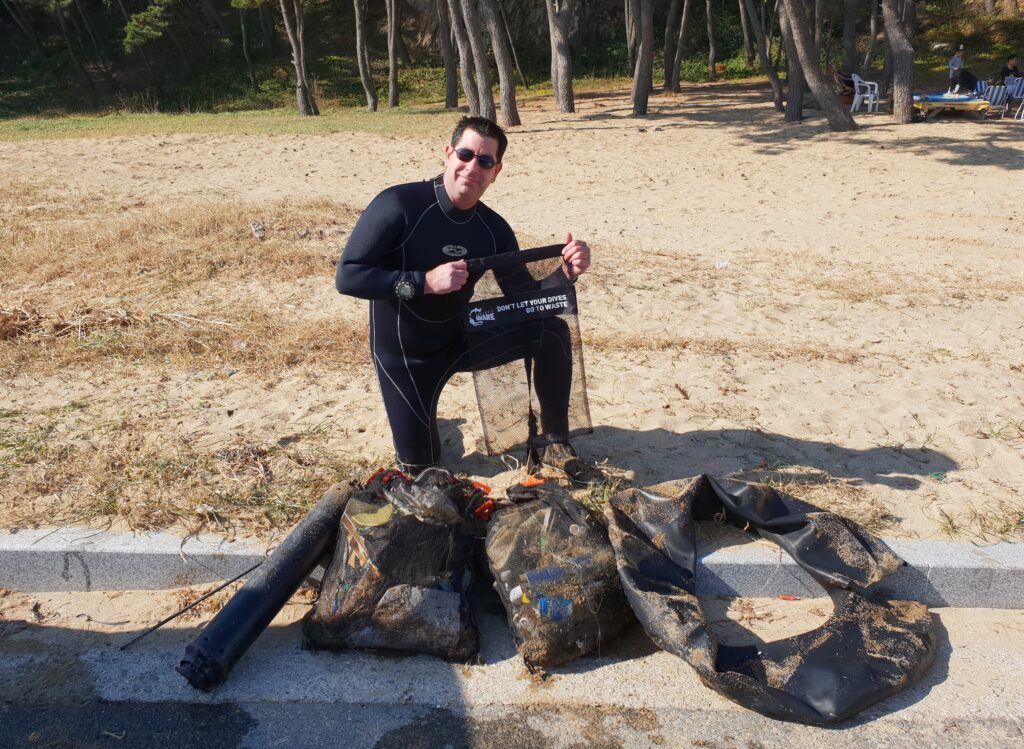 I guess the biggest support I have gotten so far is having the ability to be on various TV shows or media outlets were people can know about my work more. In terms of real support, I was fortunate enough to have another civic group dedicated to beach cleanups to gather the funds to sponsor 5 air tank rentals for my dives. Other than that, I still fail at inspiring others to actually dive with me or offer any other type of support.
I hope as time goes on that I will be more successful at gathering other volunteers to dive, or even just help sort and record data for the Dive Against Debris surveys. I say it in my Facebook group often that you do not need to be a diver. You can sit on the beach, drink cocktails, get a tan, and then just help with sorting and recording trash. Otherwise I would absolutely LOVE it if the local or regional governments would get involved with my work. Despite leading all of Korea by far in amounts of debris removed and data recorded for Project AWARE, my attempts to contact the government of the city in which I work, major companies there that also have their own ocean conservation teams and even the Ministry of Oceans and Fisheries have all gone unanswered.
If Torchbearers want to find out more about how to support you or follow in your footsteps, what advice would you give them?
The first stop would be the website for our documentary, www.haeshindocumentary.com. On that website which is mostly dedicated to our film, we post upcoming film festivals where the documentary may be viewed. Due to the film still being in the festival submission stage, it is not available to the general public online as of yet. However, if there is an organization that would be interested in holding a private screening, that can easily be arranged.
Also on the website there is a contact form. Anyone may contact me through that with questions or just words of support. Finally there is also a donate button for anyone wishing to support financially. Otherwise I would suggest anyone check out @haeshindocumentary on Instagram. Also our Facebook group that is dedicated not to the documentary, but rather to my actual DAD work. https://www.facebook.com/groups/diveagainstdebriskorea.

Having lived in Korea for many years now, can you share any insight on marine conservation culture in the country/your region? What would you like to see happen in the next 5/10 years?
Like many places in the world, Koreans at both the government level and citizens alike are quickly becoming aware of the issue are marine debris and conservation. When I first began doing Dive Against Debris surveys in 2016, there were only 2 other surveys done in the entire country. Since then more and more have popped up which is a testament to the level of awareness and education about the issue. Many of these are random surveys rather the Adopt A Dive Site operations, but as time goes on I would like to see other groups actually "adopt" other dive sites across the country and dedicate themselves to doing surveys there.
If you could ask the global Torchbearer Community to do one thing, what would it be?
If I could ask the Torchbearer Community to do one thing, it would be to believe 100% that they, even just one person, can make a difference! It is so important for everyone to know that despite the enormity of the issues we face regarding ocean conservation (or any issue for that matter) every single one of us can do something to help. I would have never guessed when I started doing Dive Against Debris surveys in 2016, that 5 years later I would be on TV in South Korea talking about it, having my documentary show in Nepal, doing Skype Q&A sessions with school children in Okinawa or Thailand for World Oceans Day, and so many others. All of that started with me just as one person putting in the time, and has evolved into a platform that can inspire others. THAT is the biggest wave we can make! We can't clean every bit of trash from the ocean, or save every shark or ray. We can however start taking action in some form or another. And when we start doing that, others see, become inspired and the wave grows and grows.

I think Dr. Sylvia Earle said it best toward the end of a recent documentary: "No one can do everything, but every one can do something".
Join the Torchbearer Community today at padi.com/onebillion and discover ways that you can be part of the mission to save the ocean.