Have you taken the PADI Master Scuba Diver™ challenge?
I have and it has been a great experience. My diving has improved so much by learning new skills and putting them into practice. It has also been great fun and I've dived some pretty cool and amazing places and met so many great people from all over the world with one thing in common. Diving!
The PADI Master Scuba Diver rating is not a course in itself, but a set of requirements that need to be met before you can apply:
Why take the challenge?
One of the best ways to become an active diver is to experience new and exciting adventures. That, in essence, is what the PADI Master Scuba Diver program is about.
By taking part in the broad range of activities possible with the PADI Master Scuba Diver program, you can explore new dive sites, experience new conditions, meet other divers and even try out different types of equipment and specialty gear.
Most importantly, you can stay active, gain confidence and earn the respect of other divers around you. Upon completion of the challenge you will have the highest non-professional PADI rating in recreational diving.
Along with all these new skills you also get your Master Scuba Diver certification card, a certificate signed by PADI's President and CEO and a Master Scuba Diver badge.
Rescue Diver to Master Scuba Diver in an instant
Okay, it wasn't that quick. I still needed to complete the application form and get it processed. But, upon completing my rescue course, my dive buddy and PADI Instructor Greg Desatnick [MSDT 35225] suggested doing my PADI Master Scuba Diver.  Light bulb moment! I already have 50 dives and more than five specialty courses. So I quickly headed to ScubaEarth.com to check out my certifications: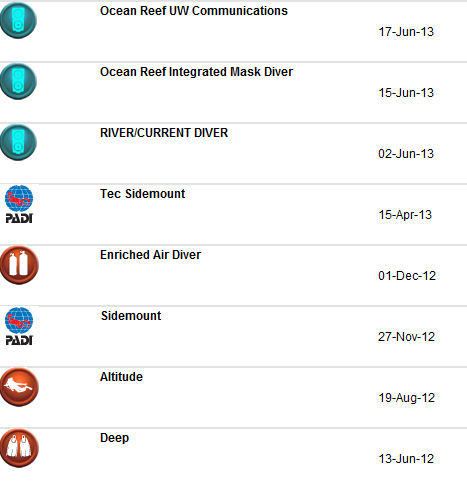 Perfect! More then enough to qualify, so I printed the application form, filled it in and had it ready to take back to the office.
For those of you still short on specialty courses, don't worry. There are lots of amazing courses to choose from that will help your dive skills or further some of your interests like the Project AWARE specialty courses on sharks and manta rays. Your local PADI Dive Shop might even have one of their own. Check out this previous post on PADI Distinctive Specialty courses.
You can also read about some of the courses I have taken, such as PADI Altitude diver in a lovely Swiss mountain lake, or PADI Recreational Sidemount my favourite way to dive, Full Face Mask diving with the great OCEAN REEF mask or my River and Current course in the amazingly beautiful mountain setting of the Verzasca Valley.
Of course there are always popular courses like PADI Enriched Air Diver to help increase your allowable no stop time or the PADI Peak Performance Buoyancy course which can help you with the most important skills as a diver.
Contact your local PADI Dive Shop and take the courses you need to achieve your Master Scuba Diver rating in 2014! 
[googleplusauthor]