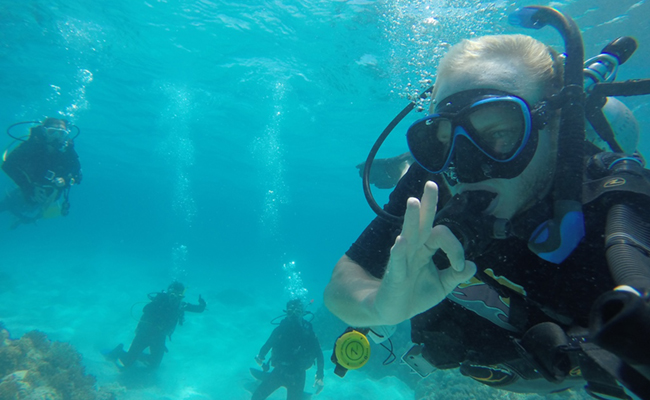 Arizona State University tourism student Matt Cernik swapped cactus for coral when he signed up for an internship with Great Barrier Reef operator and PADI Member, Passions of Paradise.
"In Phoenix, where I'm from, the only waves to be seen are the daunting heat waves which rise off the desert sand and black city streets like some sort of mirage," Matt said. "In Cairns I've found my dream job on board Passions of Paradise and have become passionate about the conservation of the beautiful marine environment which I'm privileged to work in."
As part of his Bachelor's Degree in Tourism Development and Management, focusing on international sustainability, Matt is working with Passions of Paradise to learn about sustainable practices in tourism.  Each year the carbon-neutral operator offers a position to a university student wanting to incorporate work-based training into their degree.
Passions of Paradise Chief Executive Officer Scotty Garden said the locally-owned company was passionate about conservation and believed training the next generation of tourism operators to work in harmony with the environment was critical for the future of the travel industry.
Passions of Paradise has won over 20 awards for their sustainability and ecotourism practices and have earned the below credentials:
100% Project AWARE Dive Facility, donating on behalf of each student to Project AWARE and supporting the Dive Against Debris and Sharks in Peril campaigns.
ECO Certified Advanced Ecotourism Operator, a program administered by Eco Tourism Australia, awarded to companies that are backed by a strong, well-managed commitment to sustainable practices and provide high quality nature-based tourism experiences.
Climate Action Leaders through Eco Tourism Australia's Climate Action Certification programme. To offset their carbon emissions, Passions of Paradise are committed to purchase 1200 trees per year through the Australian Rainforest Foundation, which are planted in the World Heritage Wet Tropics Rainforest of Far North Queensland.
Supporters of the Oceania Chondrichthyan Society (OCS), an international not-for-profit. Passions of Paradise run an on-board shark conservation awareness program and donates proceeds from merchandise sales to the OCS to fund student awards and research grants.
Matt said he was fortunate to apply his studies in one of the largest tourism cities in Australia, while working with a company that strived to rise above the competition in regards to sustainable practices and education of passengers.
"I have learned so much about the efforts of sustainability on the Great Barrier Reef while working for Passions of Paradise and don't see my education stopping here," he said.
"The more I information I learn, the more I realise I don't know enough, and my thirst for finding the answer to solving unsustainable tourism grows.
"When my time with Passions of Paradise comes to an end later this month I know the things I have learnt with this amazing company won't be forgotten.
"If more organisations took steps towards environmentally sustainability, like Passions of does, it would be a big first step in changing the way we interact with the world around us."