The waters surrounding Indonesia's 13,466 islands host some of the most incredible marine life encounters a diver could wish for.
Indonesia is the world's largest archipelagic country and boasts being the world's second most biodiverse country after Brazil. In addition, 36% of Indonesia birds and 39% of its mammal species are endemic making it a very special place for wildlife lovers to visit.
Mola Molas
Mola Mola, also known as Sunfish, are probably one of the most unusual looking creatures in the sea. These disc-shaped giants grow, on average, to 1.8 metres/5.9 feet in length and 2.5 metres/8.2 feet high, with long dorsal and ventral fins but, unusually, no caudal fins. Weighing up to 1000 kilograms/2200 pounds, they are the heaviest bony fish on the planet. Mola Mola produce more eggs than any other vertebrate – up to 300 million at any one time – which they release into the ocean to be externally fertilised by the male.
Mola Mola can swim at depths of 600 metres/1970 feet but can be found close to shore in Indonesia between the months of July and November. During these months, dive sites in Bali are visited by these majestic creatures almost daily. Divers wanting to see Mola Molas should consider sites at Nusa Penida, Lembongan and Candidasa.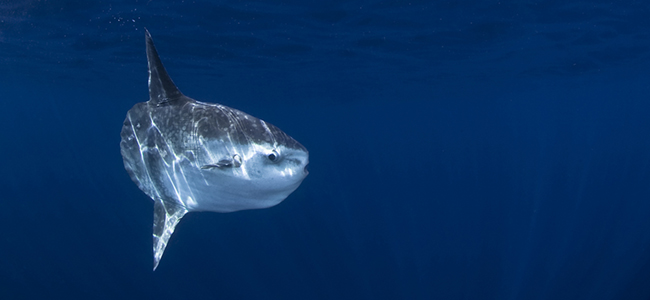 Mantas
Indonesia is home to the Manta Alfredi, or Reef Manta Ray. These graceful beauties grow on average 3-3.5 metres/10-11.5 feet in length and weigh approximately 1.4 tonnes/3100 pounds. Mantas are an elasmobranch, meaning their body is made of flexible, light cartilage which has half the density of bone. They need to constantly be swimming to stay alive but, unfortunately, the perpetual forward motion puts them at risk of entanglement in fishing nets.
In 2014 the Indonesia Government declared the entire Archipelago of Indonesia a Manta Ray Sanctuary. With approximately 5.8 million square kilometres/3.6 million square miles of ocean in Indonesia, this was a great win for conservation and diving tourism.
Although Reef Manta Rays can dive to depths of more than 600 metres/2000 feet, they can be regularly spotted by divers. Manta Point in Nusa Penida, Bali and Sangalaki in the Derawan Islands have some fabulous Manta Ray diving on offer. Of, if you get the chance to experience Raja Ampat, make sure you visit Wayag Lagoon which is Southeast Asia's first documented manta ray nursery.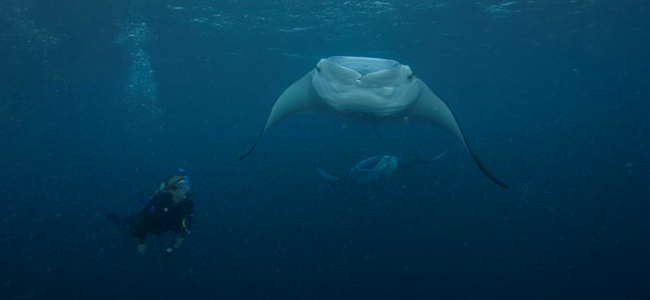 Manado Muck Diving
For divers who love little critters and those more difficult-to-spot and unusual marine creatures, muck diving can be very rewarding. Lembeh Strait is an approximately 1.5 hour drive east of Manado, the capital of North Sulawesi province, and is renowned for its magic muck dives. When diving in Lembeh, you're pretty much guaranteed to see pygmy seahorses, frogfish, ghost pipefosh, octopuses, harlequin shrimp and a variety of nudibranches. If you are particularly observant, you might even spot a Rhinopias – a type of scorpionfish which camouflage themselves to like a piece of colourful coral!
Off the east coast of Manado is small island Bunaken, located in the Bunaken National Marine Park. Here you'll find Critter Circus , as it's name suggests, a dive site home to thousands of interesting and unusual critters such as Harlequin ghostfish, young angelfish, leaf fish, stonefish, pipefish and beautifully-coloured mandarin dragonets. If you're lucky you may even chance upon some squid laying their eggs! Just south of Critter Circus is a small village called Popooh. Right in front of that village lies Betlehem, a muck dive with extensive beds of seagrass giving it better visibility than a normal muck dive. Moray eels, sea snakes, nudibranchs, frogfish, seahorses and a variety of fish live here. The ropes attached to the oyster farm that used to be there are used by squid to lay their eggs so make sure you've packed your camera!
Video courtesy of Pim van Schendel of Murex Dive Resorts in Manado, Indonesia.
Turtles of the Gili Islands
The Gili Islands (Gili Trawangan, Gili Meno and Gili Air) are three small islands located off the northwest coast of  Lombok, just 35 kilometres/22 miles east of Bali. Commonly referred to as 'Turtle Heaven', the Gilis are a turtle-lover's paradise due to the high populations of Green Sea Turtles, Loggerhead Turtles, Hawksbill Sea Turtles and Leatherback Turtles.
Loggerhead Turtles grow, on average, 90 centimetres/35 inches in length and weigh approximately 135 kilograms/300 pounds. The Green Sea Turtles are fairly similar in size, on average measuring 78-112 centimetres/31-44 inches in length and 68-190 kilograms/150-400 pounds. Hawksbills grow up to approximately 114 centimetres/45 inches in length and 68 kilograms/150 pounds. Leatherbacks are the largest turtle species in the world and the fourth heaviest reptile behind the crocodilians. They grow to be 100-175 centimetres/40-70 inches in length and between 250-700 kilograms/550-1550 pounds.
Although turtles are abundant at the Gilis, they are still listed as endangered due to the threats of pollution, development and harvesting. The Hawksbill is, in fact, critically endangered.
Shark Point, off the north coast of Gili Trawangan, is named after the many reef sharks that like to rest on the sandy bottom of this site. The shallows of Shark Point are a popular hangout for Green Sea Turtles and Hawksbill Sea Turtles and this site is often done as a drift dive. The nearby Halik Reef is also a great spot to dive with turtles and watch them forage for food. The Gili Meno Wall is often referred to as 'Turtle Heaven' due the abundance of Hawksbill and Green Sea Turtles. Floating down to wall you'll also get to see lionfish, crabs and an array of nudibranches .
Video courtesy of Tim de Haan of Sumadra Visions.
For more information on incredible Indonesia and its diving possibilities, visit the PADI Vacation Spotlight or locate a PADI Dive Centre or Resort.