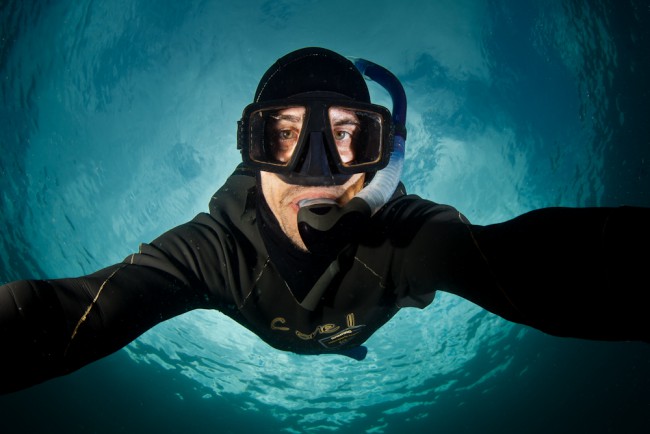 Photojournalist Ethan Daniels has made a name for himself shooting the wild, wonderful creatures of the Coral Triangle—which he's especially skilled at spotting thanks to a marine biology background. Formerly a dive instructor in Palau, Daniels now leads scuba trips and underwater photo workshops. You can check out his images at oceanstockimages.com
You've owned a ton of fins over the years. What are you wearing now? 
I love freediving fins for power, but for me, long fins are too cumbersome in the shallow or tight habitats I often shoot in. These days, I use Mares Plana Avanti Tre fins, which may not be super powerful, but they're decent for everything I do. And since I shoot lots of over-under images, I often take off at least one fin to place my foot on sand or rubble for stabilization—the Mares quickly slip off and on in the water.
Do you have a favorite wetsuit?
I don't since they all quickly fall apart after the abuse I subject them to. But I swear by my Henderson 5mm hooded vest. No matter which wetsuit I use, the Henderson vest goes underneath.
Which dive computer do you use?
A Suunto D4 computer.
Do you bring a pointer or a slate to communicate with any models or assistants? 
I carry as little as I can underwater except for necessary photographic equipment. When I used to guide, I carried both a pointer and slate, but these days I've simplified. If I'm working with a model, we discuss image options before each dive and use hand signals in the water.
Do you bring any save-a-dive gear?
I carry a few zip ties, a little duct tape, and that's about it.
What about first aid? Are you a more of a Cipro or herbal guy?
I don't carry anything special for first aid. I've had dengue fever and some nasty infections, but there's nothing I tote along to avoid sickness or injury. Most live-aboards have solid first aid kits if necessary.
Do you favor a particular after-dive snack? 
When I worked as a dive guide in Palau, I was introduced to starfruit. The tangy-sweet taste is just what the taste buds call for after being in saltwater.  
And I'd be remiss to not ask about camera equipment. Do you have a new lens or piece of equipment that you're especially keen on right now?
Great question. I've been hooked on a fisheye for far too many years. So in order to shake things up, this past year I bought my first drone in an attempt to nab aerial imagery of the spectacular places I work in. Unfortunately, I crashed it before ever using it in the field, so I'm rethinking my drone-piloting capabilities. For the rare times I shoot macro, I use a 100mm Canon lens and sometimes add a diopter.
Let us know what essentials you keep in your dive bag!