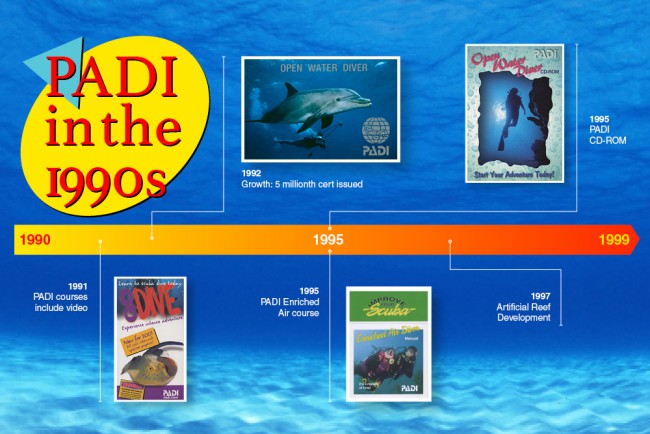 This is the fourth post in our 50th Anniversary series. Make sure to catch up on the 60s, 70s, and 80s.

The 1990s were a period of expansion for PADI®. This decade opened up independent study and new courses, growing everything in the PADI library.
1991: Video support for PADI courses

Instructional videos allowing for the era of independent study rolled out in 1991, starting with the PADI Open Water Diver Video on VHS. With this, PADI became the first training organization with a full range of diver training videos. By 1999, all core programs were already on DVD and older videos were getting second editions. Video support remains one of PADI's core strengths and is a major part of all diver training.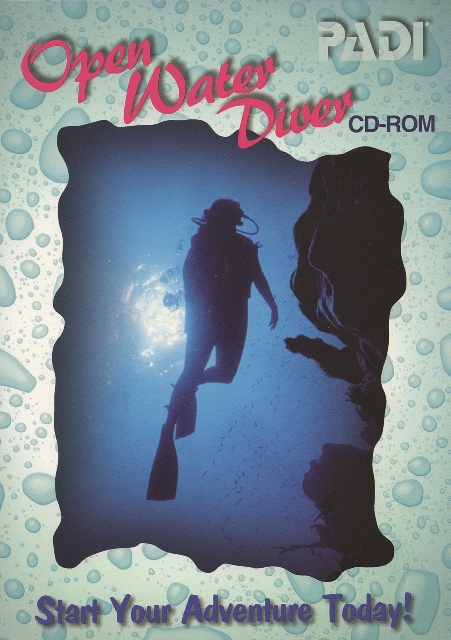 1992: Continued Growth

PADI's explosive growth from the 70s hadn't lost its steam. In 1992, PADI became the first dive organization to issue over 500,000 certifications in a single year. Two years later, PADI would issue its 5,000,000th certification. This growth goes hand in hand with PADI's role in dive research; PADI's success increased its ability to contribute to dive studies, and its leadership role in research increased its popularity among divers.
1995: PADI CD-ROM

In the mid-90s, PADI launched interactive software as part of their system. Founder John Cronin stated that he hoped to reach 30,000,000 computers through a deal to put PADI on Windows 95. To promote the CD-ROM launch, Cronin interviewed with aquaCORPs magazine, and even appeared on the cover.
Computer-based training is common now, but twenty years ago PADI was the one paving the way. And while the Windows 95 initiative was only moderately successful, the focus on computer programming started the path towards today's eLearning.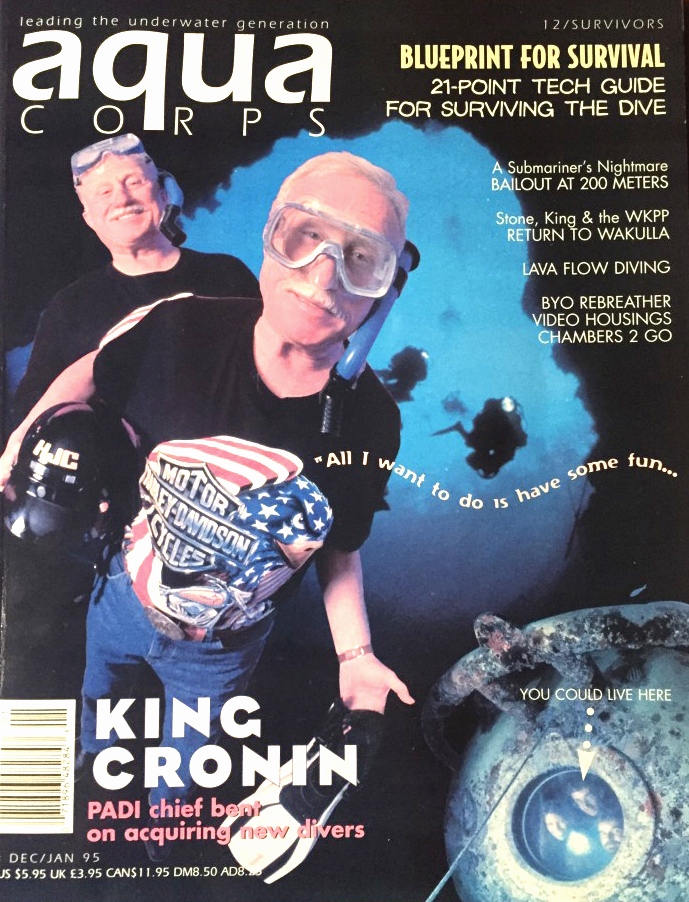 1995: PADI Enriched Air Contributions

PADI continued its contributions to dive research with an emphasis on recreational enriched air. In 1995, PADI released its Enriched Air Diver course, cementing recreational EANx as an industry staple. The PADI Enriched Air Diver course also helped the slowly growing tec diving industry. PADI also contributed to the 1992 Enriched Air Workshop and worked closely with the Underwater Hyperbaric Medical Society to help research and increase diver safety. Today, enriched air is widely used and has become the most popular PADI specialty.
1997: Artificial Reefs
Throughout the 90s, the Canadian branch of PADI worked to assist artificial reef development around the country. From 1991-1997, PADI Canada was heavily involved in these efforts, and still takes opportunities to work with artificial reef projects. Most recently, PADI worked alongside the Artificial Reef Society of British Columbia to sink the HMCS Annapolis on April 4, 2015.
Follow along with us this year, as we'll be sharing our story through the decades. Continuing with next month's installment – the 2000s.