By guest blogger Alexandra Dimitriou
Wreck diving is exhilarating. Wreck diving is special. Wreck diving may be more extreme than regular diving, and it demands a greater respect, but it's easy to get the most out of wrecks while keeping yourself out if the danger zone.
Perhaps wreck is so exhilarating because it demands respect. Perhaps it is exhilarating because we love to see things under the water that should be on top of the water, but aren't. Whatever the reason, the PADI wreck specialty remains the one of the most popular specialties on their menu – telling us that most divers go nuts for rust too!
So, what tips and tricks can I offer you about wreck diving? Here in Cyprus we have one of the world's best wrecks; the Zenobia, and diving her as often as possible has taught me a few things!
Stay within your level of training, and practice practice.
Don't just be a card collector, earn your PADI Wreck Diver specialty and use it! Extra equipment like reels and lines take practice to perfect and keep your fluid when you're in action. Don't do a course only to leave your certification card in your wallet.  It is important that you possess reliable skills that are ingrained in your very being, after all a plastic card won't help you if things go wrong inside a wreck.  So, if wrecks are what make you go "oooh" then dive them as much as u can as often as you can! It's hardly a chore, is it? ☺️
Perfect your Scuba fundamentals.
Your buoyancy skills should be perfected before any penetrative wreck dives. The PADI Peak Performance Buoyancy specialty is a good place to start, and then practice until you're perfect. Finning techniques are also extremely important too, as kicking your fins in a silty wreck will quickly reduce visibility to almost zero in no time at all.  Frog kicks or gentle flutters are best, and slow calm movements are ideal.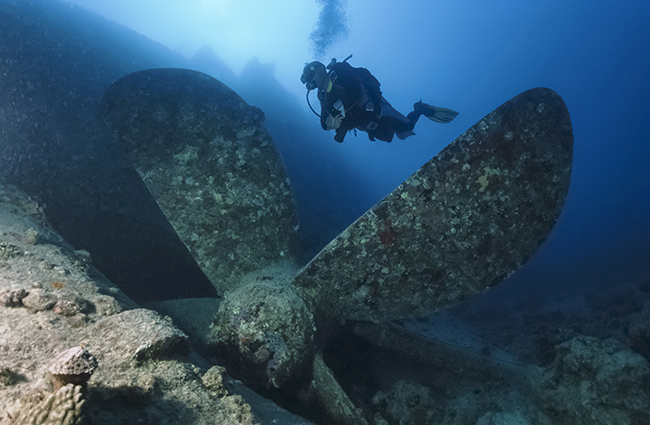 Turn 90° when you go through holes, doors, penetration points.
This protects your 1st stage from being knocked or damaged when you make your initial penetration. First stages are tougher than you think, especially DIN systems, but it's a habit that a wreck specialist taught me years ago, and it's a good one.
Know your limits, stay inside your comfort zone.
Scuba diving is hugely respectful of fellow divers' feelings before a dive, a diver can cancel a dive without giving a reason without the fear of being judged by others and that's great. In reality however I have found that it is divers themselves who push themselves too far. Signing up for a wreck dive that is too advanced for you for any reason – ego, peer pressure etc. can lead to you overestimating your abilities. Honestly assess yourself and if you're not 100% sure then opt out, get some more training/experience and then do it later! It's not going anywhere!
Don't be complacent.
Just because you have done a route a hundred times it's important to stay fresh and alert on every dive. Remember your training and apply it to every dive. "I've done this route a thousand times" is a sentence that encourages Mr. Murphy to make a house call, so keep him out and plan for everything! Planning makes us feel focused, relaxed and contingency protocols should be muscle memory for anyone making advanced wreck dives.  After all, we are ALL "perfect" divers when we surface after a "nothing went wrong "dive…. Your true ability is defined by how you deal with less than perfect situations. So, listen to your dive briefing, stick to your plan and get busy getting wrecked!