As if you needed another reason to take pride in flashing your certification card, PADI's new replacement card series warrants extra bragging rights. Each of the four cards features an awe-inspiring image of one of the world's most iconic diving destinations.
Here are the four magical dive locales that you'll want to add to your  dive bucket list, if you haven't already.
Sardine Run, South Africa
Every year from May through July, the cold waters off the eastern coast of South Africa attract massive schools of spawning sardines. Dolphins then round up the sardines into bait balls stirring up a feeding frenzy for everything from sharks and whales to brave birds dive-bombing in from the skies.
"I was very fortunate to witness the incredible bait ball shown in this photo, which has gone down in the history of the sardine run as the largest, most spoken about bait ball in many years. While my image captures its magnitude and essence, nothing compares to the images forever imprinted in my mind of that incredible experience." — Lesley Rochat
About Lesley: Known as the Shark Warrior thanks to her conservation work, Lesley Rochat is a PADI Master Instructor and recognized travel and environmental journalist and photographer. The activist is also the founder of AfriOceans Conservation Alliance and a Director/Producer/Stills Photographer for Blue Pulse Pictures.
Learn more about Lesley on her website.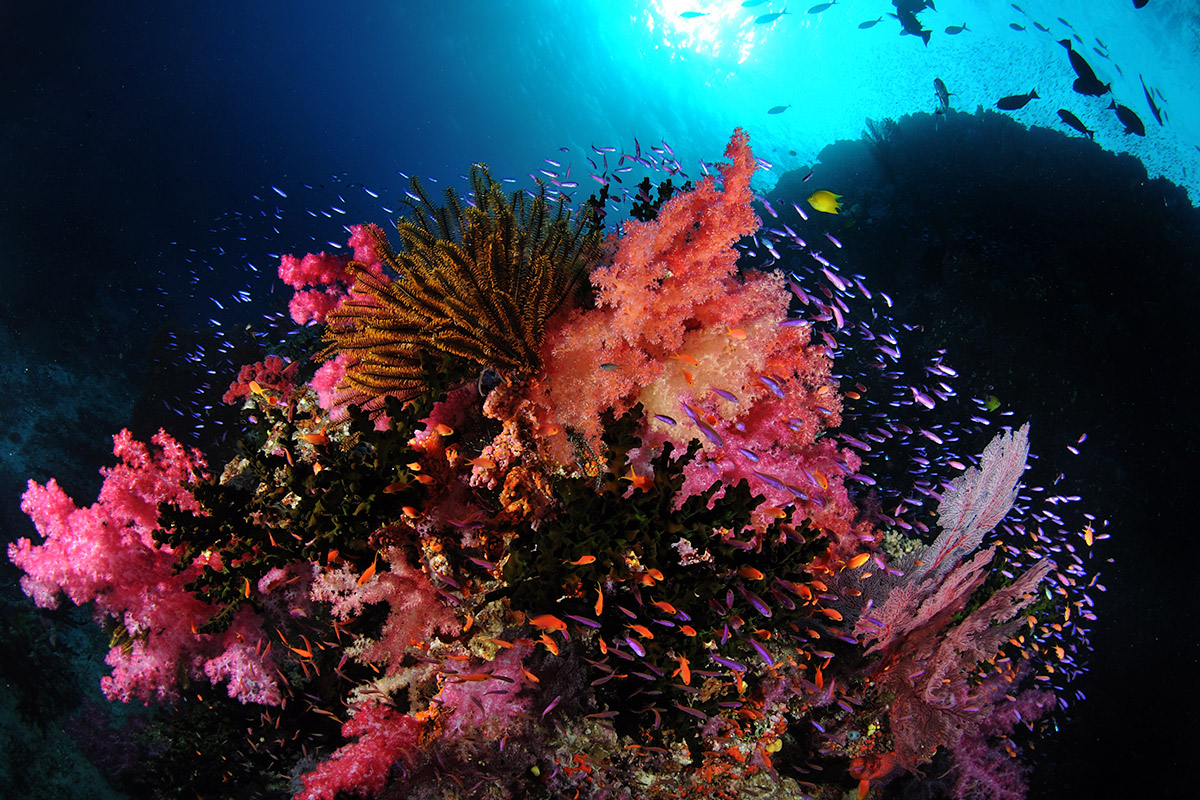 Raja Ampat, Indonesia
Located in West Papua, the four islands of Misool, Batanta, Waigeo and Salawati, make up the dive mecca known as Raja Ampat. Its remote locale and pristine waters are home to a bounty of critters including big pelagic life like sharks and manta rays as well as tiny finds such as sea horses and nudibranchs.
"Raja Ampat has always been high on my list of best dive destinations in the world. While it's impossible to point out my favorite, as each place offers something different, I will say Raja Ampat comes pretty close. You'll see everything from whale sharks and mantas to pygmy seahorses and nudibranchs; all of these against some of the most colorful and pristine reefs in the world." — Aaron Wong
About Aaron: PADI Divemaster Aaron Wong is a commercial photographer who has worked with fashion magazines and celebrities. His underwater work can be seen in dive publications around the world. Combining both of his passions for photography, Aaron created Water.Colors, a project-turned-book that showcases underwater fashion photography and has been featured in numerous magazines and ad campaigns. Aaron also started the FINished with Fins program, a global initiative that stresses the reality of shark finning.
Find out more about Aaron on his website.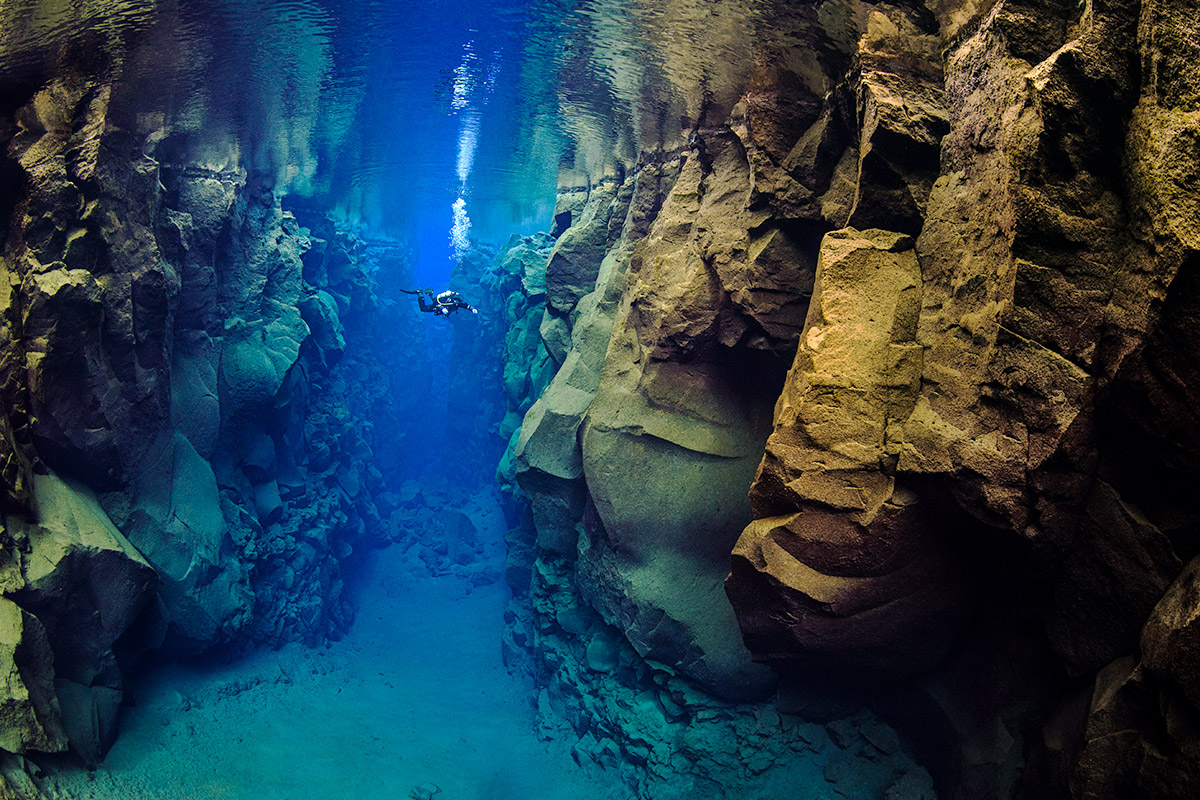 Silfra Fissure, Iceland
The drift and tension between the North American and Eurasian Plates have resulted in one of the largest and deepest fissures in the world. And the result is extraordinary. Silfra, located at the rim of Iceland's Pingvallavatn Lake, is a favorite for divers for its crystal clear waters, shallow entry points, and breathtaking views.
"Silfra is a crack in the crust of the Earth where the North American and Eurasian continental plates are pulling apart. It is filled with mineral water that offers perfect visibility and is pure enough to drink as you dive. Above the water the landscape is actually quite flat, which makes it pretty amazing when you giant stride in the first pool and look down and see the chasm disappearing into the darkness." — Alex Mustard
About Alex: For over 40 years, underwater photographer and PADI Diver, Alex Mustard's images have graced the pages of countless dive and travel publications. The marine scientist is also the inventor of the Magic Filter, and contributes to Wetpixel.com, DIVE magazine, Ocean Geographic Magazine, and Underwater Photography Magazine.
Learn more about Alex on his website.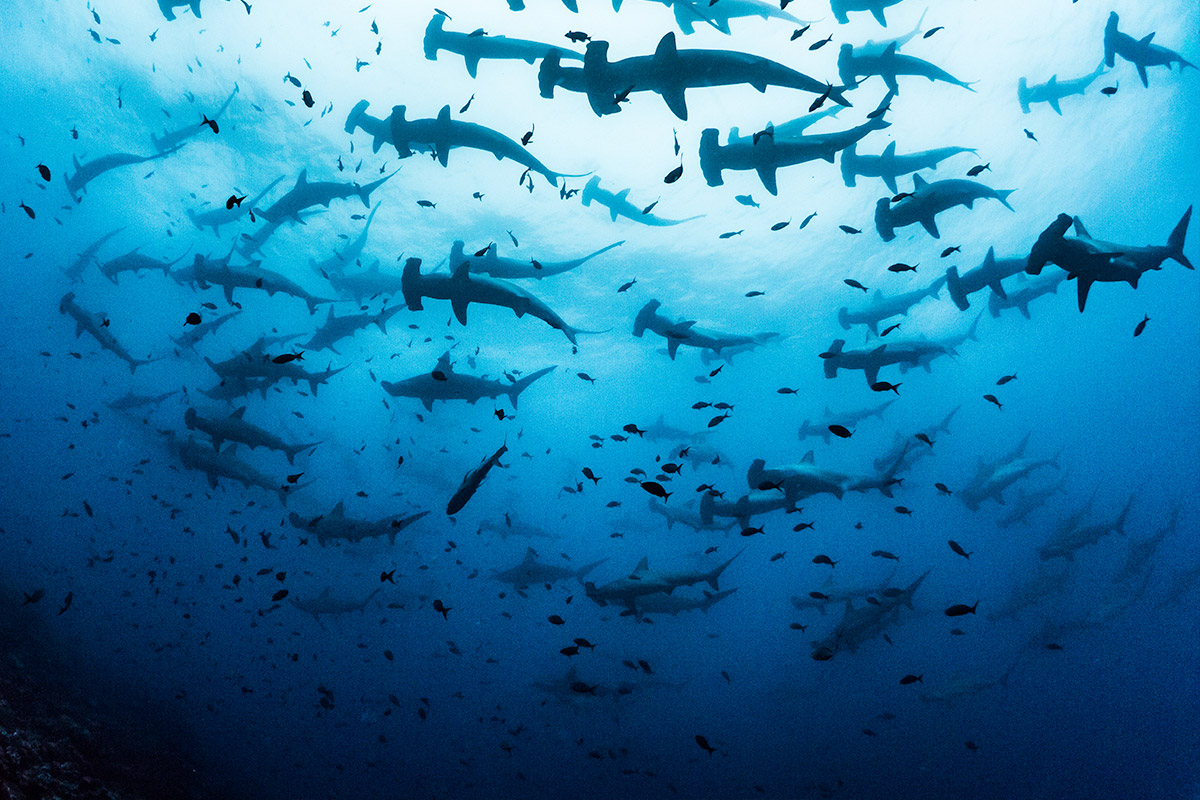 Galapagos Islands, Ecuador
The majority of the Galapagos Islands are a protected national park, and for good reason. Multiple currents meet here and bring with them a variety of marine life from graceful sharks to playful penguins and of course, the iconic blue-footed booby birds. What's even better: Nearly 20 percent of the life here can't be found anywhere else.
"It's almost unfair to compare the Galapagos to other dive destinations. Both the diving and marine life is incredibly diverse. The islands are embraced by both cool currents travelling northwest from the South American coast, and warm tropical waters moving south from above the equator." — Simon Pierce
About Simon: Dr. Simon J. Pierce is a marine conservation biologist and underwater photographer with work published in prestigious publications that include National Geographic, BBC, and the Discovery Channel. He's also the co-founder and the Principal Scientist at the Marine Megafauna Foundation, a program that focuses on whale shark research and conservation.
Find out more about Simon on his website.
Inspired and ready to put your new certification card to good use? Order yours here.