Written by PADI Regional Training Consultant, Rob Scammell
Meet Adithya Srinivasan, India's youngest PADI Junior Master Scuba Diver. On the 7th April and at just 12 years and one day old, Adithya Srinivasan become certified as a Junior PADI Master Scuba Diver with Temple Adventures in Pondicherry India. The PADI Master Scuba Diver (MSD) rating is described as the 'black belt' of scuba diving, as fewer than just two percent of divers will ever receive this certification. Any diver who has logged 50 dives or more, has their PADI Open Water Diver, PADI Advanced Open Water Diver and PADI Rescue Diver certifications, as well as five PADI Specialty Course certifications, can apply for this prestigious rating.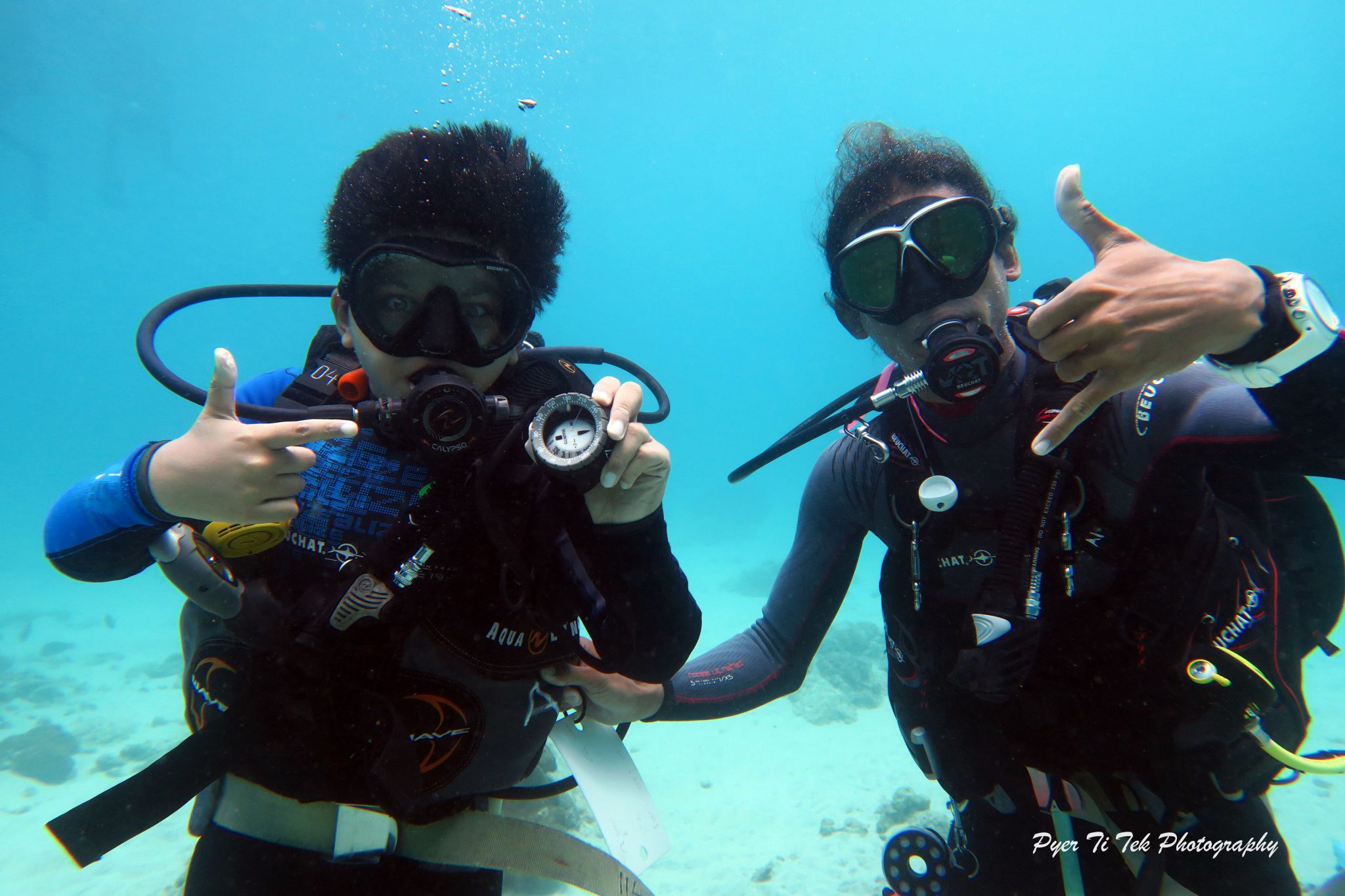 Throughout the Master Scuba Diver program Adithya had the support of his parents, Srini and Sanju. He also worked in conjunction with PADI Regional Training Consultant, Mark Wastall, to ensure the correct standards for course completion were followed. We asked Adithaya some questions about his incredible journey to become India's youngest PADI Junior Master Scuba Diver.
What Inspired You to Learn to Dive?
My inspiration to dive stemmed from the movie Finding Nemo. I was 8 years old when I saw the movie. I was fascinated by the wonderful life that exists, in another world under the sea. I wanted to be a part of this world and explore the wonderful colours of nature and life, while swimming among them.
Scuba diving I felt was the only way to see this world at close quarters. I was young and had to wait for 2 years to take my first steps into the underwater world. After my first dive I never looked back and the rest is just me following my passion.
Where Did You Do Your Various Courses?
I did my PADI Junior Open Water Diver course in Pondicherry, India. Next was a learning vacation in Bali, Indonesia where I completed the PADI Peak Performance Buoyancy and Underwater Navigator Specialty courses.
I followed this up with another learning vacation at Koh Samui, Thailand. Here, I completed my PADI Fish Identification Specialty course. In Phuket, Thailand I did many fun dives and improved my diving skills.
Finally, I completed the PADI Digital Underwater Photographer and Underwater Naturalist Specialty courses, Emergency First Response, PADI Rescue Diver and Junior Advanced Open Water Diver courses at the same place where I started out – Pondicherry, India. I also completed my requirements for the MSD rating during this period.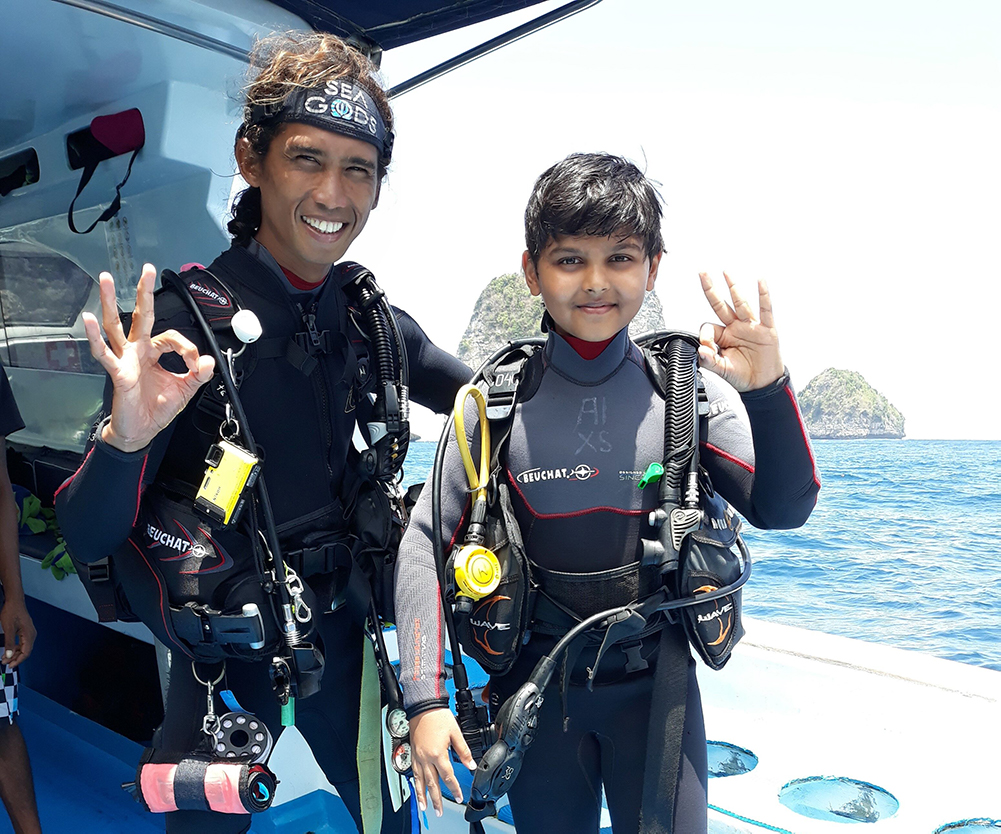 What's Your Favorite Thing About Diving?
Diving in itself is my favorite thing. From wearing the wetsuit, to kitting up, from the boat ride briefing, learning from the various instructors and finally taking the plunge into water. To be able to breathe underwater and hover weightlessly is just beyond words to explain how close to my heart diving is.
To learn advanced skills and techniques – learn, see, discover and explore the various underwater ecosystems that exist. But my most favorite part is the magical feeling of being myself and totally free under water.
Where Is the Best Place You Have Been Diving so Far and Why?
Nusa Penida Island off the island of Bali in Indonesia, was the best place I have dived so far. I enjoyed diving here as I have seen underwater life so colourful and varied than where I have seen elsewhere. Here I saw huge manta rays, my first shark – Hammer head, crown of thorns, jellyfish, octopus and my first scorpion fish.
Where Would You like to Go Diving the Most and Why?
I have a huge bucket list of where I want to go diving. But, for now I would love to go to the Similian Islands – Thailand, Great Barrier Reef – Australia, The Great Blue Hole – Belize, Manta Ray Night Dive – Hawaii and Thistlegorm – Red Sea, Egypt.
As and when I am able to increase my dive depth levels, I would love to do some wreck, technical diving and night dives as they intrigue me the most with their challenges. I would also love to broaden my horizons to other parts of the world.
Now That You Have Achieved the PADI Junior Master Scuba Diver Rating, What's Next?
I just want to continue diving and along the way I would love to make myself a complete diver by acquiring all the knowledge and certifications. I want to become a PADI Open Water Scuba Instructor and promote diving and ocean conservation to the whole world. Lastly, my aim is to become a PADI Course Director and work for PADI Asia Pacific someday.
Please join us in congratulating Adithya on becoming India's youngest PADI Junior Master Scuba Diver. We wish Adithya many happy bubbles in the future and look forward to following his scuba diving journey.
Find out how you can achieve your PADI Master Scuba Diver rating like Adithya and earn your black belt of scuba diving with a PADI Dive Shop today!