Some of PADI's youngest and newest pros are already making giant strides in the worlds of conservation and diving.
Chloe Mei Espinosa – California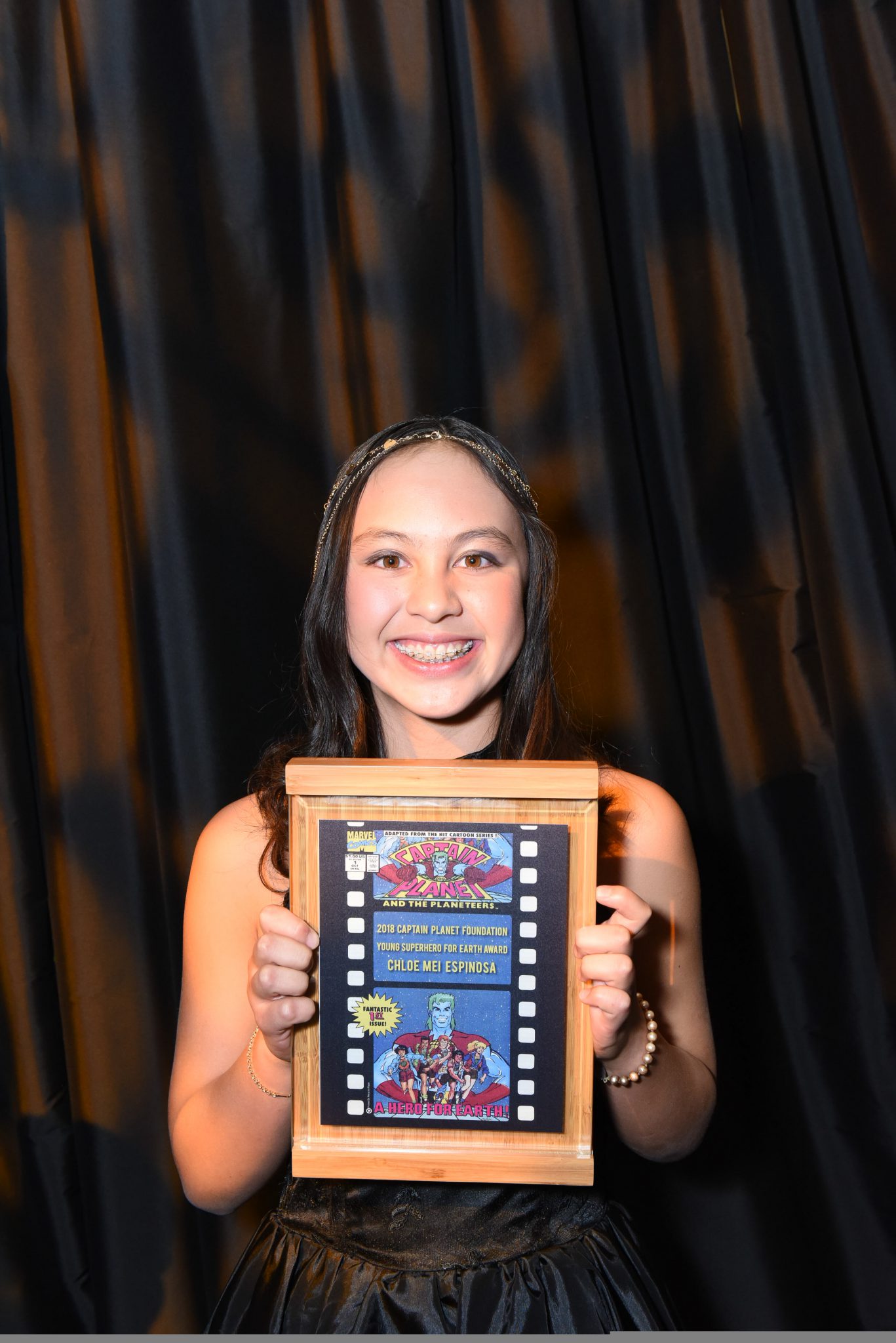 Chloe Mei Espinosa has been keeping our beaches clean for as long as she can remember. And she's been diving almost as long. She went to Kids Sea Camp, where she tried SASY at age 8 and scuba diving the following year. By the time she was 11, she was a certified PADI Open Water Diver. For Espinosa, who comes from a family of ocean lovers, she seemed destined to be an advocate for marine conservation.
"I live near the ocean and participate in beach cleanups with my family," she says. "On these cleanups, the majority of trash we collect is single-use plastics like bottles, bottle caps, and plastic straws."
It wasn't just the trash that was bothering her. It was the impact the trash had on marine life.
"I was very disturbed by the video of the straw stuck in a turtle's nose, and I wanted to take action!" she says. "I want kids in the future to experience scuba diving with a clean ocean."
Inspired to make a change, Espinosa created a campaign against single-use plastic straws for her 6th-grade passion project. Her goal: to get 500 people to take the pledge to stop using plastic straws for a week, a month, or forever. She asked everyone to join her in one simple phrase: No straw needed, thanks.
"By doing so you will help save the ocean animals and the aquatic environment," she says. "Together we can do it, one straw at a time.
Since the launch of her campaign in April 2018, Espinosa has convinced her school district, Newport Mesa Unified School District, to remove all plastic straws from cutlery packets and offer paper straws on request at all 32 schools in the district. She also convinced Capistrano Unified School District (62 schools) and Saddleback Valley Unified School District (32 schools) to join in on the Skip the Plastic Straw movement.
"All 128 schools have also put up my Skip the Plastic Straw posters in the school campuses to raise awareness among kids and staff about the change," she says. "I hope these posters will also inspire them to Skip the Plastic Straw even outside of schools. Some of my friends at my school have already made the change and switched to using metal straws! I also managed to convince most of my water polo team, including my coach, to switch to using alternative straws!"
Thanks to her efforts, in December 2018, Espinosa received the Young Superhero for Earth Award by Captain Planet Foundation. When asked how other kids can make a difference, she says it's all about keeping it simple by setting a goal and taking small steps.
"I started with small steps to begin my campaign by creating my website, skiptheplasticstraw.com. Then I set a goal to get 500 people to take the pledge to skip the plastic straw," she says. "But the most important thing is to have fun!"
To join in Espinosa's efforts, take the Skip the Plastic Straw pledge.
Kirsten Q. Poking, Cape Town
Kirsten Poking just started diving two years ago when she was 23 but since then she's already earned herself a PADI Specialty Instructor rating with specialties that include Wreck, Deep, Enriched Air, Dry Suit, Underwater Digital Photography and Night Diving.
Before her recreational dive career had even started, she wanted to achieve the highest level of diving possible as a commercial diver. In 2017, her mom convinced her to move back home to Cape Town where she signed up with Into The Blue's Career Development Course and within a month was in the water for her first PADI Open Water pool session.
"My favorite thing about diving is hanging upside down and watching the sun's rays filter through the water and the bamboo kelp," she says.
That fun-loving spirit also spills into Poking's love of skateboarding that she shares when teaching skateboarding to the girls in her community. When the local dive shop, Cape Town Dive Centre, hosted a PADI Discover Scuba Diver pool experience, Poking encouraged her friends and 10 of the skaters to join in on the event.
"I love that I was able to expose the girls to something that wouldn't have even been on their radar before now," she says. "This made me more determined than ever to find ways to bring diving to the parts of South Africa, and specifically Cape Town, that don't get exposed to opportunities like this."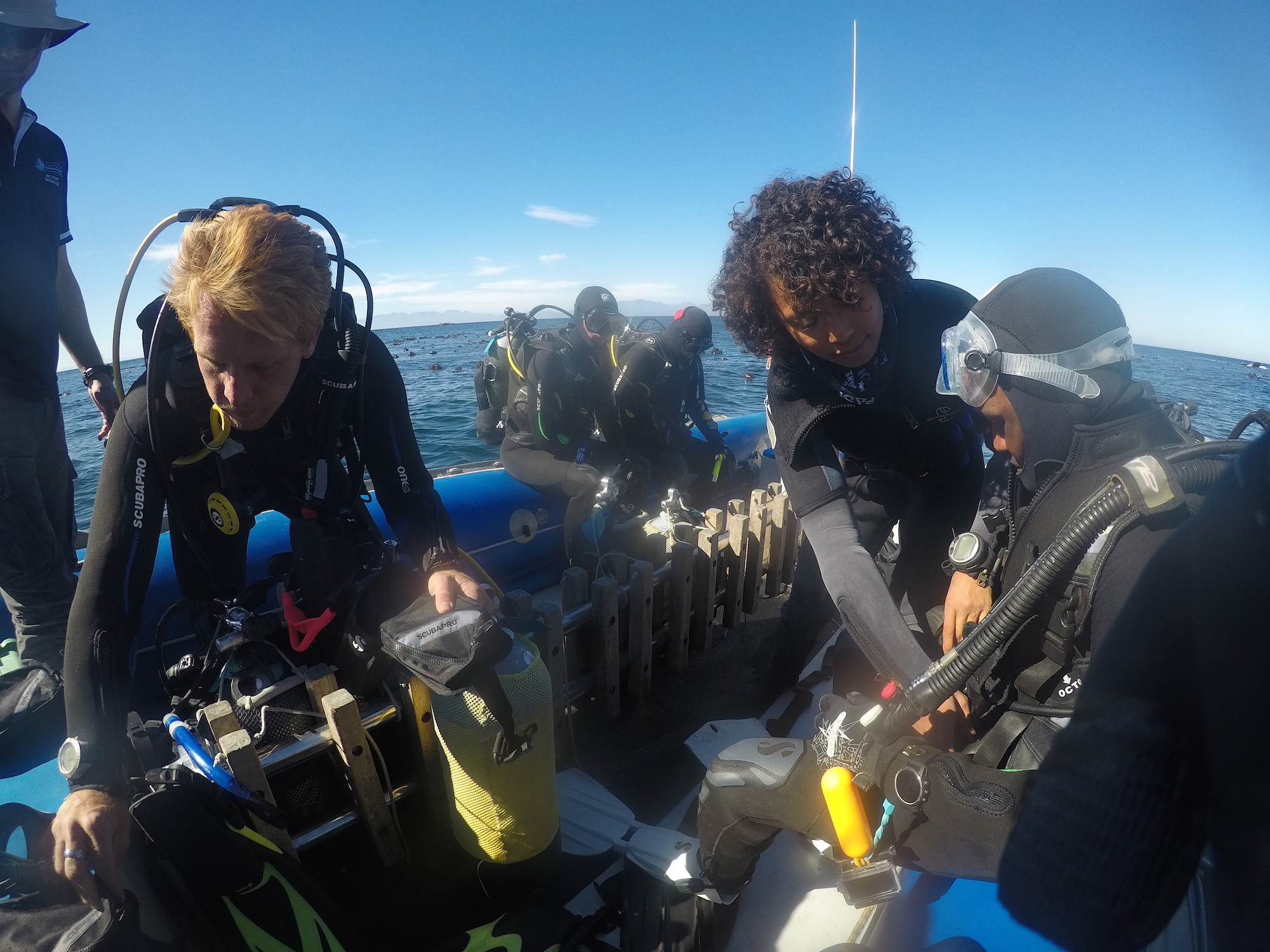 As she continues to spread her passion for teaching others to dive, Poking plans to become a PADI Freediver Instructor, Course Director, and eventually an Exam Instructor. For her, it's all about connecting with others through diving.
"I hope that through these positive interactions with the ocean that it will help develop a love for the environment that will carry through generation after generation," she says.
Isa Hoogeveen – Curacao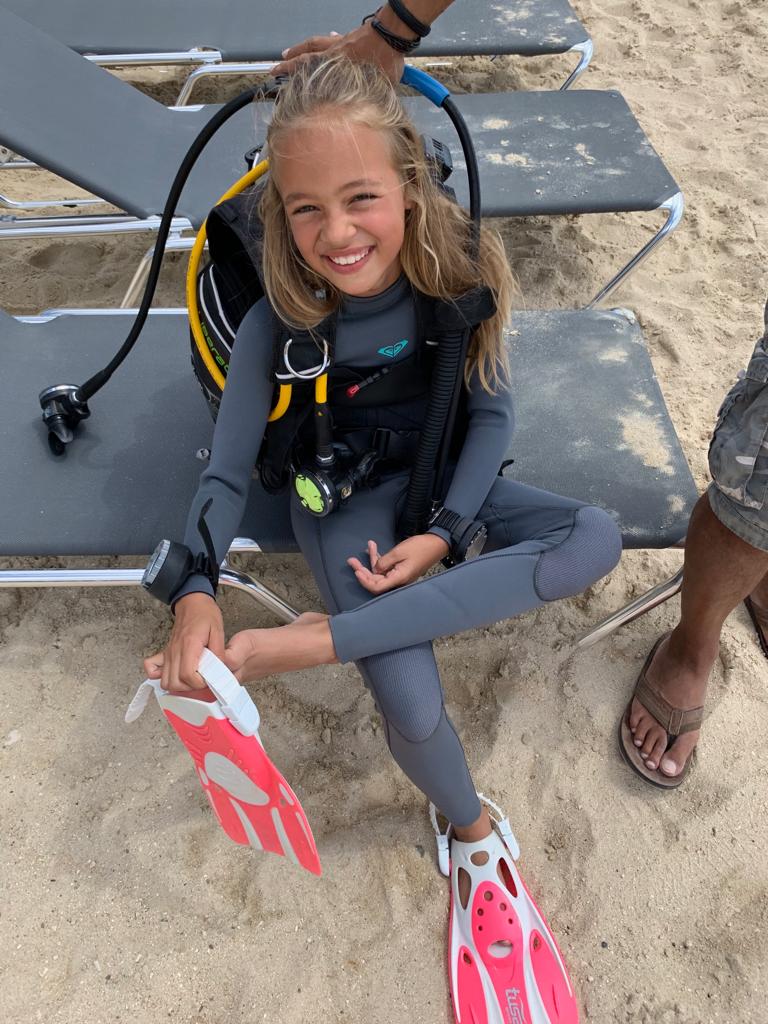 On her 10th birthday, Isa Hoogeveen started her very first dive class, and she couldn't have been more ready. She had already done a handful of PADI Bubblemaker programs and was excited to get "her real license."
When asked about her love of diving, she is quick to note that while she does love all the marine life, she's most passionate about the conservation aspects of diving.
"I love to join on the Dive Against Debris programs," she says. "My most fun adventures are the first time I went to 12m with my instructor Felicia Dolman, that was very exciting, and we even saw a beautiful orange seahorse. But also fun was the first time I went diving with my dad after I got certified, I got to plan the whole dive!"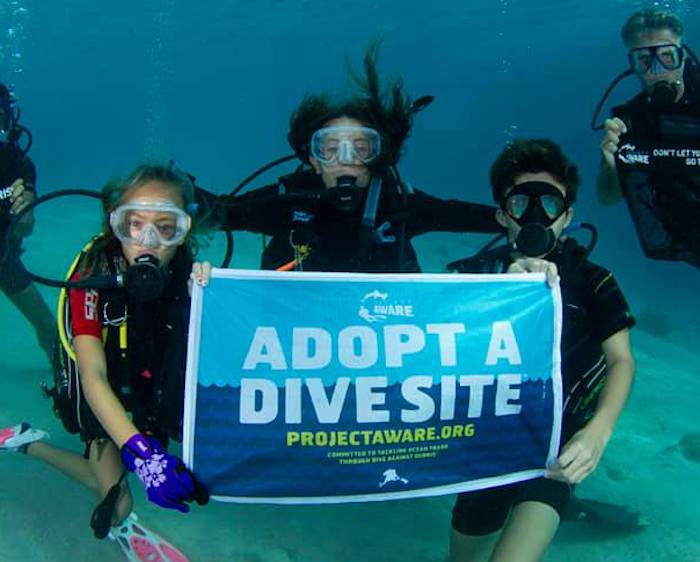 When she's old enough, Hoogeveen already has plans to earn her Advanced Open Water Diver certification, experience deeper dives, explore wrecks, and gain her Dive Against Debris specialty. In the meantime, she's giving a presentation at school about diving and the Discover Scuba program to inspire her friends to get in on the action. For her, conservation is just as important as having fun.
"I love helping animals, and I join on all the Dive against Debris dives. Even on all my other dives with my dad, we always take a mesh bag to clean up," she says. "I really want to get my Dive Against Debris specialty and join the circle of underwater heroes."
Luca Hales – Sharm el Sheikh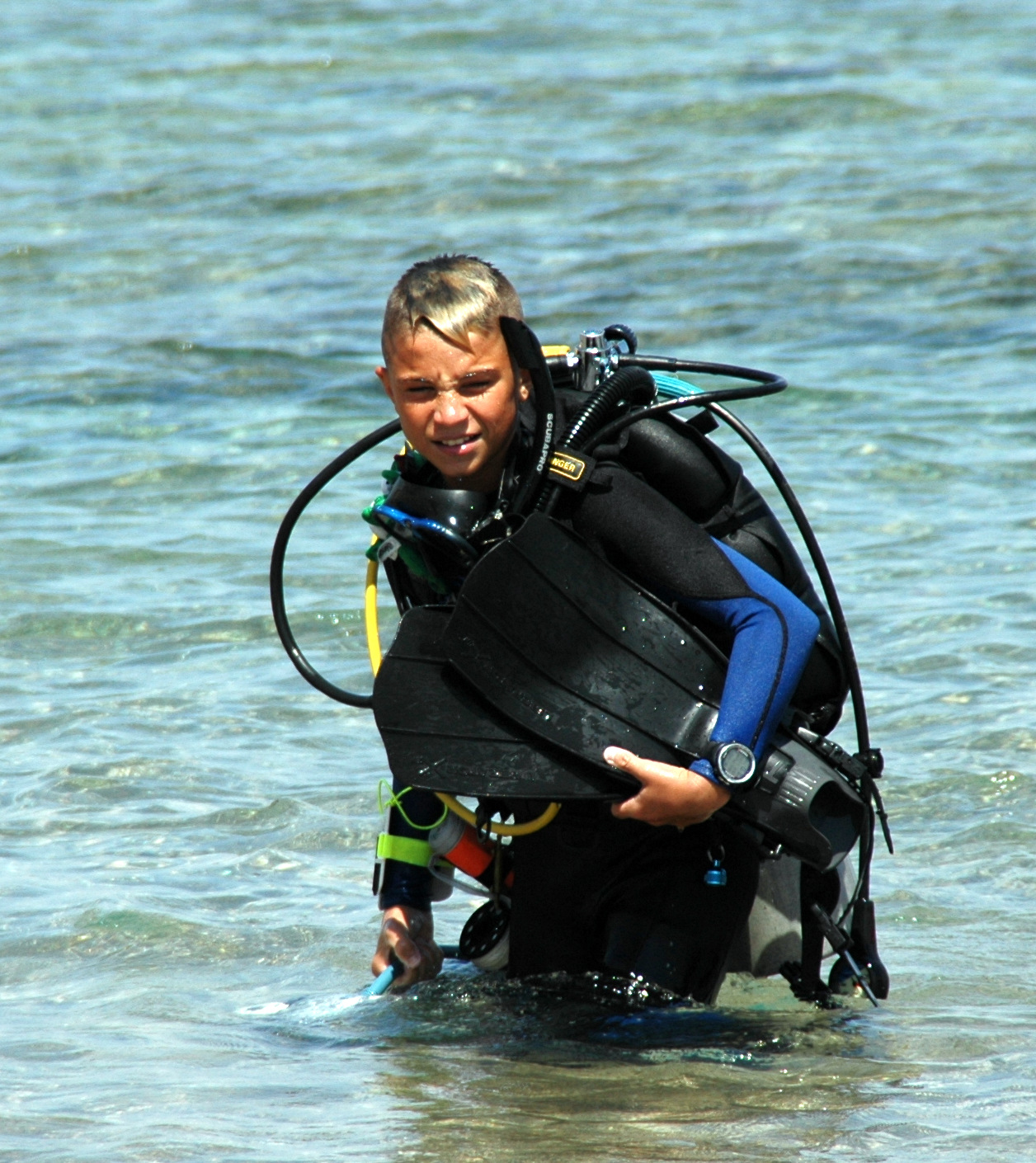 As the youngest PADI AmbassaDiver, Luca Hales did his first Bubblemaker at the age of 8 and has been in love with the sea ever since. Both of his parents love diving, his father is a PADI Dive Instructor, and he grew up snorkeling on dive boats with his mother. Today, the 12-year-old is a Junior Master Scuba Diver with five specialties under his dive belt.
For Hales, he never gets tired of learning. He speaks both English and Arabic fluently, and for every birthday, he only wants one thing – to sign up for another dive course.
"I love that diving gives me independence, freedom, and opportunities like no other," he says. "Over the years, I have done a lot of television work, modeling, scuba modeling, cleanup events, and met many famous people along the way."
Included in his journey, Hales educates people about the importance of recycling in areas near the Red Sea and is sponsored by Aqua Lung Egypt.
"I love to get involved in community events around the Red Sea. I am lucky to have parents who support me and encourage me every step in my diving life," he says.
When asked about his future, Hales is dreaming big. He wants to become a PADI Course Director and a Regional Manager for PADI. In the meantime, he's content spreading the message of conservation and getting some dives in along the way.
"This year, I have a lot of travel plans," he says. "I cannot wait to travel and see the world underwater!"
With his next birthday coming up in August, he's already signed up for not one, but five PADI Specialties. That will total 10 specialties – and all before the age of 14.
Claire Koch – Clearwater, Florida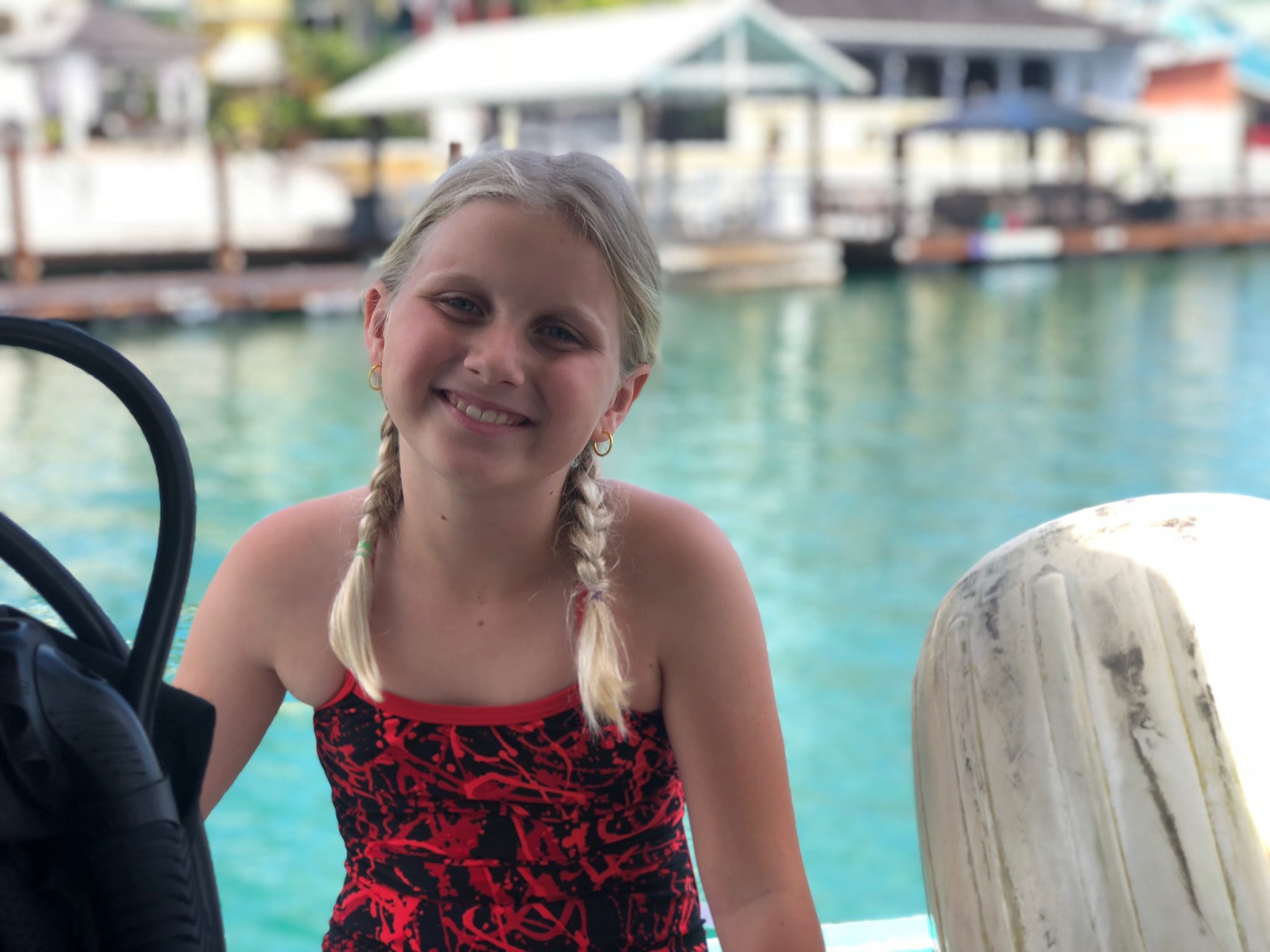 Junior Open Water Diver Claire Koch may still be too young to earn her Advanced Open Water certification, but she's already raring to go, thanks to the inspiration she gets from her dad, Thomas Koch, PADI's first deaf Course Director and the founder of Aqua Hands.
"I was inspired to get into diving after watching all the videos of my dad doing scuba diving and seeing all the amazing fish and reefs," she says.
While the 11-year-old patiently waits for her next birthday, she's already earned her PADI Boat Diver, Fish ID Diver, and Peak Performance Buoyancy Diver specialties. She's also developed a strong connection to the conservation programs in her area. One of her most recent efforts was with Finathon, a non-profit organization that works with Project AWARE to raise awareness on shark finning and ocean pollution.
"In our event at Fort DeSoto, I work to help raise money, people swim laps, and others give donations including sponsorships from Project AWARE, CONVO, PADI, Gulfport Dive Center, and Dixie Divers," she says. "We want to help Project AWARE end shark finning worldwide."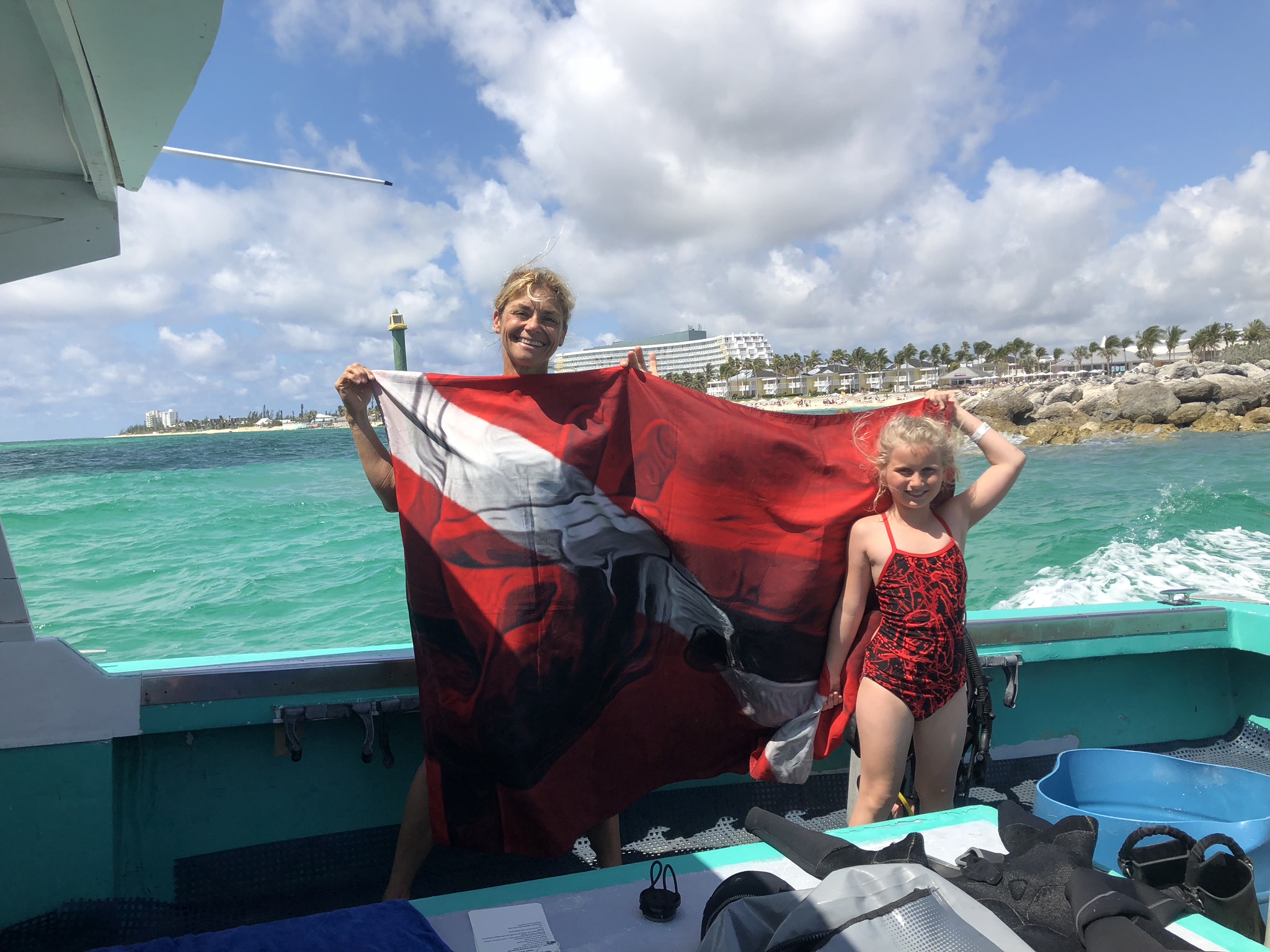 When asked about other plans, Koch still has her sights set on earning more certifications and becoming a Master Scuba Diver. For now, she's happy doing her part to make our ocean a better place. She has a packed calendar with cleanup events that include co-hosting a Dive Against Debris with her dad in Tampa and she joined the World Record Dive Against Debris with Dixie Divers in June.
"I want to be able to see the beauty of the ocean in my near future," she says.
Learn more about taking the Project AWARE Dive Against Debris specialty and ways you can reduce plastic pollution as a diver.