Are you considering a dive trip to Malaysia? Have you heard of Sipadan Island? Sipadan is often cited as being among one of the best diving destinations on earth, but why is the diving around this island so highly sought after?
Originally shot to fame by Jacques Cousteau, Sipadan is undoubtedly one of the premiere dive destinations in the world. Located in the Celebes Sea off the east coast of Sabah in Borneo, Sipadan was formed over thousands of years as living corals grew on top of an extinct volcano (Sipadan is the only volcanic island in Malaysia). The island now plunges over 2,000 meters/6,561 feet straight down to the sea floor. Sipadan lies in the center of the Indo-Pacific basin which is one of the richest marine habitats in the world. Currents sweep past the island bringing plankton with them. Plankton attracts smaller species which attract larger species until the entire food chain is on display in front of your very eyes. More than 3,000 species of fish and hundreds of coral species have been classified in this ecosystem.
One thing is for sure – Sipadan rarely fails to disappoint even the most seasoned of divers, so if it's not already on your bucket list you may want to consider adding it! When you dive Sipadan you'll be immediately struck by how many turtles you see in a single dive.  Reef sharks are not a special sighting here – they are almost guaranteed and for some fortunate divers, you may even catch a glimpse of a passing manta ray or hammerhead shark.
Here are a few of the most impressive dive sites which are located in this extraordinary Marine Protected Area:
Barracuda Point
Barracuda point does everything to uphold Sipadan's reputation and is often listed in the top 10 dive sites in the world – which makes it one of the most popular dive sites in Sipadan. There is a huge school of resident barracudas, often making an underwater tornado. This dive site is a must for any underwater photographer. The dive starts out as a classic wall dive before coming to a channel, at around 18 meters/59 feet, which frequently has currents pushing through it. It's at one end of the channel that the barracuda often hang out and when they are there, a large portion of the dive is often spent at this point, staring, mesmerized into the blue. Barracuda Point also offers the opportunity to see bumphead parrotfish, dozens of turtles, reef sharks patrolling the area and occasional hammerheads.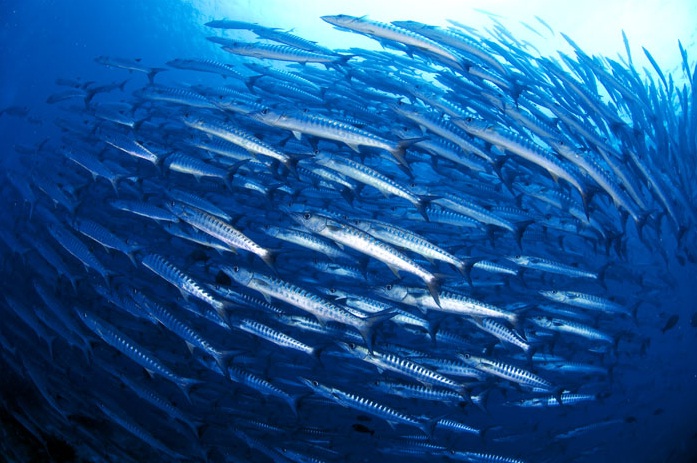 South Point
South Point is another site which is famous for its stunning, coral encrusted coral wall which drops dramatically into the blue. South Point is an incredible site for spotting pelagics, schooling barracuda and trevallies, and numerous turtles that will pass you by. Manta rays and thresher sharks are not unheard of here and for experienced divers, making a morning deep dive gives you the chance to spot hammerheads. For all levels of divers, the shallows must not be underestimated – you're bound to spot reef sharks, lazing turtles and a plethora of reef fish and critters.
Turtle Cave
Turtle Cave used to be one of the most famous shore dives in Sipadan, back in the day when accommodation was available on the island (now the island is uninhabited). The entrance of the cave is located at around 18 meters/59 feet and is a unique cave experience. The second chamber of the cave is around 20 meters/65 feet into the tunnel and from there, there is another tunnel which connects with the 'Turtle Tomb'. Along the cave there are several turtle skeletons, making it an eerie sight deep within the reef. There is still some mystery around why the turtle skeletons are here – could it be that the turtles became lost in the cave and couldn't surface for air? Or is this a place the turtles come to when they know they are nearing the end of their lives? Every guide seems to have a different story! This is an advanced level dive and entering Turtle Cave should only be undertaken by those with the appropriate training and equipment. However, if you are not yet trained for penetration dives, Turtle Cave is not just about the cave. The wall here is adorned with beautiful gorgonian sea fans; white tip reef sharks pass by in the blue and a resident school of big-eye trevally are often spotted close to the mouth of the cave. This is a truly unique site for all divers.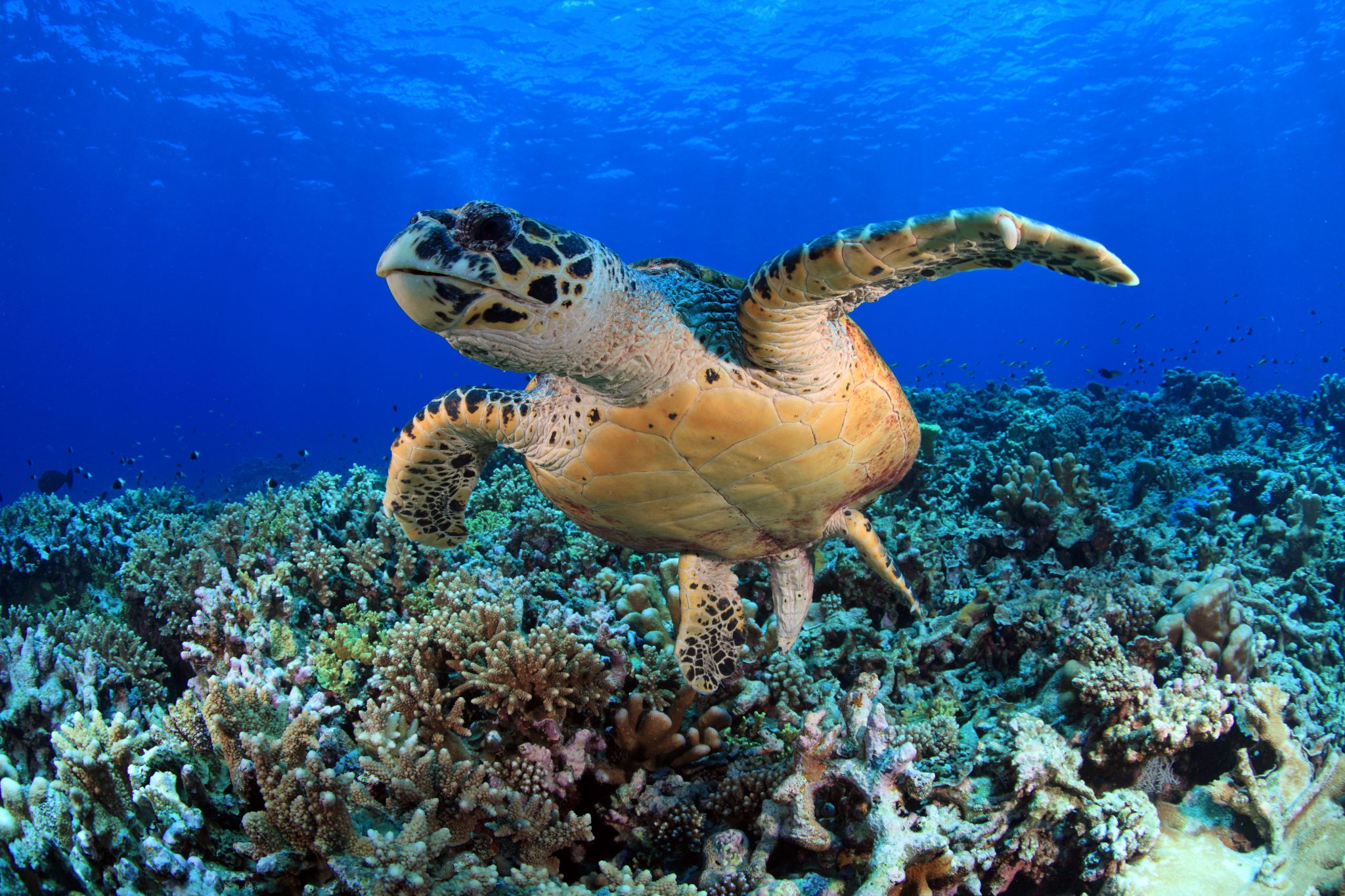 Hanging Gardens
The west side of Sipadan is the deepest part of the island, plunging to around 2,000 meters/6561 feet to the seafloor. Needless to say, all of these dives sites are wall dives and steep ones at that. The only time you'll ever see the bottom on these sites is when the visibility reaches 40 meters/131 feet and you can see schooling grey reef sharks and hammerheads resting on plateaus below you. As you drift with the current you'll be overwhelmed by the beauty and sheer sense of scale when diving here. The diversity of marine species here is incredible and you'll see a whole range of damselfish, chromis, sweetlips, clownfish, lobsters hiding in the crevices and exquisitely coloured nudibranch. Of course, it wouldn't be Sipadan without turtles and you won't be disappointed as you lose count of how many you see during your dive. Reef sharks are also a common sighting here. This is an excellent site for underwater photographers and snorkeling is also breathtaking for those traveling with non-divers.
Permits for Diving Sipadan
A permit is required for diving around Sipadan Island, which is closely monitored by the Sabah Parks Management. The permit scheme limits the number of divers allowed in the park per day in order to ensure the longevity and preserve the ecology of this phenomenal region.
The number of permits per day is now 176 (previously 120), and the permits allow divers to make up to 3 dives per day (previously 4). Check with your chosen PADI Dive Shop that you have a permit reserved, how many days it's valid for and what is included. Not all operators' websites are up to date regarding the change in permit regulations so make sure you ask for their most recent information.
Are you now wanting to visit Malaysia's incredible Sipadan Island? We highly recommend it! Find our more information on Sipadan and locate a PADI Dive Shop today!