From a just-launched Boeing 747 in Bahrain to the underwater war museums in Truk Lagoon, there are a plethora of plane wrecks just waiting for exploration.
Boeing 747
Amwaj Islands, Bahrain
A recently sunken Boeing 747, located 18 miles north of the Amwaj Islands, in the Arabian Gulf, is just part of the underwater park that recently opened to divers. Before the launch, teams removed any harmful or toxic materials to ensure the safety of the marine environment. The wreck sits in water that's 65 feet / almost 20 meters. Measuring just under 230 feet long, it is the largest aircraft to be intentionally submerged and will also provide a place for coral and marine growth. Find out more about the scuttling process here.
---
Air Canada Boeing 737-200
British Columbia, Canada
In 2006, after prepping and sterilizing procedures, Canada's Boeing 737-200 sank as an artificial reef. Located near Chemainus, the wreck measures just under 100 feet long and resides in under 60 feet of water. Today, the former Air Canada airliner thrives with marine life and attracts over 117 different species.
---
Blackjack B17
Milne Bay, Papua New Guinea
At 164 feet, the BlackJack B17 is one of the most beloved wrecks in Papua New Guinea's Milne Bay. In 1943, the massive military bomber never returned from its mission. With a wingspan of 103 feet, the plane sits on a sandy bottom with clear visibility from 80-150 feet. The wreck is still intact with movable gun mounts, the cockpit and seats.
---
The Vulcan Bomber
Nassau, Bahamas
The Vulcan Bomber from the James Bond movie "Thunderball" has a maximum depth of 45 feet and resides in the waters of Nassau. The metal framework of the plane, covered in corals and sea fans, is all that remains of the wreck today. Thanks to the shallow bottom profile, divers can also access another James Bond wreck, the Tears of Allah, on the same dive.
---
B-17G Flying Fortress
Vis Island, Croatia
Located off Croatia's Vis Island, the B-17G Flying Fortress was hit in a bombing raid during WWII in 1944. At roughly 213 feet, the US Bomber is still well-preserved with a wingspan more than 100 feet. Some credit the wide wingspan to allowing the plane to skim across the water before crashing onto its nose. It remains intact with entangled parachute equipment, gun turrets, and plexiglass.
---
Zero Fighters
Truk Lagoon, Micronesia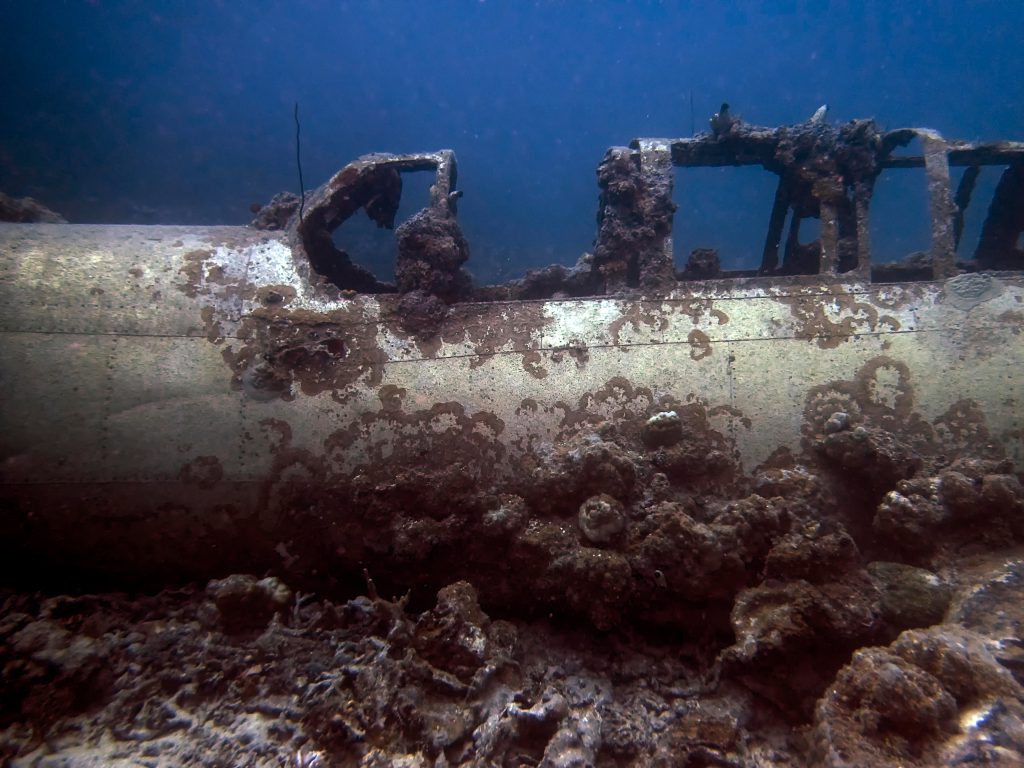 With over 60 wrecks in Truk Lagoon, the Zero Fighters are some of the most revered plane structures in the vicinity. In 1944, Operation Hailstorm brought more than 100 vessels to the shallow depths of Truk Lagoon. The underwater war museum includes sites such as Fujikawa Maru, the resting place for pieces of Zero Fighters that includes wings, machine gun bullets, bottles, and props. Fleets of undiscovered Japanese ships and planes from WWII remain to this day.