Image provided by Laura Wagner
Is your child a future scuba diver? If they love bath time, swimming, or watching nature programmes, there's a good chance they'll swap that pacifier for a regulator one day. Help them look the part with a scuba diver costume.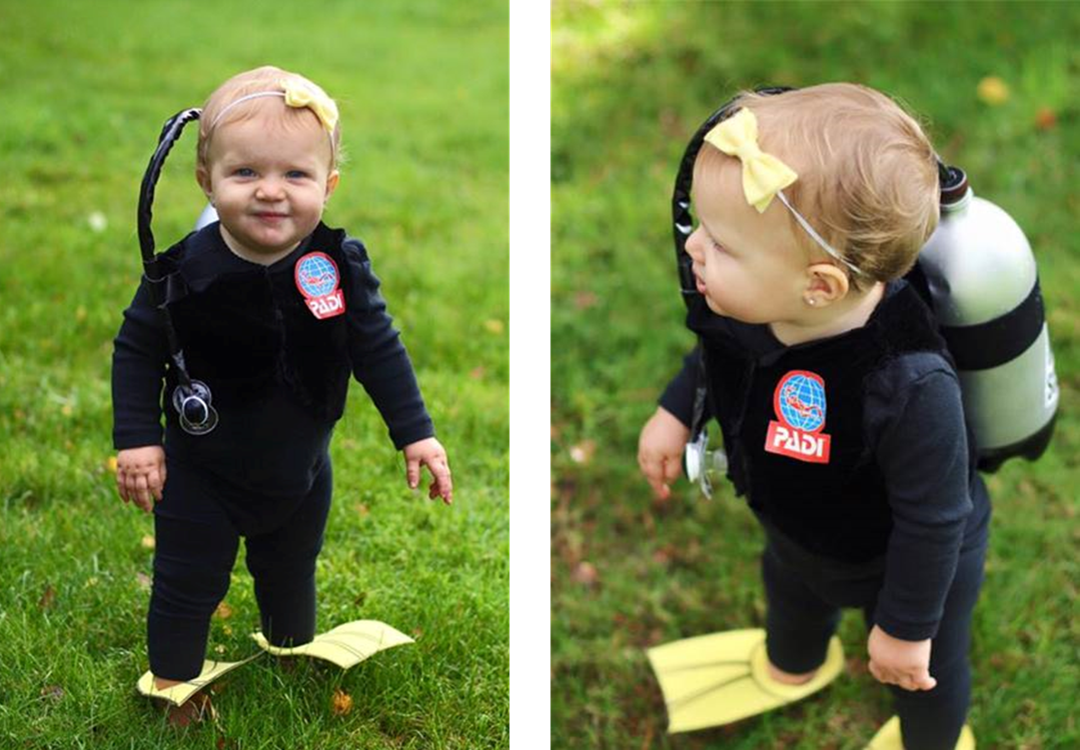 Supplies You'll Need:
Scissors
Thick felt or craft foam
Pacifier
Gaffers tape
Flexible plastic tubing OR rope wrapped with black electrical tape
A sliver water bottle OR a large soda bottle + silver paint
Black leggings and a long-sleeve black shirt
Kids swim goggles OR a children's mask and snorkel set
(optional) 4-6 foam hair rollers to make a weight belt
(optional) Glue gun and glue cartridge
(optional) Straps of black elastic
Wetsuit
For the wetsuit, dress your little one in black leggings and a long-sleeve black shirt or go for a "shorty" look with black boardies and a black t-shirt or rashie.
Tank
Use a silver water bottle or soda bottle sprayed (on the inside) with silver paint for your child's scuba tank. Create a holster and shoulder straps for the tank by sewing elastic strips together. Or, adhere the tank to your kiddo by wrapping the "tank" and child with two long strips of gaffers tape spaced about 5cm/2in apart.
View this post on Instagram
Regulator
Make a simple second stage by taping flexible plastic tubing, or rope wrapped with black electrical tape, to the top of your tank. Attach the other end to a pacifier. For a more authentic look, or for kids too old for pacifiers, use a Micron second stage.
Fins
Using thick black felt or craft foam, cut out two "fins." Cut a hole large enough for your little one's foot to slip through. Attach the underside of each fin to the top of the child's shoes with hot glue or gaffers tape.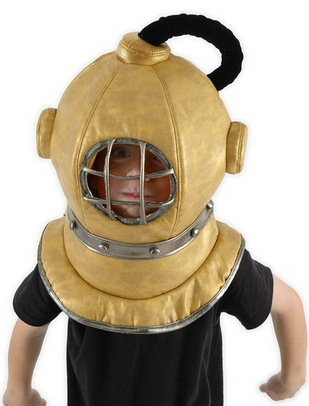 Mask or Helmet
Use a pair of wide-vision goggles for kids, or a children's swim mask (some come with a snorkel). Older kids can wear a scuba diver helmet.
Weights (optional)
Create a weight belt by taping 2-3 foam rollers together and adhering one group to each side of your child using tape.
View this post on Instagram
Kids Sea Camp offers travel and ocean adventures for families with kids four or older, and children as young as eight can try scuba in a pool or confined water. Learn more about scuba lessons for kids and other water activities available at PADI® Dive Centres and Resorts worldwide.

NOTE: The Amazon links in this article are connected to an Amazon Associates account. Revenue earned from qualifying purchases will be donated to support the conservation efforts of Project AWARE.

See more of our favourite costume ideas for kids.