As many parts of the world are currently staying at home to minimize the spread of COVID-19, educators, divers and non-profit organizations are doing everything they can to keep us engaged with the ocean.
So, we've put together this calendar of scuba-related activities you can do each day this month. From educational webinars to fun quizzes, we hope these daily tasks will help you feel connected to the diving community and keep your diving dreams alive.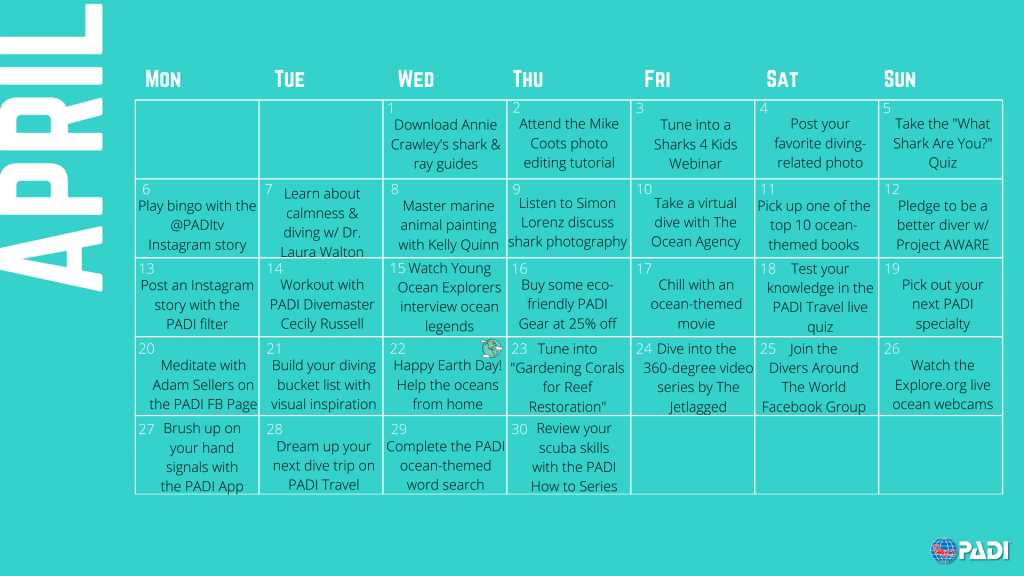 April 1st
PADI AmbassaDiver Annie Crawley and her scuba diving team have created educator guides on sharks and rays. If you're at home with the younger generation of divers, these are free for download at the moment.
April 2nd
Head over to the @PADItv Instagram page to see Mike Coots' live photo editing tutorial.
Alternatively, check out PADI AmbassaDiver Manuel Bustelo's live Instagram chat with Domino from Project AWARE at 16:00 GMT+1.
April 3rd
Sharks 4 Kids, the educational program run by PADI AmbassaDiver Jillian Morris-Brake, is running a series of webinars throughout the first part of the month. Today, you can catch Megan Burt give a talk on shark vision.
April 4th
Post your favorite diving-related photo to cheer everyone up. Tag #padi and #paditravel so we can see your posts!
Alternatively, watch a few of BBC Earth presenter Lizzie Daly's "Earth Live Lessons" on YouTube.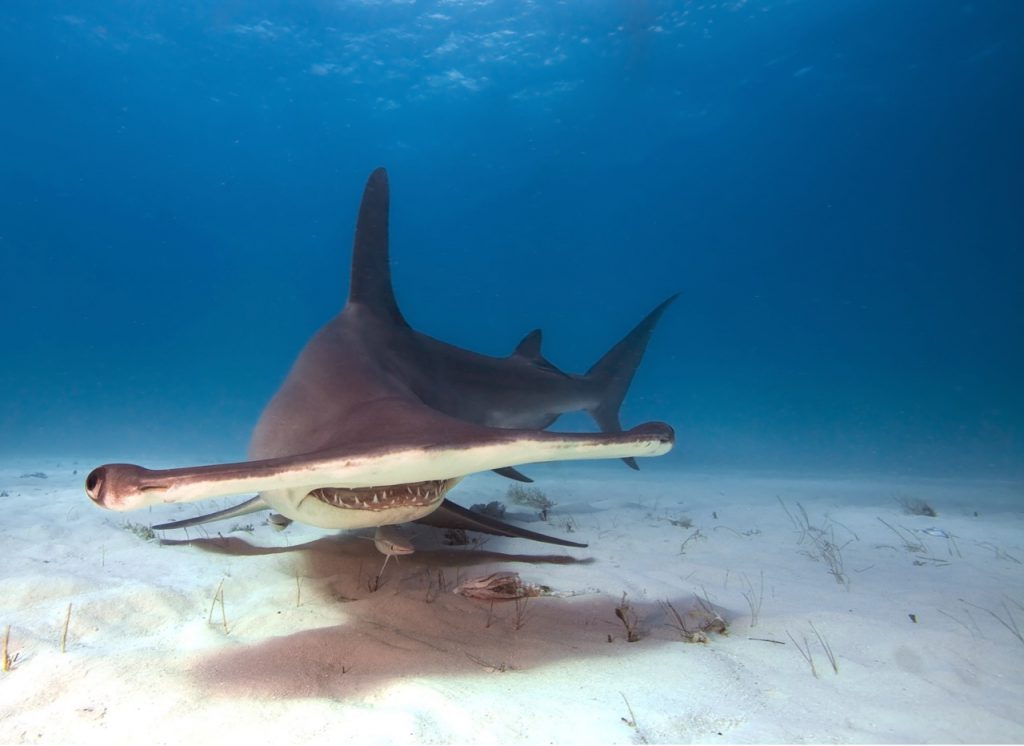 April 5th
Hammerhead? Tiger? Thresher? Discover what kind of shark you are on the PADI Blog.
April 6th
Bingo! Play a round of everyone's favorite game by taking a screenshot of today's Instagram story on the @PADItv page. Repost the screenshot on your own Instagram and circle all the scuba activities you've already done.
April 7th
Learn about calmness and diving with Dr. Laura Walton live on the PADI Facebook page at 12 PM GMT.
April 8th
Pick up a new skill by watching Instagrammer Kelly Quinn give a demo about marine animal painting on the @PADItv Instagram page.
April 9th
Dive Ninja Expeditions is hosting Ocean Stories throughout April, and you can tune in today to listen to Simon Lorenz discuss shark photography at 5 PM PDT.
April 10th
Take a virtual dive with UN Environment Programme partner The Ocean Agency. Google Earth Voyager Stories are available for your desktop or certain portable devices.
April 11th
Looking for a good book? Consider picking up one of the top 10 books about diving, marine life and underwater exploration.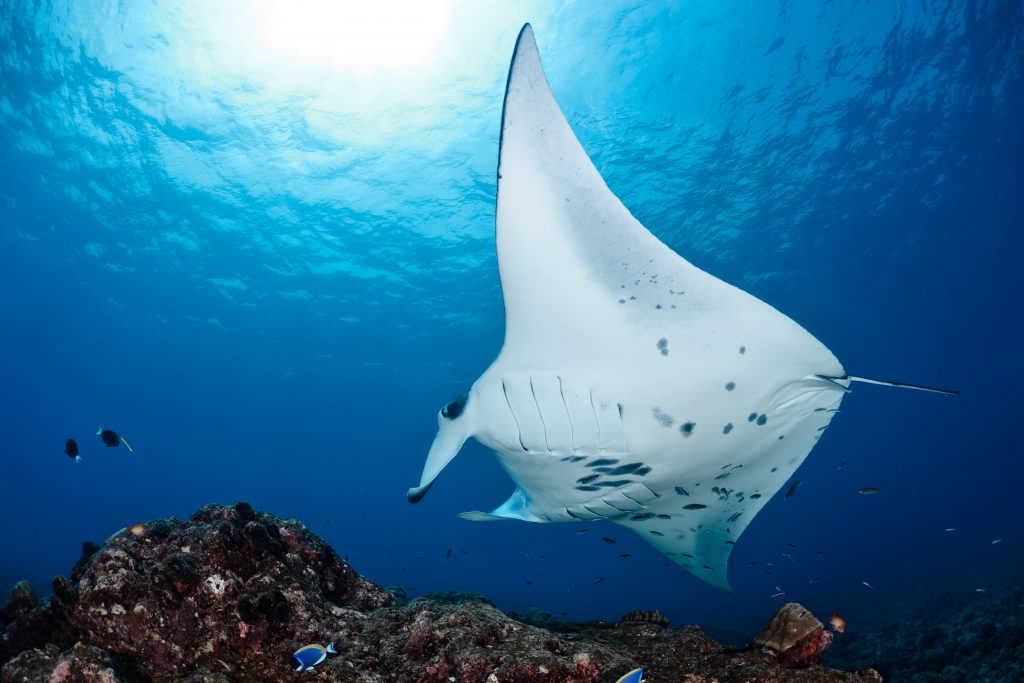 April 12th
The ocean still needs your help. Take the Project AWARE Pledge to follow the Diver Code of Conduct and become a better diver the next time you are able to jump in the water.
April 13th
Show your love for the ocean and find out which marine animal you are by posting a selfie using PADI's Instagram filter. Be sure to tag @PADItv in your Instagram story so we can see the results!
April 14th
Join Cecily Russell live on the PADI Facebook page for a fitness workout designed for scuba divers. Wear your exercise clothes and be prepared to get sweaty!
Alternatively, celebrate Dolphin Day by taking the dolphin quiz on the @PADItv Instagram story.
April 15th
Join the Young Ocean Explorers on their Facebook page every day starting April 15th at 12:30 PM NZT as they go live with interviews from ocean legends, including Andy Casagrande, Paul Nicklen and Clarke Gayford.
April 16th
It's a great time to shop for some new PADI gear. Stock up on eco-friendly items and score 25% off by using the code KIND25.
April 17th
Ready to chill? Enjoy the beauty of the underwater world by watching the ocean movies now streaming on Disney+, Netflix, Amazon Prime and Hulu.
April 18th
Test your scuba diving knowledge by joining PADI Travel for a live quiz on Facebook. Get all the questions right, and you'll be entered into a draw for a piece of PADI gear.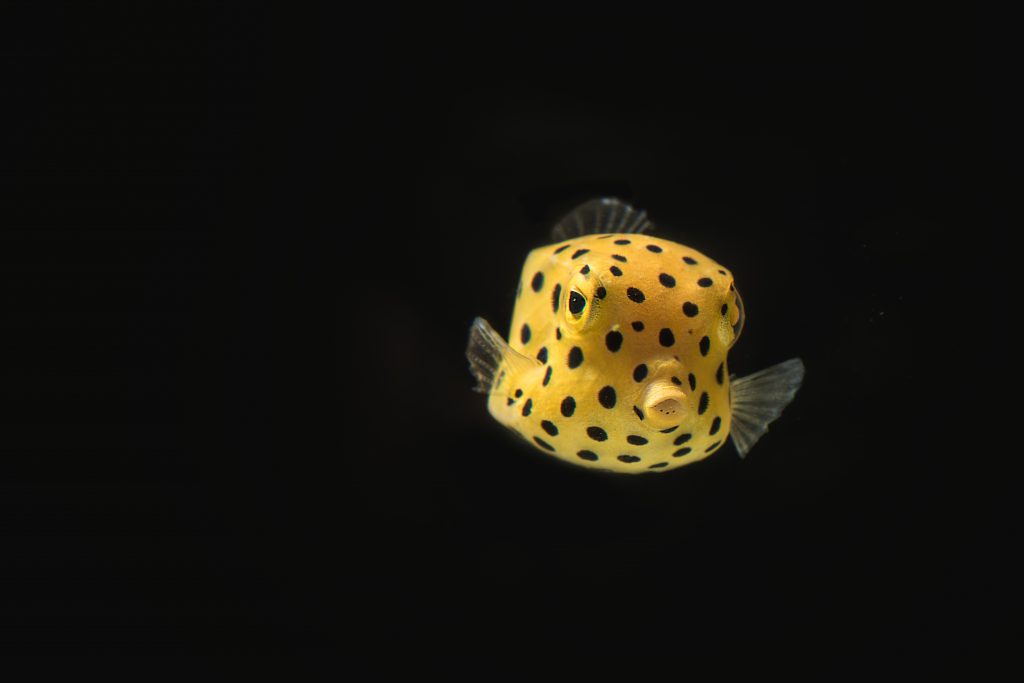 April 19th
Did you know some PADI specialties can be completed dry? Now is a wonderful time to continue your scuba diving education.
April 20th
If you missed Adam Sellers' live stream on the PADI Facebook page, watch it now. In this video, Adam, a PADI AmbassaDiver, provides an introduction to freediving and then leads a meditation session.
April 21st
Build your scuba diving bucket list thanks to some visual inspiration from the dive travel videos on PADI's YouTube channel.
April 22nd
Happy Earth Day! Learn how you can care for the oceans from land while you're at home. You'll find loads of tips on the PADI Blog.
Or, watch PADI Ambassadiver, Manuel Bustelo, interview Sonja (Pine) Eisfeld-Pierantonia, a policy officer with the Whale and Dolphin Conservation. The interview will be aired live on Manuel Bustelo's Instagram channel at 5 PM BST (6 PM CEST, 12 PM EST, 2 AM AEST).
April 23rd
Tune into a free webinar on "Gardening Corals for Reef Restoration" hosted by the NOAA Office of National Marine Sanctuaries and Katie Lohr, a Conservation Science Fellow. This webinar will "review well-established and cutting-edge techniques for propagating and restoring corals."
April 24th
Virtually dive into the big blue by watching the innovative 360-degree ocean films made by PADI AmbassaDivers, The Jetlagged. These films, which are available on YouTube, explore Indonesia, the Galapagos and loads of dive sites in between.
April 25th
Get talking! Scuba divers use our Facebook groups to chat with, get advice from and share experiences with other divers around the world.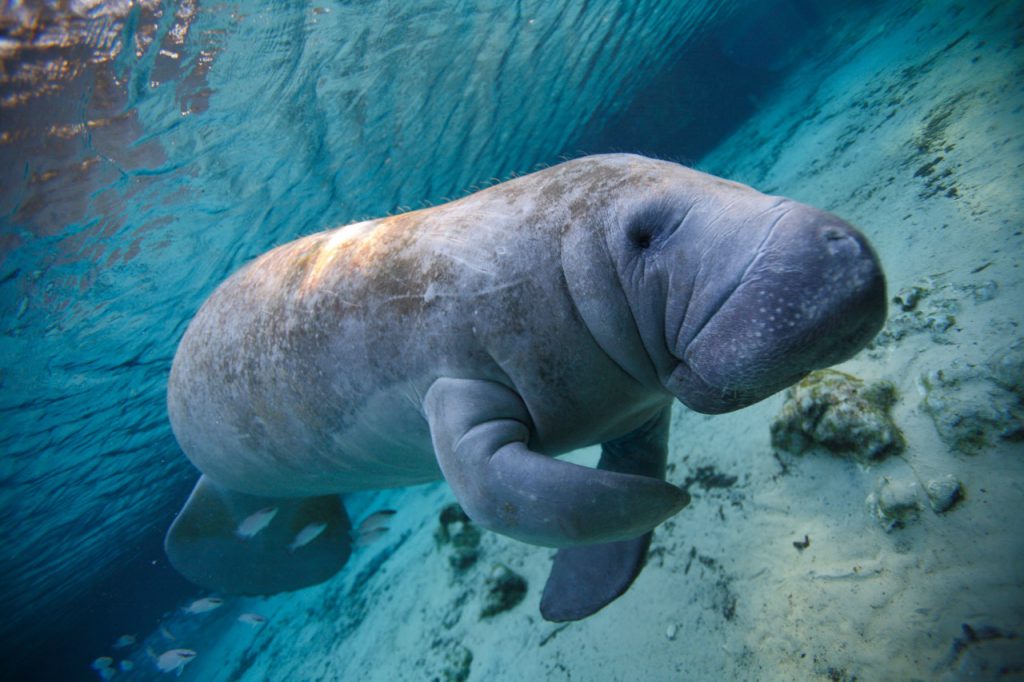 April 26th
Watch the live ocean webcams on Explore.org to get your daily dose of zen.
April 27th
Brush up on your scuba diving hand signals with the all-new PADI App. It just launched this month on the Apple App Store and the Google Play Store.
April 28th
If you're like us, you're ready to start dreaming up your next dive trip. Scroll through the PADI Travel destination guides for some serious inspiration.
April 29th
It's time for a game! Visit the PADI Facebook page for an ocean-inspired word search.
April 30th
Practice your scuba diving skills with the PADI How To Series on the YouTube channel. Watch videos about mask clearing, regulator recover and equalization, so that you're ready to get back underwater when the time comes.