With nearly 1,350 miles (2200km) of coastline making up the state of Florida, and an abundance of freshwater springs and lakes to explore, the Sunshine State doesn't skimp when it comes to places to dive. From oil rigs and bridges, to wrecks, reefs, statues and countless marine species, each day's diving is sure to bring a new adventure. Read on for 20 dive sites that promise some of the best scuba diving in Florida for beginners and experienced divers alike.
---
USS Oriskany
Located 22 miles (35km) south of Pensacola is the USS Oriskany. It is the largest artificial reef in the world and an unmissable experience when scuba diving in Florida. In 2006, the sunken aircraft carrier, nicknamed "the Great Carrier Reef," was purposely sunk in 200ft (60m) of water. The 911-foot (1466m) long vessel now draws marine life and underwater photographers for its photogenic topography.
---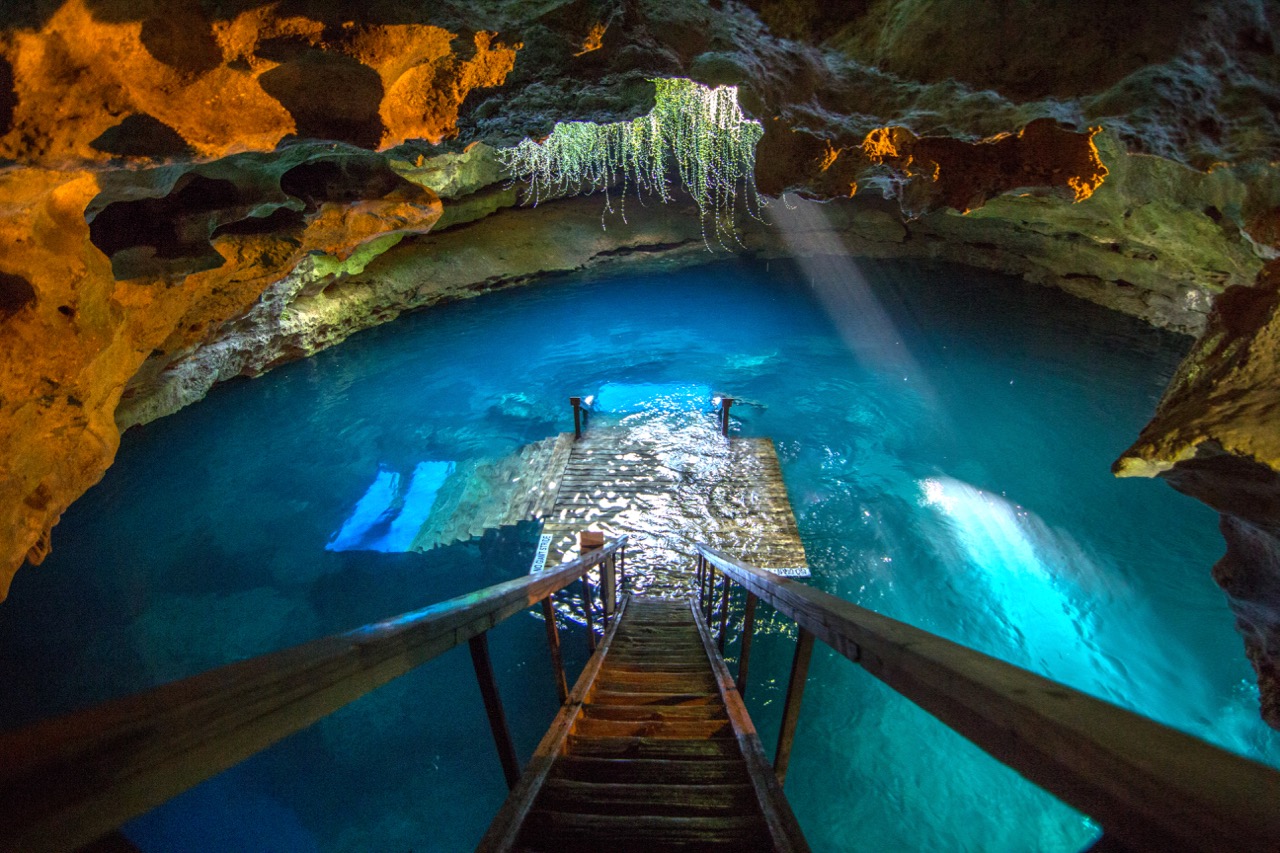 Devil's Den
Devil's Den, Florida's only underground prehistoric spring, is located in Williston, Florida. It boasts a history rich in artifacts and fossils, and even some with connections leading to the Smithsonian Institute. With a constant temp of 72°F (22°C), a 3mm wetsuit is all that's needed to explore the 50ft (15m) spring and its multiple swim-throughs and air pockets.
---
Tenneco Towers
In 1985, the Rigs to Reefs program sank five decommissioned oil platforms off Hallandale Beach (between Fort Lauderdale and Miami). Three are within recreational limits (60-130ft/18-40m), while two are reserved for technical divers (around 200ft/60m deep). Collectively, they make up South Florida's largest artificial reef. Swim-throughs, coral-encrusted pillars, plentiful reef fish and passing pelagics (including bull sharks) provide unrivaled photo opportunities for adventurers diving in Florida.
---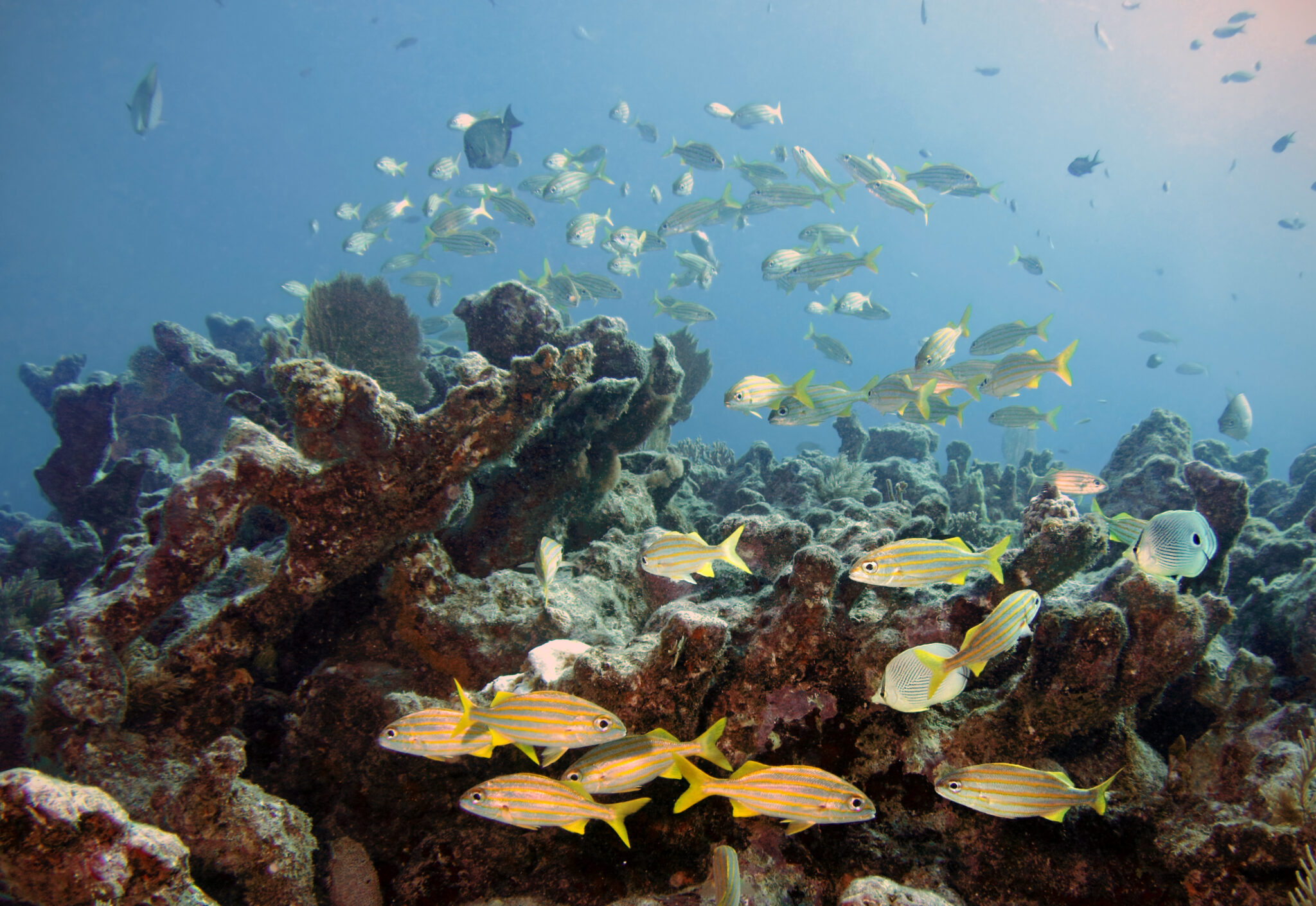 Molasses Reef
With over 30 dive sites ranging from 6-90ft (2-27m), this is one of Florida's biggest and best reefs. Crystal clear waters and easy access also make this destination a great choice for beginners. Situated in the Florida Keys National Marine Sanctuary, the spur-and-groove reef is home to 600+ species of corals and critters. And if that's not enough, there are also turtles, eels, sharks, and a touch of history at sites like The Winch and Spanish Anchor.
---
Rainbow River
Drift divers are in for a freshwater experience at Rainbow River, located 20 miles (32km) southwest of Ocala, in Dunnellon, Florida. Bottom times can easily run over an hour, with a maximum depth of 25ft (8m), and visibility at an impressive 200ft (60m). Finding a shark's tooth is a perk of this site, as are the turtles, otters and bubbling spring beds.
---

Blue Heron Bridge
Under a bridge may not seem like the ideal place for an abundance of marine life. However, Blue Heron Bridge, located off Riviera Beach, is the prime location for all of the smallest of treasures and some of the best diving in Florida. Photographers head to the pilings for encounters with seahorses, octopuses, batfish and rays. Plus, with depths from 6-25ft (2-8m), divers are granted even more time to explore the attractions here. Look out for sunken shopping carts, two mini wrecks and three hammerhead shark statues.
---
DoD Towers
Situated in the triangle of the SE Gulf of Mexico that makes up Marco Island, Everglades City and Key West is the Department of Defense Air Force Relay Tower Reefs. The man-made structures display the full food chain from juvenile fish to the full-grown pelagic fish, so it's a favorite spot for fishermen and divers alike.
---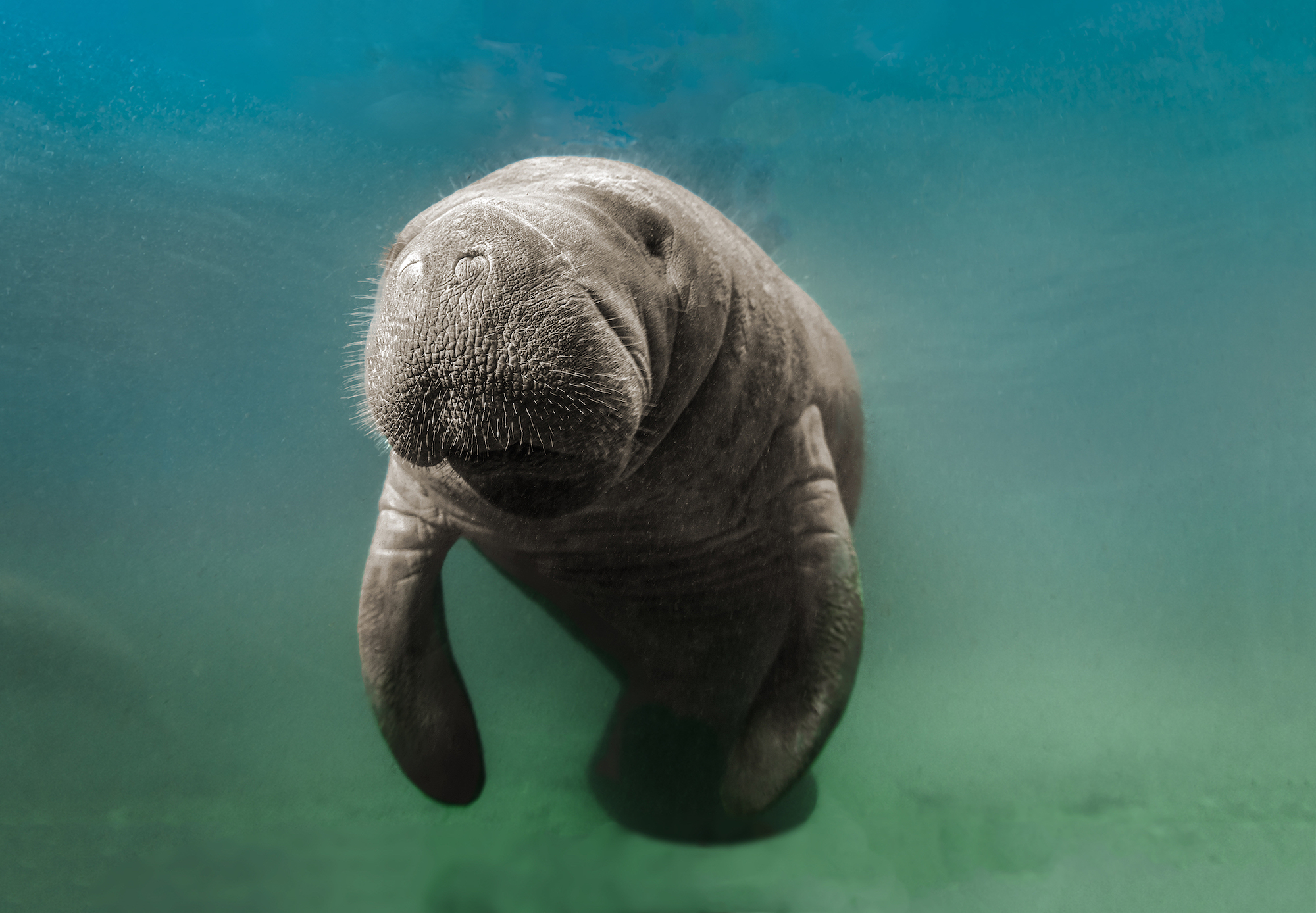 Crystal River
Places like King's Spring are must-visit freshwater sites if you're scuba diving in Florida. But the real draw to Crystal River (90 mins north of Tampa) comes in the form of 10ft-long (3m) gentle giants. During winter (Nov-Apr), hundreds of manatees migrate from the Gulf of Mexico to seek warmth in the balmy 72°F (22°C) springs, and guided snorkel trips are the only lawful way to swim up close and personal with these playful-but-protected creatures. But, this really is one of the best places to snorkel in Florida.
---
Hog Heaven
This 180ft (55m) barge is an artificial reef that accidentally landed upside down. But that's only one reason why Hog Heaven, off Palm Beach, is a divers' favorite while scuba diving in Florida. Depths range from 50-65ft (15-20m), so the dive profiles are perfect for beginner divers. And the easy-to-access openings to the barge house schools of snappers, grunts and camera-ready angelfish.
---
Alligator Reef
Alligator Reef is a SPA (Sanctuary Preservation Area) in the Florida Keys. The protected reef boasts at least 189 fish species, according to local surveys. On this shallow reef dive, in addition to the abundant fish, you may see spiny lobsters, nurse sharks, groupers, eels, and even sea turtles. Additionally, you can observe corals that have been out-planted as an effort to restore the Florida Reef Tract.
---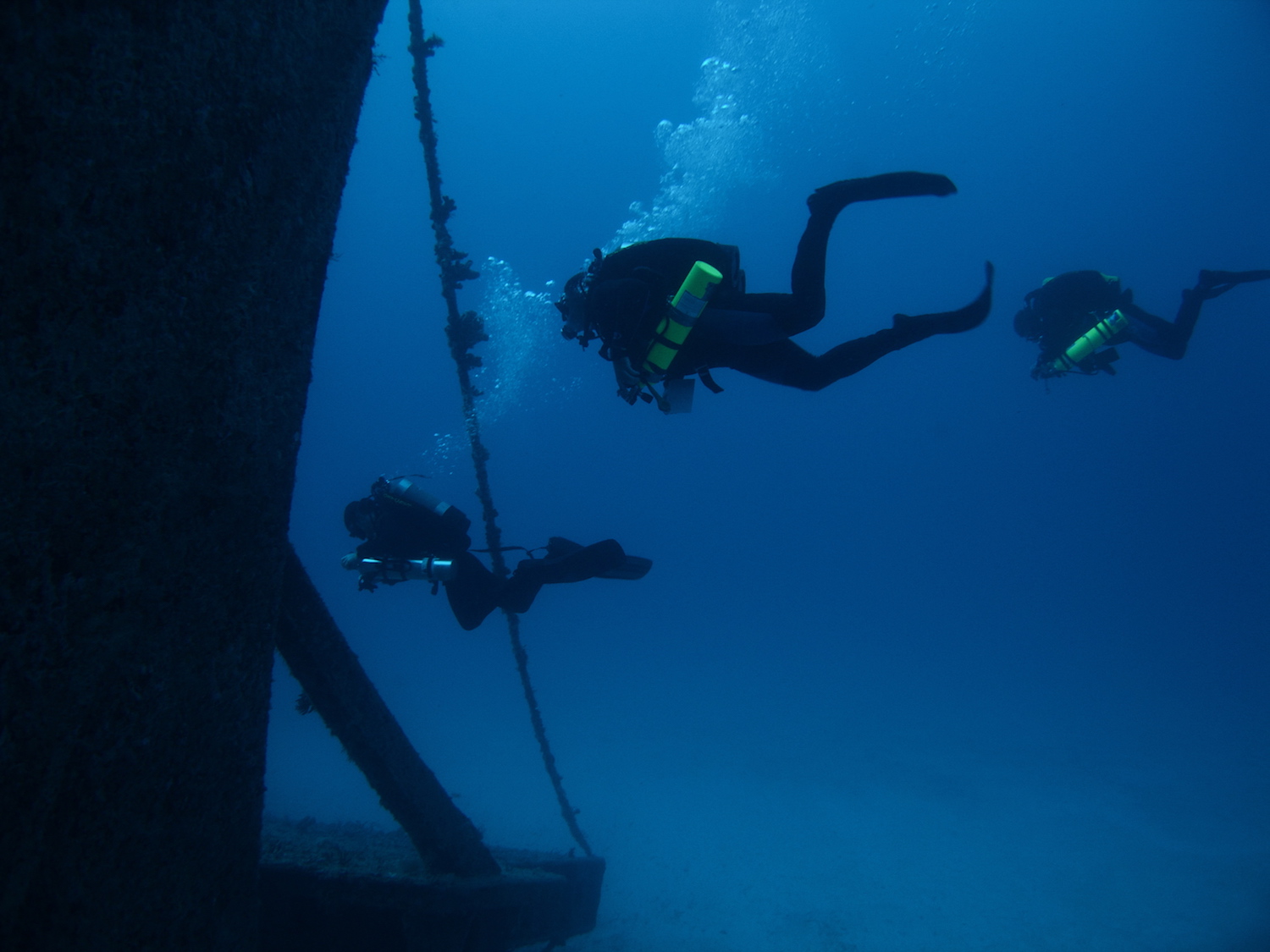 Spiegel Grove
It's hard to say which Florida Key has the best diving. But one of Florida's most iconic wrecks, the Spiegel Grove, is located off Key Largo in 130ft (39m) of water. Sunk in 2002, the 510ft (155m) U.S. Navy Landing Ship Dock landed on its starboard side, and in 2005, Hurricane Dennis placed the wreck upright. Today, it attracts a healthy population of marine life from shimmering schools of silversides to massive grouper lurking in its shadows.
---
1000 Mermaids
Combining science, art, and tourism, the 1000 Mermaids Artificial Reef Project & Gallery is an art exhibit and research location. The underwater sculptures are made of sustainable concrete and cast from real people. In addition to creating a unique dive site in Florida, the gallery gives juvenile corals somewhere to settle and helps restore the Florida reef. There sculptures are off the coast of West Palm Beach and Hollywood Beach. The exhibit has not reached its 1000 sculptures goal. However, the shallow dives are a special scuba experience in South Florida.
---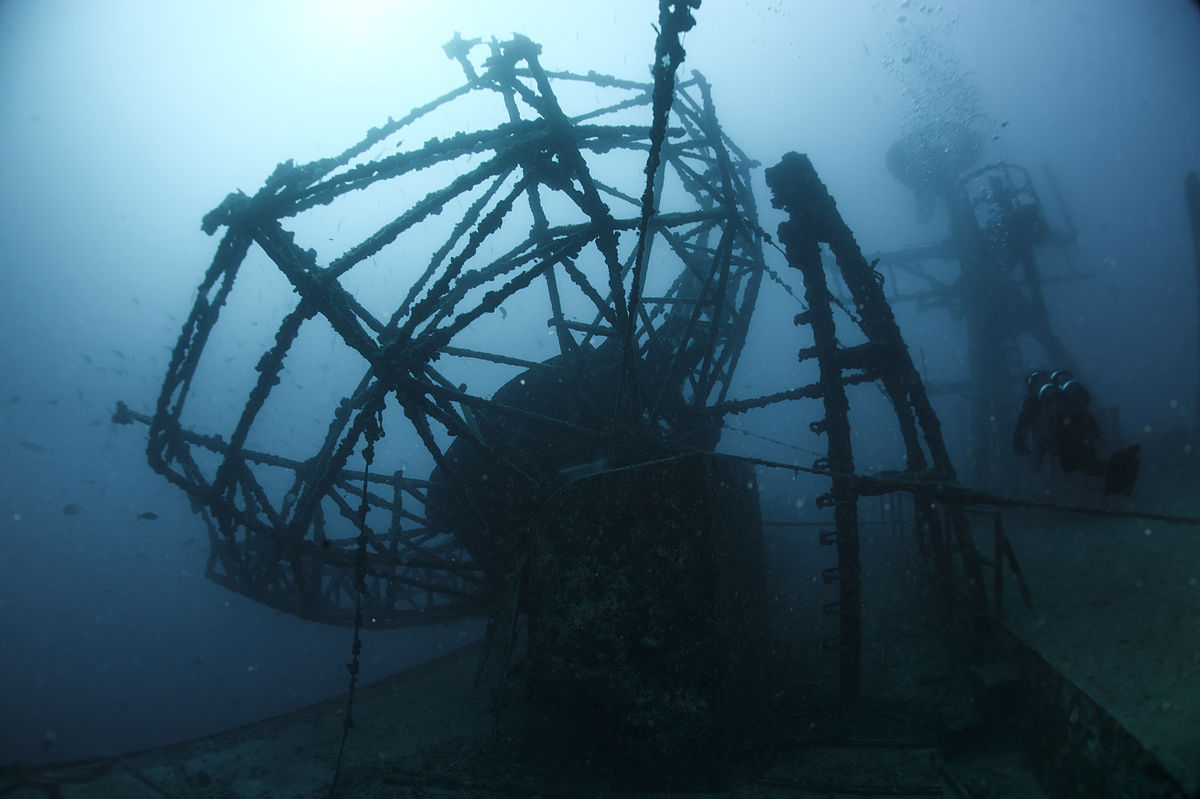 UNSN Gen. Hoyt S. Vandenberg
With coordinates that make this wreck the southern anchor of the Florida Keys Shipwreck Trail, The Gen. Hoyt S. Vandenberg sits proudly in 140ft (42m) of water seven miles (11km) off Key West. Measuring ten stories high and nearly two football fields long, highlights of this structure include the crow's nest, part of the smokestack, and a weather balloon hangar at the stern.
---
The Miami Wreck Trek
There are over 70 wrecks to dive off the southern coast of Florida, and some are close enough so divers can see multiple wrecks in a single dive. The late local Captain Rick Smith mapped a "Wreck Trek," a string of sites with a depth of about 45ft (13.7m) to 60ft (18.3m). The Trek includes Miss Patricia, an 85ft (25.9m) tug, Miss Karlene, Ben's Antenna reef (old radio towers), Billy's Barge, limestone boulders, and more. An experienced and rushed diver can see everything in one dive. But a few dives are worth it to spend some time to explore every wreck.
---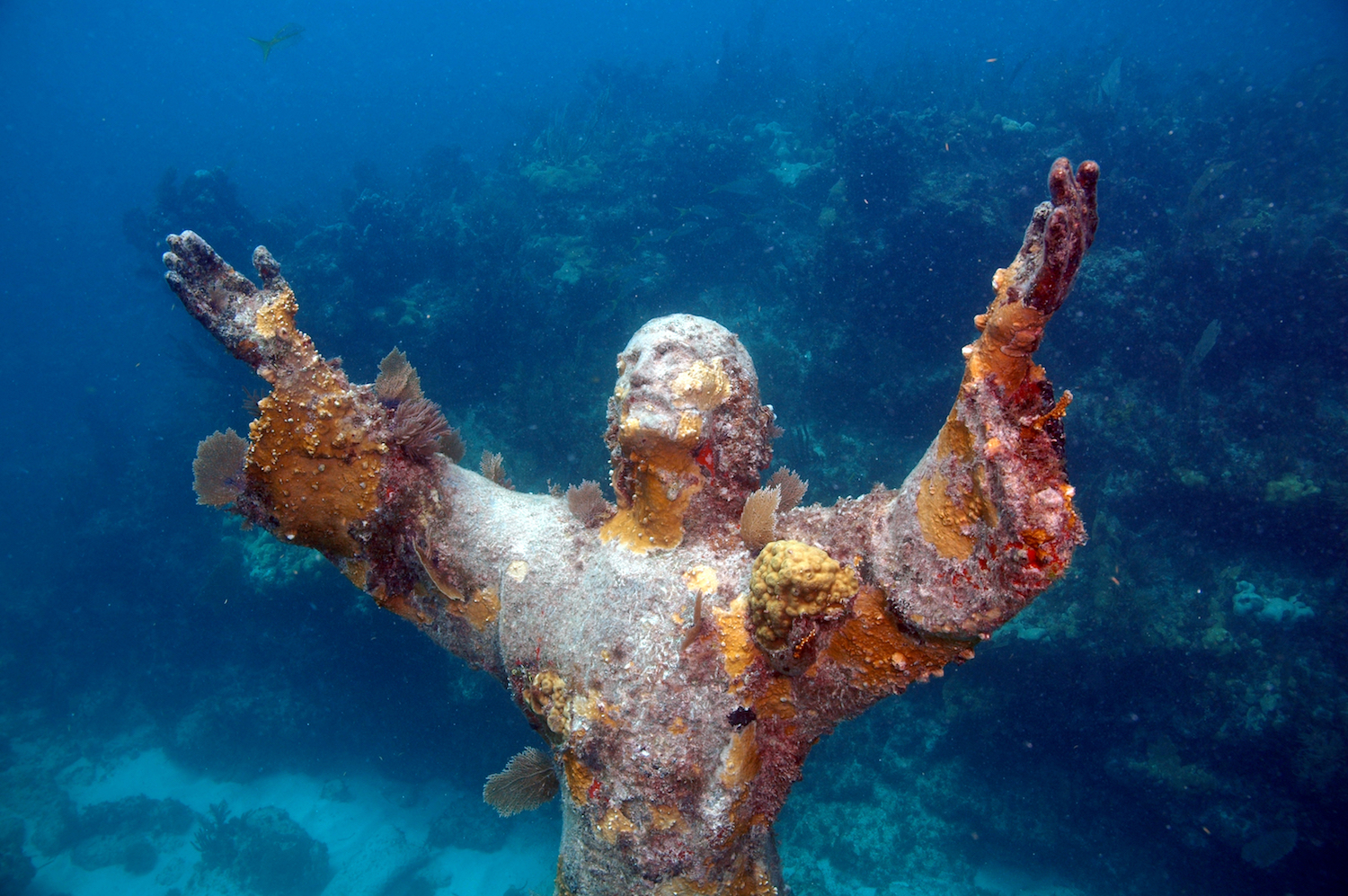 Christ of the Abyss
John Pennekamp Coral Reef State Park, off of Key Largo, is an attraction for snorkelers and divers thanks to colorful reefs. It offers plenty of the best scuba diving in the Florida Keys. But it's the Christ of the Abyss dive site that is worth mentioning. The famous 8.5ft (2.6m), 4000-pound (1814kg) bronze sculpture of Jesus Christ stands in 25ft (7m) of water and makes for great photo ops. And while the statue is one of the most visited underwater sites in the world, the shallow depth, groove coral formations and chance encounters with eagle rays and stingrays are equally impressive.
---
Ginnie Springs
There are three different crystal clear dives sites at Ginnie Springs: The Ginnie Ballroom, The Devil's Spring System, and Santa Fe River. In addition to the great visibility, there are underwater caves to explore and prehistoric fossils to see. Plus, divers can go tubing, paddleboarding, kayaking, and camping during their surface intervals. The gorgeous location and variety of activities makes Ginnie Springs one of the top visited freshwater dive sites in Florida.
---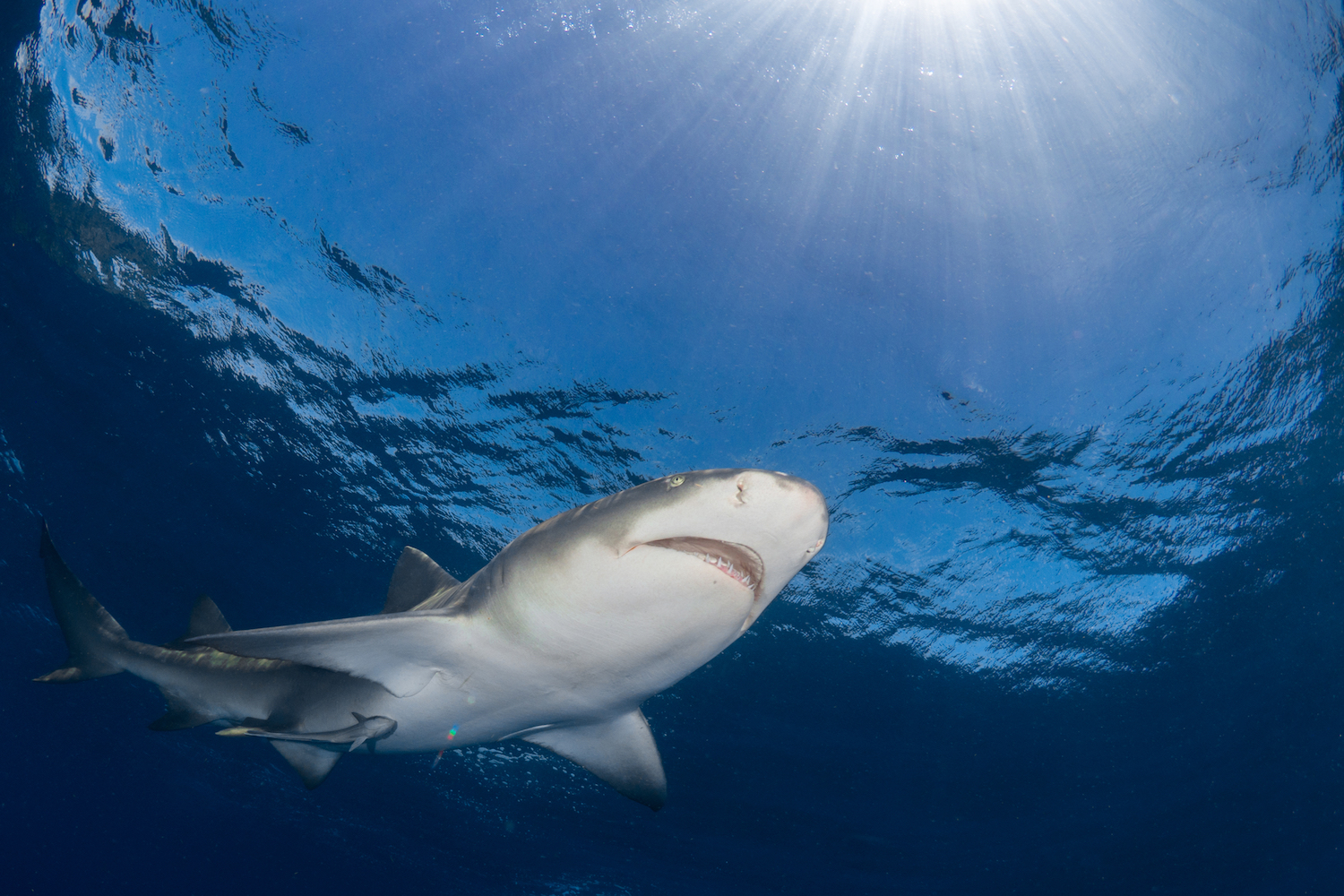 Jupiter Wreck Trek
Much like the Miami Wreck Trek, off the coast of Jupiter, Florida, there exists a trail of shipwrecks, and you can drift dive three of them on the same tank if you're quick. The dive plan is often laid out so that divers can spend about ten minutes on each of the wrecks, known as Zion Train, Miss Jenny, and Esso Bonaire. All three of the wrecks lie in 90ft (27m) of water, and you can expect to see lemon sharks and goliath grouper in their respective season. And, if you're lucky, you might also spot hammerhead sharks, bull sharks, spotted eagle rays and other pelagics around these wrecks.
---
Cayman Salvager
One of the best dive sites near Key West, the Cayman Salvager is an artificial reef at approximately 90ft (27m). Two factors make this dive site truly exceptional. First, this is one of the best dives in the area for spotting goliath groupers, a diver favorite in Florida. Second, this dive site almost always boasts fantastic visibility. However, it's important to note, the wreck's position means it's often subject to currents, which combined with its depth, reserves this dive site for experienced Advanced Open Water Divers only.
---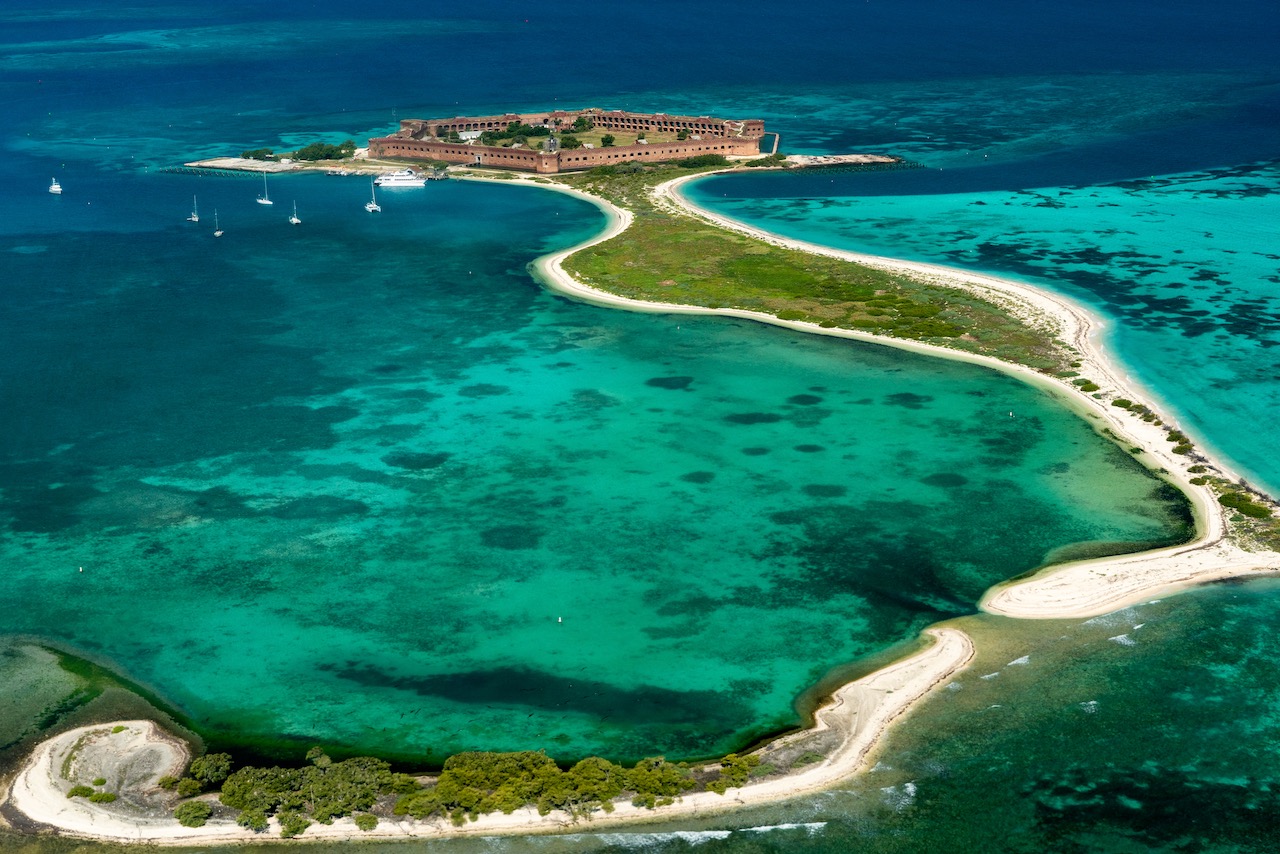 Dry Tortugas National Park
Located 70 miles (113km) west of the Florida Keys, this national park is home to the lonely Fort Jefferson. However, what lies beneath the surface is by far the most exciting part of Dry Tortugas. With 67,000 acres (271 square km) of coral reefs and seagrass, the park thrives with colorful tropical fish, crustaceans and mollusks.
Underwater photographers will want to head to the inner reef (max depth 30 feet/9m) for the excellent natural light, while the outer reefs (35 to 45 feet/11 to 14m deep) will astound divers with their vitality and diversity. Both areas are home to sea turtles, nurse sharks, goliath grouper, lobsters, dolphins and eels. And about 10 endangered marine species are resident in the area. Plus, more than 250 wrecks welcome divers to explore their history. The Windjammer is the best wreck site for recreational divers, while tec divers can explore the Araby Maid and the M/S Rhein Hamburg.
---
Hammerhead Reef
The best drift dive and possibly the best dive site in the Miami area, Hammerhead Reef is two miles of pure underwater bliss. With depths between 60 and 90 feet (18 and 27m), the dive site boasts a mix of huge ledges and crannies where all sorts of small creatures can hide. Dives might spot sharks, lobsters, turtles and southern stingrays in the area. This is a great opportunity for visitors to the Miami area to get underwater during their trip.
---
What are the Best Dive Sites in Florida for Beginners?
Florida offers a huge diversity of dive sites with something for every type of diver, from those just starting out or ReActivating in the water to experienced and tec divers alike. From the list above, some of the best dive sites in Florida for beginners are:
Molasses Reef
Hog Heaven
Blue Heron Bridge
Christ of the Abyss
1000 Mermaids
---
Ready to begin planning your scuba trip to Florida? The good news is that you can book your dives directly online through PADI. Browse information and trips you can book online at PADI Travel or contact a PADI Dive Shop to start your next adventure.
---