Gaining your PADI certification cards is rewarding. You unlock more and more of the underwater world each time you complete another one of PADI's courses and specialities. In 2023, the PADI certification card have expanded to include breathtaking underwater images from award-winning photographers with important messages to share with the world. Each chosen to inspire, motivate, and represent you; the PADI members.
Explore our 2023 PADI certification cards below, and decide which one is you!
---
Sea Turtle Sunset by Aleksandr Jeldosev (eCard Only)
Curious. Bright Eyed. Innocent. The Sea Turtle.
Sea turtles are gentle, docile reptiles. The seven species are found across the entire globe, from hawksbill sea turtles in the Red Sea to green turtles in the Pacific. Marine turtles are highly migratory creatures, with females coming ashore to lay their eggs. Unfortunately, these gentle beings suffer from human activity in search of their meat, shells, eggs, and habitats.
On the "southern side of Heron Island during the hatchling season in 2021", Estonian underwater photographer, Aleksandr Jeldosev captured this juvenile sea turtle. He described it as a "magical time of year here, when every night is full of new life. The photo is unique in a sense that it's pretty difficult to catch focus on these incredibly fast moving turtles as well as to get some beautiful sunset light". He also shared that as underwater enthusiasts, "we need to appreciate the significance of the ocean more," and that, "we can't ignore how essential it is for a sustainable future."
You can remind yourself of the beauty and importance of sea turtles every day by collecting the Sea Turtle Sunset certification card available in eCard format only.
You might like:
---
Whale Shark Entourage by Alex Kydd (eCard & Physical Format)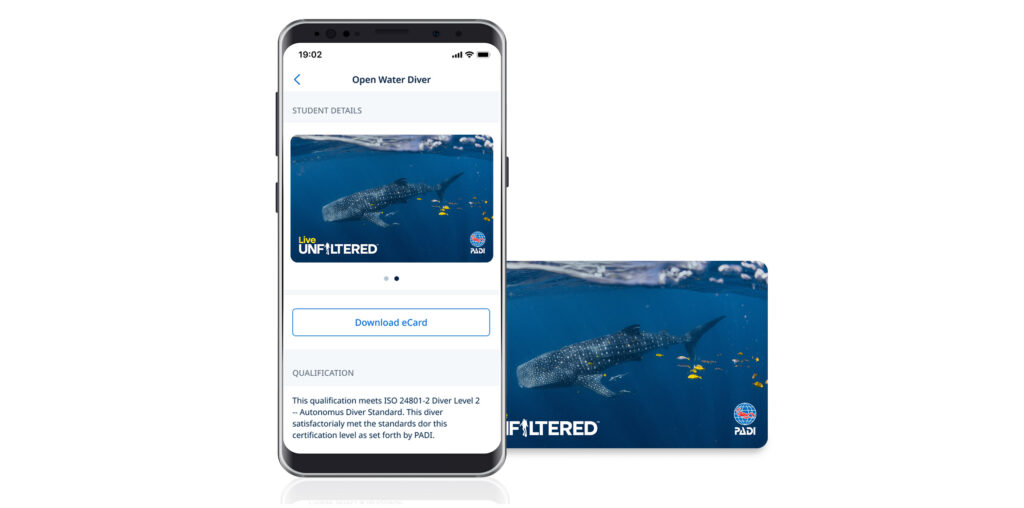 Compelling. Thoughtful. Grand. The Whale Shark.
Whale sharks are a bucket list encounter for many divers and ocean enthusiasts alike, with their striking appearance and compelling gentleness towards humans. Whale sharks use their gills to filter up to 6,000 litres of water an hour for plankton, small fish, and shrimps! They also migrate long distances, often based on food supply.
Alex Kydd , born in Melbourne, Australia, is a Marine Biology graduate turned photographer specializing in underwater and natural environments. This particular shot was done at one of Alex's favorite dive areas, Ningaloo Reef in Australia. Alex shared that, "it is one of [his] favorite 'split shot' images and the whale shark is accompanied by an entourage of juvenile golden trevally". His message for the community is that, "the more us divers that document the underwater world, by photo or video, the more the rest of the world can appreciate its beauty and advocate for its protection".
In purchasing the whale shark design, a USD $10 donation will go to the PADI AWARE Foundation.
Check out:
---
Great Hammerhead Shark PADI AWARE Foundation™ Card by Jay Clue (eCard & Physical Format)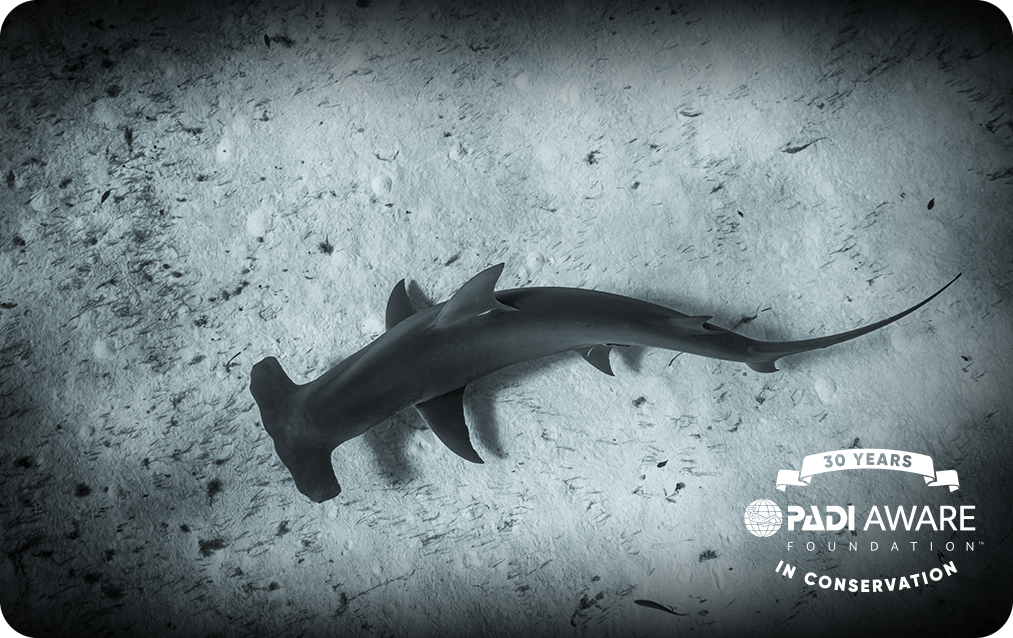 Energetic. Sharp-Witted. Distinctive. The Great Hammerhead Shark.
From Baja California, Mexico, photographer, cinematographer, and storyteller, Jay Clue, has shot the 30th anniversary PADI AWARE Foundation Hammerhead Shark Certification Card design. Although it may not seem functional, the hammer-like shape of this species' head and eye placement allows them to be extremely sharp-witted, scanning large areas of ocean at one time. Special sensors are also located on their heads to detect prey!
"The photo is of Gaia, one of the most famous Great Hammerheads that visit Bimini every winter," Jay explains. "Shark Lab has been studying Gaia's visits for 10 years now. She's kind of a local celebrity and has become a bit of a special symbol in my eyes over the years. For one, she's massive at roughly 4 meters (13 feet) long, making her easily distinguishable from the other sharks
Jay wants to share with the community that we all should, "Work to inspire others… Take the time to help them learn and understand things. Humans tend to only want to protect things they love, and find it hard to get behind protecting something they don't quite understand. So show them why you love the ocean. Let them see it through your eyes. You never know when you will be that spark for someone else".
The Great Hammerhead design includes a USD $10 donation to the PADI AWARE Foundation to support ocean conservation.
---
Great White Shark by Mike Coots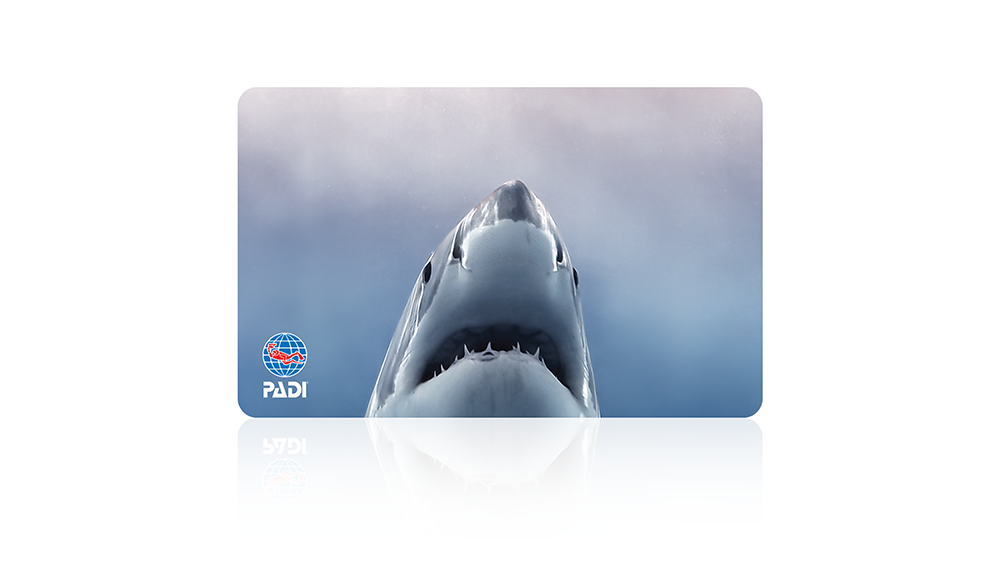 Bold. Steadfast. Fearless. The Great White Shark.
Mike Coots is an award-winning photographer and avid diver. Plus, a shark bite survivor! This photo was taken on his first dive with sharks just off of Guadalupe Island in Mexico.
"It was my first time with something so big underwater [and] we had great late afternoon light, which was a bonus," Mike said. "Seeing the beauty of these creatures firsthand will forever transform fear to healthy respect."
If you order a replacement card and choose the great white shark image, we'll donate USD $10 to Mike's favorite nonprofit organization; Sustainable Coastlines Hawaii. This organization works to reduce plastic pollution and protect marine life, including sharks.
Check out:
---
Flight of the Whales by PADI AWARE Foundation™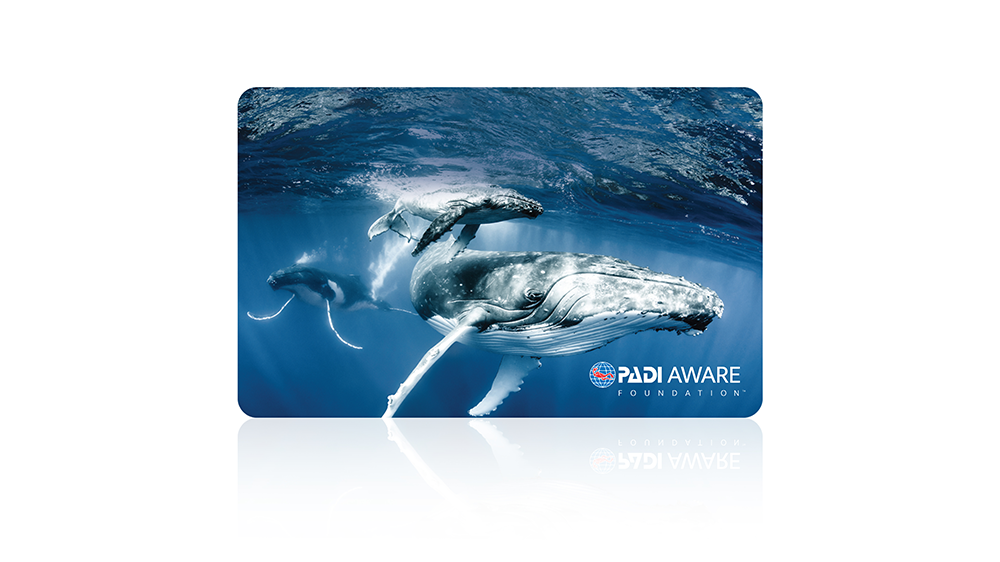 Gentle. Inquisitive. Loyal. The Humpback Whale.
Humpback whales are gentle, curious beings who can live for up to 80 or 90 years. Their lives involve long migrations with their pods and their young. Due to commercial whaling, this species almost went extinct before 1966, but luckily have recovered well thanks to global conservation movements. But it takes work to stay this way and to let these beings live peacefully in their homes.
Photographer Shawn Heinrichs remembers, "In that moment when I looked into the eyes of this mother and calf humpback whale, I felt both a deep connection, but also a somber reflection that we had pushed their species to the brink through commercial whaling. Perhaps more than anything, it reminded me, that we can and must show up now in unwavering defense of not only their species, but all the animals and habitats that make up our oceans".
When purchasing one of these PADI certification cards, you can include a tax-deductable USD $10 donation to the PADI AWARE Foundation™, a nonprofit that pushes for global ocean conservation and advocates for marine animal protection. We have a mission to involve locals around the world in ocean conservation and create a balance between humanity and the ocean for a better present, and a better future.
---
So, Which Design are You?
You may be bold and fearless, passionate about extreme cold diving conditions or tech-level depths and relate to the qualities of Great White Shark. Or, you may be more gentle and inquisitive, just like Humpback Whales. Whatever your qualities are, we can all relate to these species of marine life. These are sentient, crucial beings that, as divers, we are lucky enough to meet in their world. It's our mission to protect their environments and encourage others to do so for their future.
---
If you haven't started your PADI certifications yet, or are ready for your next course, explore below!
---
Pssst….Members of PADI Club receive 25% off a new, physical PADI certification card or replacement card once a year. Plus, members can take advantage of a plethora of other perks, including PADI Gear discounts, 20% off eLearning and a Free DAN Prepared Diver course.