Locate a PADI Dive Shop in Zanzibar
Written by Tammy Holter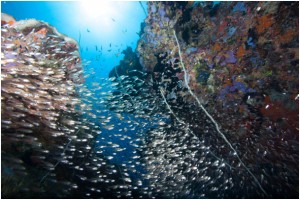 A tropical island paradise, Zanzibar Archipelago consists of numerous small islands and two larger ones, Unguja (commonly referred to as Zanzibar) and Pemba.  Located 35 kilometers off the coast of mainland Tanzania, Zanzibar is only six degrees south of the Equator.  Zanzibar has something for everyone including a turbulent and fascinating history, exotic spices, stunning beaches, unique wildlife, turquoise waters and spectacular coral reefs.  In the words of David Livingstone (1866), "This is the finest place I have known in all of Africa… an illusive place where nothing is as it seems.  I am mesmerized."
The Indian Ocean surrounding Zanzibar is just that – truly mesmerizing!  Fringing coral reefs and several patch reefs provide a rich habitat for an amazing diversity of marine life.  Divers are enchanted with more than 450 species of fish and other marine life including brightly coloured reef fish, octopus, stingrays, mantis shrimps, moray eels, ribbon eels and many, many more!
An underwater photographer's paradise, the macro life is astonishing and one can expect to spot a different nudibranch on every dive.  Plenty of different shrimps, seahorses and ghost pipefish are also sure to impress the experienced diver.  Our bizarre sightings include the Mauritius and weedy scorpion fish (Rhinopias frondosa), frogfish, Indian Ocean Walkman, sea moths and leaf fish (also known as paper fish) in a wide variety of colours.
Scuba diving around the Zanzibar Archipelago caters to divers of all experience levels, from shallow coral gardens, to deep walls and even a couple wrecks for the advanced divers.  Most of the diving is from boats, and with up to 5m of tidal water movement, a majority of the diving is drift diving.  Some dive sites are susceptible to strong currents.
Sea Turtles also nest around Zanzibar and are commonly spotted by divers on many of the dive sites, mostly Green turtles and also Hawksbill.  Several species of dolphins can be seen traveling around the islands and the curious ones occasionally come to investigate the divers.  Humpback whales migrate to Zanzibar between July and November and can be seen, and more commonly heard by the divers.  Although sightings are rare, the fortunate diver may even get to see a whale shark, manta ray or other reef sharks.
Zanzibar is an amazing destination for night diving allowing divers to see the unusual things that are often hidden during the day such as Spanish dancers, squids, free-swimming moray eels, spiny lobsters, and many different crustaceans.  Several locations offer night diving from the shore or by boat.
An ideal place to learn to dive or complete advanced diving qualifications, many dive centres around the islands offer PADI e-Learning courses which allow the divers to complete the academic portions of their course at home so they can make the most of their holiday and get straight into the fun part – the diving!
Zanzibar offers year-round diving, however the best diving conditions to dive the North of Unguja island often contrast the peak holiday seasons – which is great for divers who want to avoid the crowds!  From mid-February to mid-May or from mid-October to mid-December is the best time for great visibility combined with calm, flat sea conditions.  The trade winds blow from the north for approximately six weeks anytime between mid December and mid February and come up from the south for the remainder of the year.  The North winds do bring clear water from the Pemba channel, however the boat rides can be a bit more adventurous!  The average visibility year round is from 12-18m and can exceed 30m.  Water temperatures range from 24-25C in July/August to 28-29C in January/February.
Whatever your budget and required comforts – Zanzibar is an idyllic diving destination.  For more information or to book; Locate a PADI Dive Shop in Zanzibar