Why should we choose eco-friendly gifts? You don't have to be a scuba diver to understand how our individual decisions can help (or harm) our ocean planet.
According to a recent survey, nearly half of us (47%) have stopped using a product because it conflicted with our values. For example, I now buy locally-made, packaging-free bar soap instead of disposable bottles of liquid hand soap.
So pause before you click BUY on that trending kitchen gadget or toy, and consider an eco-friendly alternative from the list below. Not only are these products gently on the Earth, they also give back to ocean conservation in some way. Give a gift both you and your gift recipient will feel good about.
---
---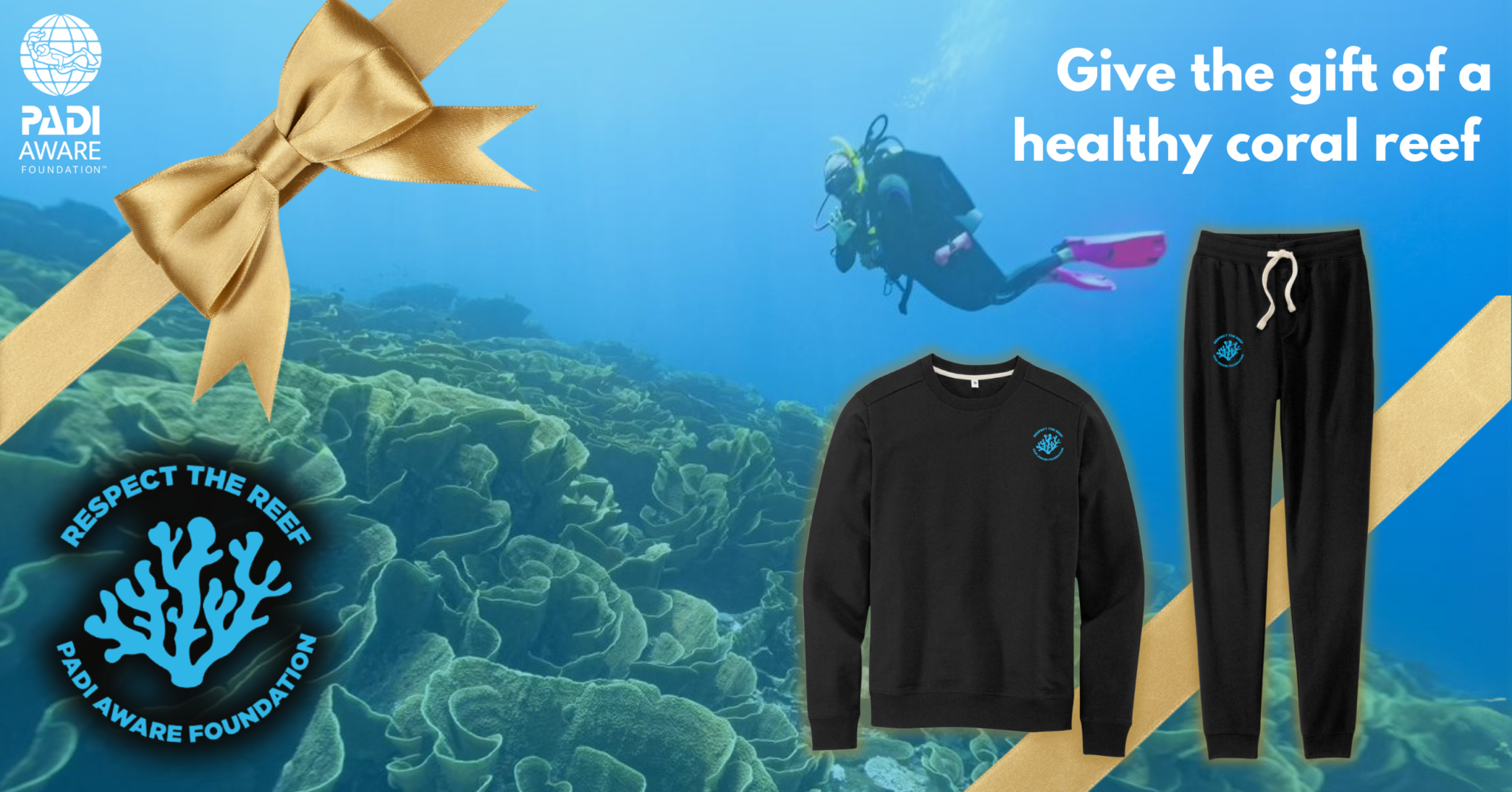 Make a Donation to PADI AWARE
Whether you're searching for eco-friendly gifts for the holidays or looking for the perfect birthday present for the ocean lover in your life, you can make an investment in healthier oceans by purchasing any item on this page. Any Amazon Associates revenue earned from products featured in this will be donated to the PADI AWARE Foundation.
But here is one additional way to support their ocean conservation efforts:
This holiday season, give the gift of a healthy coral reef and help the PADI AWARE Foundation raise USD $100,000 to fund their coral reef rescue program. Coral reefs support at least 25% of marine species and are vital to life on Earth. However, current projections demonstrate the risk of 90% of coral disappearing by 2050.
To thank you for your generosity, PADI AWARE have Limited Edition Respect the Reef gear available for donations over USD $80.
Make a donation and get Respect the Reef gear in the name of someone who loves the reef as much as you do, or when friends and family ask you for gift ideas, ask them to donate what they would have spent to PADI AWARE.
---
Symbolically Adopt a Marine Animal
Support conservation efforts for a specific animal through a symbolic adoption. You can choose from more than two dozen marine animals via REEF, Oceana, Coral Vita, and Coral Gardeners.
When you 'adopt' an animal from Oceana, you get a warm and fuzzy feeling from protecting an underwater creature and a plushie to send to your gift recipient.
Oceana offers adoption packages ranging from USD $35 to $75, and you can choose from the critters below:
Blue whale
Clownfish
Dolphin
Harbor seal
Harp seal
Manatee
Octopus
Orca
Penguin
Puffin
Polar Bear
Ray
Sea otter
Sea turtle
Shark
Coral adoptions don't come with cuddly and soft plushie versions. However, they give a look into the restoration work done with your adopted animals.
Adopting a coral from Coral Vita or Coral Gardeners supports active coral restoration initiatives. Additionally, your gift recipient will receive updates so they can witness their coral adoptee become a thriving coral in the wild. You can adopt coral fragments starting at approximately USD $33. A larger and faster developing 'coral cookie' is USD $350.
---
Fun & Inexpensive Gifts for Marine Life Lovers
If marine animal adoption isn't in your budget, you can still give memorable eco-friendly gifts that support marine life.
Fin Pin has more than a dozen items ranging from USD $5 to USD $35 that include a donation to a marine life conservation nonprofit. Most items are $10 US or less. For example, buy a Back Off, Mate sea turtle pin, and consequently 20% of the proceeds support the In Water Research Group's coastal habitat protection efforts.
View all Fin Pin products that benefit marine life. In addition to the critters listed above, there are glow-in-the-dark coral pins and even a Blue-Footed Booby breast cancer awareness pin.
---
Sustainable Gifts Made from Recycled Plastic
You've likely read that only 9% of plastic gets recycled. This is due in part to the fact that some plastics can't be recycled, but also because it's not profitable to do so. By purchasing products made from recycled plastic, you minimize waste and give financial support to an industry dedicated to sustainability.
For example, here are a few up-cycled items that make great eco-friendly gifts:

What's more is that PADI Club members get 20% off select PADI Gear items. Sign up today to save big on your gifting order!
---
Eco-Friendly Gifts They'll Use Every Day
A recent survey found 88% of people want items to help minimize their environmental impact. So don't hesitate to give a gift that will help friends and family live a more sustainable life with one of these eco-friendly gifts:
Browse for more disposable plastic alternative products from PADI Gear™.
---
Gifts To Keep Pollution Out of the Ocean
Our decisions both at home and in the sea can impact the ocean. These out-of-the-box presents are thoughtful gifts for the environmentally-conscious and great tools to minimize plastic and chemical pollution.
For the avid diver or surfer, give a Trshbg. It's a debris collection bag you can wear made from upcycled materials and designed to be extremely comfortable and streamlined.
Beach and ocean lovers will also appreciate Reef Safe Sunscreen. The products are made of natural and biodegradable ingredients, so they won't hurt or suffocate coral reefs and marine animals like chemical sunscreens.
---
Voluntourism and Sustainable Travel
The most cherished gifts can't be wrapped in a box.
According to a recent report by Forbes, people who chose experiences over material things felt happier. Additionally, recent research done by the Journal of Happiness Studies found that people who volunteer experience a boost in their mental health.
Certainly, a trip to an eco-friendly resort or a voluntourism vacation may be the greatest gift of all.
A popular ecotourism activity for divers is coral reef restoration. Here are some popular scuba diving destinations with coral reef restoration opportunities:
If your gift recipient isn't a diver yet, contact their local PADI Dive Shop and ask about a gift certificate for a Discover Scuba Diving® Experience, or give the gift of an Open Water Diver certification.
Both divers and non-divers alike can also receive the PADI AWARE Specialist certification and learn how to make a positive difference every time they dive or travel.
---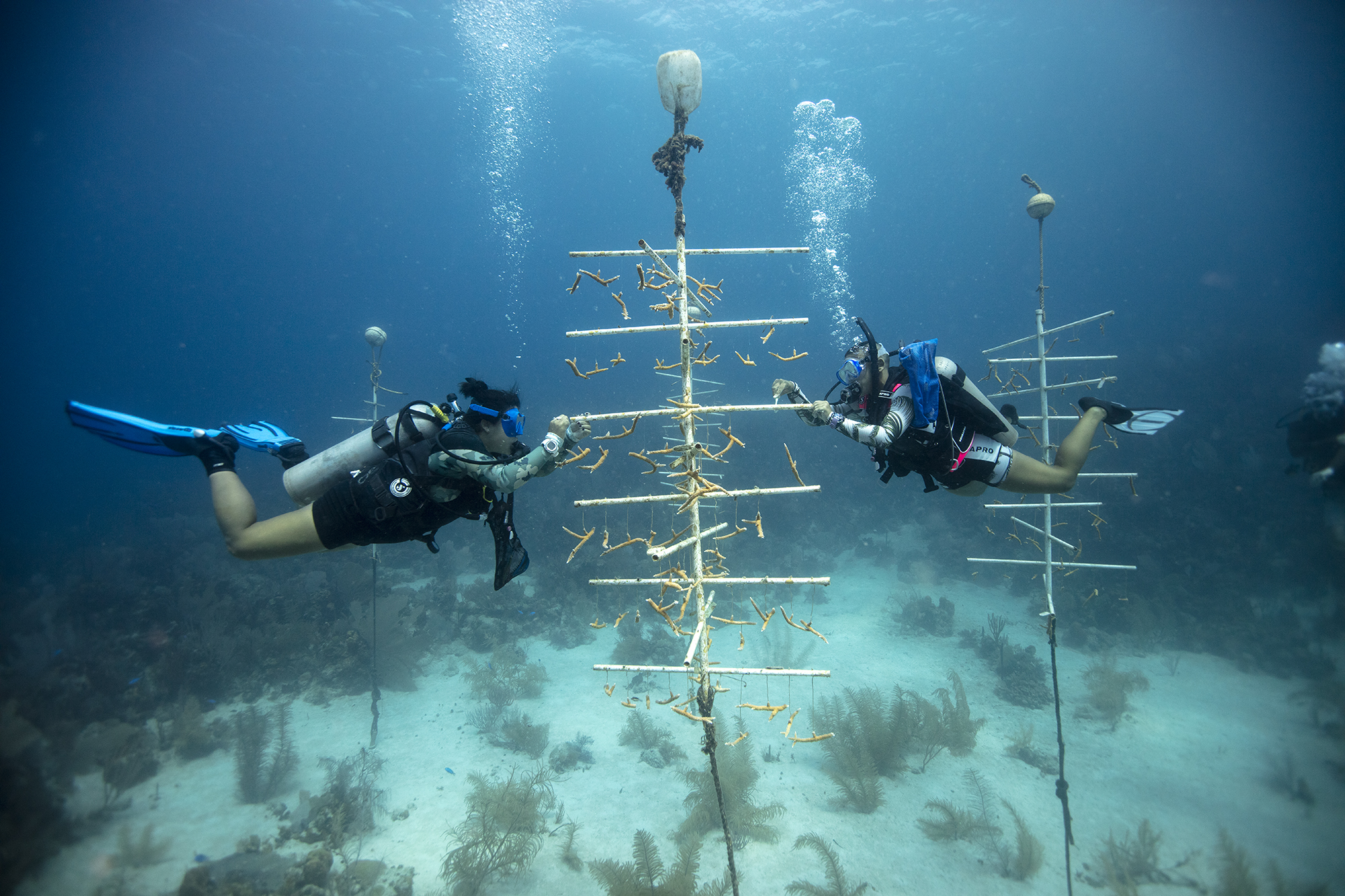 Please note that this article contains affiliate links, and we may earn a small commission if you purchase an item. Any commissioned earned will be donated directly to the PADI AWARE Foundation.
---
Further Reading