We caught up with PADI Torchbearer Gabriel Taliaferrow (below), a Graduate of New York Harbor School and New York Oyster Conservationist with the Billion Oyster Project.
Interest piqued? Keep reading for an inside look at New York's most promising youth-led marine ecosystem restoration project, and why we should all take the time to slow down and appreciate the nature in our local neighborhood.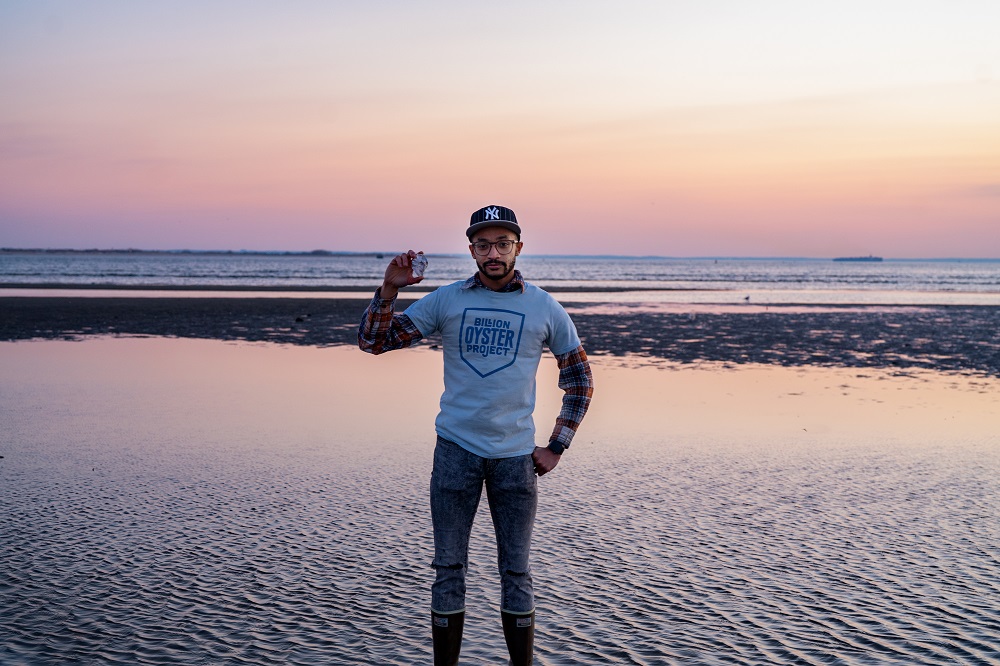 1.       When did you begin diving/what cert level are you/where are you based?
Born and raised in New York City, scuba diving had never been a thought that crossed my mind. That is until  I transferred into the New York Harbor School my sophomore year after learning about the specialized Career Technical Education (CTE) programs offered. At the age of 15, I challenged myself to take a swim test that allowed me to start my adventure as a scuba diver. Now, I am a Rescue Diver with about 150 dives under my belt.
2.       What's your favorite local dive site and what sort of marine life do you see there?
Starting my diving in NYC, clear blue water is a luxury experience! However, I will never be able to forget my origins throughout Jamaica Bay. Having visibility up to the length of your arm always made things terrifically exciting. The dark murky waters at first inflicted an overwhelming feeling of fear as visibility tends to diminish to the sun's accordance. Establishing a neutral sense of buoyancy was absolutely crucial at certain depths with 'black mayonnaise' layering the benthic zone. One accidental sweep will completely cover you in a cloud of darkness that you will have to sit in until it calmly settles back down.
As a teenager, I was faced with challenge after challenge, but what soon made it easier was the discovery of life. Somehow there was a mysterious aquatic community of New Yorkers surviving despite being born in such treacherous conditions. This realization widened my perspective allowing me to see beauty in such oddities like that of New York City's diverse ecosystem.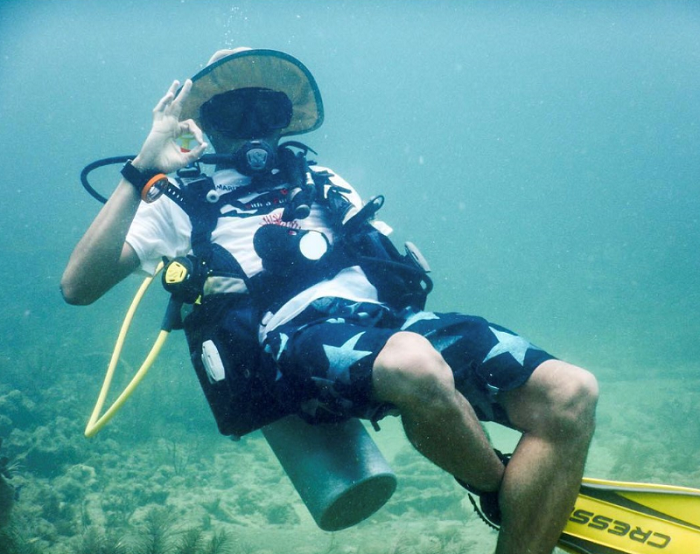 3.       Why is saving the ocean/marine conservation important to you?
As a child, the idea of space and the ever expanding universe always accompanied my thoughts endlessly. Being able to simulate a weightless experience in what seems to be another world became reality. Floating amongst these alien-like creatures throughout our ocean feels sacred. Whether it be land or sea the organisms inhabiting both go through a cycle of life that gives back to our planet.
Unfortunately, people are less aware of the creatures dwelling below us and that lack of knowledge, unknowingly, causes carelessness and brings harm. The importance of conserving marine life in my opinion is wanting to share the same mind-blowing experience that made me realize how little I am in this world.
4.       How has scuba diving played a role in developing your passion for conservation?
Scuba diving developed my passion for conservation almost immediately. Especially after diving outside of New York City (lol). We think of NYC as one of the most prosperous cities in the world, however, I find it quite ironic that we live in such a mess. In a city full of investors, I believe the most important investment that we should focus on is the quality of our surrounding environment.
5.       When and why did you get involved with the NYHS/BOP?
I guess I have always been involved with the Billion Oyster Project being a student from the New York Harbor School. My Career Technical Education (CTE) of choice was scuba diving and a diver BOP would need us to complete a variety of tasks. Surveying artificial reefs,  planting oyster cages, and searching for life of a native oyster were some of the reasons I woke up early to go to school.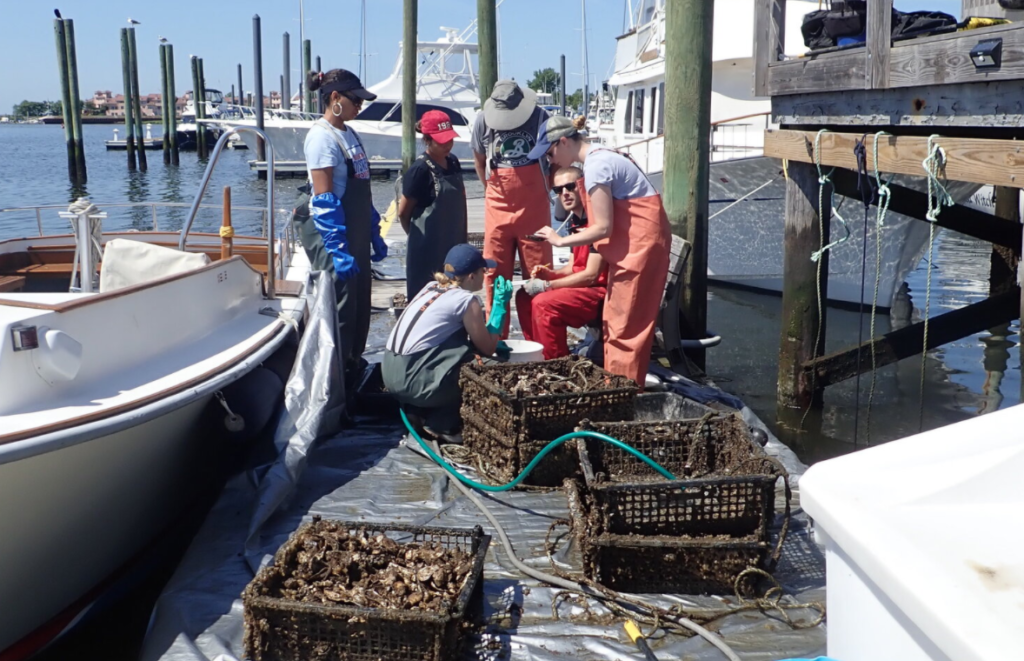 6.       Can you explain a bit more about NYHS/BOP and how they support conservation and a more diverse diving community?
The Billion Oyster Project supports conservation with the goal of restoring New York Harbor's oyster reefs. One adult oyster can filter up to 50 gallons of water a day, while one billion oysters can filter the entire volume of the New York Harbor in one day! The goal of the Billion Oyster Project is to use the oyster to restore the natural ecosystem that we once had surrounding our city.
The New York Harbor School educates the generations ahead by teaching them about the importance of the marine ecosystem in relation to the world. What makes it more impactful is giving each student the ability to learn a distinctive skill that allows them to contribute to conservation.
7.       What are some of the community/conservation achievements you are most proud of? (personal or related to BOP/NYHS)
Being a part of the scuba program would always be one of my greatest achievements. From not barely knowing how to stay afloat to being able to swim a mile or travel to 100ft under water will always boggle my mind. Planting an oyster cage off the shore of Governors Island for me was like planting a part of myself that I can watch grow into a home for the neighbors down below.
8.       What gives you hope for the future health of your local marine ecosystems?
What gives me hope for the future of my local marine ecosystem is the constant rise of oysters being planted around the harbor. Not only is BOP planting oysters, but other organizations and schools are educating themselves and learning how to plant their own oysters as well. Every little addition is making a difference, to the point where a whale was spotted visiting the Statue of Liberty this past December!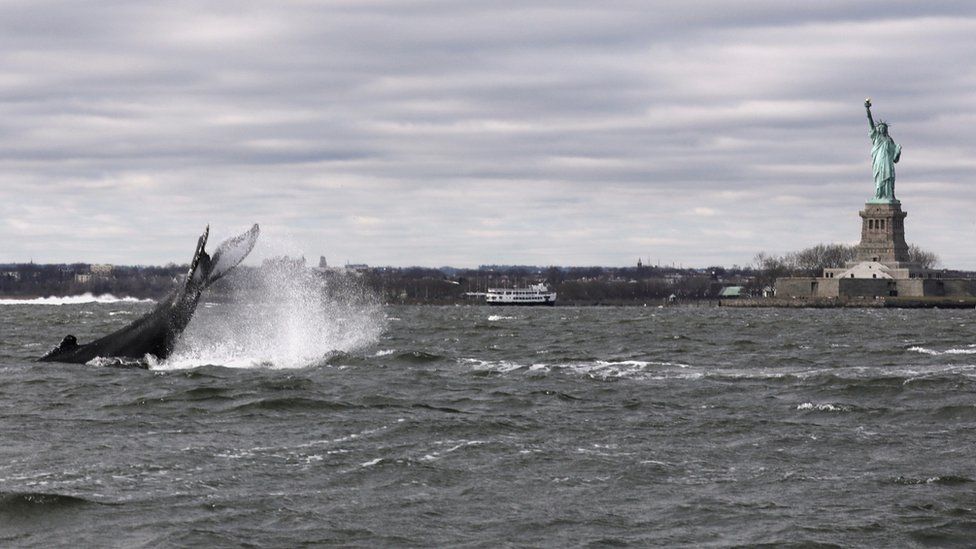 9.       If you could ask the Torchbearer Community to take one action, what would it be?
As a New Yorker, I am always in the mindset of walking fast and getting to my destination ASAP. Sometimes it's hard to slow down and truly appreciate the beauty that surrounds you. And it's when you do slow down that you realize there are so many different things that you've never noticed. The Torchbearer Community can take action by finding a way to connect with the following generations to continue to educate them about maritime conservation. Whether it be through social media, fun informational youtube videos, or interactive activities. Teaching people earlier on how to appreciate the steps between your destination will lessen the unknowing destruction of your path in between.
10.   Anything else you would like to add/think I might have missed?
I am a photographer! And as a photographer I love to be able to bring my camera on dives throughout different ecosystems throughout the world in order to take part in showing the beauty of an unknown world to many.
To hear more from Gabriel, check out our Torchbearer Q&A with him all about New York Harbor School and the Billion Oyster Project.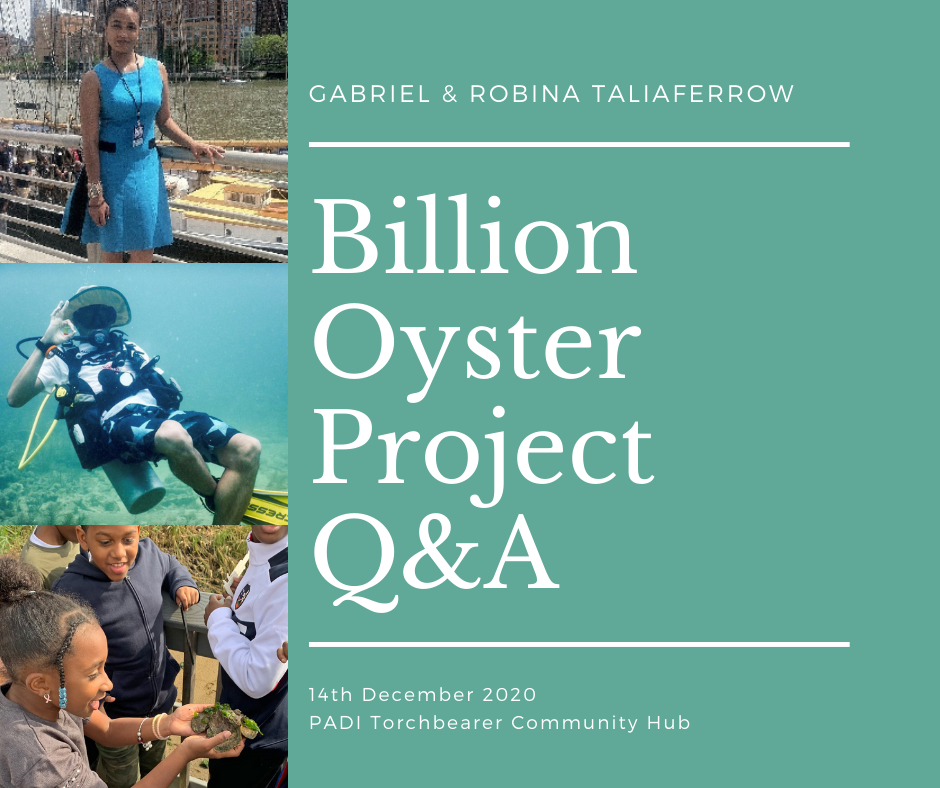 Join the Torchbearer Community turning passion into purpose at padi.com/onebillion