Perhaps it was serendipity that an all-female Divemaster course concluded during the week of the 2022 PADI Women's Dive Day. This annual event celebrates the growing female diving community and encourages divers of all genders, races, and ethnicities to explore the ocean. While the Pink Pirates likely didn't plan their graduation to coincide with Women's Dive Day, this group of new female PADI Divemasters couldn't have timed the completion of their first professional-level course more perfectly.
Did you know that only about 20% of global dive instructors at all levels identify as female? While the industry has made giant strides to encourage more women to become recreational divers, this hasn't yet translated to equality in the professional ranks. Of course, this presents a great opportunity to increase the number of female PADI Professionals and meet the demand for diverse diving professionals.
Scuba Ventures, a Louisiana-based dive shop, organized this all-female Divemaster class. The women completed part of their training in Lake Ouachita, Arkansas and finished with a dive trip to Cozumel, Mexico. The students in the class varied in age from 18 to 49 years old, and their backgrounds were even more diverse, ranging from a college student and a medical professional to a financial professional and an Air Force veteran! We talked to five Pink Pirates to learn more about their motivations for and experience in becoming PADI Divemasters. Keep reading to learn more about Randee, Cheyenne, Sarah, Megan, and Sue.
---
Introducing the Pink Pirates
Randee is from Shreveport, Louisiana. She is 38 years old and has been an emergency veterinarian for over a decade.
Cheyenne is 18 years old, from Benton, Louisiana and is currently a freshman at Mississippi State University.
Sarah is 39 years old and is a Clinical Trials Manager in oncology trials. Her current home base is Bossier City, Louisiana.
Megan was born and raised in Shreveport, Louisiana but currently lives in Bossier City, Louisiana. She is 35 years old, and is a Senior Financial Analyst in the Decision Support and Performance Improvement for a hospital.
Sue is from Hosston, Louisiana. She is 49 years old and is retired from the Air Force.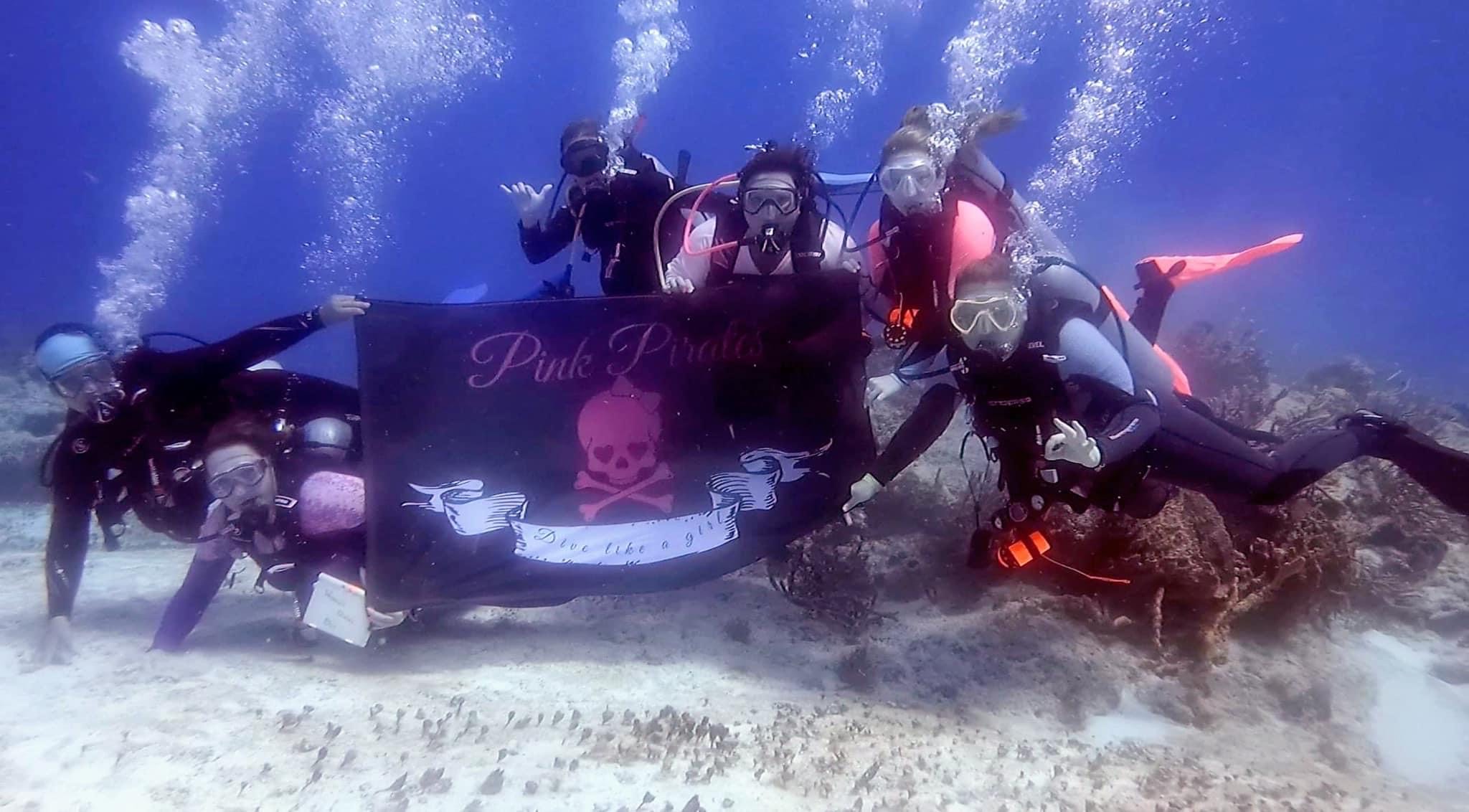 What motivated you to become a PADI Divemaster?
Randee: "I love helping others discover what makes diving so special and fun. Becoming a PADI Divemaster has allowed me to assist other divers or students to safely have an experience that grows their obsession with this sport."
Cheyenne: "I realized I wanted to become a divemaster around a year and a half ago. My family and I were on a trip in the Red Sea and everything clicked for me while underwater. I talked to some of the other PADI Divemasters on the boat we were staying on and I realized I wanted to do this for a living!"
Sarah: "Scuba was always a bucket list item and as a former swimmer I thought I would like it. The very first day I put the regulator in my mouth, I was hooked. As I have traveled to expand my dive education, I have noticed women are not often part of dive teams. Or, if with other guys, I am usually asked if I want to sit out. It's assumed as a female I don't dive when oftentimes I am the diver and others are not. I wanted to become a divemaster to help allow other women to see the opportunity that diving isn't just for one group of people. There is space for us all in the water, and it's the best experience of a lifetime."
Megan: "Scuba Ventures had a dive trip to Egypt to dive the Red Sea in June 2021. Kenny (instructor) was my dive buddy, and I realized how good and comfortable the Divemasters from the shop were. When we got back, Kenny made a post about doing an all-female Divemaster class, and I decided to sign up. I knew this would make me a better diver and more comfortable diving, and two friends from the Egypt trip were doing it as well – Sarah and Cheyenne. Knowing two others doing the PADI Divemaster course made me more confident because we would be doing this together."
Sue: "I was motivated to become a PADI Divemaster to pursue part-time work doing what I love! I also enjoy helping others learn to dive and helping them feel more comfortable when diving. When I first started diving I had a few fears to overcome so I want to use what I learned when overcoming my fears to help others."
---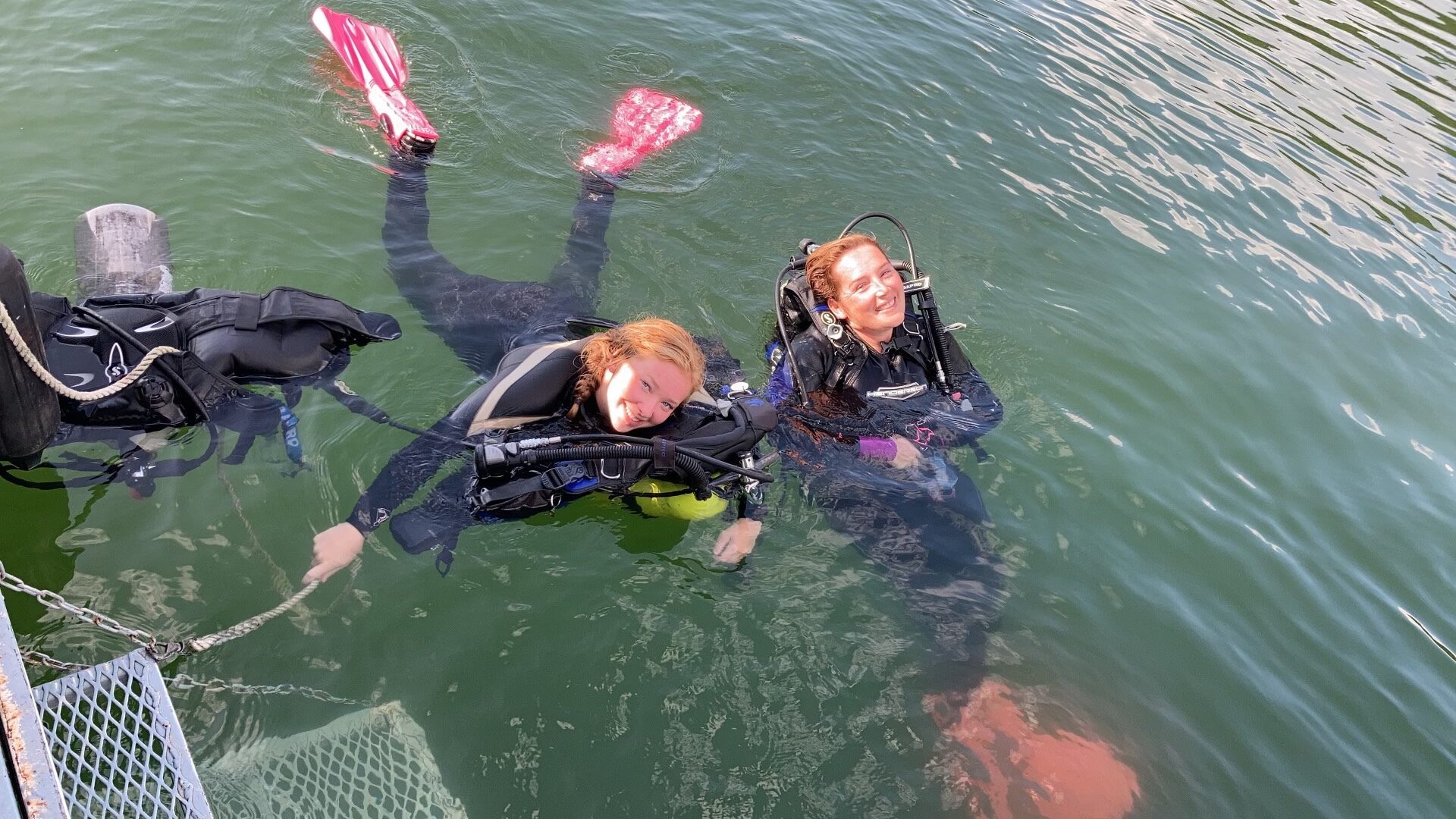 What was your favorite part of the class?
Randee: "During one of the open water portions of the class, a storm quickly built right on top of the lake. We were moored in at one of the areas that we dive at most, which is by a stony dam. The storm was so strong it pushed our boat into the dam and almost made it tip sideways. However, due to the training we received and the vast experience our instructors had, we were able to handle the situation effectively and calmly. I remember being so impressed at how we all worked together to achieve the objective of getting everyone and the boat safely back to the marina."
Cheyenne: "My favorite part of class had to be the gear exchange underwater because that really tested my limits and made me way more comfortable underwater. I am a lot more confident doing anything asked of me now because of that skill!"
Sarah: "One of my favorite aspects of the class was actually working with students in 'Open Water Sessions.' I enjoyed seeing and participating in the inevitable lightbulb moments with the students when skills clicked or they had completed a task or drill they were nervous about."
Megan: "Seeing us all work together to improve our skills and learning from each other. It was also a lot of fun to push Kenny off the dock in Cozumel."
Sue: "My favorite part of the PADI Divemaster course was learning about my own weaknesses and strengths in diving. I learned so much about myself in addition to learning divemaster skills and responsibilities. Whether it's on the dive boat or an underwater emergency, I am ready and capable! Another favorite part was the way that the ladies came together as a group ensuring that we were all successful in the course."
---
Would you recommend becoming a Divemaster?
Randee: "Absolutely! Other than becoming an instructor, there is no better way in increasing your diving confidence, skills, and knowledge. It will help you dive in more places and more challenging conditions safely."
Cheyenne: "I definitely recommend becoming a PADI Divemaster to others. It shows that you know what you're doing and can help others when they are having problems!"
Sarah: "I would absolutely recommend the PADI Divemaster course to others. It has not only helped me become a better diver and hone my skills, but it also incorporated skills such as presentation and communication."
Megan: "Absolutely! The best part of diving is the diversity. There are divers of all ages, sizes, personalities, and backgrounds. It's great to meet other people in the area that you share a common interest in. After becoming friends with the other females in the group, I knew this was a great decision to become a PADI Divemaster with these amazing people. We were all critical in the success of each other."
Sue: "I would recommend the PADI Divemaster course to anyone who wants to perfect their diving skills, learn how to help others dive, and/or wants to pursue a career in diving. It truly is one of the best courses out there!"
---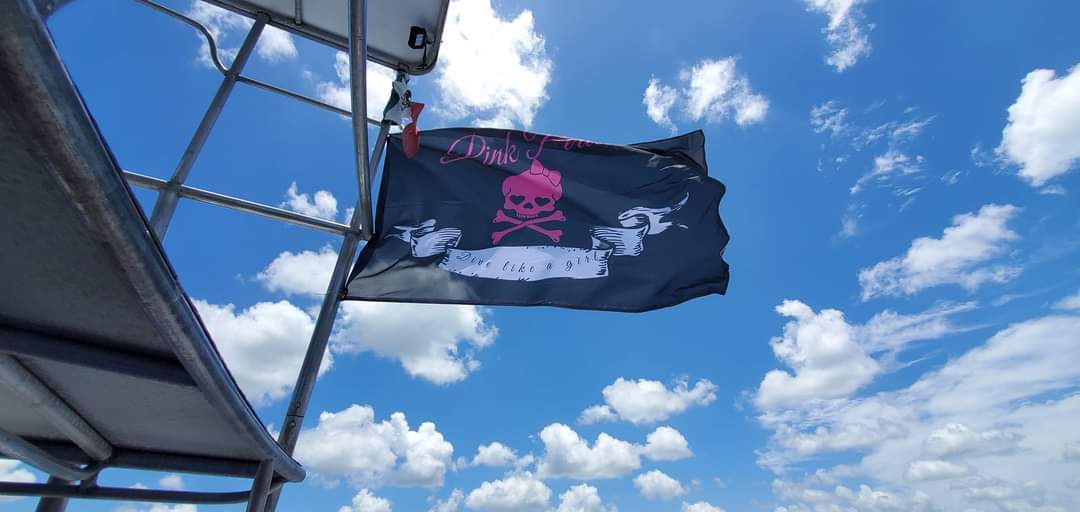 Lastly, what is the origin story of the Pink Pirates?
Sarah: "The Pink Pirates actually originated in a small, all-girls Rescue Class – originally it was just myself, Cheyenne and Randee. One of the other male Divemasters, Luc, said we need a snazzy name since we were special and the first all-girl group to get through. He later walked in with our amazing flag. Once we all signed up for the PADI Divemaster course, we knew the Pink Pirate flag would fly again, and we added to our happy group of pirates."
---
As Sarah said above, "There is space for us all in the water." Regardless of how you identify, you can find a welcoming community of divers!
Curious to learn more about the course? Read about the roles and responsibilities of a PADI Divemaster.
Do you think you have what it takes to become a PADI Divemaster?