"I change lives. I change lives through scuba diving, my jewelry and other things I do," said PADI AmbassaDiver Szilvia Gogh.
And it's true! For the water bug, learning to dive and helping others access the underwater world has allowed Gogh to lead an inspired, intentional and happy life – one that she doesn't take for granted.
"Once you scuba dive, you will never look at the world the same way as you did before," she said. "It's empowering; it gives you a sense of freedom and adventure – that you can do everything you put your mind to – and that translates into life… . It makes you a happier person."
Moreover, she takes her love of diving and the underwater world global, and she's eager to share her message with her PADI family.
---
Love at First Sight
Gogh learned to dive when she was 14 through a sport called "orienteering" in her native Hungary. She describes it as an underwater treasure hunt – with a map and compass to make up for low visibility in murky lakes.
Four years and 500 dives later, her team went to Greece after the Iron Curtain lifted. Here, Gogh got her first taste of the ocean.
"It was love at first sight," she said. "From the very first moment I saw the ocean, I knew I was going to live on an island where there was no winter, where there were palm trees and sunshine all year-round. And, I knew I was going to make a living off scuba diving."
Of course, there were obstacles.
"There were no PADI Course Directors in Hungary," she said. "I just knew that this is what would make me happy – making a living doing something I am passionate about and where I can pass that passion to others."
And so, she did it anyway. She encountered skepticism from her friends and family but remained undeterred. She also overcame language barriers – learning to speak English while finishing her degree and her dive training to become a PADI Instructor. Then, as a PADI Pro, she introduced thousands of new divers to the magic of diving – in Hungary, Malta, the United Kingdom, Thailand and California.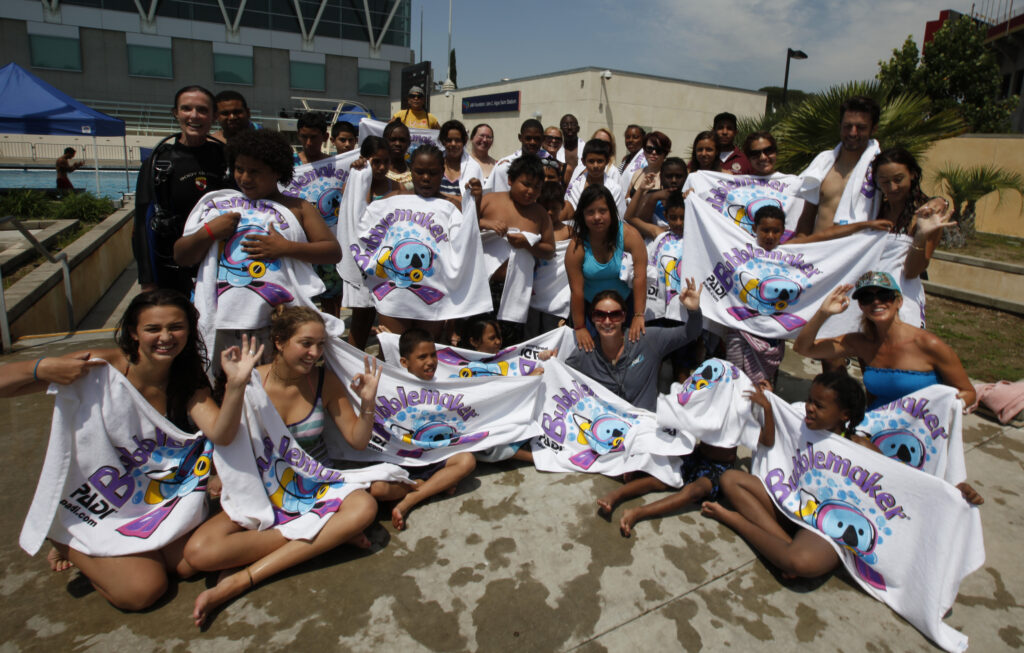 ---
A Lifelong Passion
Eventually, the underwater renaissance woman became PADI's youngest female Course Director in the world. Currently, she uses her skills in Hollywood as an underwater stunt woman and water safety diver for numerous television shows and movies.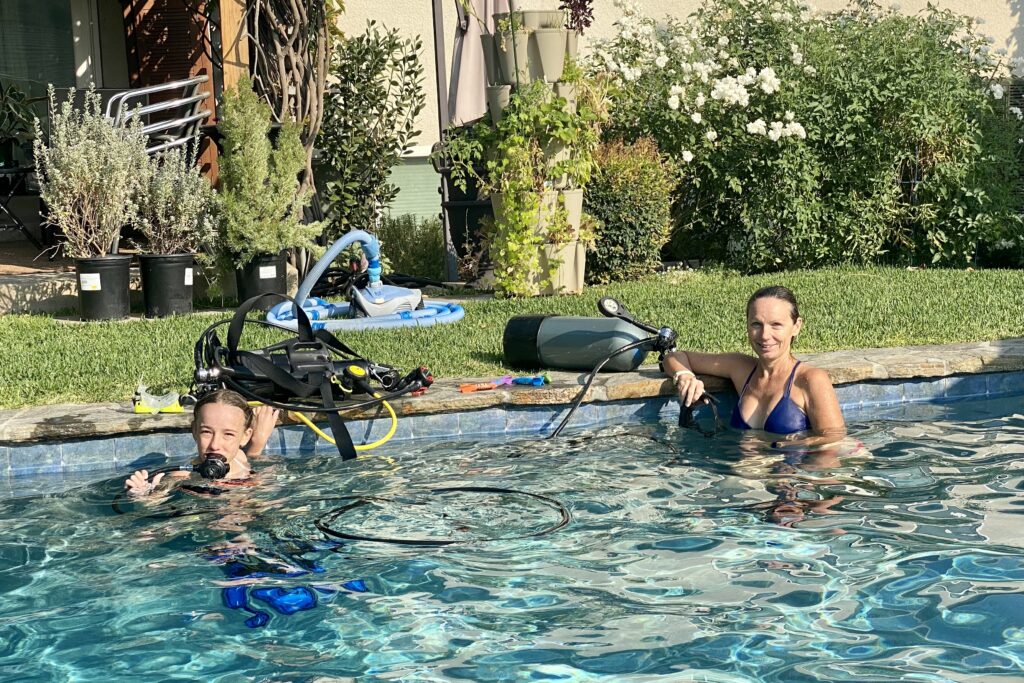 When she's not lighting up the silver screen, Gogh is also a photojournalist, travel agent, oceanic jewelry designer and the founder of her media company, Miss-Scuba.com.
"As a leader in the dive community and an inductee into the Women Divers Hall of Fame, I feel I have a duty to live an exemplary life," she wrote in a blog for her jewelry line, Gogh Jewelry Design.
With over 7,000 dives and a truly diverse set of dive experiences, what an exemplary life it has been!
---
A Focus on What Matters
So, why diving?
"Being underwater is like living in another dimension of my life. Beneath the water is actually the one place where I can switch off my mind and not think," she wrote.
She explained further: "I can really find my mind calming down and being able to be in the present moment only. It is both freedom and meditation for me."
---
Encouraging Others to Live Their Biggest Lives
Becoming a PADI Pro allowed Gogh the opportunity to share this joy with others and to facilitate their transformations, as well.
"Empowerment through teaching people scuba diving and the jewelry I create has always been important for me," she said. "It's all about being confident in your own skin and not yearning to be someone else, live somewhere else or look like somebody famous."
In other words, diving changes lives. It also allows people to live more authentically and more in tune with the ocean. This is the message behind PADI's newest campaign, " Live Unfiltered," and something that Gogh hopes to impart to all her students.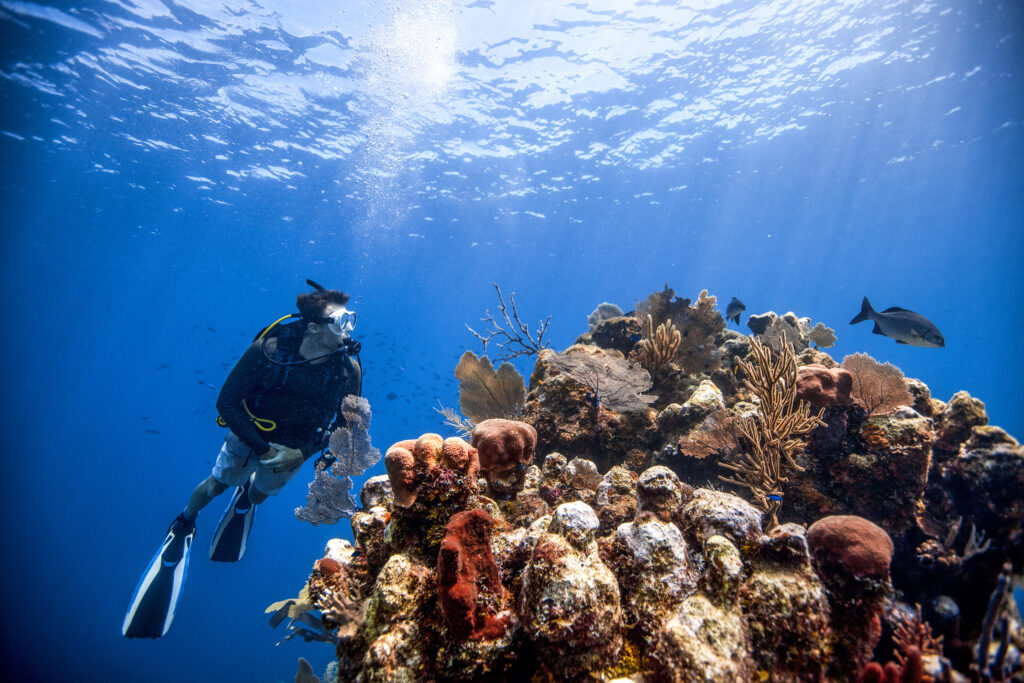 "When I teach someone to breathe underwater and they experience a state of weightlessness, I open a door in their mind," she said. "After you scuba dive, you will never think the same way about Mother Nature and the possibilities in your life than before you swam underwater."
This is what she means when she describes scuba diving as a life-changing experience. Laughing, she added, "I had so many people who completed training with me and then quit their jobs. The mind is a powerful tool, one you turn on a little light."
---
A Focus on Female Empowerment
More recently, Gogh has fine-tuned her offerings to focus on empowering women. When she learned to dive in Hungary, it was "100% a man's sport," she said. Even as the sport progressed, most of what was offered for females was just men's stuff in pink.
"There was a huge misunderstanding about what women want and why women dive," she emphasized. "It became a passion of mine to share equipment made with women in mind, places to go diving where it's safe to travel as a woman and stories about female adventurers traveling the world and living their best lives."
These motivations pushed Gogh to found Miss Scuba, bringing women from all over the world together for adventure, travel and, of course, diving. The community she built has a culture of its own – one filled with "free will, untamed souls, a rebellion against mediocrity and the yearning for finding adventure and excitement in life," the site's manifesto states.
She's paved the way and continues to help us follow in her bubbles.
---
Bringing Her Message to the Big Screen
Gogh now spends much of her time on television and movie sets. As an underwater stunt woman and water safety instructor, she does everything from doubling for actors in water scenes to teaching the talent to scuba dive to planning underwater scenes for safety. Through it all, she knows these productions provide an even bigger venue through which to share the power of water.
"It's a cool gig," she said. "Every movie is a different playground. It's always challenging and rewarding at the same time… . I love creating magic, creating movies and telling stories to get people to love the water."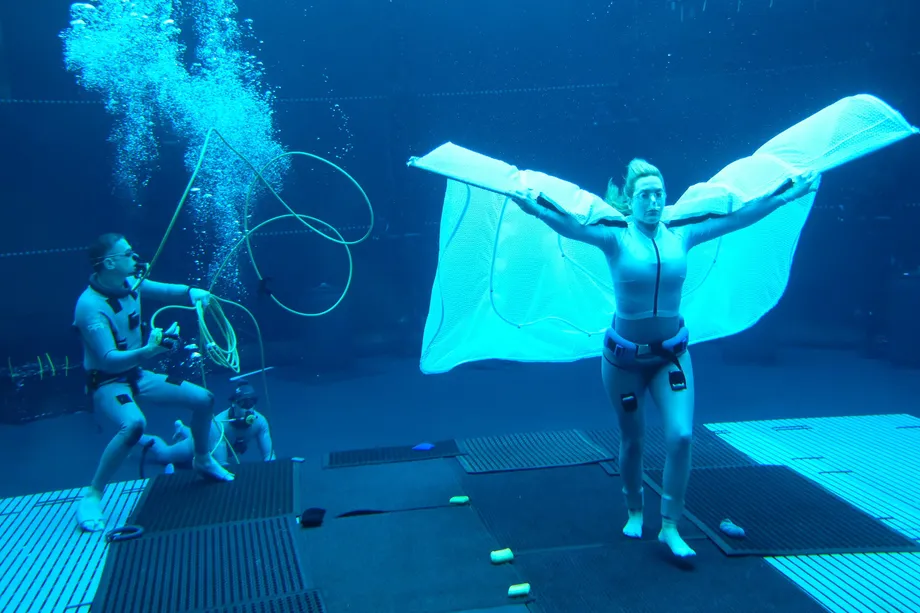 Szilvia's Work in Hollywood
Her numerous credits include Desperate Housewives, Dexter, the movies Sinister, Big Miracle, The Green Hornet and Piranha 3D. Most recently, she worked on Don't Worry Darling, Slumberland and Avatar: The Way of Water.
For the latter, she recalled preparing the talent so they could breathe up for scenes and be ready in case of emergencies. She said, "It wasn't computer generated. Everything was filmed underwater. We couldn't use scuba because the bubbles interfered with the transfer of information for the motion capture technology. So, everyone was on breath hold – including camera operators, actors, water safety and the directors."
"I think Avatar will undo what Jaws did for diving," she added. "Jaws made people terrified to put their feet in and go underwater. In Avatar, the scenes are so beautiful and breathtaking, I think it will inspire a lot of living and breathing underwater. When I saw it, it gave me goosebumps."
---
All Because of Becoming a PADI Pro
In conclusion, Gogh credits being a PADI Pro with allowing her to live a life filled with adventure, empowerment, wanderlust and the ability to make a living doing what she loves. She said, "Because PADI is so international, I can get work anywhere from Europe to Asia… . I can make a living anywhere in the world, and that's freedom. That's what gives you choices. And, when you have choices, I find you're living a much happier life."
"Being a PADI Pro also gives you the tools to be happy in your own skin," she said. "To me, being a PADI Pro and diving help me reach for the stars."
---
More on the Perks of Going Pro