About 71 percent of the world is covered in water. While a large swath of that water is ocean, the oceans are not the only bodies of water covering the planet. You don't need access to an ocean to have an amazing dive experience. In fact, there are many ways to get your fix even if you never plan to dive into the Atlantic, Pacific, Arctic or the Indian. Here are a few options:
Ponds and caves
In Mount Gambier, Australia, there are two fantastic sites. Ewen Ponds and Piccaninnie Ponds both feature sinkholes and amazing caves. The Cathedral in Piccaninnie is around 20 meters wide and 30 meters high, featuring walls made of brilliant white limestone. Remember, cave and cavern diving is tricky so enquire about being certified to do this with your local PADI Dive Centre.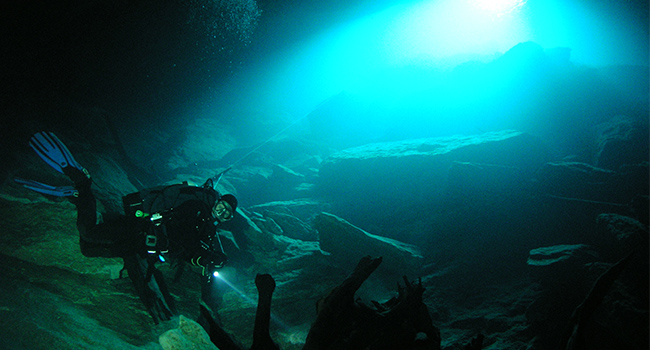 Quarries
In 1978 in Stoney Cove, England, a natural spring filled the quarry and has been a popular dive location for training and recreation since. Here you will have the opportunity to scuba dive England's largest inland ship wreck, the Stanegarth, as well as the Nautilus submarine.
The Dutch Springs, USA, is another popular place to find interesting inland diving. As one of the only places you can find school bus and helicopter wrecks together, it's one to put on the list!
Mines
You will certainly be captivated by the flooded mines in Bonne Terre, Missouri. When the mine was retired, they allowed it to fill with the water that they previously had to pump out constantly. Underwater pillars, shafts, archways and walls create an out-of-this world dive site. It was even recognized as one of the top 10 adventures in America by National Geographic Adventure.
Lakes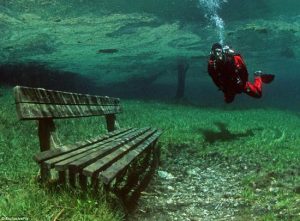 There are plenty of lakes all over the world that are perfect for diving. In New Zealand, the very scenic crater of Lake Okataina provides a great dive experience. Max. depth is around the 45 metre mark and you'll be accompanied by a range of freshwater critter. Various artifacts from the Maori tribe have been found here, including a few submerged Maori Pa (hill forts).
The unique Green Lake (Grüner See) in Austria is a magnificent sight and well worth a visit, where one of the mountain hiking tracks transforms into a dive site during the summer.
Lake Constance (Bodensee) in Germany is the third largest central European Lake. With beautiful Alpine scenery and great diving, it makes for an excellent inland diving destination. Some areas of this lake can reach up to 250 metres/820 feet in depth.
Missile Silo
Yep. You can even dive a missile silo. Here's a video featuring diving the Titan Nuclear Missile Complex in Washington State.
There are many other freshwater dive sites that will certainly change the way you look at diving. You may be surprised to find that your new favourite location is miles and miles from the ocean.
To enquire with a PADI Dive Shop about diving these locations, visit the PADI Dive Shop Locator.