When most people think of diving, their minds go straight to tropical waters, and locations where there are more palm trees than people. But, as many divers know, the sport isn't confined to just one part of the world. And as PADI Pro Kjetil Astrup can tell you, living in a capital city doesn't stop him from making a career of diving.
Kjetil calls the bustling Norwegian capital, Oslo, home, and he works as the manager of ProDykk Oslo, located just outside of Fjellstrand. His father first introduced him to diving and while the youngster was intimidated at first, the introduction to the sea sparked his imagination. A few years later, Kjetil was taking his PADI Open Water Diver course during a trip to the Red Sea, which was just the beginning of his career in diving.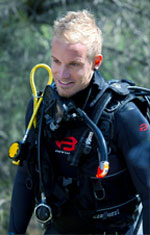 Working at a PADI Dive Centre in an urban location provides Kjetil with the opportunity to spread the word about diving to a wide array of people. "Having a PADI Dive Centre close to a big city gives us the chance to reach a lot of different new divers," he says. "We have a great range of adults, kids, teenagers, retirees, students, tourists, and more. We meet so many people that are happy to come diving and relax after a stressful day at the office or school."
Kjetil notes that even his fellow Norwegians aren't aware of the great diving opportunities right outside their doors. "There are still people in the fjord of Oslo who do not know that you can dive here!"
Kjetil's message rings true about many cities and towns around the world that offer great diving closer than you may realize. Kjetil also talks of the friendly dive community, "many divers and other dives shops from all over the region come to the jetty to dive, so we always invite everybody to come in for a warm cup of coffee."
Read about other careers you could have as a PADI Instructor from career blogs this month.
Want to work as a PADI Instructor locally, or in a particular city or town nearly anywhere in the world? Check out the Teach Diving section of padi.com or simply locate a PADI 5 Star Dive Shop today!