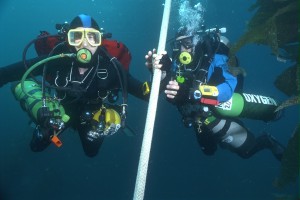 Technical diving is no easy feat, but it is a challenge that is highly rewarding and well worth the time spent learning the skills. Technical divers have the opportunity to see untouched spots that are beyond 40 meters (130 feet) deep and embark on unique expeditions.
Take a look at these 8 beautiful places if you are looking for a breath-taking tec diving adventure:
Michigan Great Lakes, USA
While many people look towards deep oceans when they want technical wreck diving, fresh-water lakes have plenty to offer too. In the Great Lakes, ships from 40 to 400 years old attract divers from near and far, and the colder, fresh water means they are extremely well-preserved and mostly intact. There are countless wrecks surrounding all sides of the state, and areas such as Whitefish Point, The Gunilda, Thunder Bay National Marine Sanctuary and The Grecian are popular sites for tec divers looking for a deeper thrill.
Scapa Flow, UK
There are numerous shipwrecks around the rugged coast of the Orkney Islands of Scotland. Scapa Flow was used as a British naval base during WW1 and WWII and is particularly cited for a significant event in 1919, when the German high-seas fleet scuttled 74 vessels to prevent them falling into the hands of the British. Dive sites vary from block ships to giant, deep battleships and are protected in recognition of their cultural importance. Today, divers flock from around to world to dive these wrecks and take in a unique view of wartime history.
Puerto Galera, Philippines
Here tec divers are spoiled for choice with a variety of deep treasures to explore around Verde Island Passage, including stunning walls, shipwrecks, rocks and island drop-offs, all featuring an abundance marine life. Diving is predominantly drift diving and the tidal movement keep the water clean and the visibility excellent. Many of the deeper sites have fairly good access to shallower depths for decompression and are popular with recreational divers at shallower depths, making this an excellent destination for groups of mixed experience and interests.
Truk Lagoon, Micronesia
Also known as Chuuk Lagoon, Truk is located in the Pacific Ocean and was the subject of a 1971 Jacques Cousteau documentary.  With deep and ghostly wrecks offering the excitement of advanced penetration, even the most seasoned technical divers will have the opportunity to try something new and challenging here.  The year-round warm waters are welcoming for those who want to spend as long as possible exploring the virtually intact wreck sites.
Andrea Doria, USA
This Italian shipwreck 100 miles off the coast of New Jersey used to be called the 'Mount Everest of Diving'. Its luxurious furnishings attracted countless treasure hunters in its day, but in recent years the wreck has suffered significant deterioration with the hull and decks collapsing towards the seabed. The Andrea Doria is a mecca for technical divers due to it sitting beyond the limits of recreational diving at around 50m (162 feet) but care should be taken due to hazardous conditions including strong currents, poor visibility and risk of entanglement from fishing nets.
Blue Hole, Red Sea
This underwater sinkhole just off the coast of Egypt is a stunning site which drops down to over 100 meters (400 feet) and the connecting Arch (a tunnel leading out to open water) at 52m (170 feet) is an added challenge. Although the Blue Hole is rewarding with its excellent visibility, coral encrusted seascapes and marine life, the temptation to reach the Arch can be risky; it is essential that only highly experienced and fully prepared divers venture down to the spot, and professional guides are recommended.
Bikini Atoll
Located at the Marshall Islands in the Pacific Ocean, Bikini Atoll gained notoriety after 1946 when the US government used it as a base to test the effect of atomic explosives on a 'mock' naval fleet. The direct evidence of this nuclear activity has since led to the island being listed as a UNESCO World Heritage Site. Bikini Atoll is the final resting place for several top-class WWII vessels from battleships and carriers to submarines, including the world's only fully diveable US aircraft carrier, USS Saratoga. Trips here are limited to less than a dozen divers per week, making it an incredibly elite bucket-list destination for tec divers.
Yucatan Cenotes, Mexico
The Cenotes are an intriguing collection of sinkholes created by the collapse of the ground above underwater cave systems, and there's estimated to be around 6000 in the area, making it a haven for explorers. Three of the world's longest underwater cave systems (Ox Bel Ha, Nohoch Nah Chich and Dos Ojos) are located here, presenting a true challenge for tec divers. Remember your camera to capture the light beams dancing amongst stalactites and stalagmites or the mystical hydrogen-sulphide layers where fresh and salt water meet.
If you want to expand your limits, take on a new challenge and explore the hidden depths of underwater destinations then book onto a PADI TecRec program. With the skills and techniques learned throughout the courses, you will be ready to explore some of the best tech diving spots across the world, including many of those listed above.
To learn more about tec diving courses and the best locations, visit your local PADI TecRec Center for upcoming trips and more information.