With nearly 1,350 miles of coastline making up the state of Florida, and an abundance of freshwater springs and lakes to explore, the Sunshine State doesn't skimp when it comes to places to dive. Here are nine of Florida's must-dive sites.
USS Oriskany
Located 22 miles south of Pensacola, the USS Oriskany is the largest artificial reef in the world. In 2006, the sunken aircraft carrier, nicknamed "the Great Carrier Reef," was purposely sunk in 200ft (60m) of water.  The 911-foot-long vessel now draws marine life and underwater photographers for its photogenic topography.
Devil's Den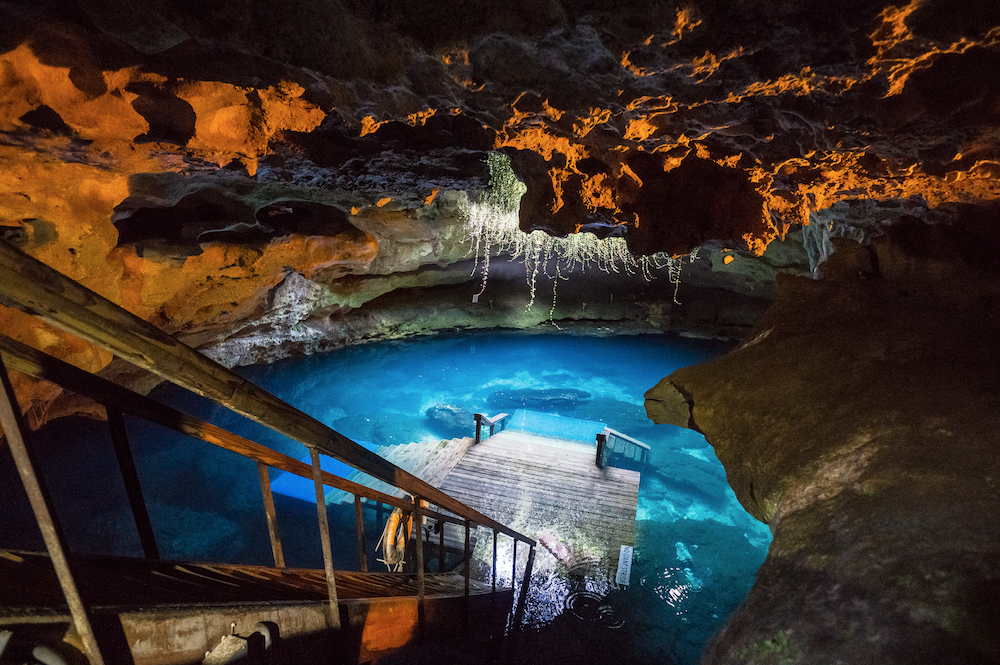 Devil's Den, Florida's only underground prehistoric spring, is located in Williston, Florida, and boasts a history rich in artifacts and fossils, some with connections leading to the Smithsonian Institute. With a constant temp of 72°F (22°C), a 3 mm wetsuit is all that is needed to explore the 50-foot spring and its multiple swim throughs and air pockets.
Rainbow River
Drift divers are in for a freshwater experience at Rainbow River, located 20 miles southwest of Ocala, in Dunnellon, Florida. With a maximum depth of 25ft (8m), bottom times can easily run over an hour while the visibility is an impressive 200ft (60m). Finding a shark's tooth is one of the perks of this site as are the turtles, otters and bubbling spring beds.
Blue Heron Bridge

Under a bridge may not seem like the ideal place for an abundance of marine life but the Blue Heron Bridge, located off Riviera Beach, is the prime location for all of the smallest of treasures. Photographers head to the pilings for encounters with seahorses, octopus, batfish and rays. And with depths from 6 to 25ft (2m-8m), divers are granted even more time to explore the attractions here that include sunken shopping carts, two mini wrecks and three hammerhead shark statues.
DoD Towers
Situated in the triangle of the SE Gulf of Mexico that makes up Marco Island, Everglades City and Key West is the Department of Defense Air Force Relay Tower Reefs. The man-made structures display the full food chain from juvenile fish to the full-grown pelagic fish, making the spot a favorite for fishermen and divers alike.
Hog Heaven
The fact that this 180-foot barge is an artificial reef that accidentally landed upside down is only one of the reasons that Hog Heaven, located off Palm Beach, is a favorite for divers. With depths ranging from 50 to 65 feet (15m-20m), the dive profiles are perfect for beginner divers while the easy-to-access openings to the barge house schools of snappers, grunts and camera-ready angelfish.
Spiegel Grove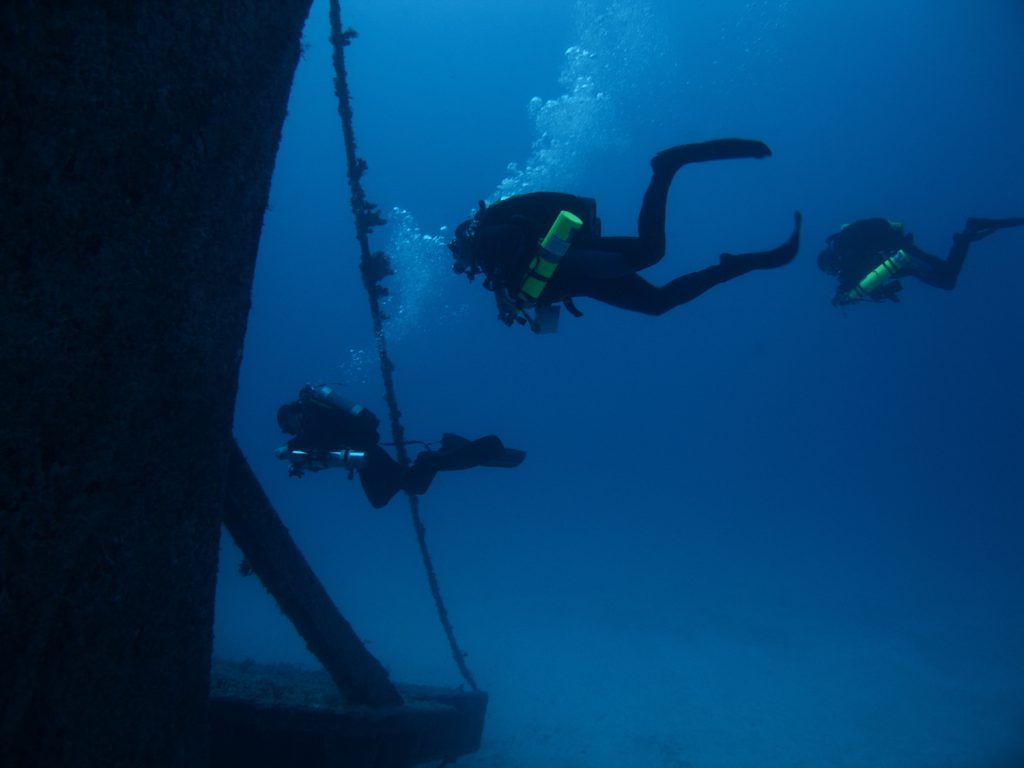 One of Florida's most iconic wrecks, the Spiegel Grove, is located off Key Largo and rests on 130 feet (39m) of water. Sunk in 2002, the 510ft (155m) U.S. Navy Landing Ship Dock landed on its starboard side. In 2005, Hurricane Dennis placed the wreck upright and today attracts a healthy population of marine life from shimmering schools of silversides to massive grouper lurking in its shadows.
UNSN Gen. Hoyt S. Vandenberg
With coordinates that make this wreck the southern anchor of the Florida Keys Shipwreck Trial, The Gen. Hoyt S. Vandenberg sits proudly in 140ft (42m) of water seven miles off Key West. Measuring 10 stories high, and nearly two football fields long, highlights of this structure include the crow's nest, part of the smokestack and a weather balloon hangar at the stern.
 Christ of the Abyss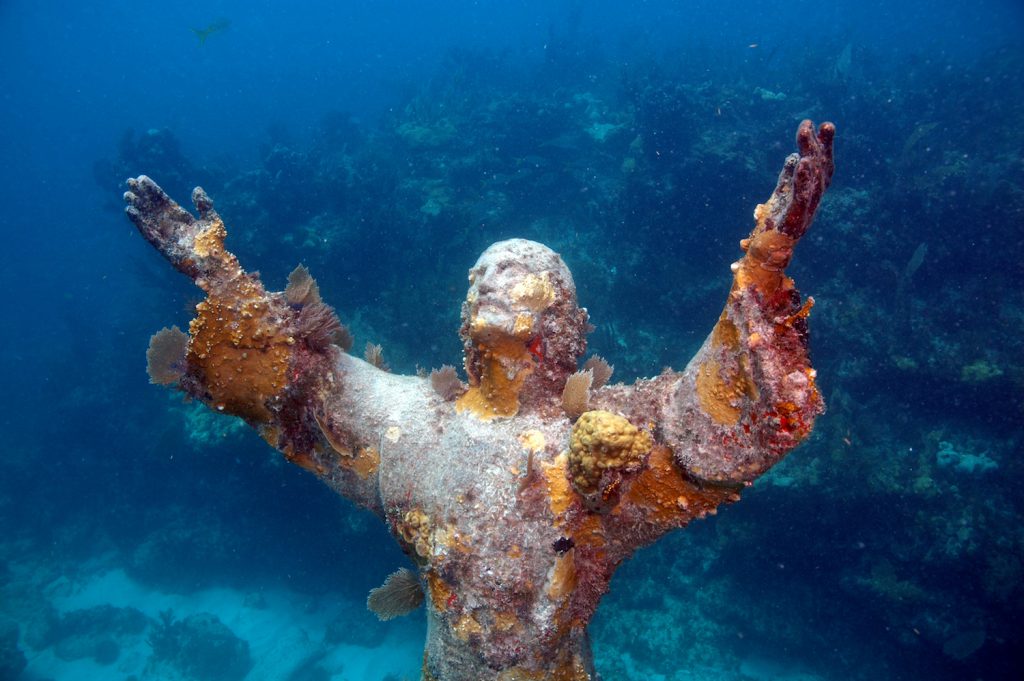 John Pennekamp Coral Reef State Park, off of Key Largo, Florida, is an attraction for snorkelers and divers due to colorful reefs, but it's the Christ of the Abyss dive site that is worth mentioning. The famous 8.5 ft (2.6m), 4000 pound bronze sculpture of Jesus Christ stands in 25 ft (7m) of water and makes for great photo ops.  And while the statue is one of the most visited underwater sites in the world, the shallow depth, groove coral formations and chance encounters with eagle rays and stingrays are equally impressive.